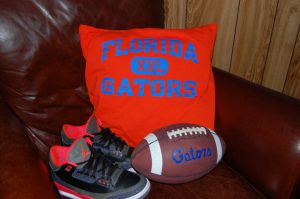 Recycle one of your or your child's favorite T-shirt into a throw pillow – plus this is a no sew project which shouldn't take more than an hour total.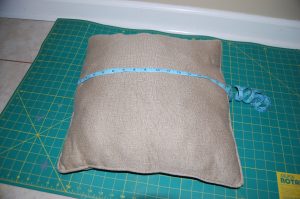 You will need to determine what size of pillow you will be using and cut your T-shirt to fit. Measure the dimensions of your pillow from seam to seam and add about 1" for your seams. I used an old pillow I had on hand it was very close to the width needed. I did have to cut a little in the sleeve area.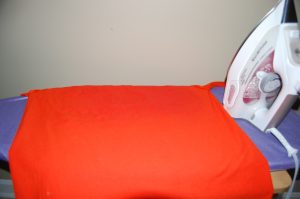 If you are using a larger T-shirt, you probably won't run into that. Turn your T-shirt inside out and press it, matching up all the edges and seams. Make a make for your cutting line. I love using a rotary cutter and mat but you could easily do this with scissors. If so, you might want to put a few pins in it to hold the front and back together.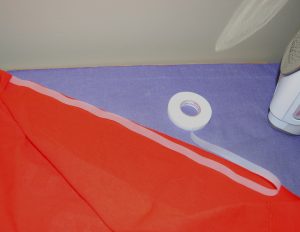 With right sides together, you want to make your side and top seams using your favorite iron on adhesive. I used Heat N' Bond in 3/8" wide. Follow the manufactures instructions for this.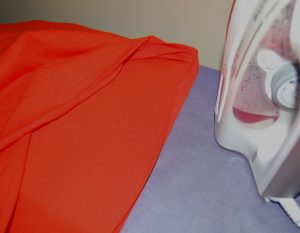 After having 3 sides done, you need to turn up 1/2" all along the bottom edge and press well. Now you are ready to turn your pillow case right side out. I used a pencil in the corners to make it turn easier. With this being a casual pillow, I wasn't worried about crisp corners.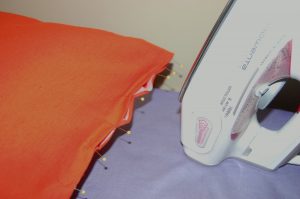 Put a straight pin at the corner of your side seams. You will use your turned up hem for your guide on where to place your iron on adhesive. Begin on one side seam and pin your adhesive to one side only, being careful not to stretch the fabric too much as you do this. After you have it pinned all across the bottom, you are ready to start ironing it on to adhere it. Again, following the directions, do a small area at a time as you will need to remove the pins as you go along.
Since it can be a bit tight, you may need to scrunch your pillow up a bit to have space for ironing your edges. Your finished – what a great way to recycle all of those sports shirts you have around the house, and even some of your outdated throw pillows.
I've included affiliate links to Amazon for you to find some products easier. I may receive a small commission, but the price is the same for you. It just helps my blog out.
Happy Travels,
Rosemary