On our recent vacation, we fell in love with Canada and are already planning another trip for next year. Niagara Falls had been on my bucket list to visit and I don't know why we waited so long to make the trip. Niagara Falls is awesome.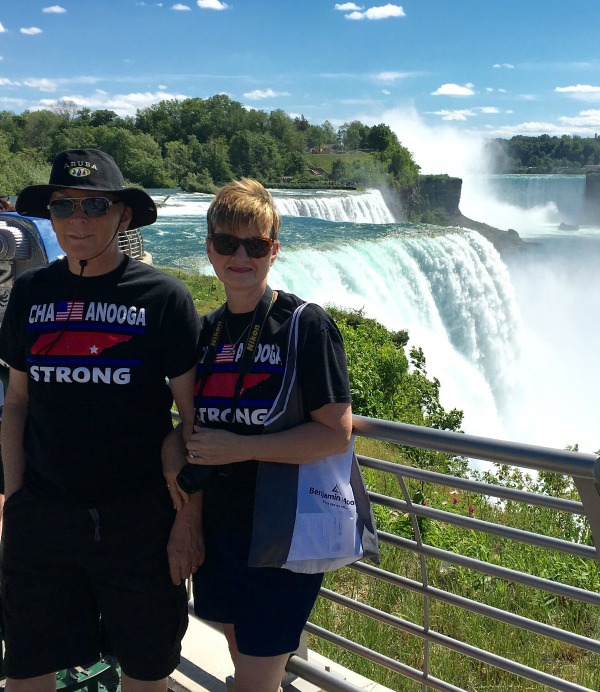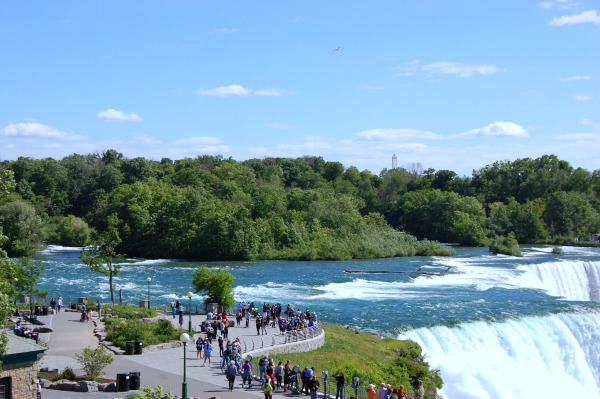 A couple of my favorite shots, both from Canadian side.
From Skylon Tower looking toward USA.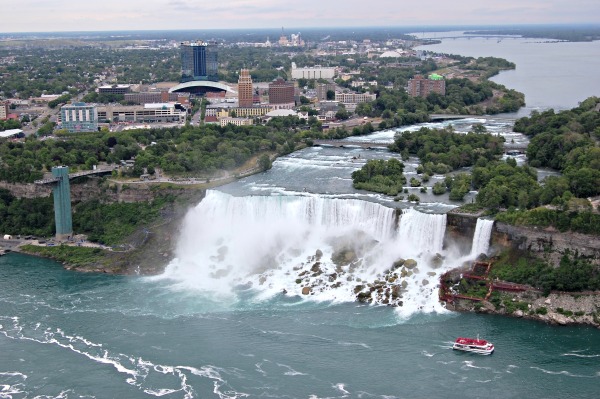 Panoramic Shot again from the Canadian side. There are parts of this walkway where I shot this, that is sprayed with the mist, you need a rain coat to stay dry.

We had always been told to see it best you should visit the Canadian side and they are correct. Not to say if only the American side is all you can get to, don't let that stop you. But for better pictures of the actual falls, a visit to the Canadian side is a must.
A note here – for most a passport is required to enter Canada. Always check where you are coming from so you won't be disappointed.
A little fact we learned – there's not actually a Niagara Falls. They are Horseshoe Falls, American Falls and the Bridal Veil Falls.
Although I say we do a lot of typical "tourist" things especially when we visit a new area, we aren't into things some would call tourist traps. At our age and with no children, we are on a slower pace and enjoy the more serene landscapes, architecture, and scenery. In fact, a few of my favorite things to photograph is church steeples, doors, and man hole covers.
That's not to say that we don't often hit up the most popular spots or take those obligatory standard pictures, including our try at selfies, which I still haven't mastered. Who else does bad selfies? I just can't seem to figure out where to look. Or we aren't looking at the same time. I have found though if you can have your sunglasses on, then it doesn't show if you aren't looking toward the lens. Not quite as awkward looking.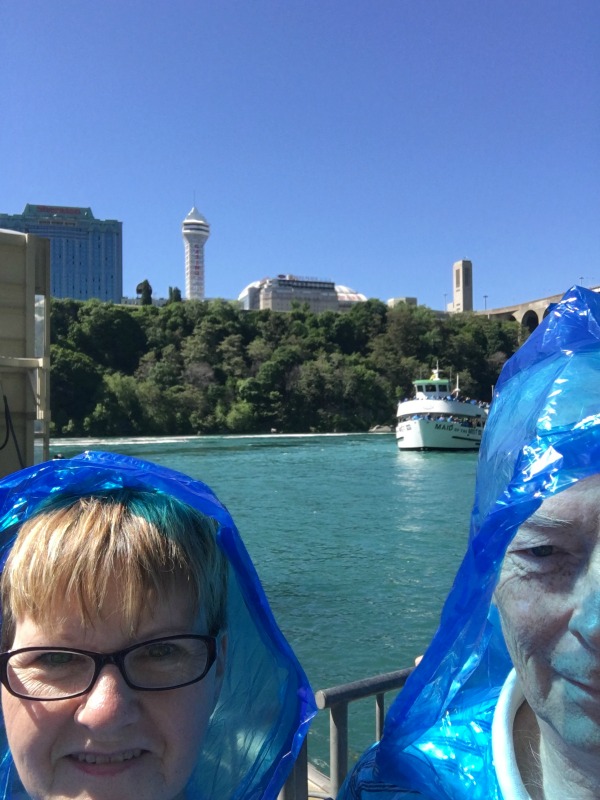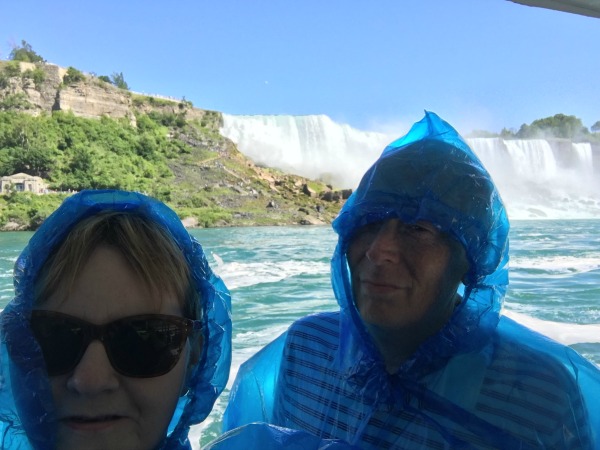 FIREWORKS
Several nights a week (schedule does vary) the falls will be lit up and fireworks shot off. These can be seen well from either side of the falls. I have to say on this night though the falls didn't light up as much as I have seen in pictures from the past but as it got darker, you could see more light behind the falls.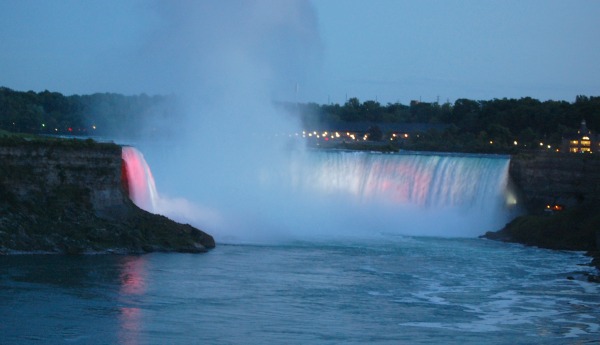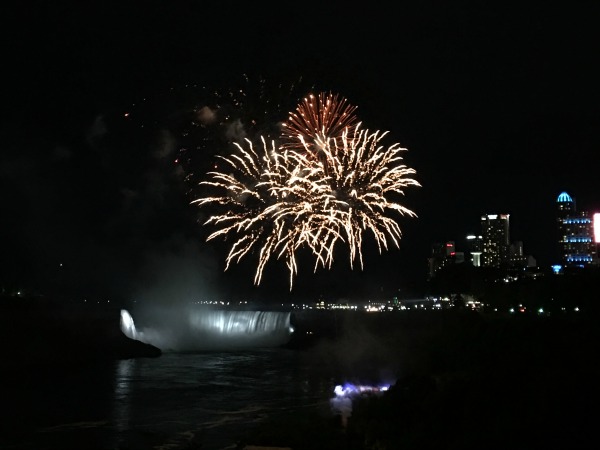 MAID OF THE MIST
No trip to Niagara Falls would be complete without this adventure.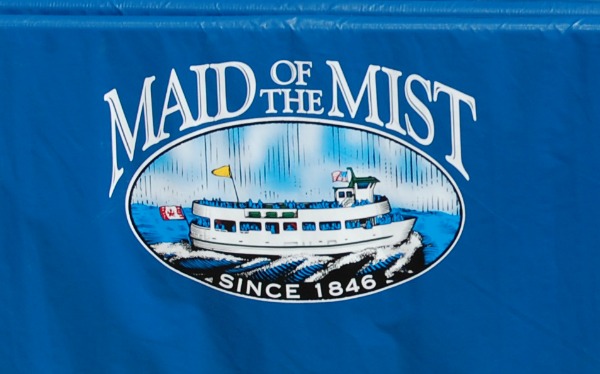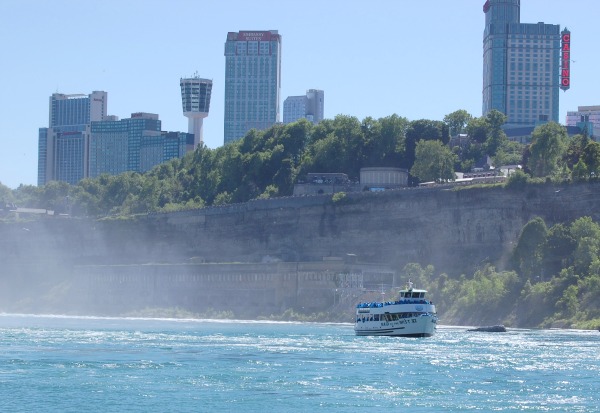 With your ticket, you are given these dashing looking ponchos to help keep you dry. And you can keep them if you wish.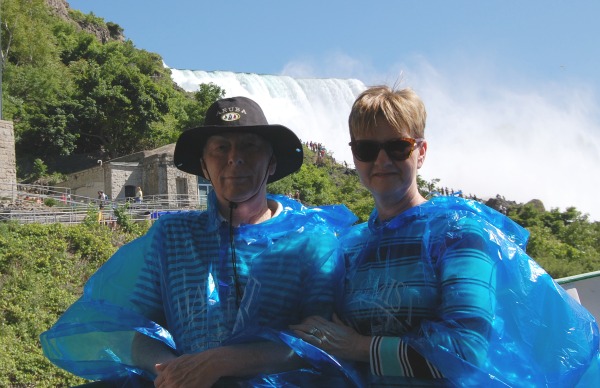 Depending on where you ride on the boat, can determine the amount of "mist" you get covered with. The sun was very bright on the day we were there so we chose to ride in the lower level which cuts down on the spray of the falls unless you were one of those at the very front. A few people were practicing their "Titanic" poses.
You begin to see and feel the intensity which the water has right after you leave the dock. As you get closer to the American and Horse Shoe Falls, the mist gets heavier and the water appears to be creating turbulence, but to my surprise and delight, it wasn't a rough ride at all.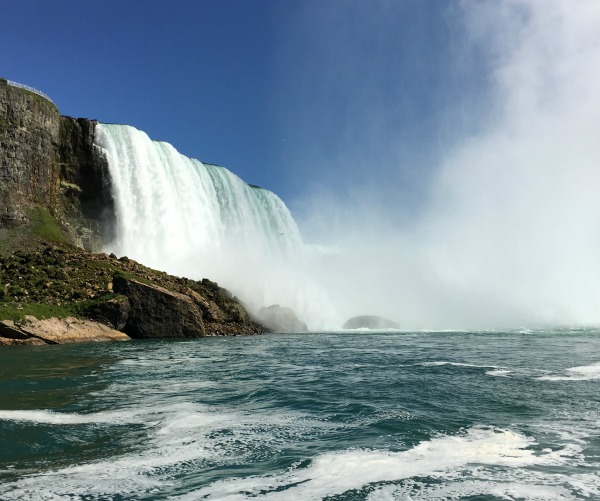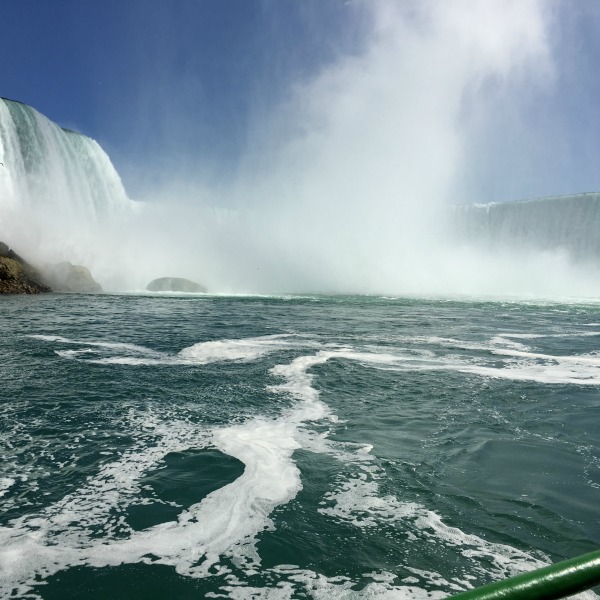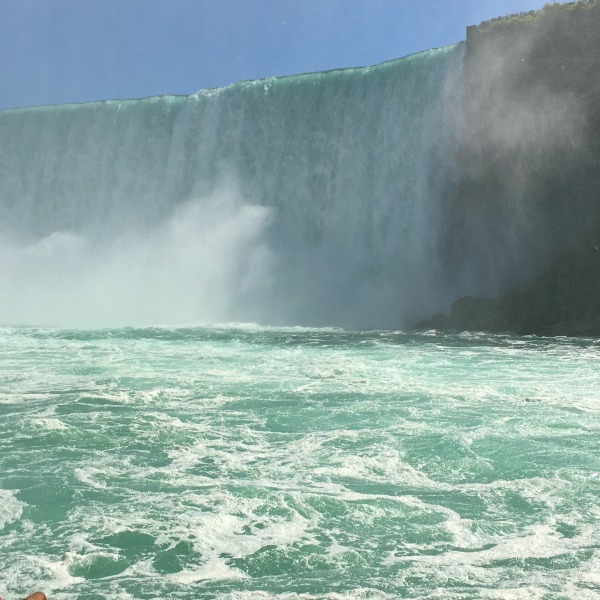 With over 750,000 gallons of water going over the falls every second crashing onto the rocks below, I was expecting waves.
Without a waterproof camera, it's impossible to get pictures really up close. Note to self – buy a disposable camera next time.
Again, don't hesitate to ride Maid of The Mist when in Niagara Falls for fantastic and up close views.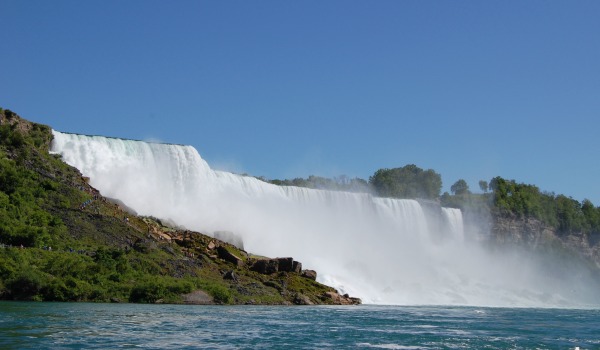 The American side, Niagara Falls State Park is
part of the oldest state park. There is no admission into the park area, but there are some attractions which will have a fee, and of course there's always parking to worry about. Once parked though, everything is pretty easy to walk to. If you aren't into a lot of walking, there's a trolley available to go to Goat Island.
For one of the best views of the falls, you can take a ride up to the Observation Tower.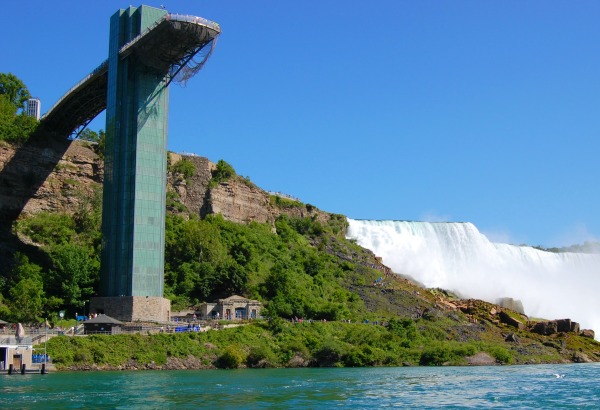 You can also walk up a series of steps to the Crow's Nest for another upclose view of the falls.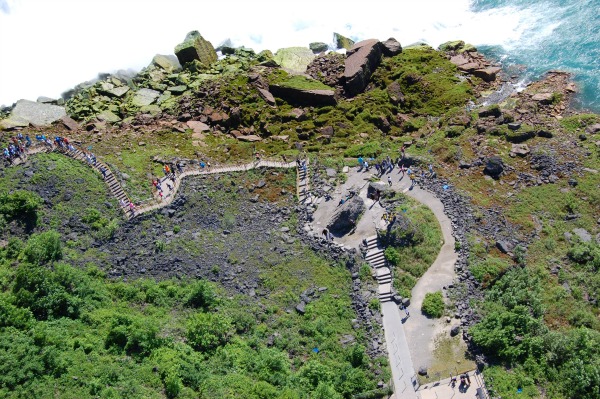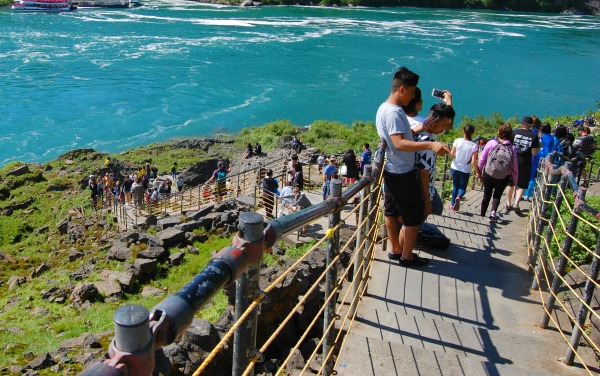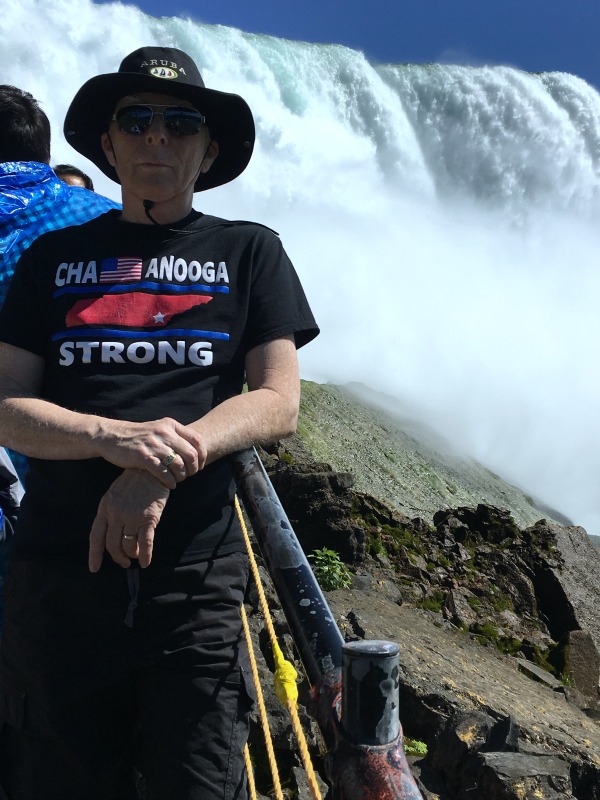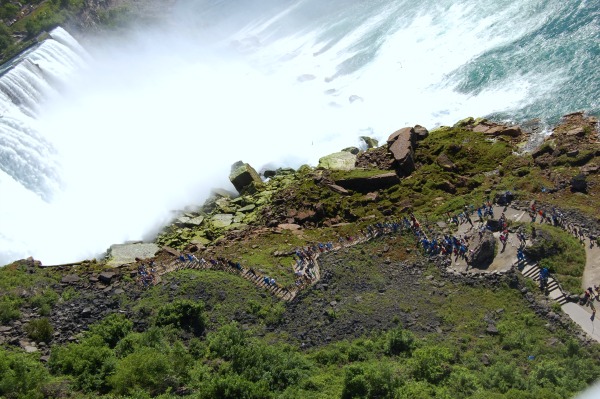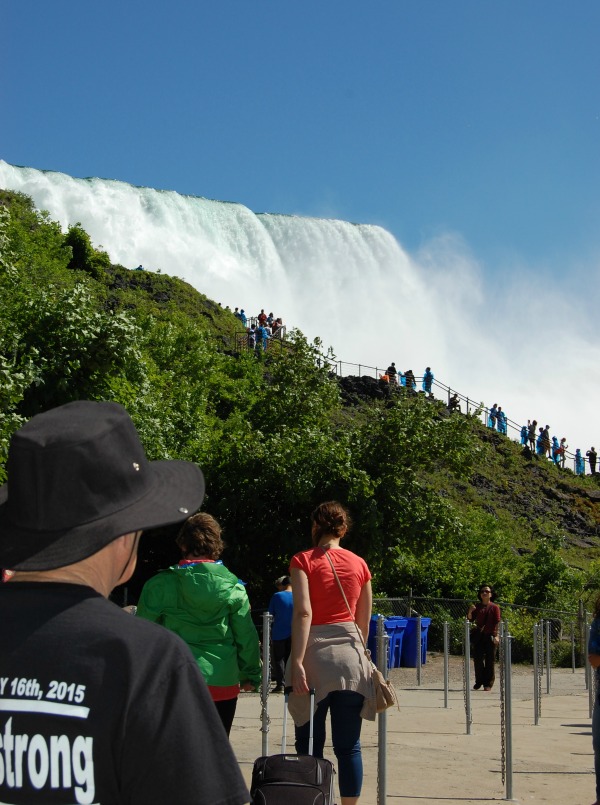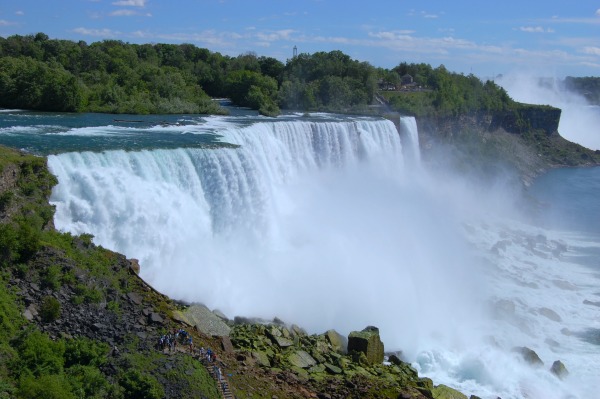 You may also feel some of the spray from the falls here too.
You get great views of the Canadian side plus Rainbow Bridge, going into Canada.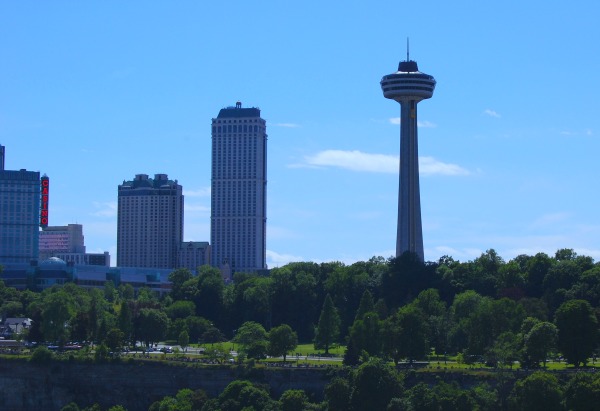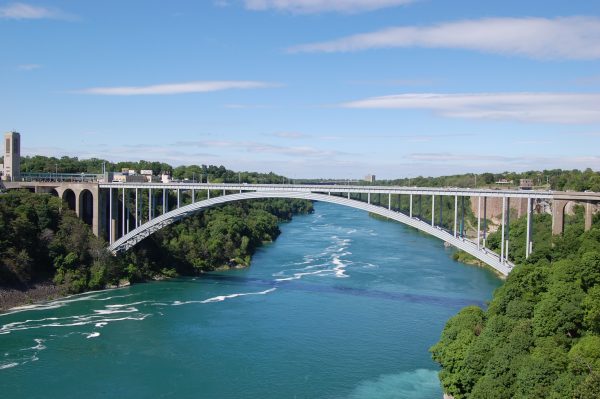 A trip to Niagara Falls should be on everyone's list to see and visit. Next time I hope to see a wonderful sunrise. Yes, we will be going back. Have you been?
Look soon for more of our #palmersvisitcanada2016 So much in Toronto, and our visit to American Pawn – home of Pawn Stars.