Comfort food is what it's all about at Paula Deen's Family Kitchen. From biscuits and sausage gravy to fried chicken to banana pudding and every southern dish you've ever loved, Paula Deen's Family Kitchen serves up comfort food in a down home atmosphere that will leave your belly and your spirit full. On a recent trip to The Island at Pigeon Forge, I had the opportunity to enjoy a meal at this restaurant, and let me tell you, enjoy is a mild word.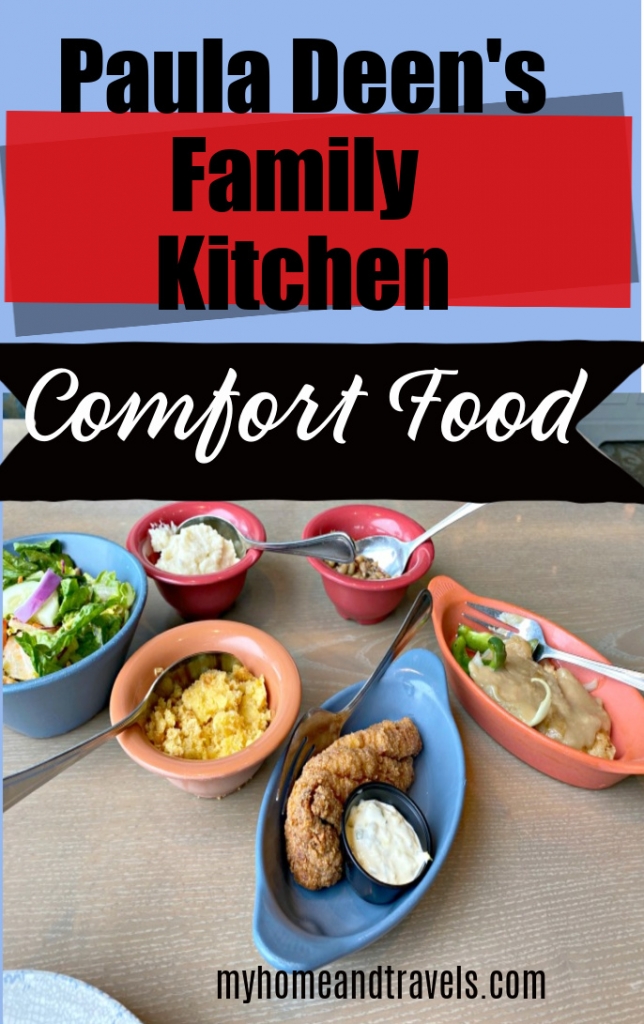 While most of us know what comfort food is, none of us have really tasted it until we've tasted what Paula Deen's Family Kitchen has to offer. The dishes served at this restaurant are above and beyond what I've ever experienced in comfort food. It's the kind of food that leaves you wanting more, even though you couldn't possibly eat another bite.
Of course sweet tea will be on the menu.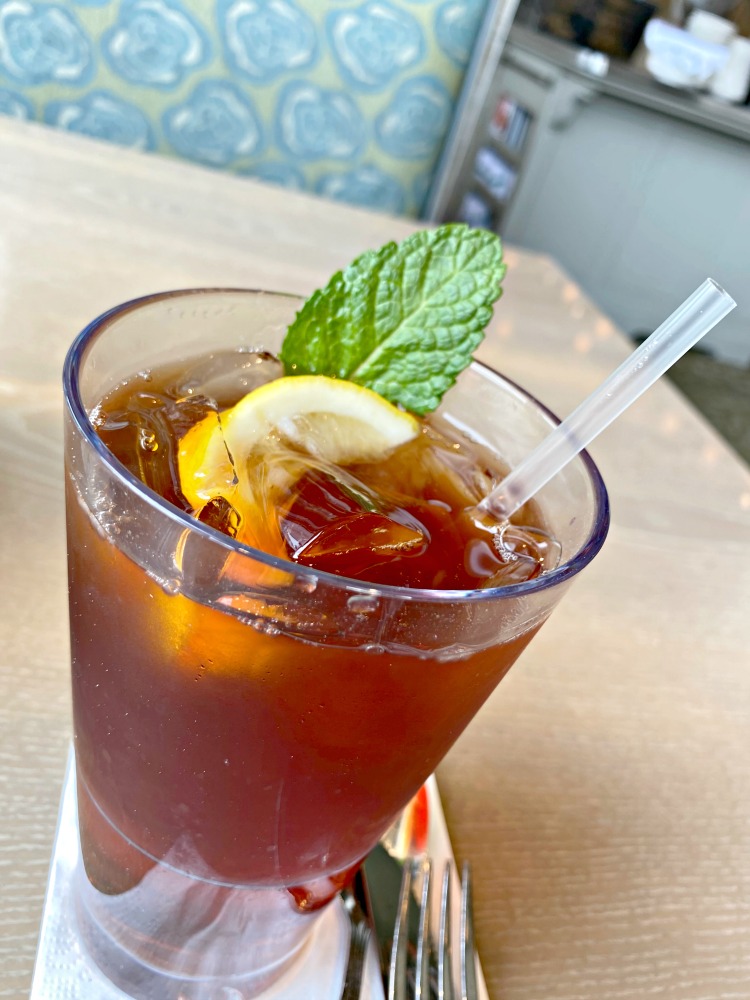 Comfort Food that Brings the South to Your Mouth
Whether you're a big eater or someone who frequently asks for a doggy bag, you're going to want to make a little extra room when you visit Paula Deen's Family Kitchen. With a cornucopia of breakfast, lunch, and dinner options, often seemingly as big as the south itself, this restaurant doesn't shy away from flavors, portions, or good old fashioned southern charm.
You will be greeted by Paula herself (kind of).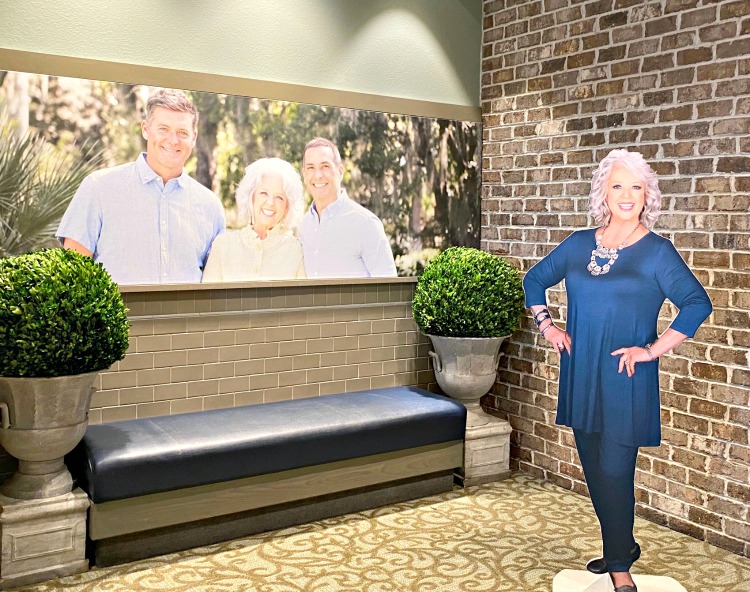 Relaxed Dining
The first thing you need to know is that Paula's restaurant is all about feeling good. Both the food and the atmosphere are family-friendly and geared toward making you feel like you just sat down at your Granny's table to enjoy a Sunday dinner feast. Seating is classic southern restaurant booth style along with table and chair options. The atmosphere is bright, the staff is friendly, and the service is superb. They really care about their customers, and its seen in everything they do.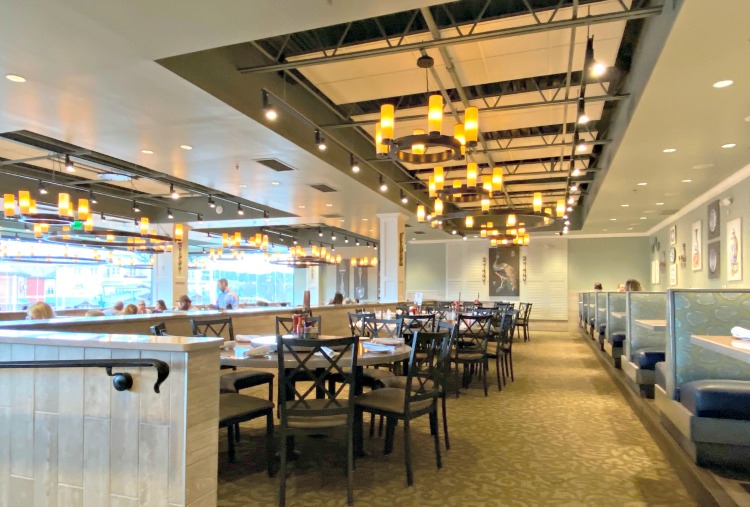 I was incredibly impressed with the staff when I visited Paula Deen's Family Kitchen. The hostess was friendly and warm, and the wait staff was attentive and equally as friendly. Our server seemed to always be there just as our drinks were running low, asking us if we needed anything. The sincerity of the staff really struck me. I many restaurants, the staff will half-heartedly ask if you want anything, and you can almost feel them hoping you'll say no. Not at Paula's. Our wait staff was sincerely friendly and attentive, making for a dining experience that was really quite lovely.
If you are waiting, sit a spell in one of the rockers on the front porch.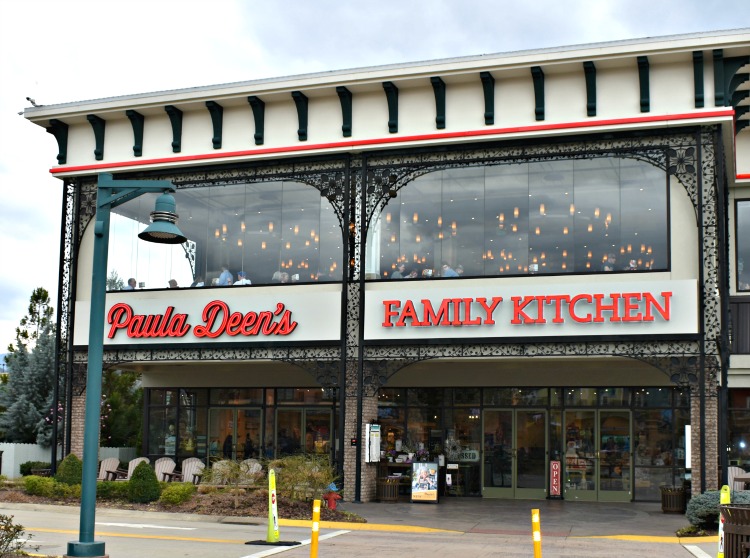 The Food!
Oh, the food. I have to tell you, I at far too much comfort food, but I was okay with it. We arrived for a late lunch, and as I'd already heard about how amazing the food at Paula's was, I made sure to have a light breakfast. I'm so glad I saved room!
You are served a hot, cheesy biscuit before you even order. I could make a meal on these alone.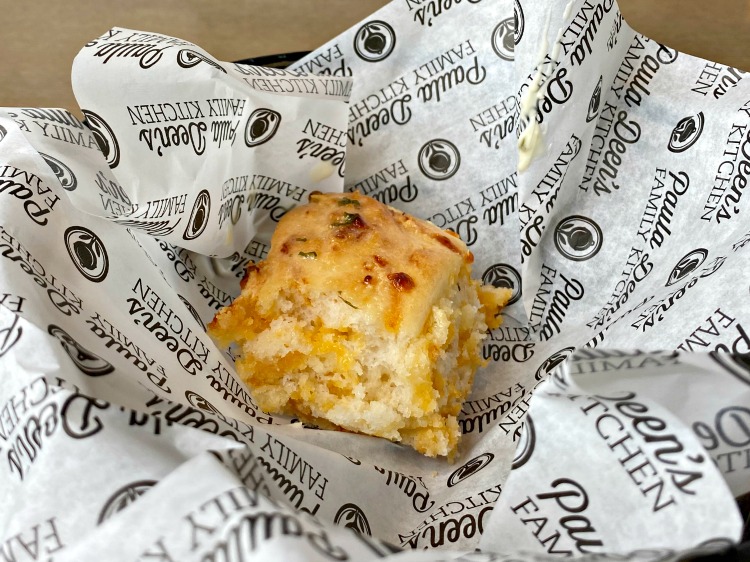 We all ordered and sort of shared a bit of this and that. It was almost like a southern-charmed comfort food sampling buffet at our table. WE enjoyed Georgia fried catfish, chicken fried pork chops, cheese biscuits, creamed potatoes, squash casserole, and black-eyed peas.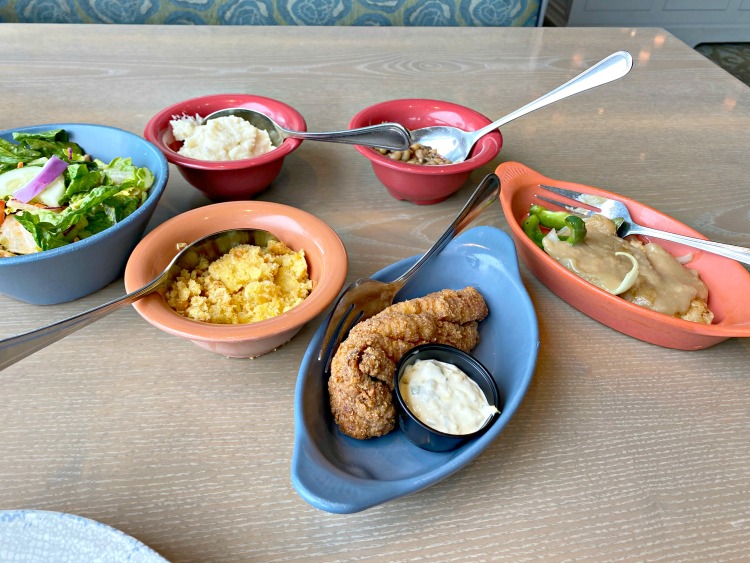 In addition to the delightful savory dishes, I also took some blackberry cobber back to my room for later and bought some Poppy Seed tossed raspberry dressing from the shop to add to my salads when I got home from my trip.
More Comfort Food than You Can Shake a Stick At
Paula Deen's Family Kitchen offers hefty portions to go with their hefty menu options. Whether breakfast, lunch, or dinner – supper, as it's known in the south – the menu is heavy on options and flavor.
Breakfast
For breakfast, choose from options like chicken and biscuits, apple cinnamon French toast, and Everyday Casserole filled with sausage, potatoes, spices, and more. You can also enjoy classic southern meat options like black pepper bacon, country ham, sausage patties, and applewood smoked bacon. For some classic breakfast sides, try hashbrown casserole, cheesy grits, fried grits, or fresh fruit.
Lunch and Dinner
Comfort food lunch and dinner offerings at Paula's include fried green tomatoes, southern fried chicken pot roast, southern meatloaf, and Georgia fried catfish, just to name a few. You can also enjoy sides like green beans, creamed potatoes, candied yams, creamed corn, coleslaw, baked mac and cheese, and more. Save some room, because you'll also want some ooey gooey butter cake, banana pudding, or cobbler for dessert.
The Paula Deen Store
Comfort food isn't just about what you eat. It's also about what you make. Foodies and cooks will want to visit The Paula Deen Store before leaving Paula's to take a look at all the wonderful things it has to offer. Housing products from the Paula Deen line like spices, sauces, mixes, and toppings, along with some of her personal favorites, there's always something for someone.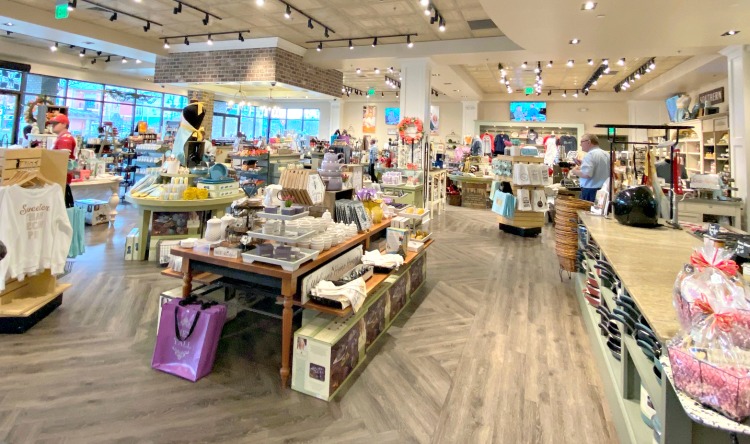 In addition to food items, you'll also find cookware, linens, mugs, and kitchen decor and items like potholders, trivets, colanders, crockery, and much more. Pick up a cookbook before you go!
Even cook with Paula. Did you know I actually did take a cooking class from her back in the day?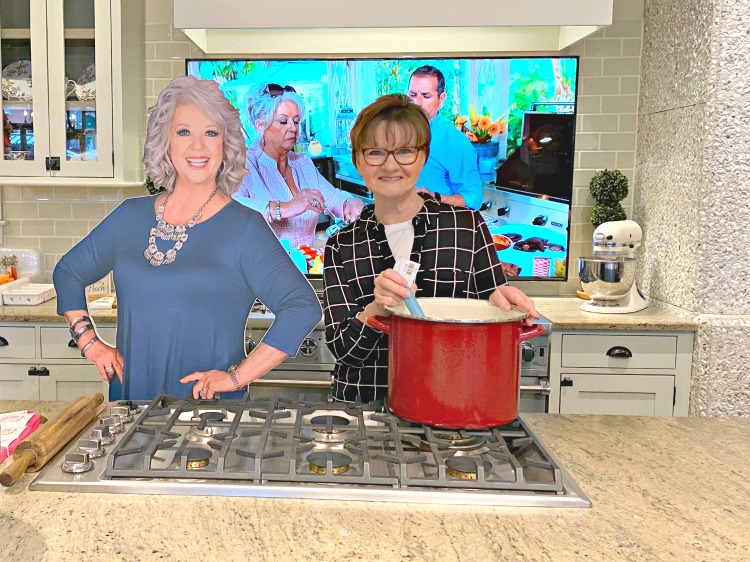 My new motto!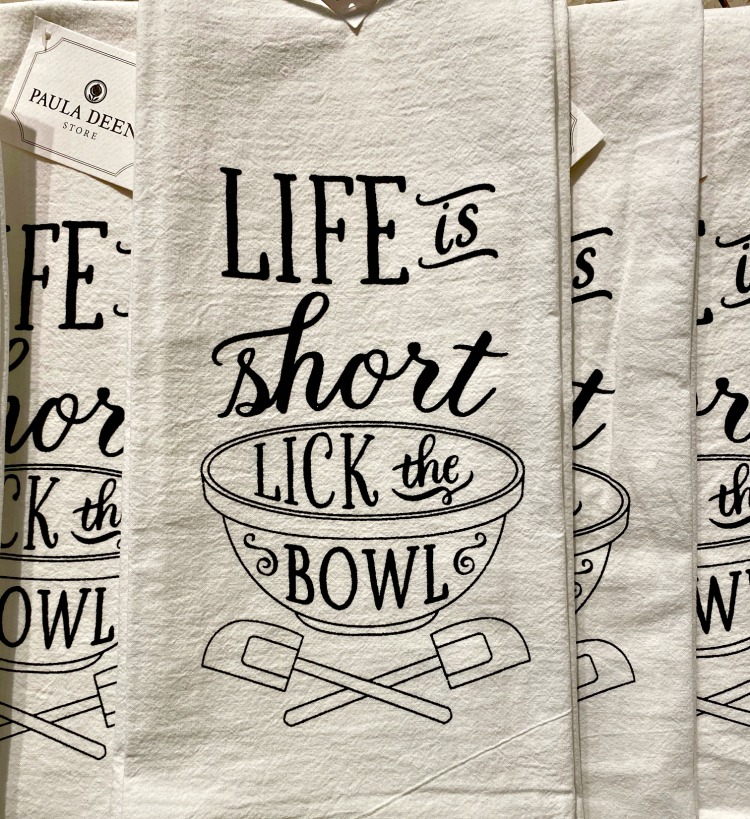 Comfort Food is Just the Beginning
While Paula is known for her down home comfort food, Paula Deen's Family Kitchen offers so much more. Come for the amazing comfort food served up in true southern-style portions and be impressed by the staff, atmosphere, and the wonderful Paula Deen Store. Paula's makes comfort food a true work of art that everyone will truly enjoy.
Remember the class I took with Paula, this is just one of the recipes.