It's that time of the year! Homemade Eggnog for breakfast, lunch, and dinner! And if you're not doing that already, it's time to start! This simple eggnog recipe takes minimal effort to make and produces enough eggnog to last you several days at a time! Perfect for kids to enjoy drinking as well! I love this stuff and can drink way too much if I don't limit myself.
Pin it for later!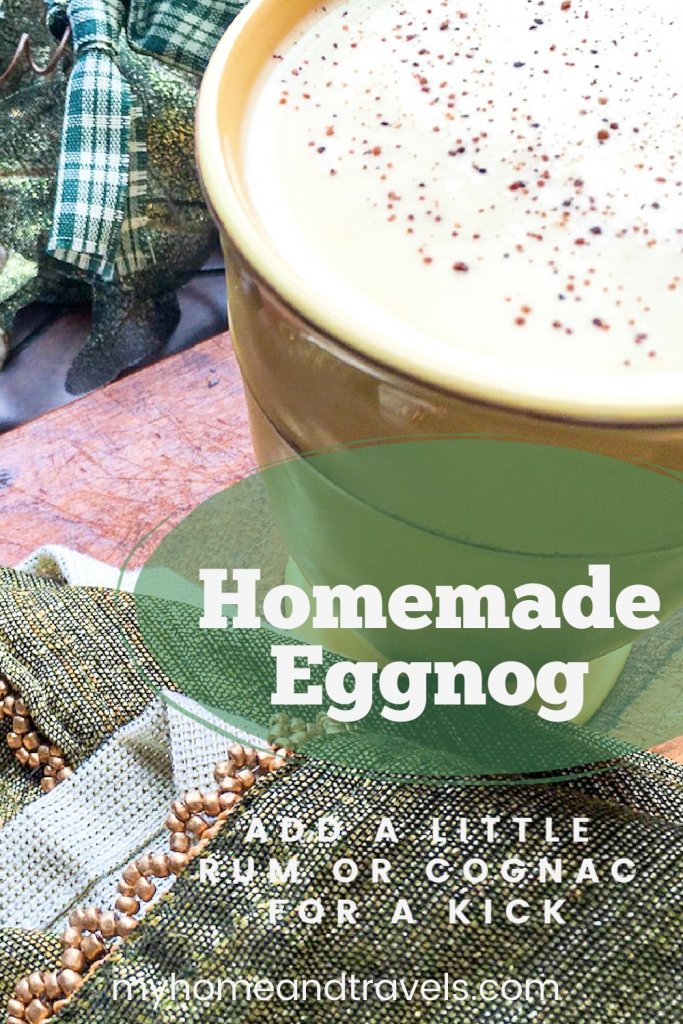 Make certain to try our other Excellent Eggnog Recipes To Try, too because there's no need to miss out on any of these great flavors.
Homemade Eggnog
The reason that so many people love the taste of eggnog is because it's rich and creamy. That's usually what draws them in and has their attention from the start.
And I've found out that when it comes to my favorite type of eggnog, I like this recipe because it actually doesn't use raw eggs. (there are still eggs in this recipe but you're cooking them over the stove in a process that you'll find on the recipe below.)
If you really want to make this eggnog for adults-only, you can also easily add in rum, bourbon, or cognac, to taste. Do you have a preference?
Ingredients needed to make homemade eggnog
12 large eggs
1¼ cup of sugar
4 cups of whole milk
2 teaspoons of pure vanilla extract
1 teaspoon of ground nutmeg
2 cups of evaporated milk
2 cups of half & half
Optional Garnish:
Whipped cream
Cinnamon sticks
Nutmeg

How to make Homemade Eggnog
Combine eggs and sugar in a medium bowl and whisk until thoroughly combined. Transfer to a saucepan and stir in whole milk, vanilla extract, and ground nutmeg.
In a separate bowl, stir evaporated milk and half and half until combined. Set aside.
Heat egg mixture over medium-low heat while stirring constantly to prevent the milk from scorching. When mixture reaches 160 degrees on a candy thermometer, remove from heat and slowly whisk in evaporated milk mixture.
Cool slightly before tasting. Add more sugar or nutmeg, if desired, before transferring to an airtight container. Refrigerate overnight or until thoroughly chilled. Serve in mugs and garnish with whipped cream, cinnamon sticks, and/or a dash of nutmeg, if desired. Enjoy!
Hints:
For extra richness, replace evaporated milk and/or half and half with heavy cream
Always use pure vanilla extract – there's a huge difference in taste of it and imitation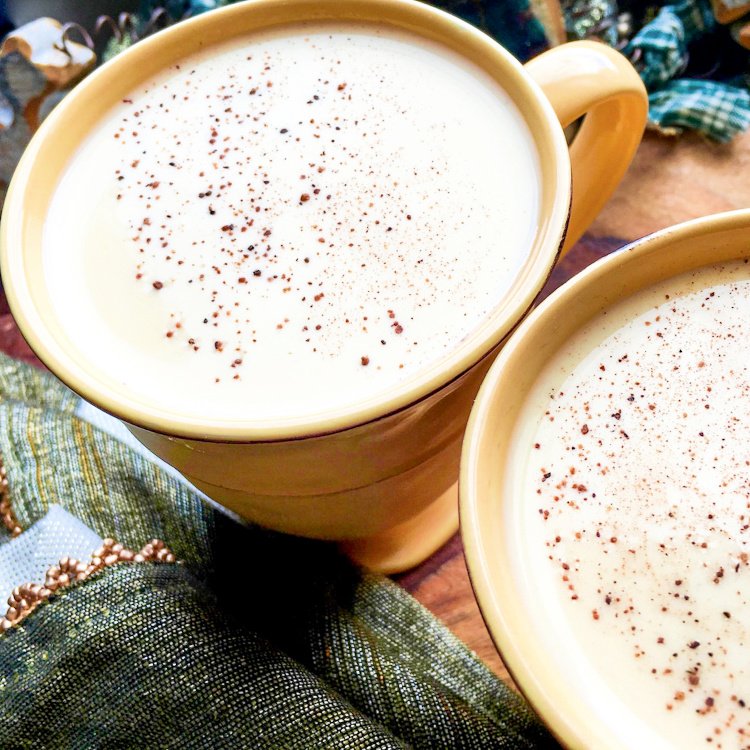 What does eggnog taste like?
It's actually pretty sweet. Some people compare it to the taste of a pudding or an ice cream due to the creaminess combined with the sweet flavor. Some even think it's almost a custard taste.
Is eggnog served hot or cold?
It's totally up to you. You can serve it once you cook it if you want, but as the recipe states above, I prefer it chilled with a giant garnish of whipped cream right on top.
Serving to a group
If you are having a get together during the holidays, this is a must have. A large salad bowl or punch powl is perfect. Center it over a wreath for a more festive look.
Does eggnog have any health benefits?
Sure! Since there are eggs, cinnamon, and a handful of other healthy ingredients, you can rest easy knowing that you're giving your body some actual nutrition that it can use.
Ready to make this simple homemade eggnog recipe on your own? Make certain to get some really cool serving mugs or glasses to really finish off this festive drink!
I love the look of it in the copper Moscow Mule Mugs. See the link below.
Homemade Eggnog (alcohol-free!)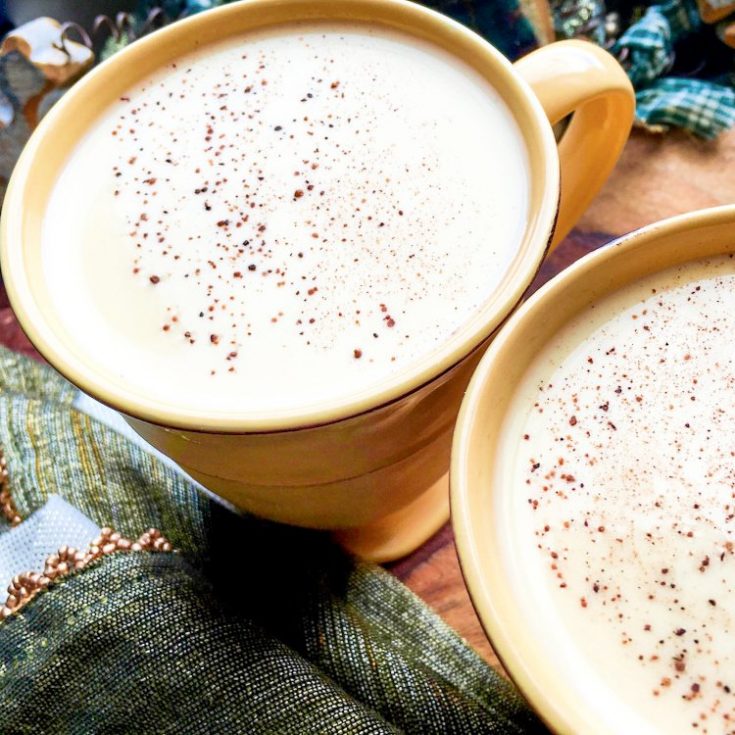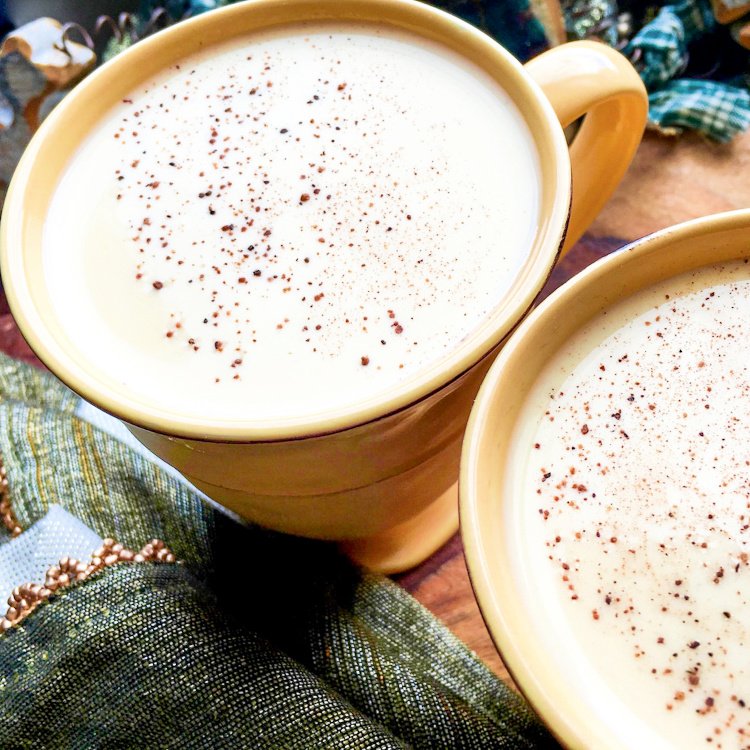 This is such a simple and delicious eggnog recipe!
Ingredients
12 eggs
1¼ cup of sugar
4 cups of whole milk
2 teaspoons of vanilla extract
1 teaspoon of ground nutmeg
2 cups of evaporated milk
2 cups of half & half
Optional Garnish:
Whipped cream
Cinnamon sticks
Nutmeg
Instructions
Combine eggs and sugar in a medium bowl and whisk until thoroughly combined. Transfer to a saucepan and stir in whole milk, vanilla extract, and ground nutmeg.


In a separate bowl, stir evaporated milk and half and half until combined. Set aside.


Heat egg mixture over medium-low heat while stirring constantly to prevent the milk from scorching. When mixture reaches 160 degrees on a candy thermometer, remove from heat and slowly whisk in evaporated milk mixture.


Cool slightly before tasting. Add more sugar or nutmeg, if desired, before transferring to an airtight container. Refrigerate overnight or until thoroughly chilled. Serve in mugs and garnish with whipped cream, cinnamon sticks, and/or a dash of nutmeg, if desired. Enjoy!

Hints:

For extra richness, replace evaporated milk and/or half and half with heavy cream

Always use pure vanilla extract - there's a huge difference in taste of it and imitation
More Drink Recipes
My Favorite Mugs
It's expensive – but you will love the taste – use sparingly
I love having cinnamon sticks on hand