Day Five of Twenty Five Days of Christmas. If you're looking for some delicious eggnog recipes, you don't want to miss out on these. So simple and easy to put together, eggnog really does symbolize that the holiday season is truly here!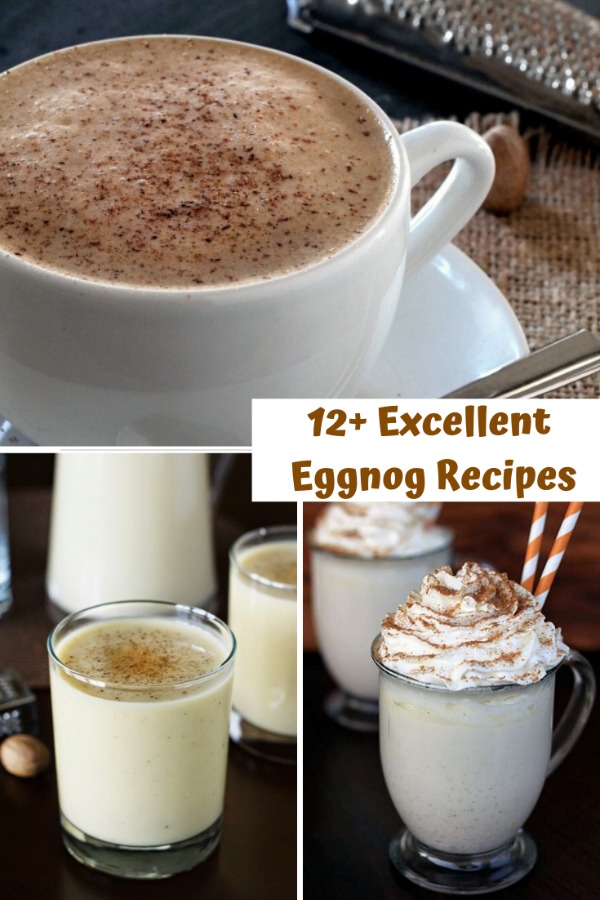 I love the taste of eggnog. And what I love even more about it is the fact that it can be so many different flavors. (and between you and me – I've tried almost all of them!)
Every year that I head to the store and see the eggnog cartons lining the shelves, I know that I can make it better homemade myself. This is what prompted me to find these delicious homemade eggnog recipes to share with all of you.
These recipes will be great too when you can no longer find your favorite brand after Christmas.
Hopefully, you'll find a flavor that you like to treat yourself and your tastebuds this holiday season.
12+ Excellent Eggnog Recipes
If you're vegan, you'll love the taste of this homemade eggnog!
Vegan Eggnog by Strength and Sunshine
And just in case you need another choice, here ya go! It's always good to be prepared and have backups!
Vegan Eggnog Latte by Faithfully Gluten Free
Cooked eggnog? If you're scratching your head as to what that means, you're going to have to click through to see.
Cooked Eggnog by Trail and EaterAnything
This copycat recipe is loved by many
Copycat Starbucks Eggnog Latte by My Heavenly Recipes
Why not let your eggnog cook all day long in your crockpot? The smell alone is worth it!
Slow Cooker Eggnog by Centsable Momma
This eggnog has no eggs!
Egg Less Eggnog by The Kitchen is My Playground
I've said it once and I'll say it again. Homemade eggnog is the best.
Homemade Eggnog by Ashlee Marie
Who says you can't have your eggnog and hot chocolate together as one?!
Eggnog Hot Chocolate by Who Needs a Cape
It just doesn't get any more simple than this.
Easy Homemade Eggnog by Baking Beauty
I love the texture and taste of this delicious recipe.
Creamy Eggnog Hot Chocolate by Shaken Together
This is one eggnog that you're going to make over and over again.
Homemade Eggnog by Tastes of Lizzy T
Need an eggnog cocktail? I've got you covered.
Eggnog Cocktail by Amanda's Cookin'
As you can see, there are plenty of eggnog recipes for you to make this holiday season!
Do you have a favorite eggnog recipe from the list?
Maybe you want to add a few hot chocolate (or do you say cocoa) recipes?