It's Derby Time. There are so many traditions associated with The Kentucky Derby (bucket list item) and a lot involves food and drink. Remember my Classic Mint Julep, well now I'm sharing my favorite Derby Pie just in time for Derby Week.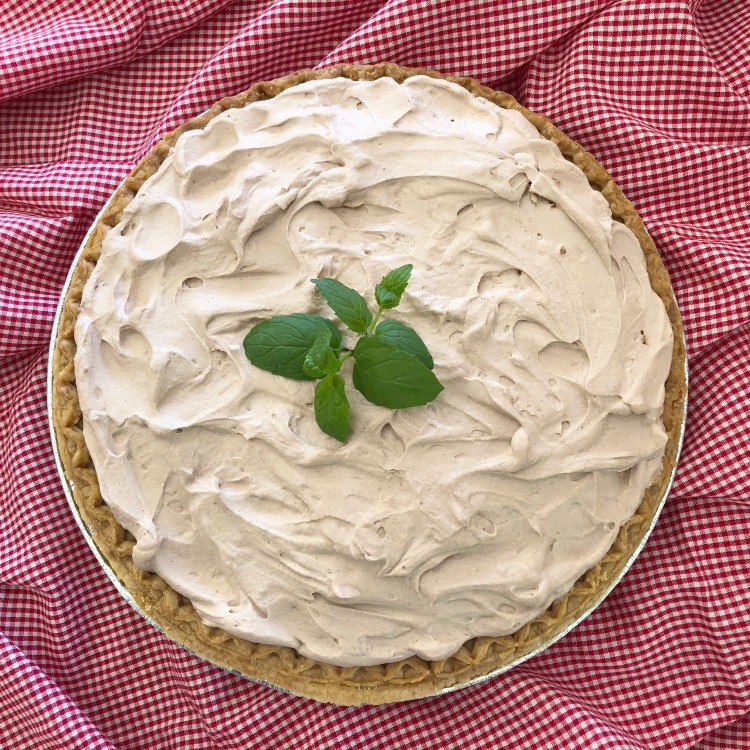 I started making this about 35 years ago from a recipe book from the Methodist Church in Walnut Ridge, AR from a sweet lady named Pate Hart. I've made a few changes over the year, so I hope you will try this out for the Derby, or with a few hints, it is great to serve any time.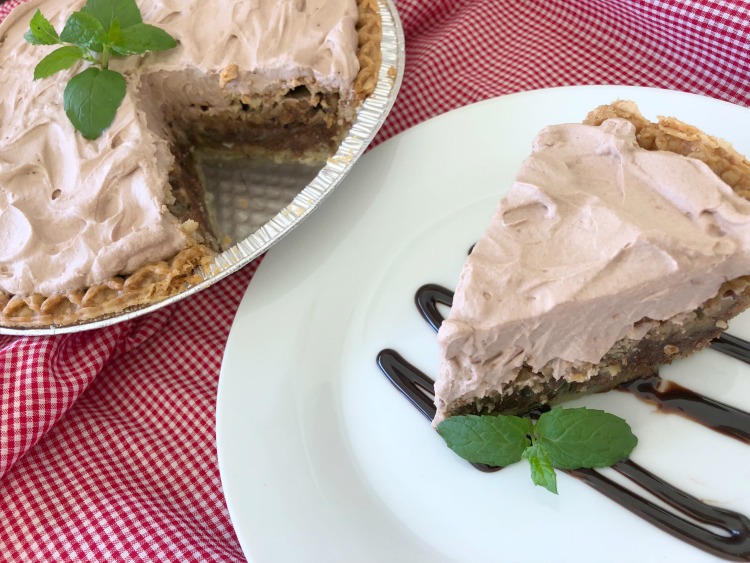 Full disclosure here – I hate making pie crust. I love baking, but that's just one of those things I choose to purchase. Some brands are better than others, but make sure if you buy a frozen one, get the deep dish kind.
Cracking on top is normal after it cools.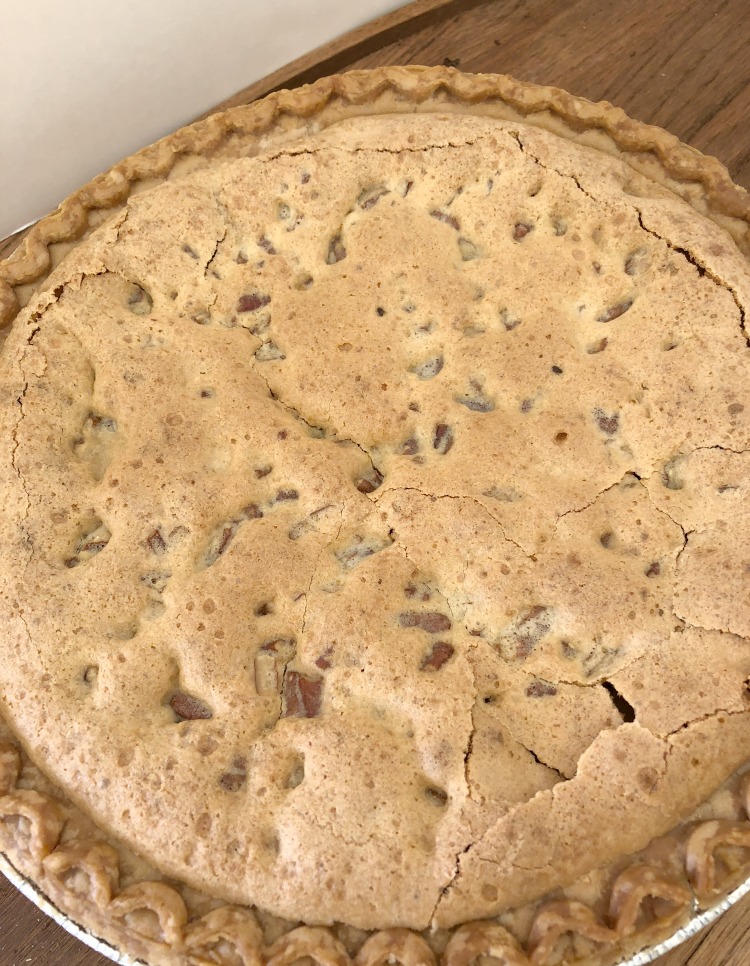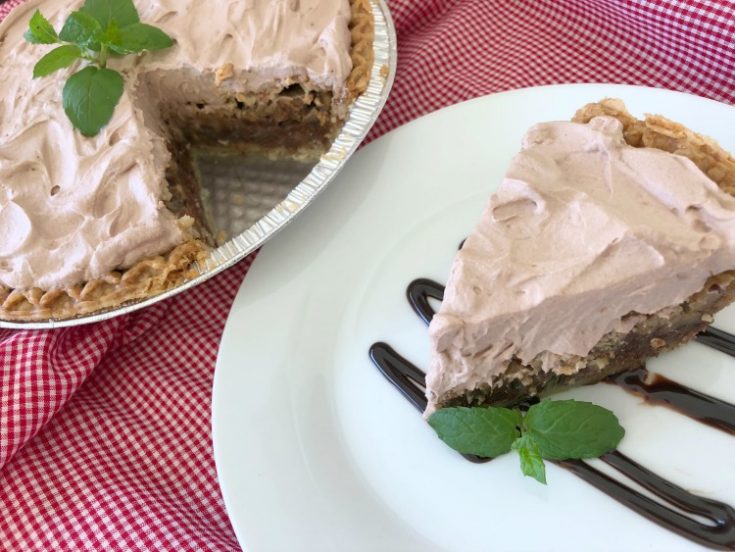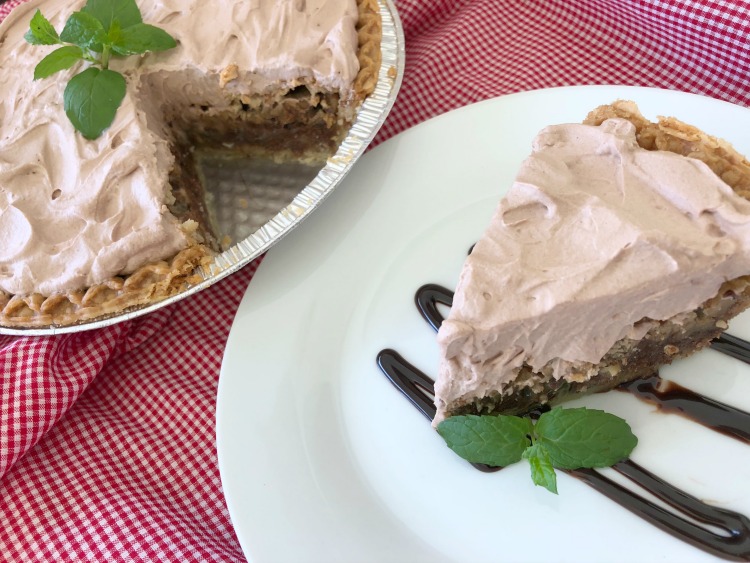 The perfect pie for Derby Week. Well, really any week.
Ingredients
PIE INGREDIENTS
1 cup sugar
4 T cornstarch
2 eggs, lightly beaten
1/2 cup butter, melted and cooled
1 Tablespoon Chattanooga Whiskey or, Bourbon or 1 teaspoon vanilla
6 ounces semi-sweet chocolate chips
1 cup chopped pecans, not too fine
1 9 " unbaked pie crust
WHIPPED TOPPING INGREDIENTS
1 cup heavy whipping cream
3 Tablespoons sugar
4 Tablespoons instant cocoa mix
1 teaspoon Chattanooga Whiskey or vanilla
Instructions
PIE DIRECTIONS
Melt butter and set aside
Preheat oven to 350
Combine sugar and cornstarch in medium mixing bowl
Add eggs until thoroughly combined
Add cooled butter and flavoring
Stir in by hand, chips and nuts
Pour into uncooked pie crust
Bake for 40 minutes until lightly browned and slightly puffy
Remove from oven and cool completely
WHIPPED TOPPING INSTRUCTIONS
Whip cream until frothy
Add sugar, cocoa and vanilla
Whip until stiff
Spread this onto cooled pie
Refrigerate finished pie
Notes
Hints:
When you make one of these pies, double the recipe.
Freeze the second one to serve later. Or share with a friend.
Do not add your whipped topping now.
After cooling, wrap in plastic wrap, then aluminum foil.
To defrost - set on countertop for a couple of hours before serving.
Add your whipped topping and serve.
Using frozen pie crust in an aluminum pan makes this easy.
The amount of sugar and cocoa can be adjusted to your taste


Classic Mint Julep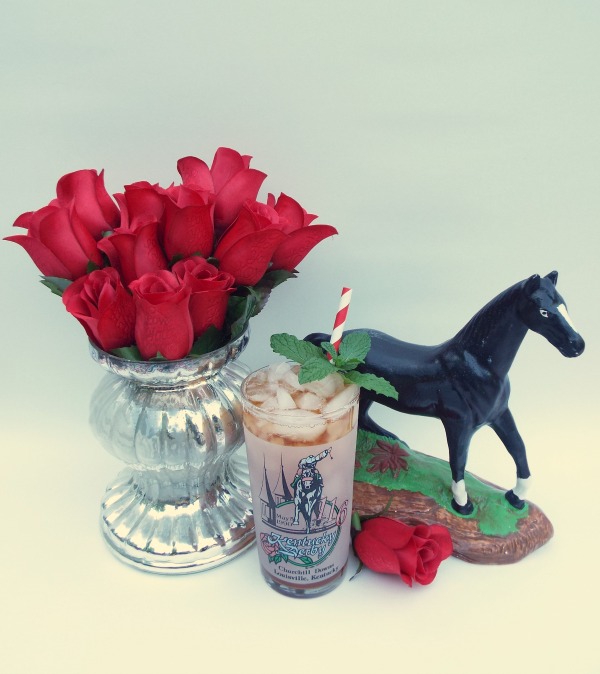 Do you watch The Kentucky Derby? I can only remember a few times I haven't watched. One of these days I will be there, big hat and all. Have you been?
What's your favorite pie? If you try this, it may become your favorite.