Whether you have snow or just cold weather, hot chocolate is on the top of your list when you are coming in from the outside. Around most of the South though, we have had an extremely mild winter so far but with temperatures going up and down, everyone is still ready for a good cup of hot chocolate. But that won't stop me from sharing The Best CrockPot Hot Chocolate plus a bonus because it's always time for hot chocolate. I've included lots of toppings ideas, and a few alternate additives.
A CrockPot is always a good way to keep beverages warm during a party, or maybe while you are outside enjoying the snow. Or any day during the holidays. Have it ready when wrapping or unwrapping the packages.
I'm going to share 3 simple but yummy recipes and a few ideas to change them up a bit with flavors and toppings.
Let's start with everyone's favorite – a very rich, hot chocolate that is sure to make you want more.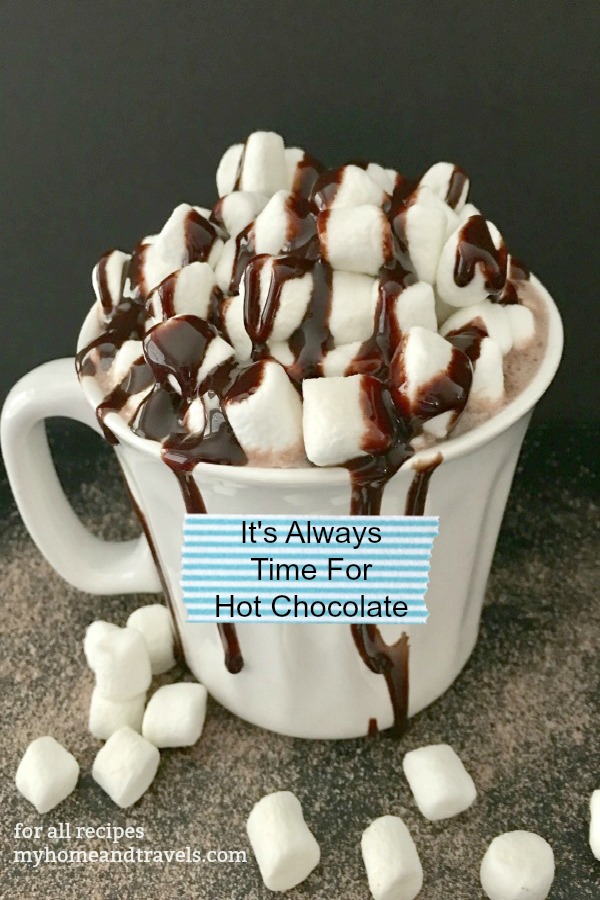 THE BEST CROCKPOT HOT CHOCOLATE
1 ½ cup heavy whipping cream
1 – 14 oz can sweetened condensed milk
6 cups milk
1 tsp vanilla
2 cups chocolate chips – I used semi-sweet, but milk chocolate would work well also
Pour all the liquid into a 4-6 qt CrockPot and stir together.
Mix in chips.
Turn on low for 2 hours, stirring occasionally.
If you want this quicker, just heat all liquids in a heavy saucepan until it simmers, do not boil. Add chips and stir til melted.
Either way, you now have a hot chocolate ready to top and serve.
Adult it up – one of the biggest trends this lately has been adding red wine to hot chocolate. This can be to your taste, but about 1/2 cup of a good Cabernet or Merlot will add a new flavor for you. I was also told Blackberry wine was great.
But my favorite way to add wine is by using Love Potion from Georgia Winery. It's a unique blend of red Muscadine with rich, dark chocolate. This actually has chocolate blended in it, not just a chocolate flavoring as some other chocolate wines. As it's a seasonal flavor, it may not always be available.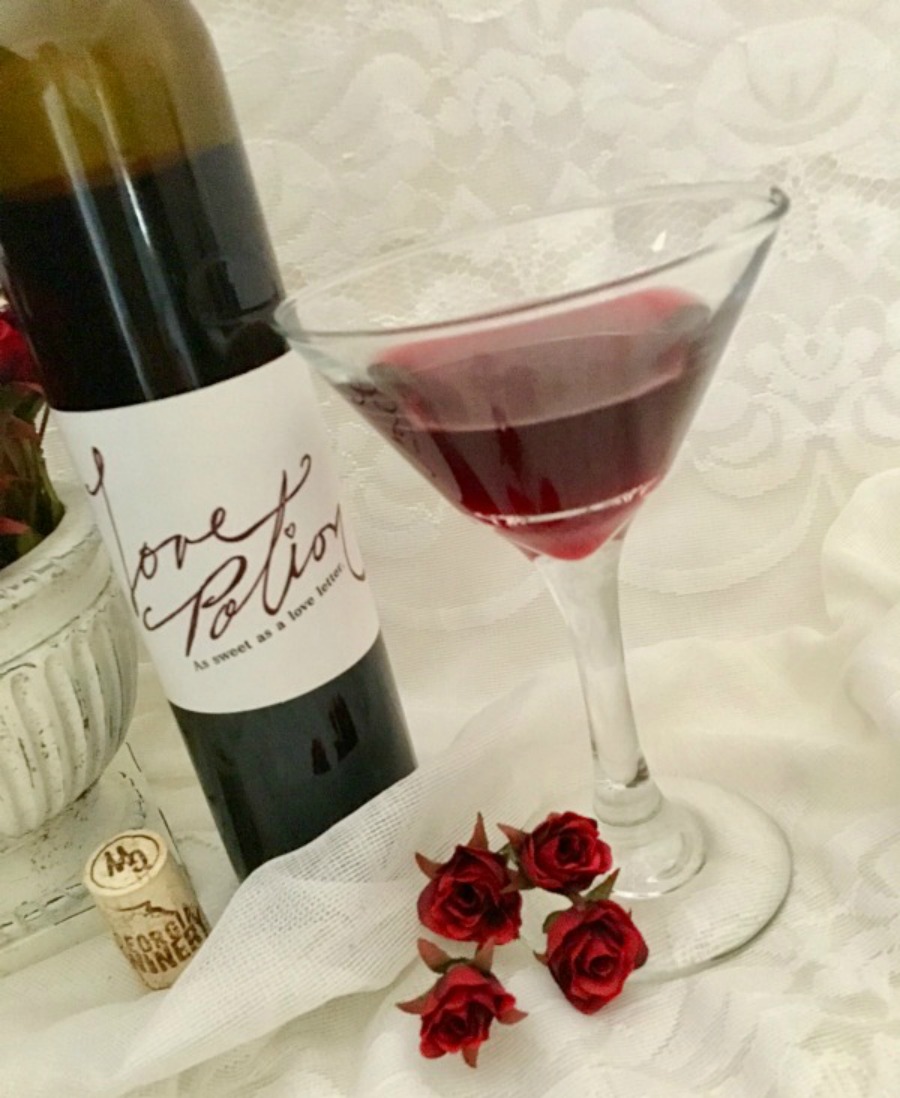 I like just a small glass as an after dinner drink. To bring my hot chocolate up a notch, I will add about 2 Tablespoons, but experiment to find your favorite blend.
A shot of any of your favorite liquors such as Kahlua or Baileys would also a different taste for you.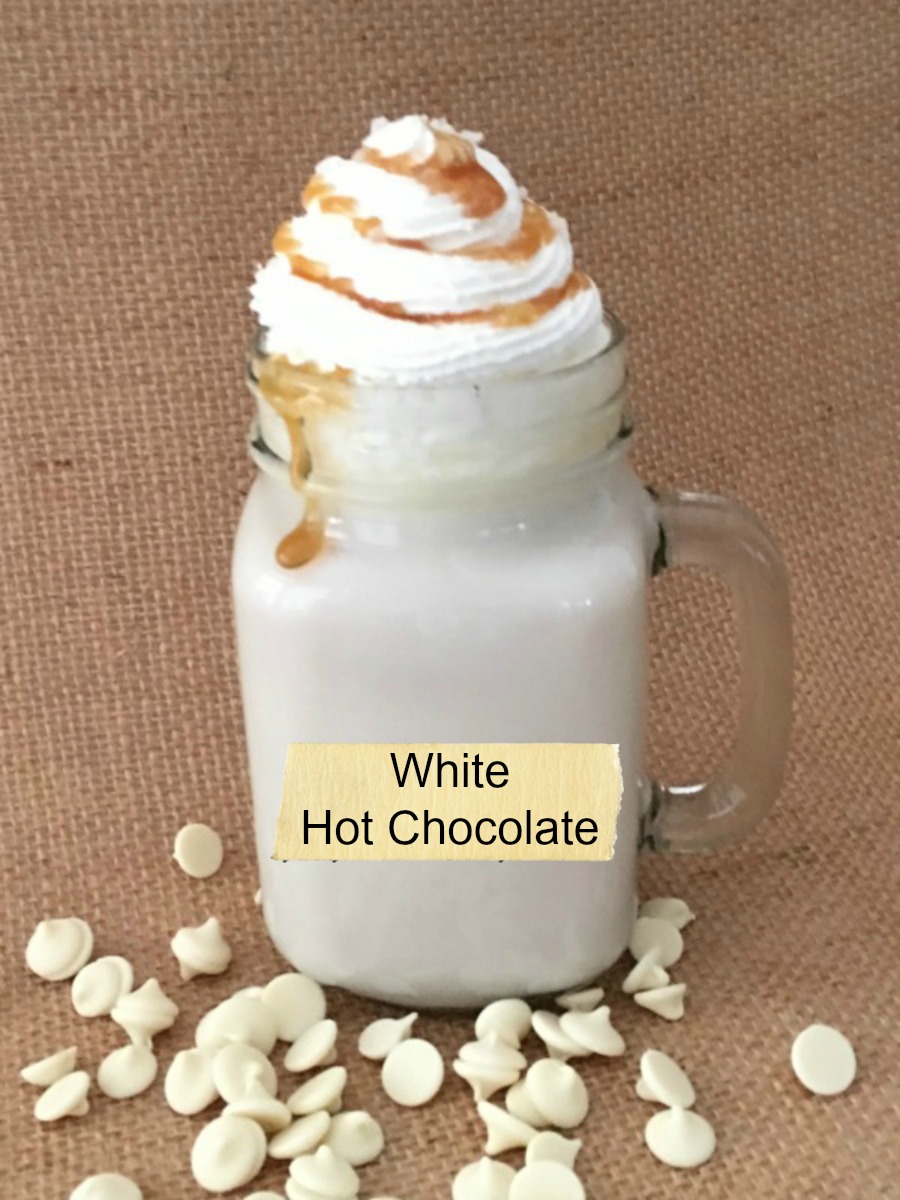 HOMEMADE WHITE HOT CHOCOLATE
This delicious white hot chocolate recipe is SO easy to make with your favorite kind of milk (or cream) to make it as decadent as you want.
4 cups of milk of your choice (or you can substitute heavy cream or half and half, or do a mixture)
1 tsp. vanilla extract (always use pure vanilla extract, not imitation)
8 oz. white chocolate chips
Heat milk and vanilla until it simmers, but do not boil. Mix in chips and stir til melted.
Add toppings and serve.
My favorite is drizzle with caramel syrup and add sea salt.
Want to make it pretty for Christmas morning? Just add a drop or two of red food coloring. Or maybe green for St. Patricks Day?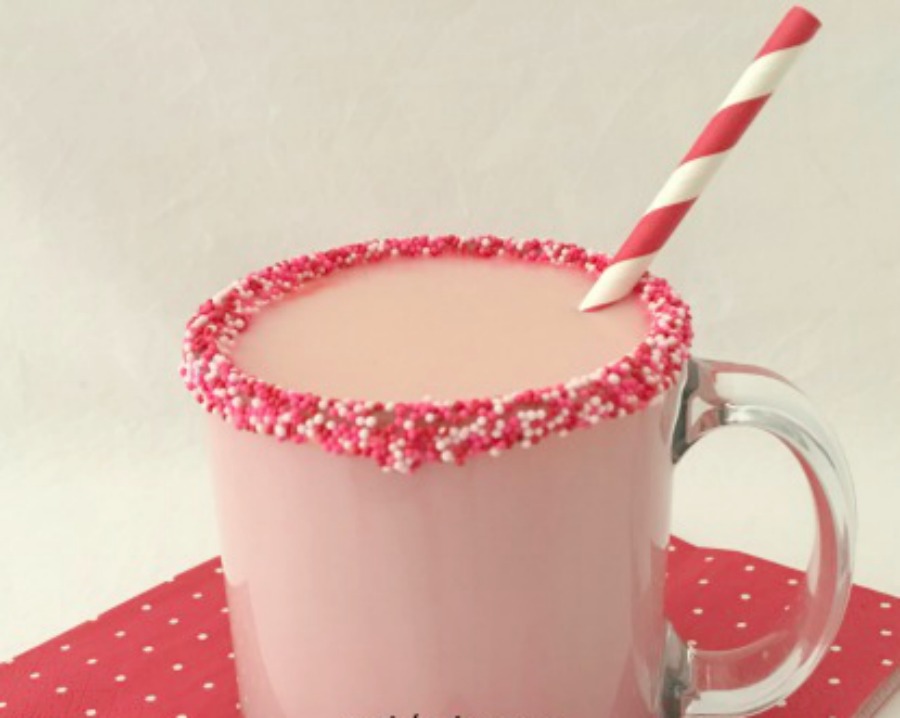 NUTELLA HOT CHOCOLATE
Now for the easiest Hot Chocolate you could make (my husband could even make it – maybe).
For an individual cup:
2 Tbsp. Nutella
1 cup milk, or cream and milk combination.
Heat milk in a small saucepan over medium heat until steaming (not boiling). Add Nutella and whisk until dissolved.
Add your favorite toppings and serve.
TOPPING IDEAS
mini chocolate chips
candy pieces
cinnamon and cinnamon sticks
chocolate or caramel syrup
sea salt
candy canes or peppermint sticks
crushed peppermints
mini marshmallows
whipped cream
sprinkles
instant cocoa
nutella
chocolate shavings
cherry on top
flavored coffee creamers
Serving ideas:
The rims of your mugs can be dipped in chocolate or caramel syrup right before serving.
Ahead of time, use my favorite Wilton Melting Wafers. Dip the rims in this then dip immediately into crushed candy, sprinkles, or colored sugar. Great presentation idea. You can find a huge variety of colors and flavors in these wafers.
HINTS
In a hurry, prepare the hot chocolate on the stove top, then pour into CrockPot on Warm/Low to serve.
Rims of cups can be made ahead of time, just wrap with plastic wrap. Do Not Refrigerate. What a cute surprise at breakfast or brunch.
The milk can be any combination of milk, heavy cream, or half and half. The richer the milk, the richer your hot chocolate will be. Remember this can be an indulgence, you aren't drinking this everyday.
Keep a Hot Chocolate Bar set up, even with instant cocoa, for after school treats or drop-in guests.
Want a hint of coffee, add a teaspoon of Espresso Powder.
I love extra large mugs – your drink will stay hotter longer.
Flavored syrups are also a wonderful way of adding more flavor.
Most any type of chocolate or chips can be used in these recipes. The better the chocolate, the richer flavor you will achieve.
Bittersweet chocolate is great to use if you don't want a really sweet taste.
I usually don't sweeten whip cream if I'm adding it to a sweet item.
Always use real vanilla or flavorings. You will taste such a difference in using this opposed to imitation.
Let me know your favorite way to serve or drink hot chocolate.
Now add these cookies which taste like cocoa.