Finding The Best Breakfast in Tuscaloosa
When you think of Tuscaloosa, what comes to mind? Probably University of Alabama Football. That is the most common reaction but after I got to make a visit there recently as a guest of Visit Tuscaloosa, I will be making a note to plan a stop there when traveling South on I-59 after Finding The Best Breakfast in Tuscaloosa. #hosted
Do you follow me on PINTEREST? Most people start planning travel by visiting Pinterest first.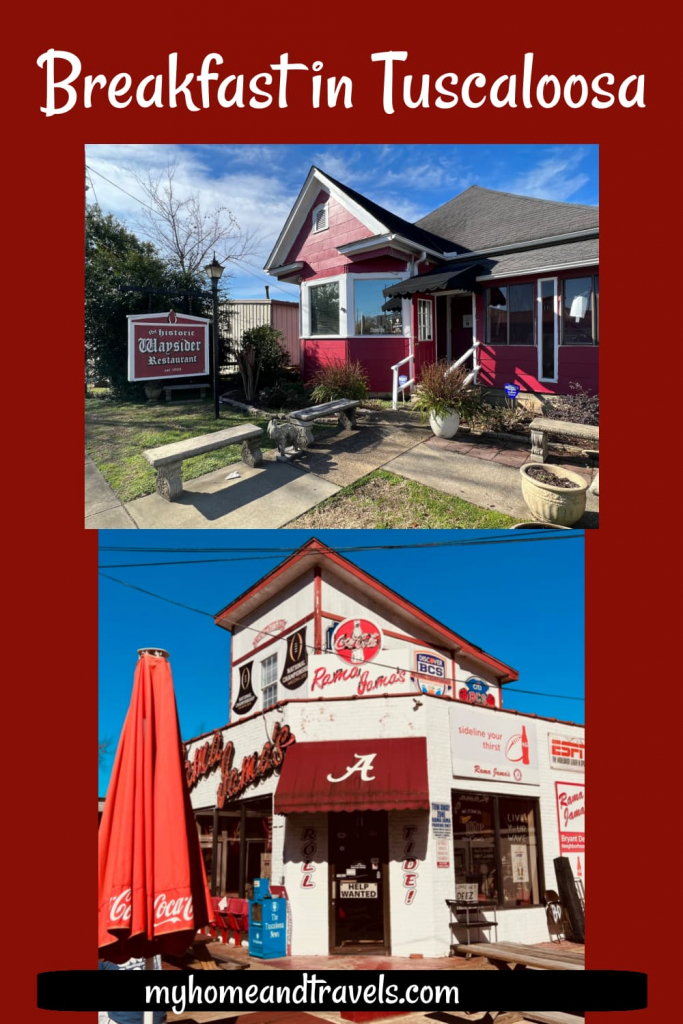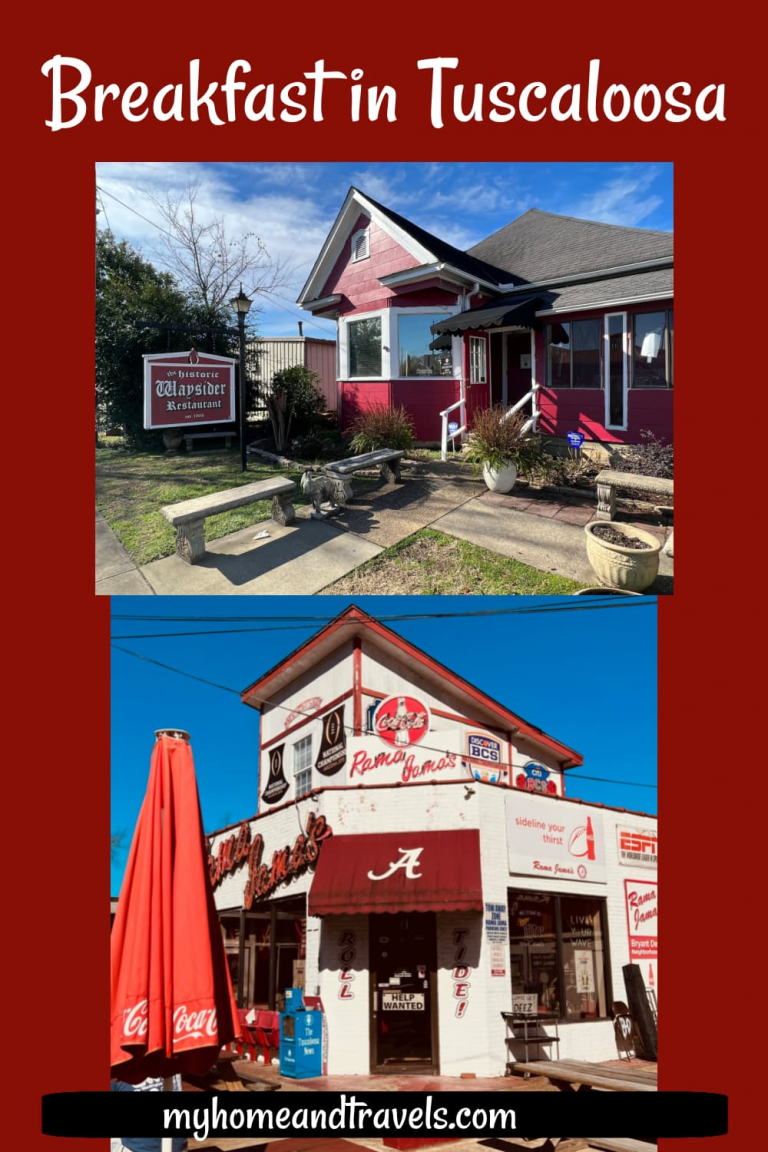 As with most college towns, the food scene is thriving. But you don't always have to have a new and upcoming place to enjoy it. Sometimes you just want to stick with tradition and Tuscaloosa is full of it.
Along with all the other traditions you will find in Tuscaloosa, two places for breakfast are on the list. Each being just a bit different but having a lot of the same things too. Both serve what I would call a good old fashioned country breakfast and a nod to that other tradition in town – Football.
Battle of Breakfast in Tuscaloosa
If you have ever visited Tuscaloosa and asked where to eat breakfast, you probably get one of two answers. Rama Jama or Waysider. I don't think there's really a battle, but you just need to plan to be there for at least two mornings to try both out.
Sometimes I have said I'm not a breakfast eater, but have really discovered, I enjoy breakfast – when others make it for me. Both places hit the mark for me with a great Southern breakfast. You won't find trendy things like Avocado Toast or Quinoa Bowls, but rather the staples like bacon, eggs, ham, biscuits, and gravy.
Eating at Rama Jama
Located just steps from Bryant – Denny Stadium, this is THE place many stand in line for (sometimes the wait can be lengthy), but it's worth it. One of those MUST-EAT stops whether you are there for the school or just visiting.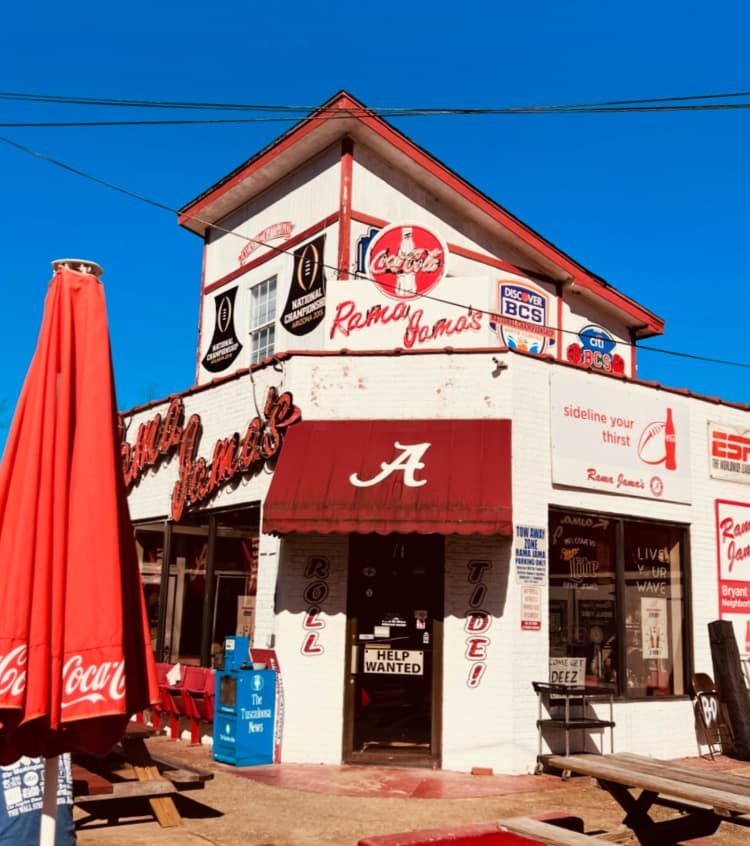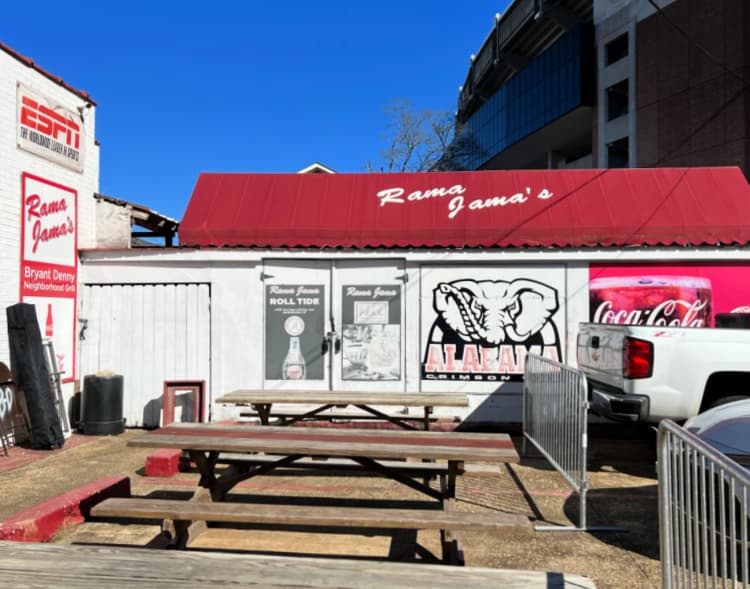 During our breakfast, we had the opportunity to enjoy speaking with Gary Lewis, who owned Rama Jama from the opening in 1996 to 2017. He also was the former owner of Houndstooth, which is still in operation just down the street. He currently still operates most day-to-day operations even with a new owner. Some say he has a resemblance to another guy in Tuscaloosa. He was full of stories of experiences at the restaurant to include some of the most famous customers, how the décor has evolved over the years, and why they don't make homemade biscuits.
A couple of my blogging friends, Anna Cook with Stuck On The Go, Connie Pearson with There Goes Connie, and Gary Lewis. Remember to check out their blogs as well.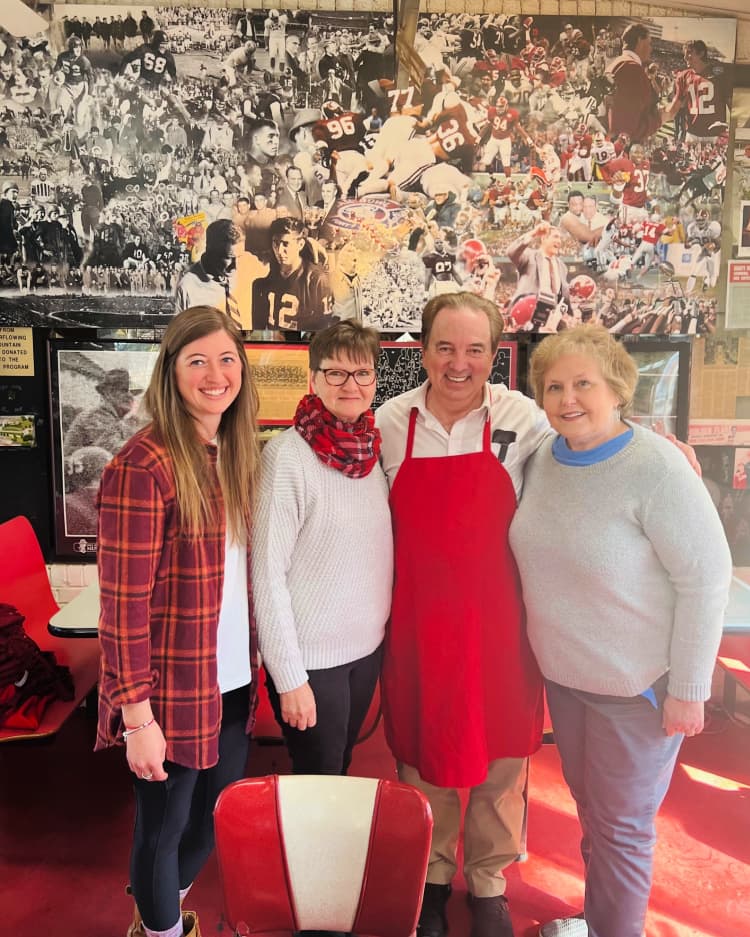 Upon entering the first thing you notice is the number of photos, signage and just stuff there is to take in. Although I was there about an hour, I'm sure every time I go back, I will see something new to me. You might even see a few more colors than Crimson. A lot has been given to the restaurant or picked up at yard sales.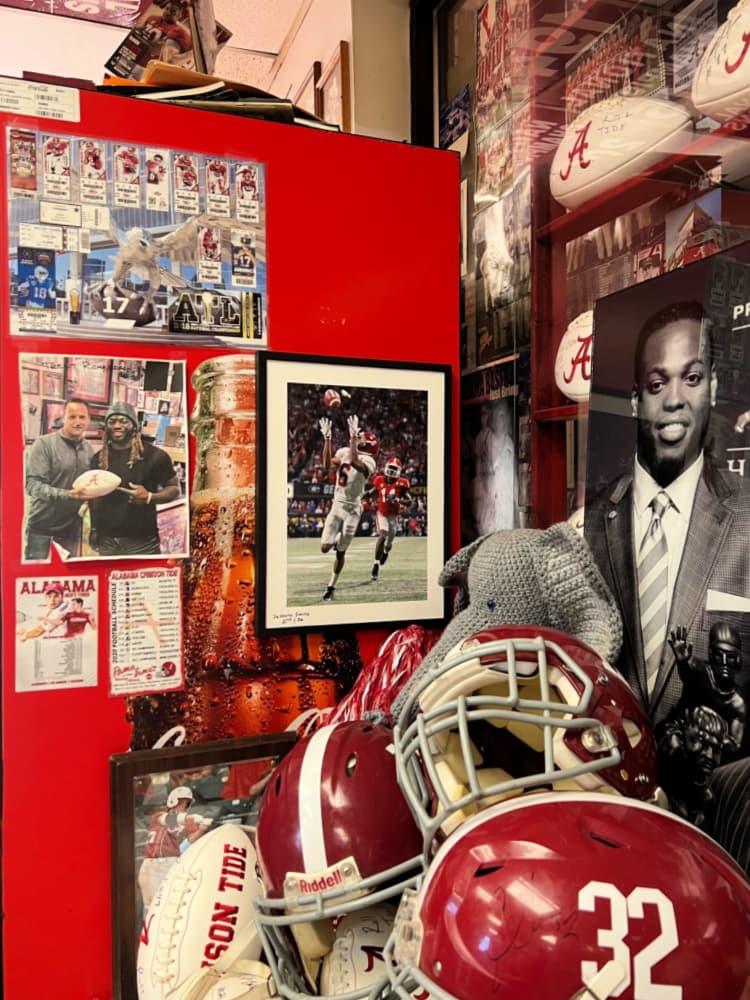 The great food will keep people coming back for breakfast or lunch, which Gary called Stadium Food, so add this to your list for Tuscaloosa too for the fun factor.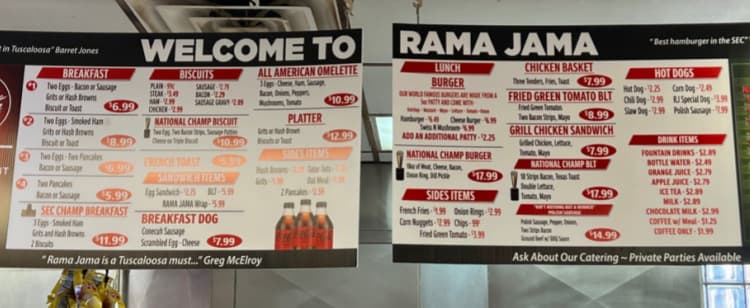 A few facts and things to remember about Rama Jama:
Closed on Sunday
All meals are cooked to order
Located in an old gas station
The National Champ Burger has 18 oz of meat
The National Champ BLT has 18 slices of bacon
FYI – if you aren't an Alabama football fan, the significance of 18 is the number of National Championships the Crimson Tide has won in Football.
ESPN & SEC NETWORK have broadcast Game Day from here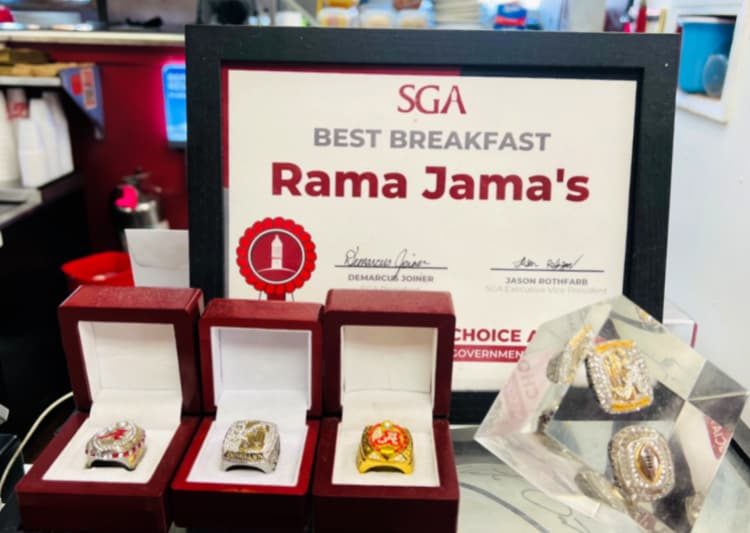 A few notable visitors – Sela Ward, actress and former AL cheerleader, The Robertson Family of Duck Dynasty, and many in the Sports or News business. I failed to ask if Nick Saban had ever visited. I'll ask Gary on my next visit.
If you stop by, ask for Gary and tell him that Razorback Fan sent you.
And here's my breakfast. The smoked ham was a bit different, but still delicious. And the hash browns were just the right amount of crispiness.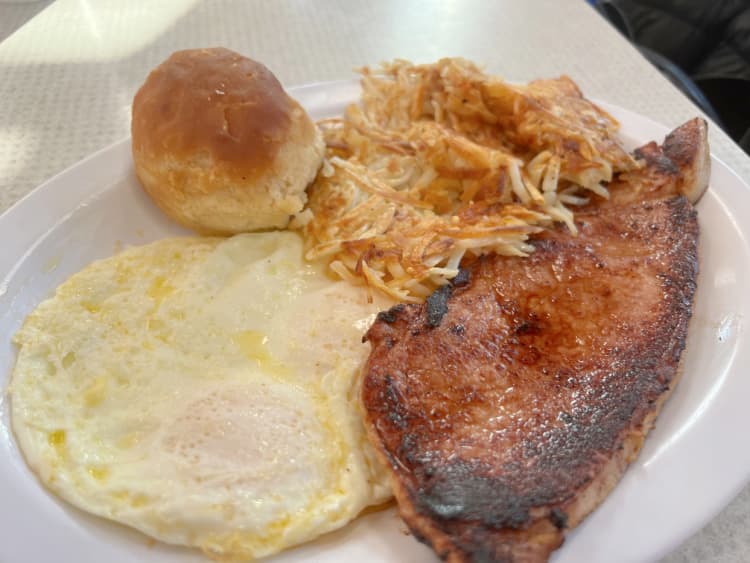 The Historic Waysider Restaurant
The Waysider is the oldest restaurant in Tuscaloosa known as a breakfast and brunch spot.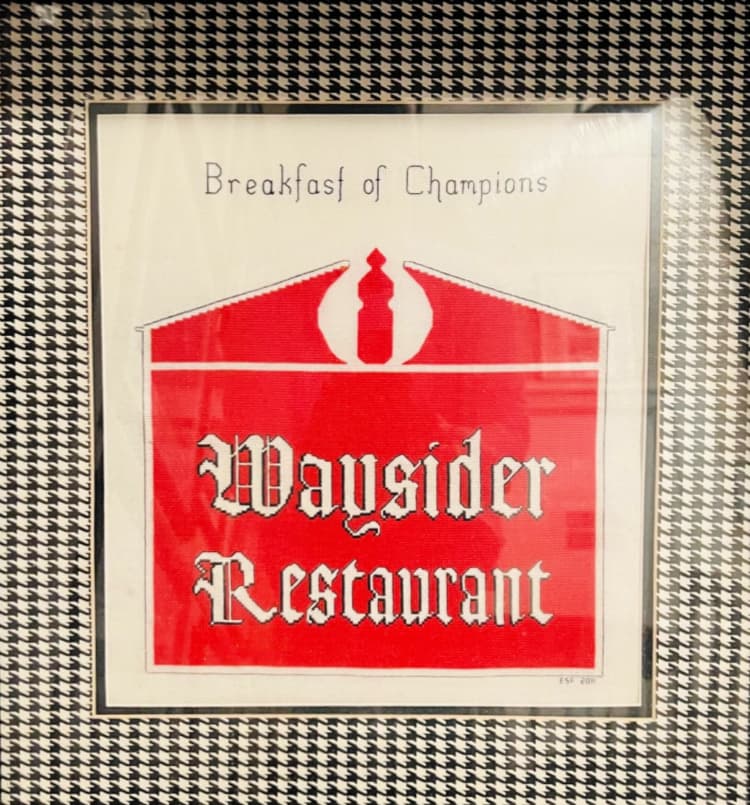 Another little claim to fame for them is it's reported Paul "Bear" Bryant spent several mornings a week here for breakfast at the same table. I'm not sure if he had the same breakfast every day or not.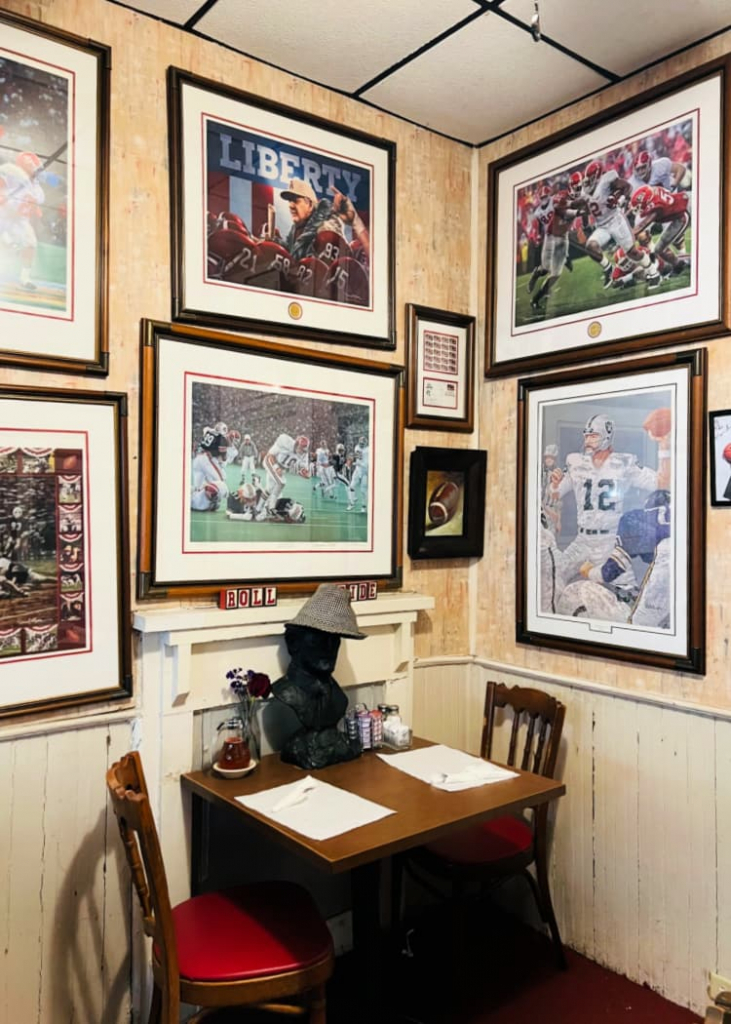 Located just out of the downtown area in an old house, it's not a large place so many mornings you can expect a wait – but you will find it's well worth the time. You will find a lot of sports memorabilia and photos on the wall. You won't forget what city you are in.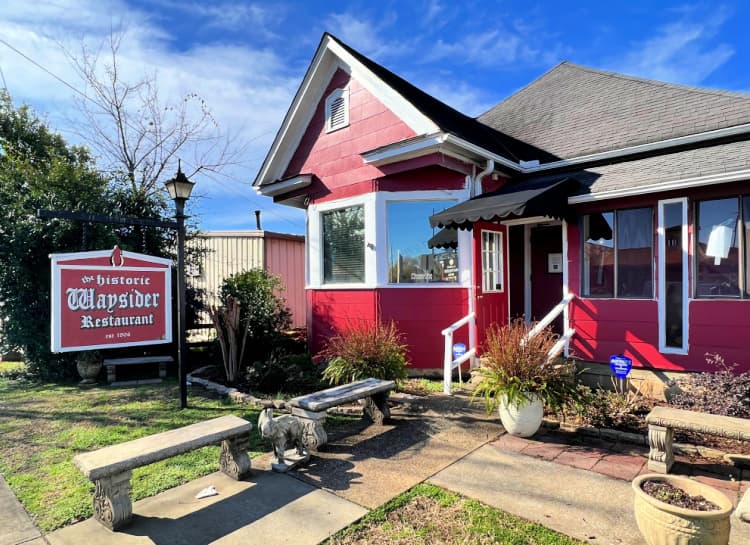 This restaurant reminded me of places we might have stopped at when traveling when I was young. That wasn't often since our vacations were usually visiting families in another state. There weren't so many fast food places, which my Dad didn't like anyway.
Checking over the menu they have what you expect any Southern restaurant to serve for breakfast with ham, eggs, cheese grits, hot cakes, and something not on a lot of menus anymore, Redeye Gravy. That I had to try as I love it.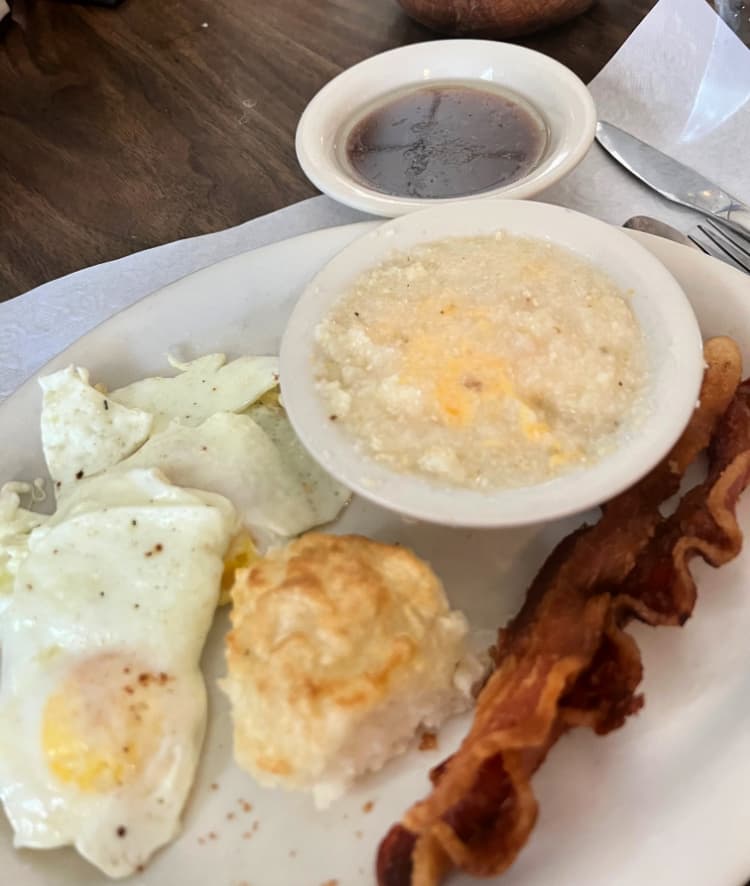 But probably what they are more famous for, besides Bear Bryant, is the homemade biscuits. These little pillows of goodness were just heavenly. Bring out a plate full for the table, it was hard to resist having more than a couple.
The lunch I would describe as a meat & 3 with choices like meat loaf, pork chops, mashed potatoes, and cream corn. Oh, and they have homemade pie every day. I see the next time I'm through there at lunch time, I know where I'm going. Remember they are open on Sunday but closed on Monday. They do have a FaceBook page, but no website.
As you all know, I'm a huge Arkansas Razorback Fan but also a true SEC fan – but finding good food is always on my list to do. If in Alabama, another Southern State, or even above the Mason Dixon Line, I'm here to share what you need to try.
Do you have a favorite breakfast spot either around your hometown or you have found on your travels? Let me know and maybe I will have to try it on my next road trip.
Watch soon for more about my visit to Tuscaloosa learning about their history, where to stay, the arts scene, and of course, more food.
I've included affiliate links to Amazon for you to find some products easier. I may receive a small commission, but the price is the same for you. It just helps my blog out.
Happy Travels,
Rosemary