The Flower and Food Festival in Dollywood is a great way to greet the season and get back into the swing of things this year. The festival brings together two of the best parts of the warm weather season to visitors – the stunning beauty of flowers in bloom and the delicious food that we all love about the season. The Flower and Food Festival has premiered for the first time ever, and it's sure to be a yearly tradition.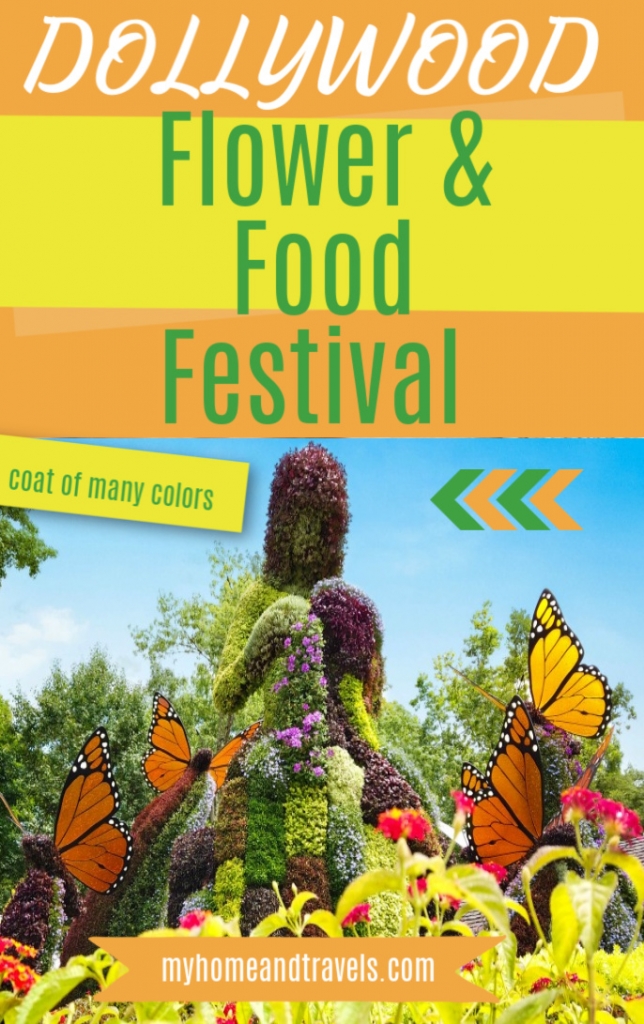 Welcome to Dollywood
Nestled in the Great Smoky Mountains, Dollywood has long been a go-to attraction for visitors to the Pigeon Forge area. With over 100 acres of gorgeous scenery, rides, attractions, and artisans, and of course, tons of great music, Dollywood has been a family-friendly hotspot since it opened over 30 years ago.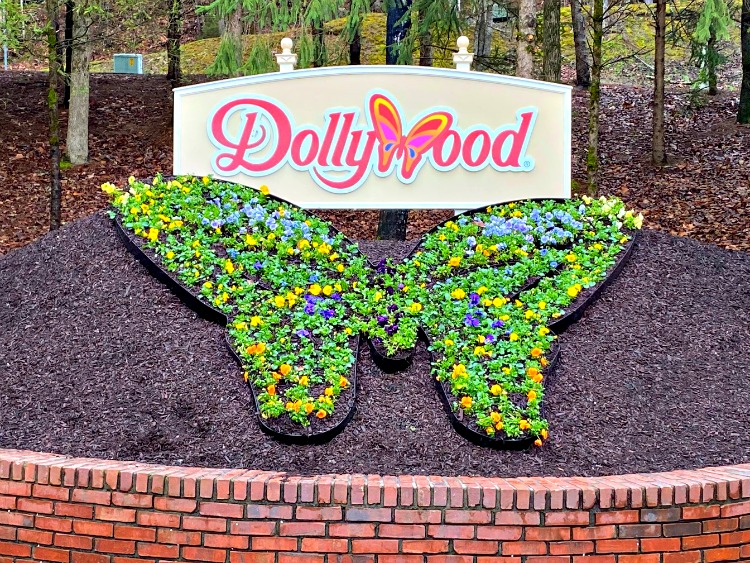 Dollywood is a resort like no other, focusing on the things that really matter – togetherness and great times. Although it's an amusement park, the down-home atmosphere, continuous music, and stores filled with hand-crafted items, make the park feel more like a small town rather than an amusement park.
As a result of the pandemic, Dollywood is doing things differently this year when it opens, prioritizing safety and social distancing while still bringing that down-home feel to its visitors. That's what the Flower and Food Festival is all about.
The Flower and Food Festival is the Best of Dollywood
The Flower and Food Festival is everything that makes Dollywood one of the best spots to visit anywhere in the south. Bringing together Dolly's sensibilities, referencing so much of what has made Dolly and the area so popular, and promoting pure joy, the festival aims to be a source of fun and light to visitors who have, like all of us, been through the wringer in 2020.
While originally scheduled to make its debut in the spring, the festival will now begin when Dollywood reopened recently. It's the perfect way to welcome guests back to their favorite getaway and give them the gift of love and light.
What to Expect at the Flower and Food Festival
During the event, guests can explore plant sculptures that boast a collective half-million colorful blooms. Reaching heights of up to 14 feet, these huge displays will create breathtaking visuals that celebrate the spirit of the Smoky Mountains. In addition to these massive sculptures, visitors will be treated to floral carpet beds on walkways, floral embellishments on buildings, and flowerbeds bursting with color throughout the park.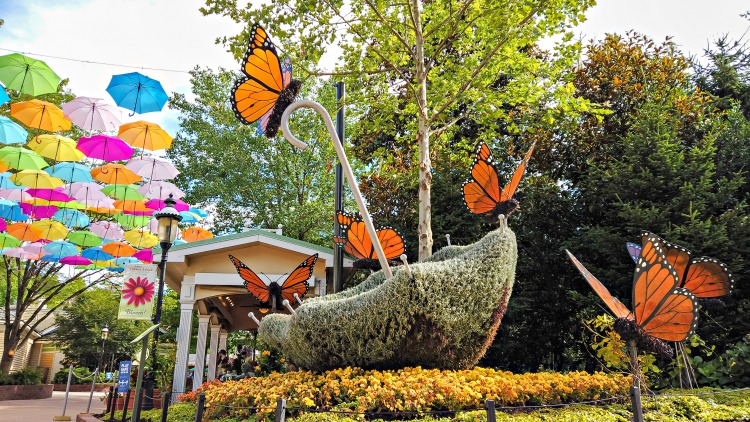 Floral Sculptures
The massive floral sculptures on display during the Flower and Food festival are made in partnership with internationally acclaimed Mosaicultrues, one of the best flower sculpting teams in the world. These sculptures highlight the beauty of the Smoky Mountains through both blooms and designs and feature sculptures of animals native to the area such as turtles, raccoons, frogs, and black bears.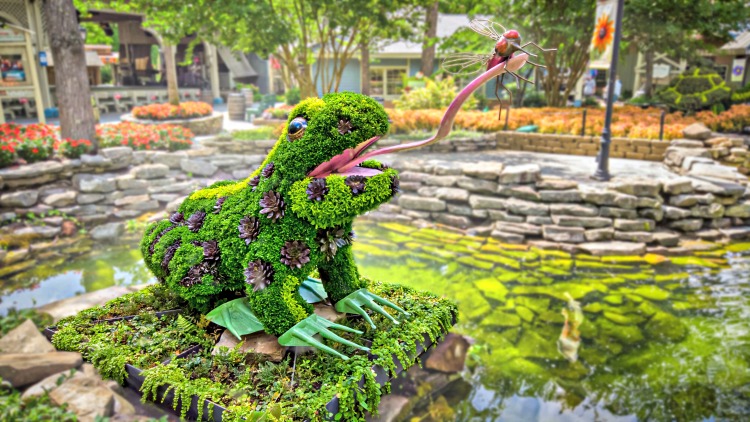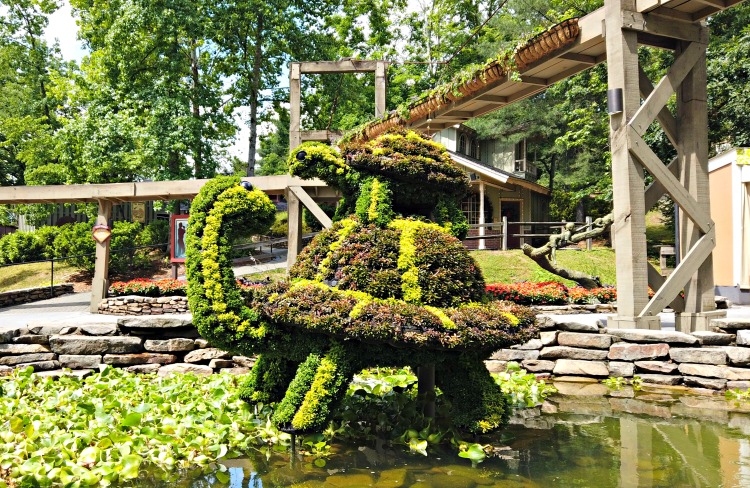 A highlight for any trip through the Smoky Mountains is a bear sighting. These are the safe ones.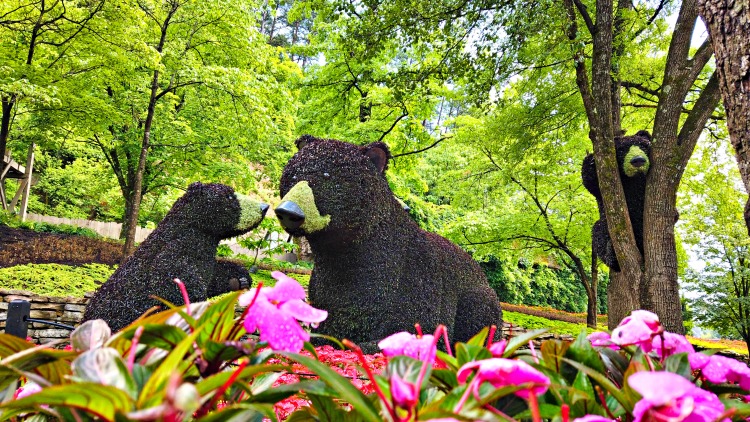 In addition, the sculptures also reference some of Dolly's most iconic songs. A floral heart umbrella highlights her song, I Will Always Love You, while a truly touching scenic sculpture of Dolly's mother, Avie Lee, sewing the coat of many colors pays tribute to both Dolly's mother and the iconic song which got its name from her mother's sewn coat.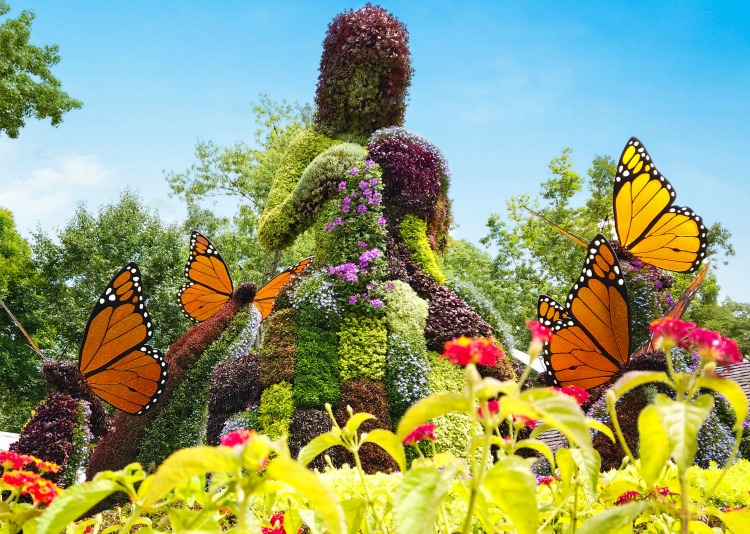 Beautiful Scenes at Every Turn
From the moment guests step into the park, they'll be treated to the beautiful scenes offered by the Flower and Food Festival. Upon entering, guests will find themselves under an umbrella sky – literally. The park entrance features over 600 umbrellas floating overhead. In addition, special "Instagrammable" areas will be found throughout the park, offering the best of the best in photo opportunities, so families can cherish their festival experience for a lifetime.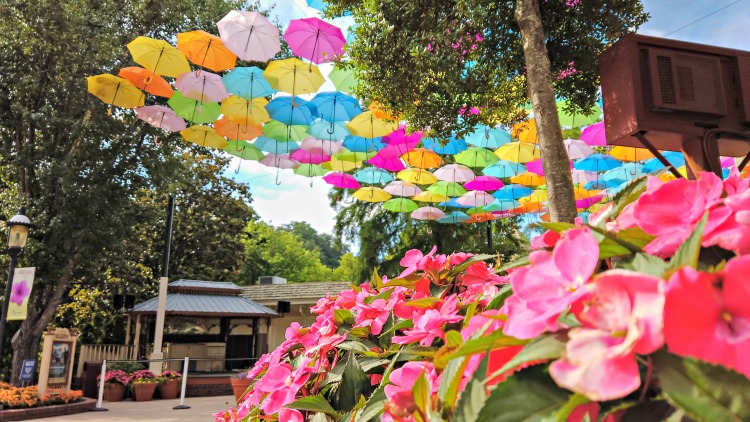 Delicious Food and Drink
The Flower and Food Festival isn't all blooms. After all, food is in the name. While exploring the visual feast of the festival, guests will also be able to actually feast on amazing food offerings prepared especially for this grand event.
Delicious savory highlights include grilled citrus shrimp, delta peas and rice, gyros, Greek orzo pasta, grilled chili lime skirt steak, chicken stir fry, zucchini fritters, lobster rolls, charcuterie in a cone, and pork sliders with pineapple chutney.
Those with a sweet tooth will love the chocolate-dipped macaroons, toasted coconut cupcakes, blueberry tarts, and chocolate ganache brownies.
Extra special drink options available to refresh a parched palette included strawberry guava, blueberry lavender lemonade, blood orange lemonade, and watermelon lime fresca.
Extended Hours and Exciting Nights
Dollywood will also offer extended hours, as well, so guests can have plenty of time to take everything in. The park will be open until 9:30 pm every night, and families will also be able to enjoy the nightly fireworks on display for the duration of the festival.
What Dolly Has to Say About the Flower and Food Festival
In an interview discussing the Flower and Food Festival, Dolly talked about reopening the park, the importance of family, and how she hopes the festival can help brighten people's lives in tough times.
"I know everyone is tired after being cooped up inside for the last few months, but I think all of us probably appreciate our family and friends even more right now," she said.
"I'm glad we're able to start welcoming folks back to Dollywood with a brand new festival to help them make fresh memories together. Things may look a little different, but when they see all those beautiful flowers in bloom, I think it will help them take a bit of a break from everything that's been going on."
Safety Precautions for the Flower and Food Festival and Beyond
Just like everyone else, Dolly, her team, and the park are doing their part to ensure that we all stay safe during the reopening of our country. While Dollywood is opening back up, things will be done a bit differently for the health and safety of both park goers and employees.
Before entering, guests will be asked a series of questions regarding their general health and if they've had any close contact to anyone diagnosed with Covid-19. Temperatures will be taken, as well, and social distancing protocols will be followed. Guests will also be required to wear masks for the duration of their time in the park. In addition, signs throughout the park remind guests about these safety precautions and minimum six-foot distancing. Hand washing and sanitizing stations will also be placed throughout the park to ensure that all guests stay healthy while enjoying the festival.
Things can change, so check out their safety precautions and updates at PLAY SAFE
The Flower and Food Festival is a Great Way to Welcome the Season
With so much happening over the past several months, Dollywood's Flower and Food festival is a great way to greet the new season with some hope, optimism, and light-hearted fun. With so many colorful sculptures and installations all through the park and such great food, the Flower and Food festival is sure to entertain all guests and bound to become a staple of the park for years to come.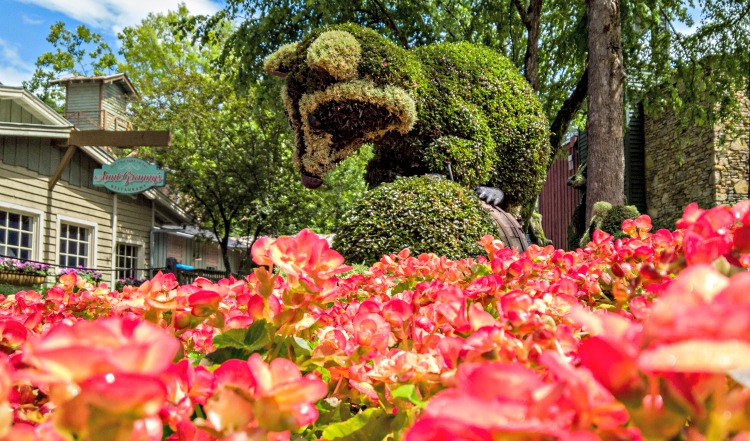 Traditions when visiting Dollywood
Do you have something to see, ride or eat on a visit? One of my favorite things is a visit to the Grist Mill to pick up a loaf or two of the yummy cinnamon bread. And I'm not alone, expect a line but once you bite into it, you will so think it was worth it. A little hit – buy extra toppings and an extra loaf of it.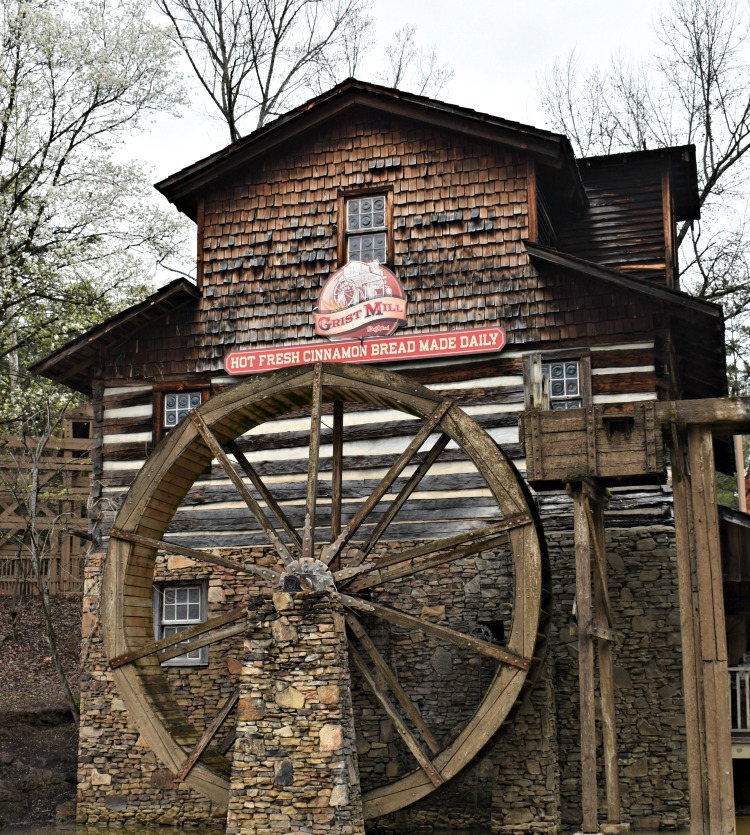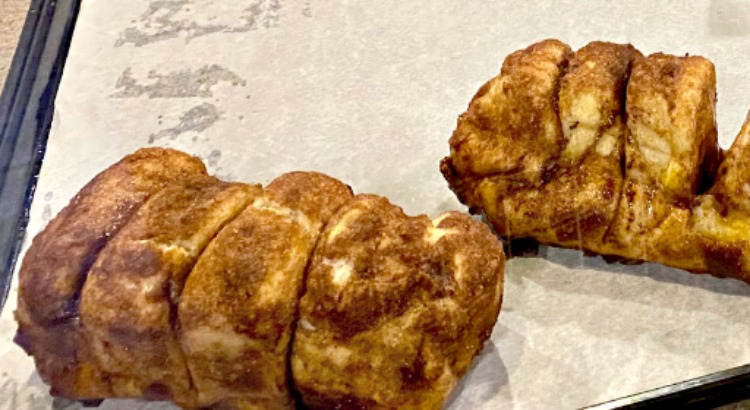 As with any travel, I always recommend to check websites for all updates. DOLLYWOOD
** Some photos courtesy of Dollywood
Pigeon Forge is a great destination as a family vacation, a weekend away, or even a day trip to visit Dollywood.
Until next time …….