A Visit To Maple Street Biscuit Company
---
Going out to breakfast on Saturday morning isn't a regular thing, but needing to make a trip downtown, we thought it was the perfect time to make a visit to Maple Street Biscuit Company. Several friends have posted on FaceBook good reviews and our son used the word awesome to describe it.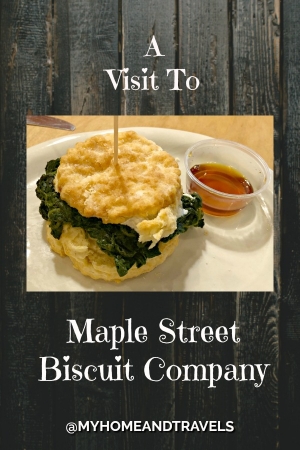 ** A little update – the location on Gunbarrel Road and also Downtown, will start opening on Sundays for a few more breakfast options in Chattanooga. Different hours though. Downtown is 8 – 2 and Gunbarrel is 9 – 5.
Parking wasn't bad since it was a Saturday, but I really wish Chattanooga didn't charge to park on Saturdays. Downtown parking can be a problem sometimes.
Walking in there was a pretty long line, probably about 20 people, but the line moved pretty quickly. The wait to receive our order was fairly quick too.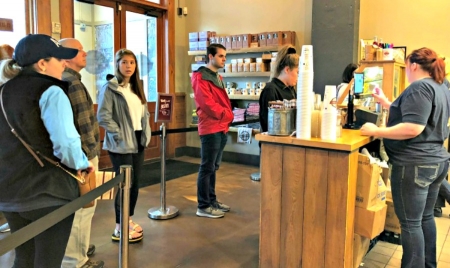 One thing a bit different here is the community seating with large tables so several families or couples may sit together. The kitchen is open so you can watch the biscuits getting that brush of melted butter on top.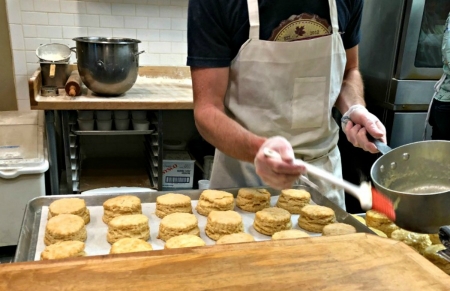 A beverage and coffee bar are available so you can go ahead and get your drinks while waiting on your order. Red Leaf Coffee is served, which I wasn't familiar with, but enjoyed the choices offered.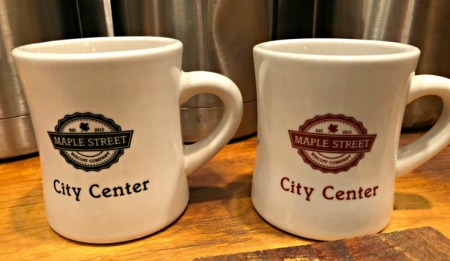 In deciding on my order, I'm not much of having a bunch of stuff on a biscuit so I tried The Iron Goat, a biscuit with sauteed spinach and goat cheese. It was okay, but needed something more. I swiped a piece of bacon from my husband and added a little salt, so it was much better. I will try something different next time though. The syrup pictured went with another order.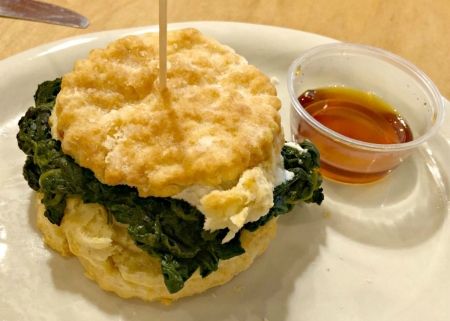 Don had The Sticky Maple – biscuit with fried chicken breast, pecan wood smoked bacon and topped with Bissell Family Farm real maple syrup. He enjoyed it and I will try this next time, without the syrup on top.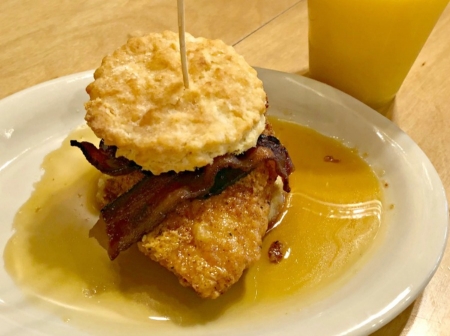 Doug had his usual of The Five and Dime – biscuit with fried chicken breast, pecan wood smoked bacon, cheddar cheese topped with sausage gravy and fried egg. He then pours maple syrup over the top of it. Too much for me in a dish, but he loves it. It was a platter full for sure.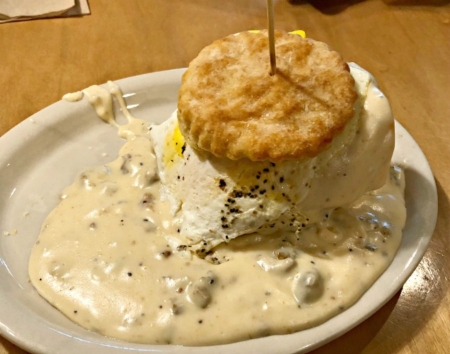 The flaky biscuits are good sized so good for any breakfast sandwich.
Here's the menu and locations so you can check it out yourself. A few other breakfast items such as waffles and oatmeal is offered, and even salads in a jar for lunch.
Normal hours are until 2 or 3 pm, and they are closed on Sundays. **SEE note above.
The first restaurant opened in 2012 in Jacksonville, FL and there's over 20 locations, mainly here in Tennessee, Georgia, Florida and South Carolina. There's a second store in Chattanooga near the mall on Gunbarrel Road.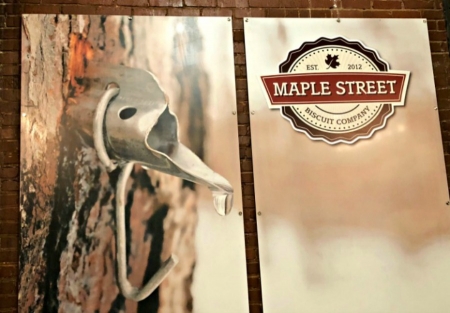 I would recommend you checking for a location near you, or where you might travel to for your breakfast – brunch. I don't think you will be disappointed.
I've included affiliate links to Amazon for you to find some products easier. I may receive a small commission, but the price is the same for you. It just helps my blog out.
Happy Travels,
Rosemary