Well the unofficial end of summer is here and a great time for easy entertaining on the deck. Making the celebration even better was enjoying our new Leisure Made Outdoor Furniture.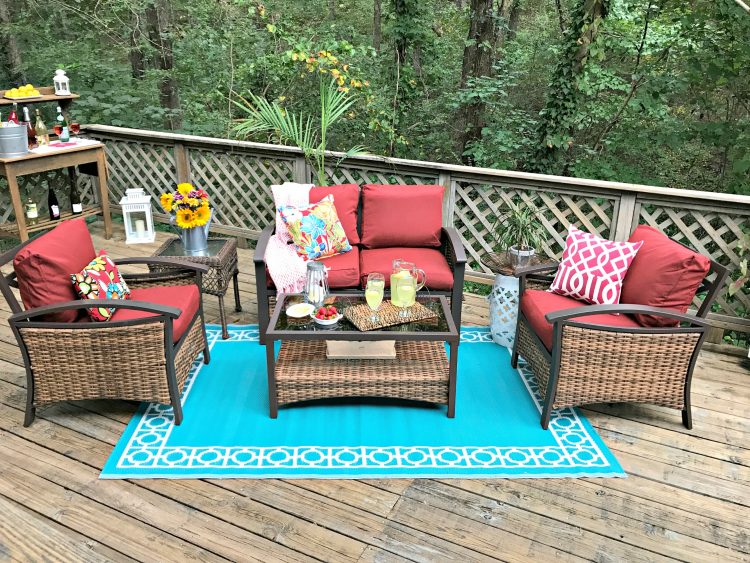 There's just a casual feel when you are sitting out under the trees and enjoying friends.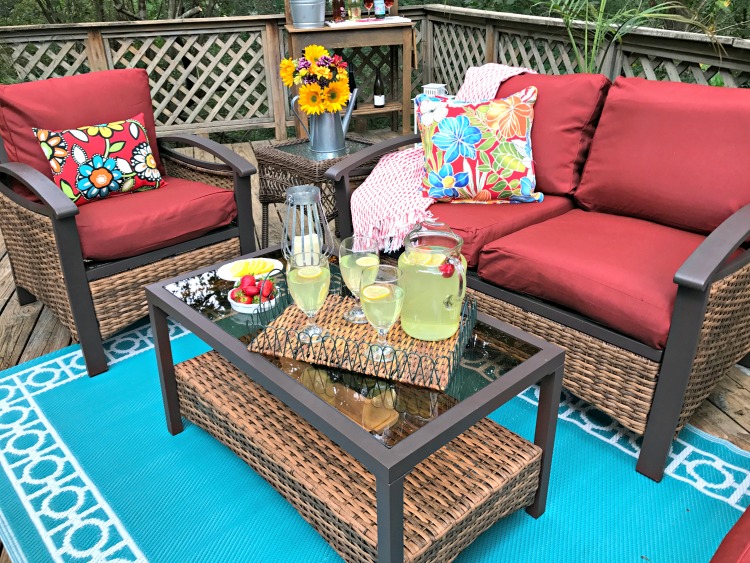 Plans are to complete the makeover this fall with new paint on the railings and decking.
I was provided this set from Leisure Made but all opinions are my own. I met the owner of the company last year in Atlanta (where Samantha lives) at a Designer Blogger Conference and was impressed with the quality of this furniture. So I was especially excited when I was offered a set.
In choosing my Leisure Made Outdoor Furniture and seat covers, I went with Thompson Style as I loved the curved lines of the armrests. By choosing this set with a love seat, two chairs, and coffee table, it offered many options for arranging or re-arranging this outdoor furniture as your needs change.
Not only can you find several styles of outdoor furniture on LeisureMade.com but also at most major stores such as Home Depot, Lowes, Target, and more.
There are four color choices for the removable seat covers and I went with red. As you can see, our deck is fairly shaded so I thought this color would brighten up the area and offer different possibilities as the seasons change.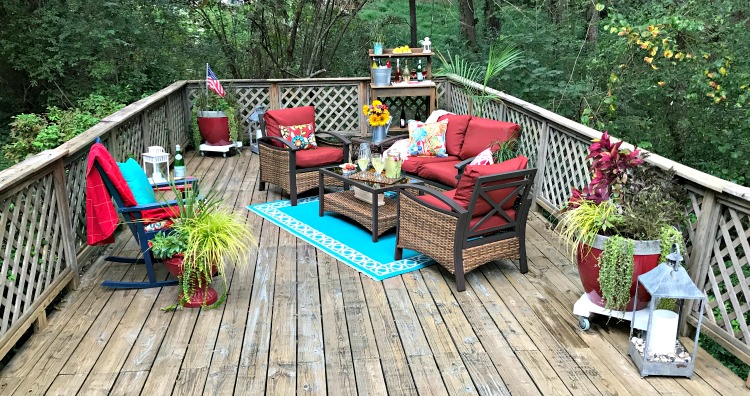 For this summer, I knew my accent color would be shades of turquoise as this gave me a fun and happy looking deck.
We are fortunate here in the South that we can use our outdoor areas more than just a few summer months. Maybe a football party (red is my Razorback color afterall), red, white, and blue is always a great color scheme, and what about adding a Christmas tree for those unusually warm December days we get.
And you can't forget a favorite time is the fall. It's really one of my favorite times to sit outside and the crisp air and enjoy some quite time and a great cup of coffee.
When entertaining on the deck, remember not everything will remain outside. Shop your house as they say. Go through and pull things out such as baskets, trays, lanterns and candles. Keep in mind if you are using a certain color and choose things in that variation. Not everything needs to be too matchy-matchy.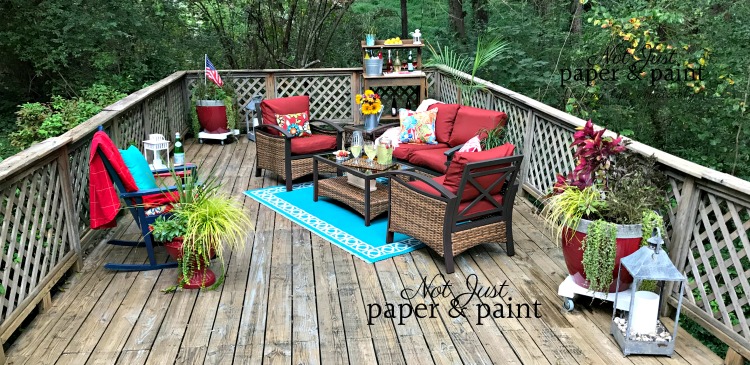 A galvanized bucket is great to fill with ice to keep the drinks cold.
I bought this wood table/cart from a friend and it needs a bit of work, but I covered a bad spot with a tray which had been made from a cabinet door. Find instructions HERE. No one ever knew. I'm still debating on painting it or refinishing the wood. Your thoughts?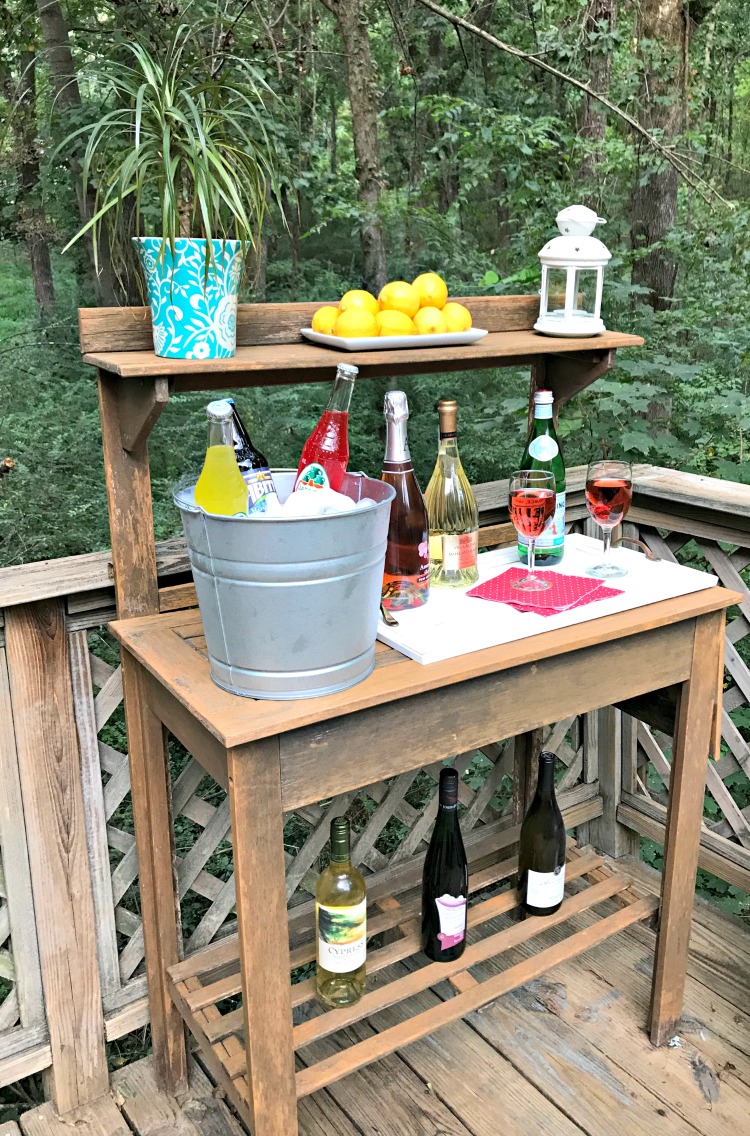 When decorating or getting ready for friends, think of what you need to be comfortable.
Throw pillows in a variety of colors and patterns not only adds comfort, but brings in other colors.
Some evenings can get cooler, so have a few throws to use.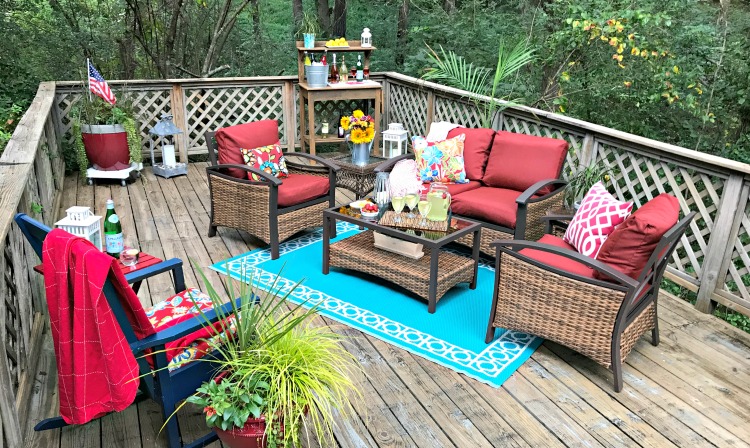 This blue rocker was moved from the front porch to add another seat to the conversation area.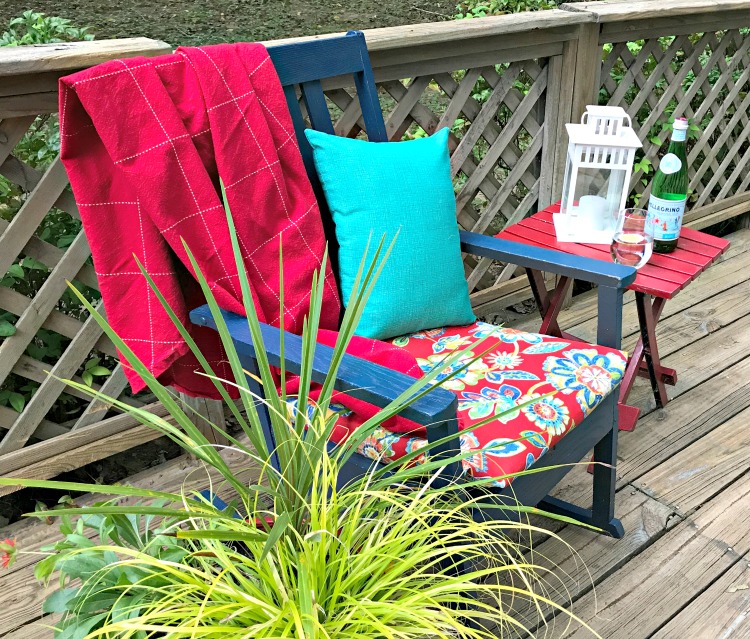 I found two of these lanterns in a neighbors yard with a free sign, so you know I had to stop. My original thought was to paint them, but after a little cleaning, I loved the look of it. A few river rocks covered the rusty bottom and made a great place for a battery operated candle.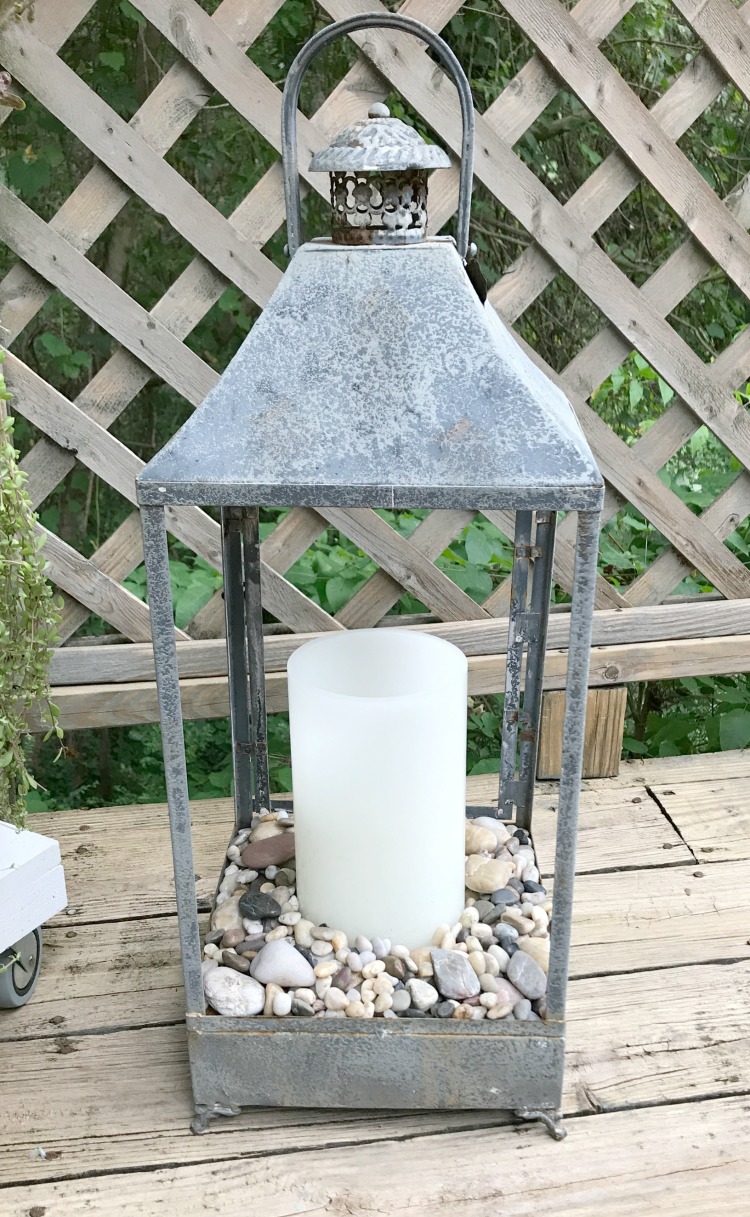 It's really embarrassing to admit what my deck looked like earlier this year. You will see this metal patio set made over in a later post. But it's amazing what a couple of hours of trimming and power washing can do to make it look better and get ready for entertaining on the deck.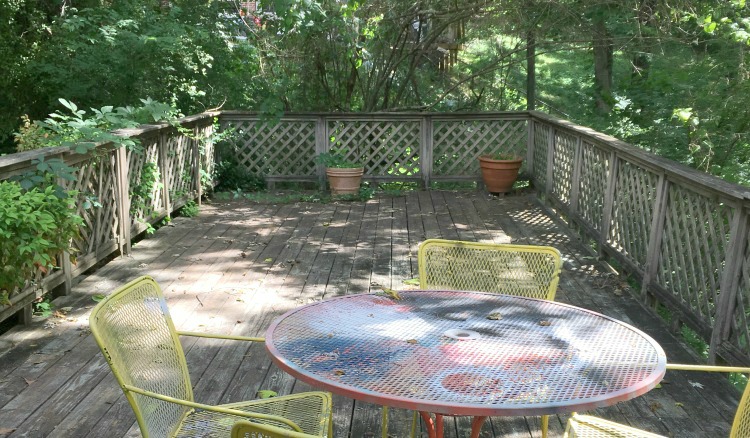 But now I'm proud of the look and Leisure Made Outdoor Furniture was a big part of this.
Check it out from our upper deck.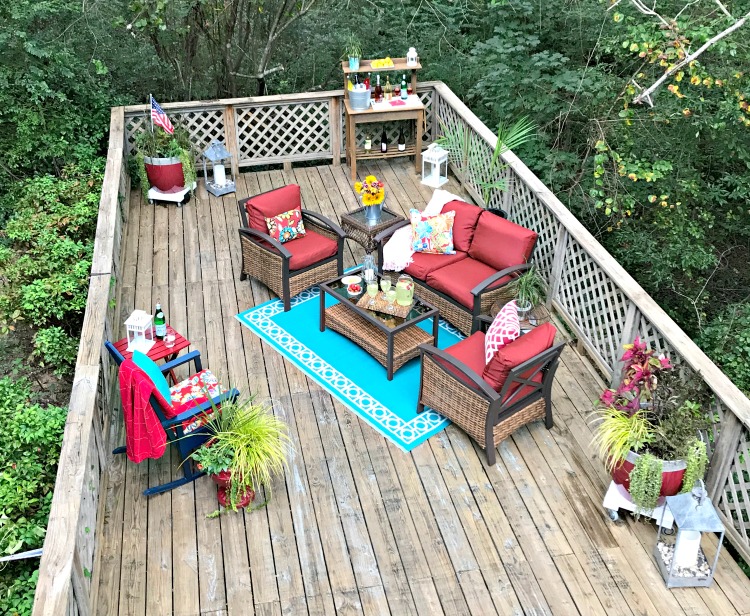 Now, let's say goodbye to summer and hopefully those hot temperatures, and let the fall celebrating begin.
I think it's time to for maybe adding a few mums to start bringing in the fall.
I'll let you know when the deck gets painted.
How do you use your outdoor areas?