Will I ever get my kitchen done? Yes – sooner than later. Between a 2 week cruise and all the holidays, then a few scheduling problems, it's getting back on track.
I'm glad to say at least one project got done this week – although small, it was important to me and took planning. You know how much I like to cook, so having these in order was a must.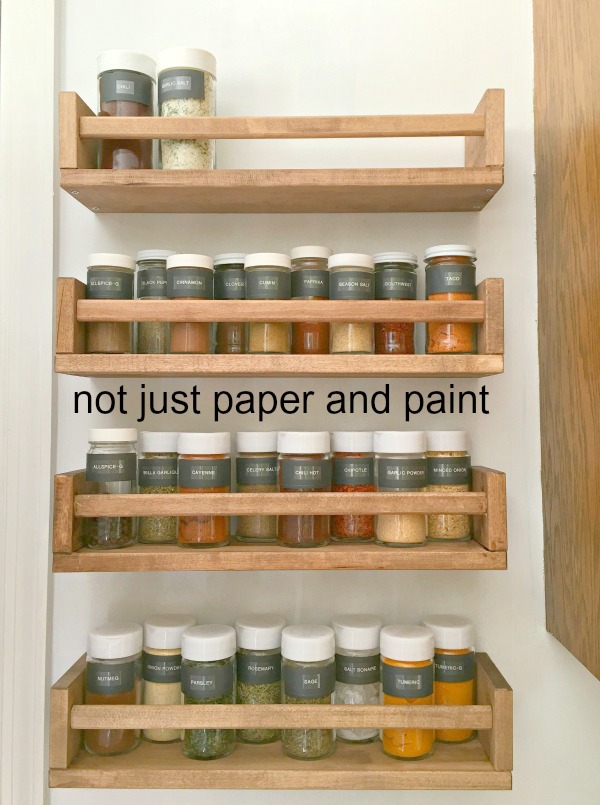 New floor down last week which looks great – look for details on this soon.
As part of getting my kitchen done and some decluttering-organizing, I knew something had to be done about the spices. I have so many I love to use and others are rather random but stuck in the pantry shelves I would sometimes forget what I had or couldn't find them.
There was the space between a cabinet and pantry door just right for this. I had shopped around for the perfect spice rack and it didn't exist so I thought I would have to build one.
But, after a trip to one of my favorite stores – IKEA – my problem was solved. And it was probably as cheap, or cheaper, than building one. Not to say much easier too. These are only about $4 each. They can hold two rows of smaller spice jars, or even pint jars if I need to add them later.
Starting with BEKVAM I used one of my favorite products, General Finishes Van Dyke Brown to stain them. Staining before assembly was easier. One had been put together to check placement and to see if size would work.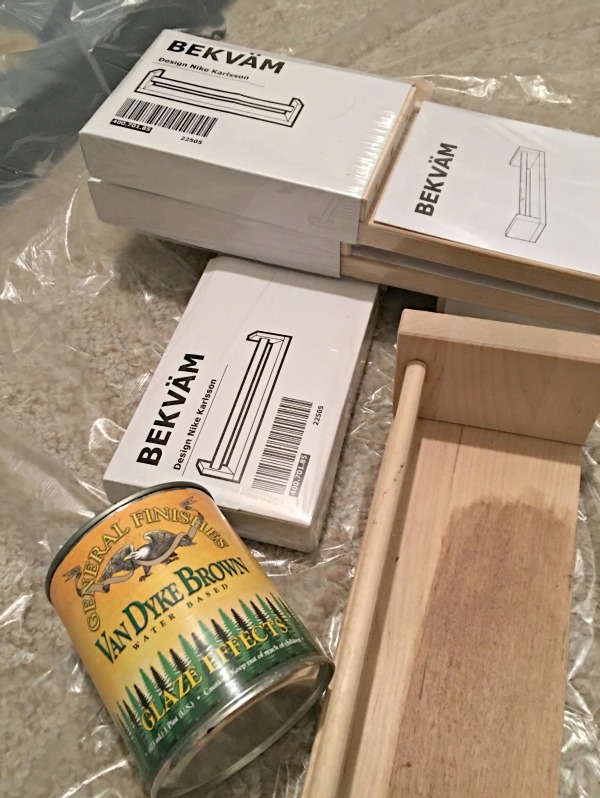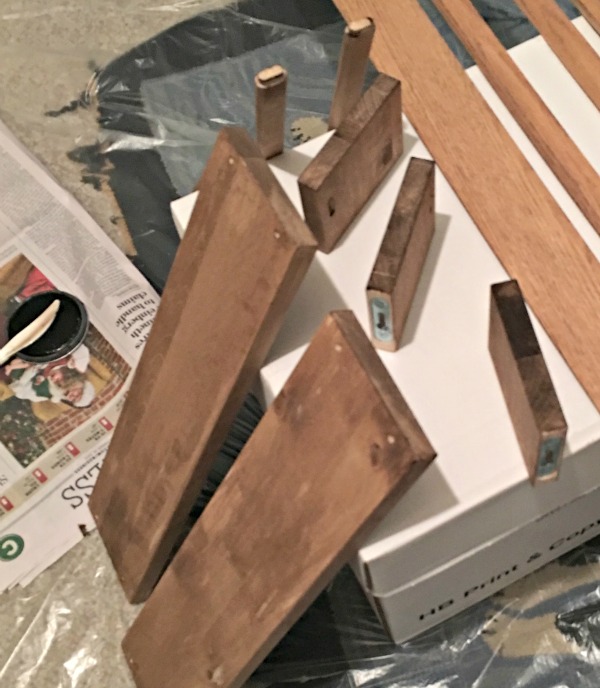 I had done a quick measure of the area and planned on using 5 racks to have plenty of shelf area for all of my jars. But I hadn't taken into account having room between each to remove the jars so I only had room for 4.
To make hanging them easier I made a template of the shelf and started with lowest shelf. It was marked which way the shelf would go and where the screw would need to be.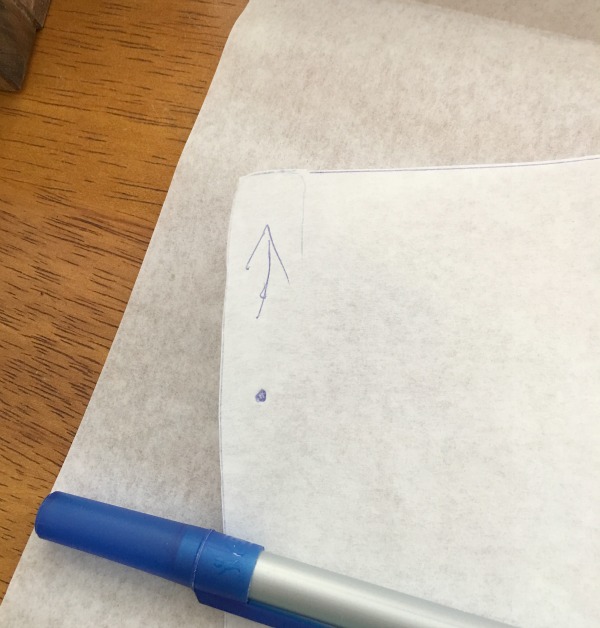 Using painters tape to hold it on the wall without damaging the paint. Painters tape is my duct tape.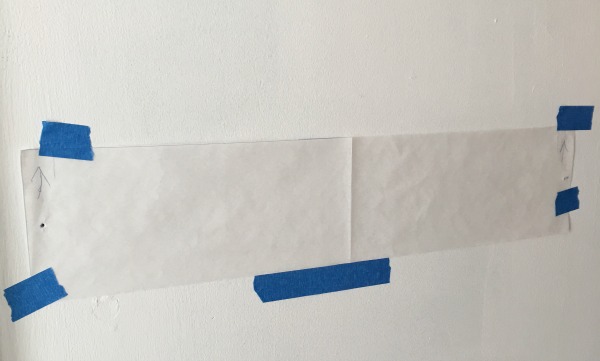 Now to get it level. Did you know there's a free app for a level on your phone? Isn't there an app for everything?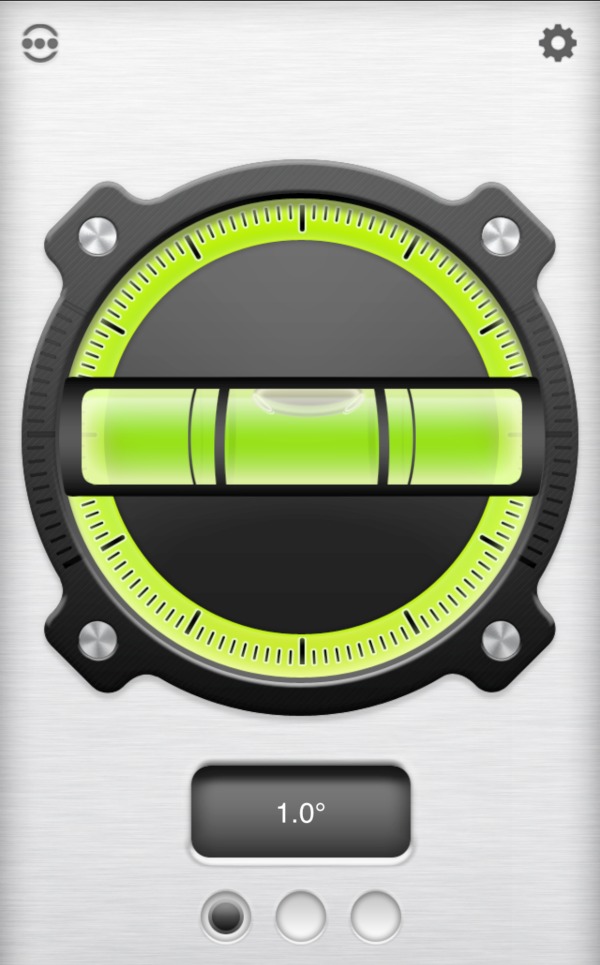 With the jars I had, 4″ between worked. I had purchased several new jars at Fresh Market but had some previously so decided to use what I had and just purchase a few as needed. Budget was always in mind.
Using my favorite tool – you know I love Ryobi, the first one was installed.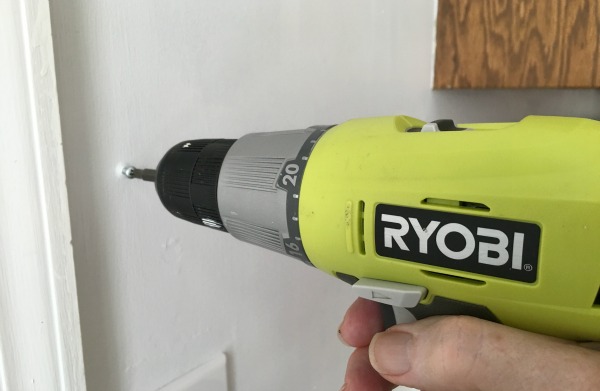 Hey it was up secure and level – always a great feeling.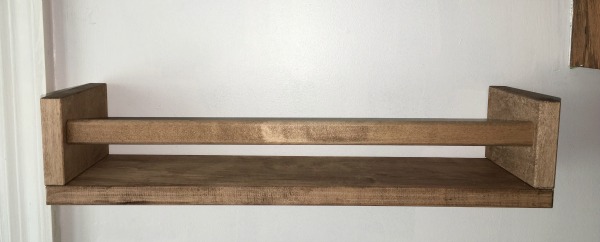 I had cleaned out the spices a couple months ago so I knew how many jars was needed.
The jars were easily refilled by making a funnel with waxed paper.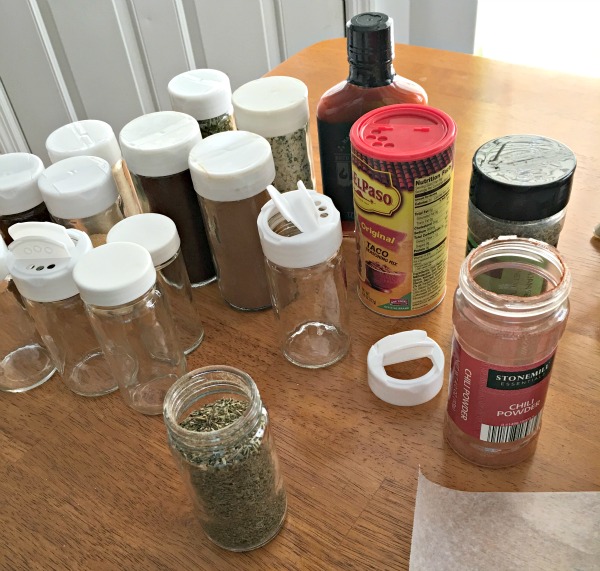 The bottoms of each jar was marked with a Sharpie until I could get the labels made.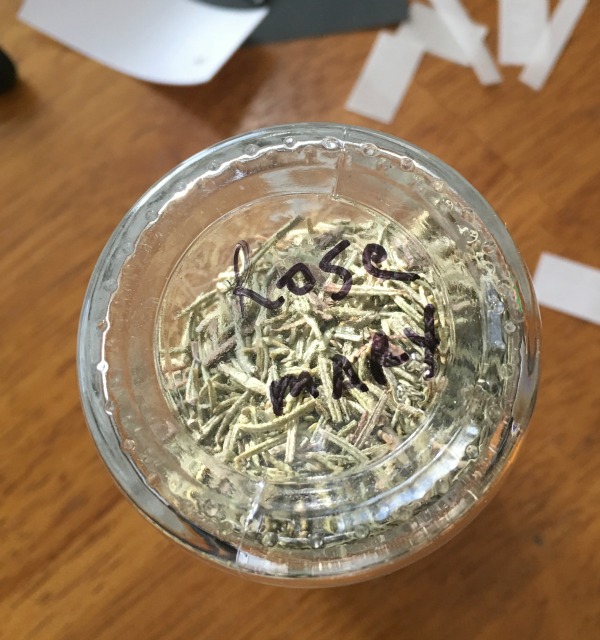 Now for the labels. With a trip to craft stores, and with the number of labels I needed, it was going to cost about $15 just for the chalkboard look. Again, budget in mind so I decided to make my own from chalkboard vinyl already on hand. I didn't make the labels until the shelves were installed so I could check the placement and size.
Using my trusty label maker, I printed labels for each one. Font size – large or small? Small looked better to me as some words were rather long.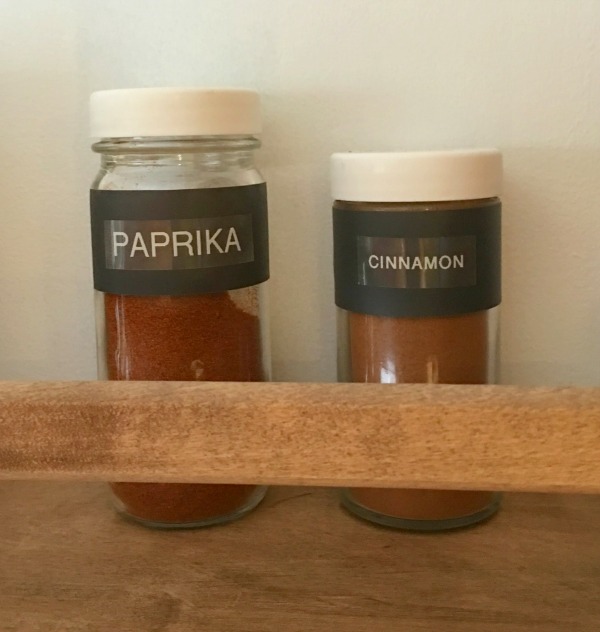 The more you can print at a time, the less tape you waste. I hate that extra inch at each end which gets wasted.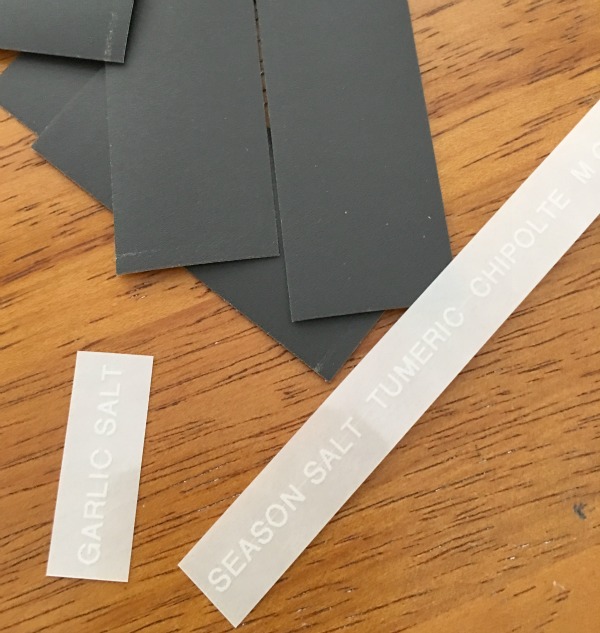 The vinyl was cut 1″ x 2.5″.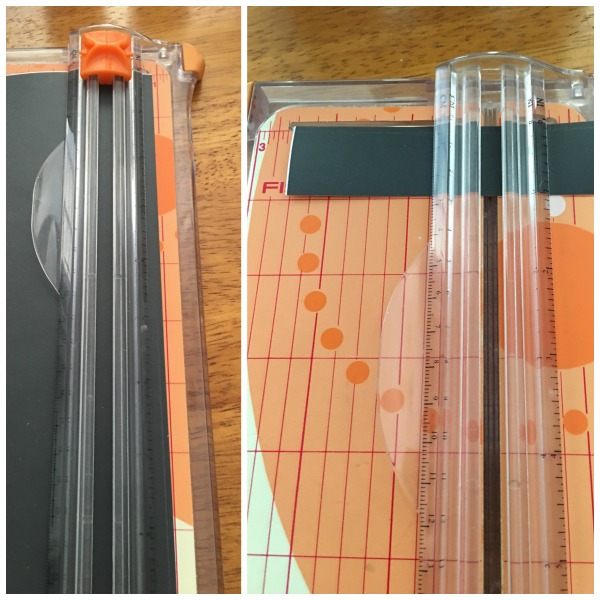 The label was placed in the center of each vinyl label, just eyeing it.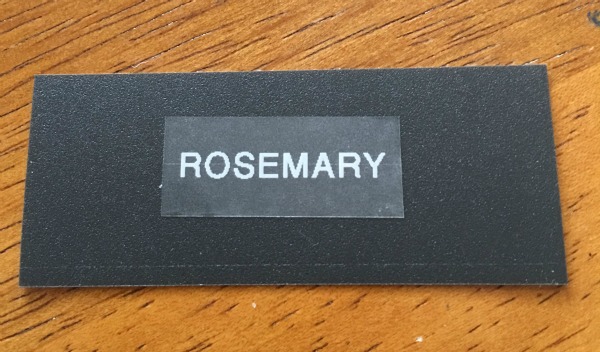 It was easier to place the clear label on top of the vinyl before attaching to spice bottle.
Labels were attached to each bottle.
Now a dilemma – I wanted all in alphabetical order, but with different size bottles I didn't like it so I went with approximate same size bottles on each shelf, then they were put in order. Maybe one of these days I will get bottles all the same size but for now this works.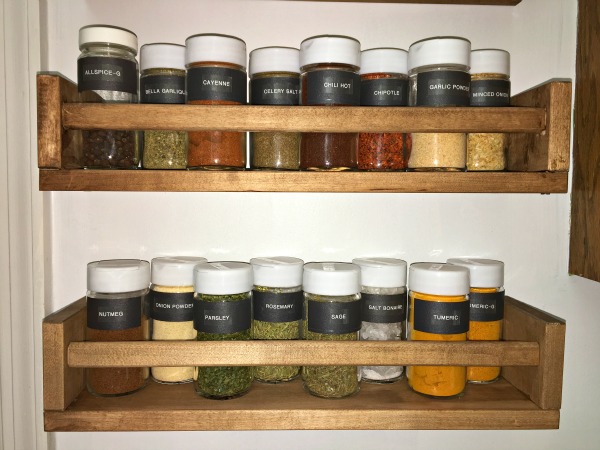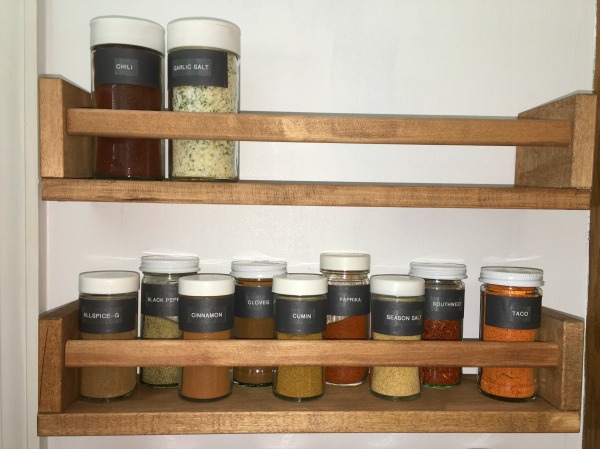 I'm loving having the spices on the outside of the pantry. It will make it so much easier to grab what I need while cooking. I left room to add as needed. Although I try to use fresh when available, that doesn't always happen so dried is the next best thing.
Plus how great does it feel to have a project completely done. I'm happy with it.
One down – ????? to go. But I'll keep you posted.
What's some of your projects on your to-do list?