A Simple Bar Stool Makeover Was So Easy
Bar stools can be expensive. Have you looked at them lately? When I needed new ones, I looked around at typical places. Then after seeing prices of over $100 each for what I wanted, I decided maybe it would be a DIY project for me. A simple bar stool makeover was so easy, I might do it again when the time comes.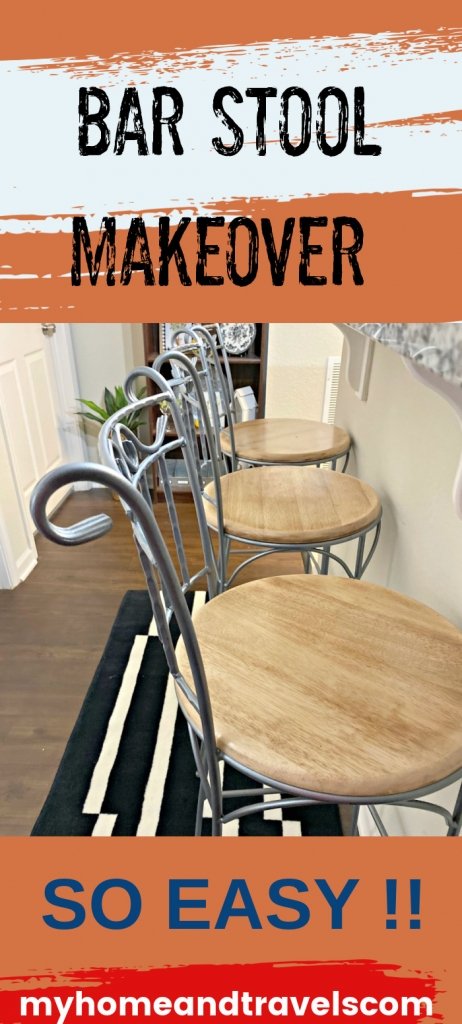 Where do you find used furniture?
My first place to turn is FaceBook Marketplace and thrift stores. Although it can be hard to find three as most you find used are in pairs or sets of four. If four was found for the right price, I would get those and sell the extra. But then I struck gold with these. Plus they were in good shape and heavy.
I got these for $60 – for three, not each. Score!!!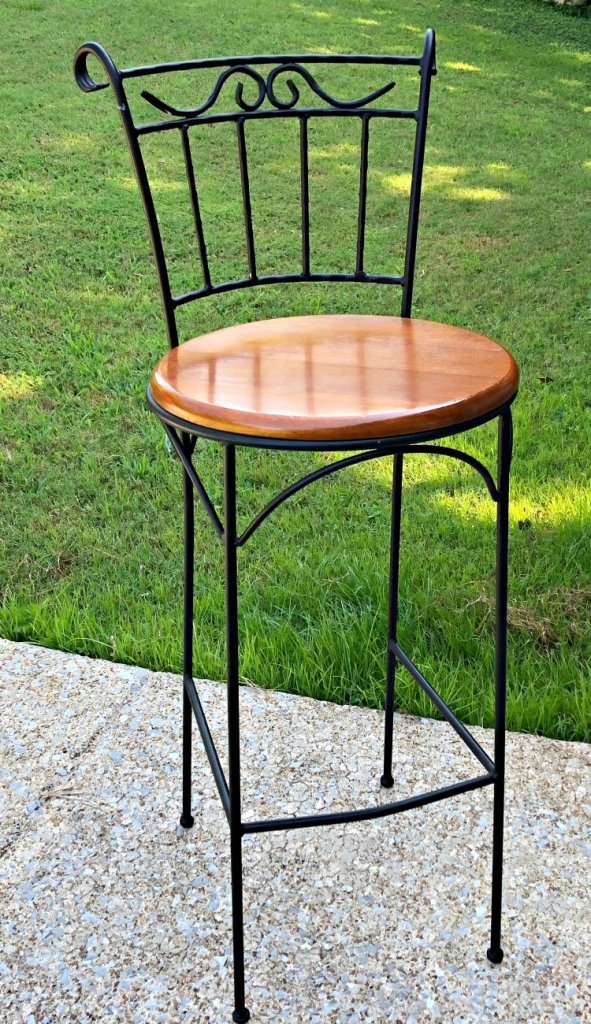 A Simple Bar Stool Makeover Was So Easy
It wasn't going to take much for this makeover.
A good cleaning
Spray painting the metal frame
Sanding and staining the wood seat
After removing the wood seat, both parts got a good cleaning.
Metal frame
After cleaning, it didn't need anything else. I did check for any chipping paint to see if sanding was needed, but it didn't. That's something to always check.
Going over a darker color with a slightly lighter color, I did three light coats of Rustoleum Antique Pewter Hammered Metal spray paint.
Always follow directions of any product you are using such as letting it dry between coats.
I love using the hammered metal on projects. I once used it on handles for kitchen cabinets and it held up, about 4 years, before I changed the hardware out.
It can add dimension plus cover up any little imperfections. Make sure you check out the Bar Cart link below.
Wood seat
Not knowing what the wood color would look like under this "reddish" finish when I started sanding, plans was to stain it a light brown color.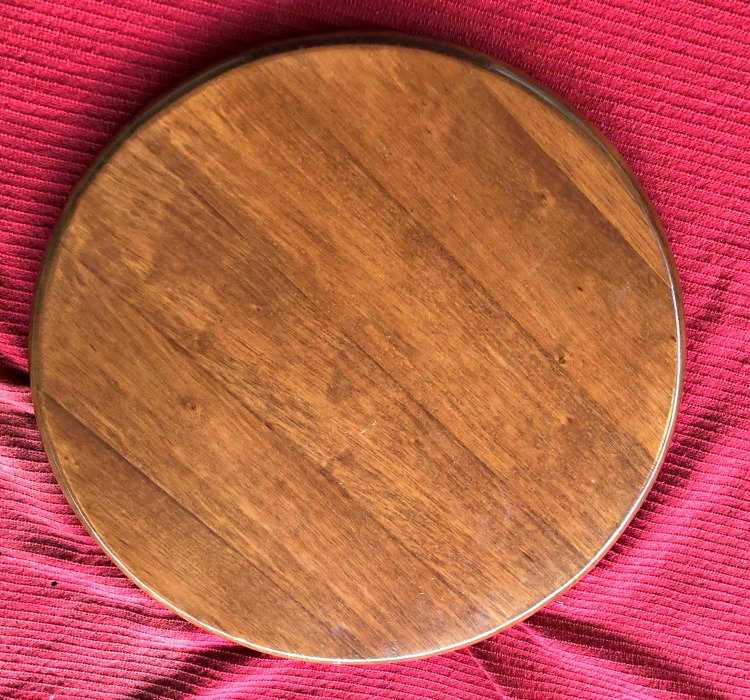 But, after seeing the beautiful natural wood color, I knew no stain was needed only a good top coat.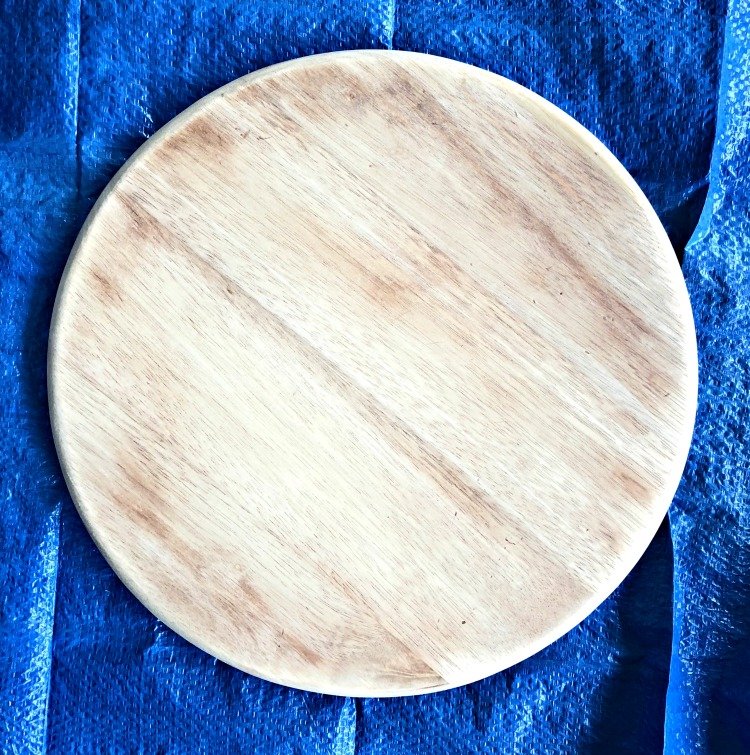 Using three coats of my favorite, Black Dog Salvage Show Dog Top Coat in Satin, it was done.
It was allowed to dry and a light sanding was done between coats for a smoother finish.
The wood seats were screwed back onto the frame and they were done.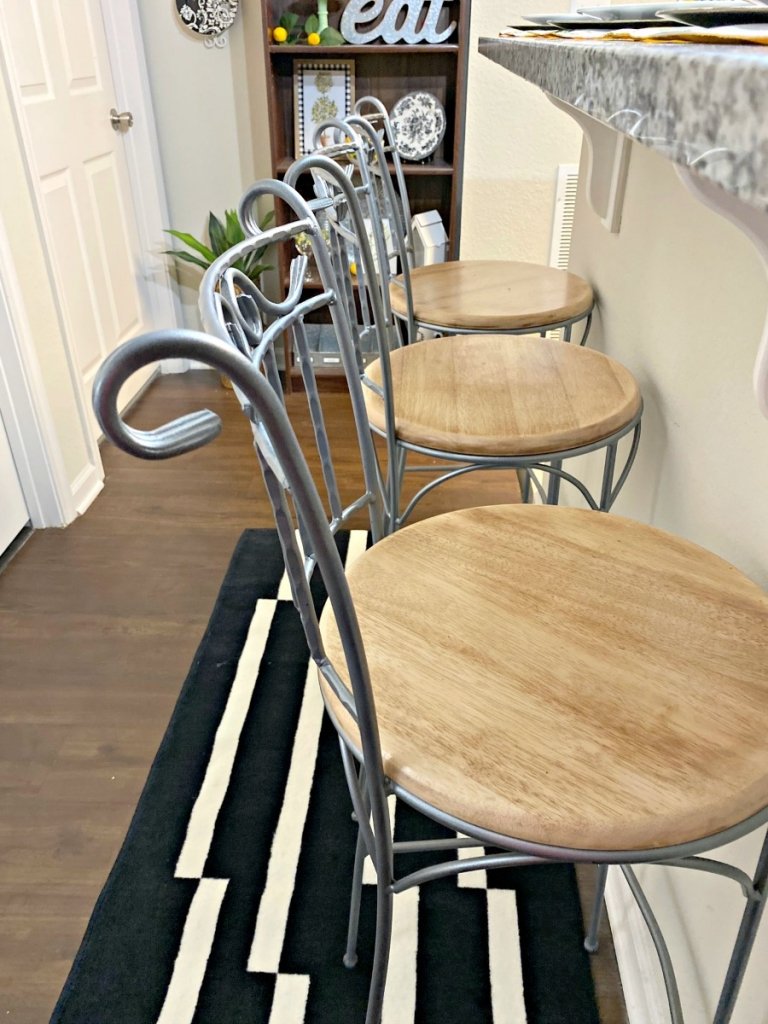 This was one of the easiest DIY projects I had done for the home.
When I priced similar bar stools in local stores, they were averaging about $100 – $120 EACH. For about $75 TOTAL, I had three new bar stools and was very happy with them.
The beauty of paint and stain is these could be made over in so many colors. Plus i know the seats could be stained a darker color if needed.
What's the easiest DIY project you've done for the home?
Here's a few more of mine – maybe not as easy, but favorites.
FROM CHANGING TABLE TO COFFEE BAR
Looks like I like tables – yes I do.
I've included affiliate links to Amazon for you to find some products easier. I may receive a small commission, but the price is the same for you. It just helps my blog out.
Happy Travels,
Rosemary