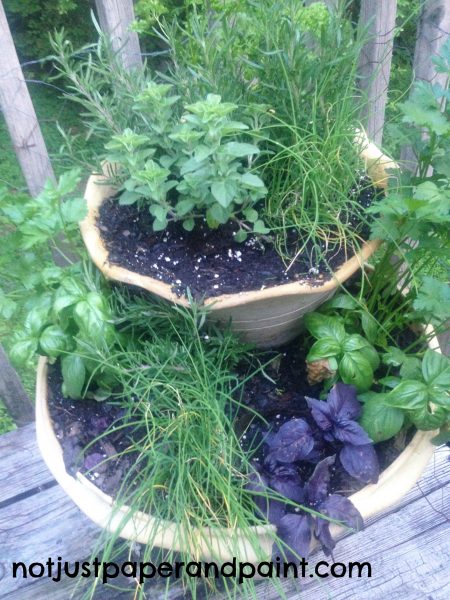 Winter is finally gone – at least in our area, and I couldn't be happier. With the end of it and beginning of spring, it's a time of renewal of so many things.
For a lot of people, like me it includes thinking about planting areas and containers to give your home a fresh look and for some culinary delights.
My first completed project is my herb container. Although I did a container last year (you can see all the details here), I got started so much earlier this year so I'm hoping to enjoy them, and experimenting with a few new flavors this year.
I added Purple Basil, Chives, and Greek Oregano this year.
We don't have a good area for a garden since our back yard is complete shade, so I'm going to get adventurous and try a few veggies in some containers also. I got Bibb Lettuce, Bell Pepper, and Beefsteak Tomato plants today. We'll see how that goes.
After the new roof gets put on in the next couple of days, I will get to plant the other flowers I got at the flea market today too. Can't wait to get these in the ground and pots to add some color to our yard.
Hope you get out and get your hands dirty in the soil too.