Bees On A Bicycle, A Boutique Garden Center
Don't you love finding hidden gems in your town? Although I had heard of Bees on a Bicycle, a boutique garden center, I had never visited until recently. But now it will be my go-to place for anything garden related, or even for gifts.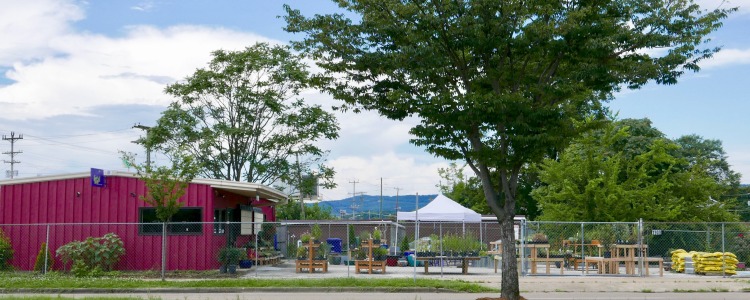 Some of you may be like me and enjoy all the pretty things as far as plants and flowers but need some guidance. I know with all of these hints of Spring, I am so ready to dig a little in the dirt and add some color to my yard and porch. I'm always needing help with ideas too on how to bring the outdoors in my house. Who's tired of this cold weather, and even snow?
I'm not the best at knowing the details such as perennial, annual, shade, or full sun so that's when you turn to the experts for advice. Cath, owner and operator of Bees on a Bicycle is just the person you need to drop by and and talk to. It's good to find out which plants will work in your yard too. Maybe you want to attract hummingbirds, help the bees out, or keep the deer from eating your plants. So many plants, so many choices.

Opening less than a year ago, you can find plants, including herbs, for inside and out, your containers, or as a gift. Need some home design ideas too? This is your place to visit. When you have a shop like Bees on a Bicycle, you get that personal attention to details.
Cath works with many local and regional growers to bring the best plants for growing in this region and plants which are native to this area.
Hours are Wednesday – Friday, 11 am – 6 pm, Saturday, 10 am – 5 pm, and Sunday 12:30 – 4 pm. Appointments are also available by just giving them a call. Always check their website for any updated hours, as they can change by season or special events. ​
​All special events and classes can be found on their FaceBook page under events, along on Eventbrite, where tickets can be purchased if needed.
When visiting Bees on a Bicycle at 1909 Market Street, here's a hint on parking. Street parking is next to the shop on Emerson Street, but on any day except Sunday, you are allowed to park at Cornerstone Church at the corner of Long and 19th streets.
Cath, Bees' Founder, has a hobby of photographing murals. Of the 250+ murals she has documented, her favorite one features individual bees on unicycles. This is where the unique name for the shop came from.
To keep up with all of the latest news and class schedule, make sure you sign up for their newsletter. They are very active on FaceBook and Instagram also.
There's always trends in fashion and home decor? Did you know this included plants too?
People are trending towards natives which have grown in Tennessee for thousands of years. They are good for pollinators, the food supply, and for the environment as a whole, needing little or no pesticides or maintenance. The ones I carry native plants here are neonicotinoid free.
Color is back as a big trend for Spring and Summer. Deep, bold, and saturated colors, some call them jewel-tones, are being found in all areas, including your home – inside and out. As some say, add a pop of color. If you have a neutral home, think about a fun color to brighten up your porch or kitchen.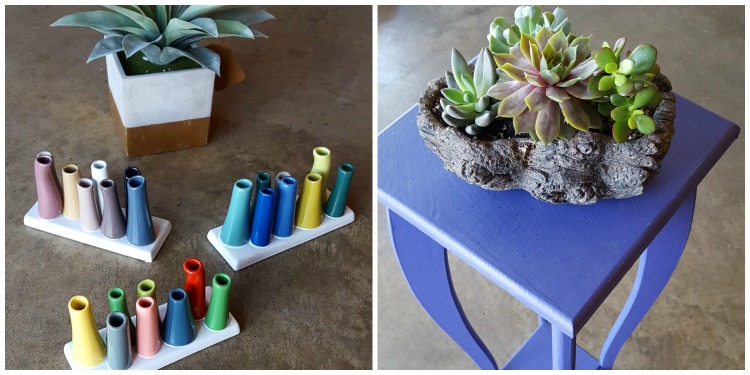 What's new in the shop?​ You will find interesting and collectible small cactus, a selection of unusual houseplants such as staghorn ferns, as well as a collection of flowering perennials perfect for your window boxes, border, or container.
A few unique ways to work with Cath and Bees on a Bicycyle:
On Saturdays, they offer a limited number of garden chats available by appointment. During these 20 minute sessions, Cath can work one on one with you to tackle your garden questions and offer specific advice.
Also available by appointment is a workshop area where corporate teams, neighborhood groups, or garden clubs can gather at Bees to do a variety of activities together! Call for more information and availability.
Make plans now to start your Spring planting or upcoming gift giving with a visit to Bees on a Bicycle.
photos courtesy of bees on a bicycle
I've included affiliate links to Amazon for you to find some products easier. I may receive a small commission, but the price is the same for you. It just helps my blog out.
Happy Travels,
Rosemary