Easy Decorating For The Fall
When you decorate for a holiday or season like Fall is there just a hint so you know what season it is, or does it look like Fall has thrown up in your house? My style has changed over the years and especially after downsizing to the apartment. Easy Decorating For The Fall kind of follow ups with the minimal look I started back in the summer with my living room and dining area.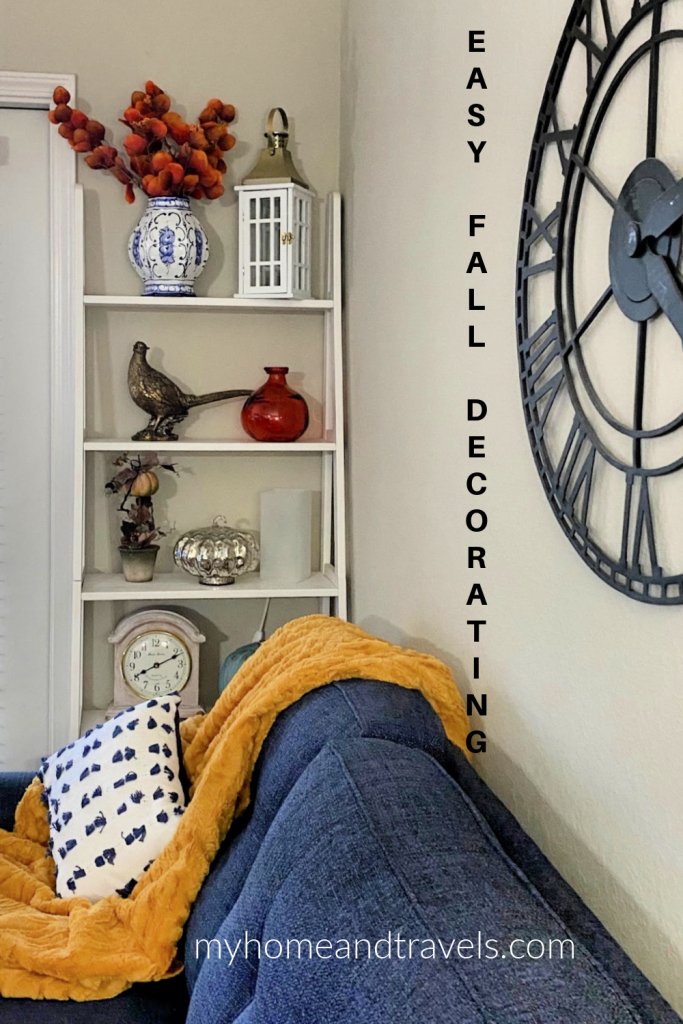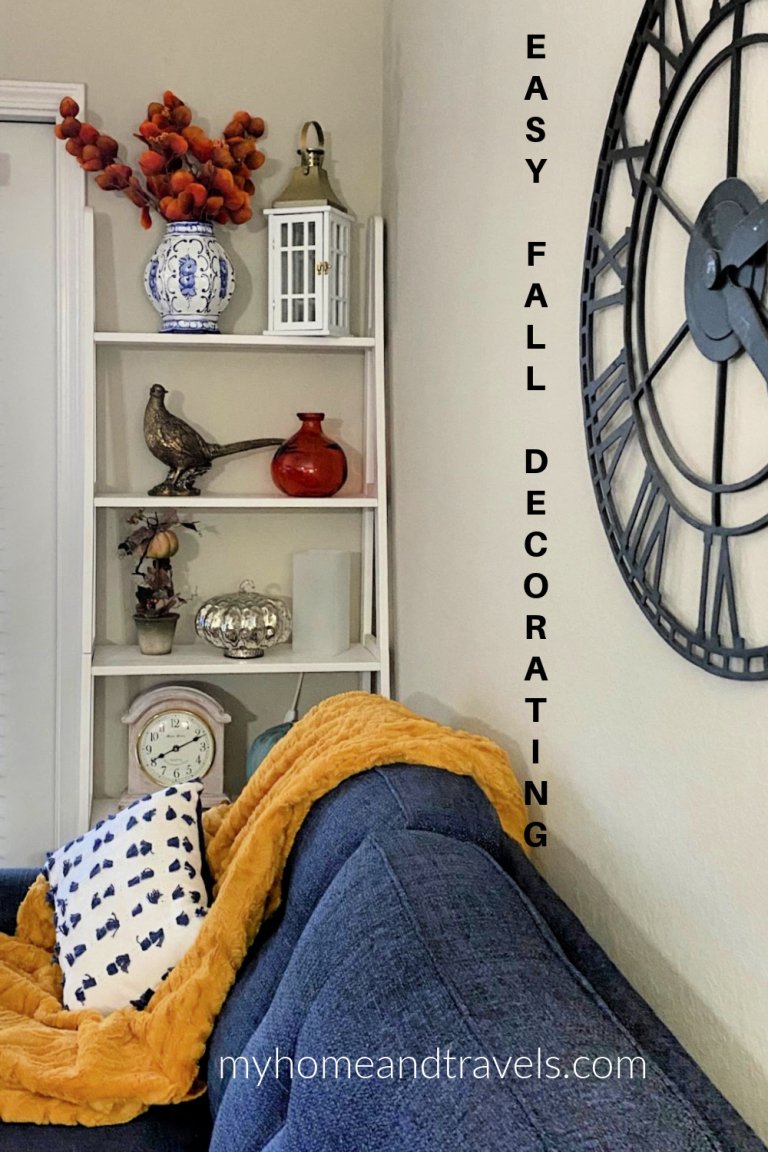 You can see what it looked like for summer HERE.
With this being a typical apartment, it's really like most open concept homes are now. The living room, dining room, and kitchen is one big room. With that the colors and décor doesn't have to necessarily match but go together and co-ordinate. I began switching over from a lot of black to blue after purchasing the sofa a little over a year ago. Blue and white is such a classic and traditional décor.
I have a few pieces of Amber glassware and found a few darker orange – amber pieces to use also. I will try to link items, or similar ones, below. So many of my things have been collected over the years from favorite shops or yard sales/thrift stores. Be on the lookout all year long for items. After a holiday is also great to buy on sale. The metallic pumpkins on the entertainment center was a lucky find at Hobby Lobby a few years back – 90% off. So you can decorate easily and cheaply, it might take a while to pull your look together.
Dining Area
This MODERN CHINA CABINET MADE WITH IKEA CABINETS is still working for me for decorating and storage. You can see my less is more in decorating now.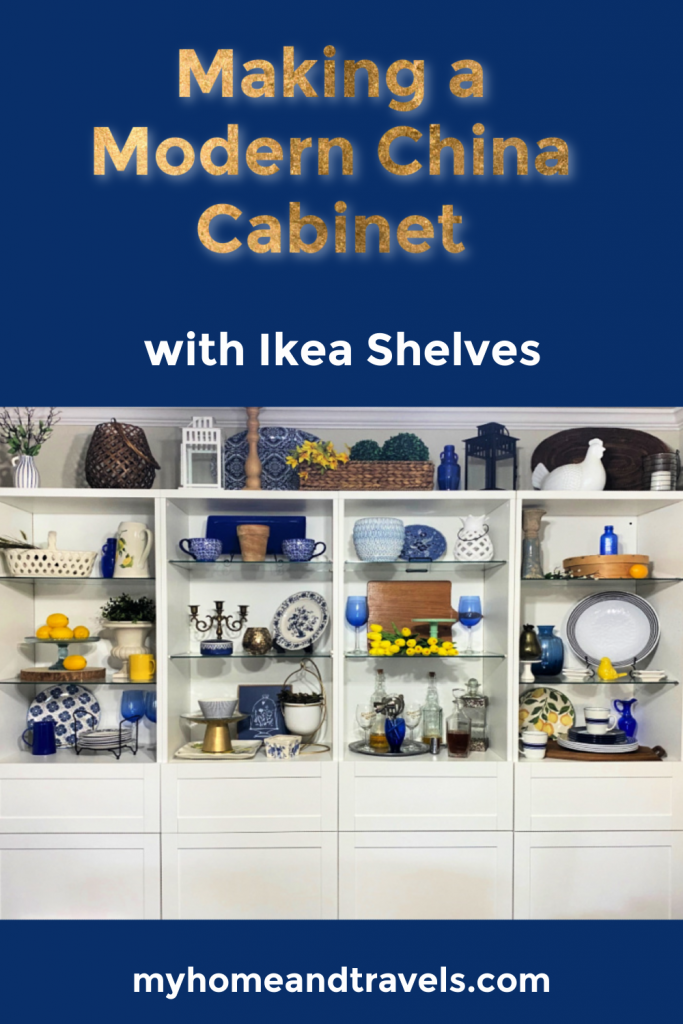 Most of the décor was already on hand – a great way to decorate. You don't have to change everything.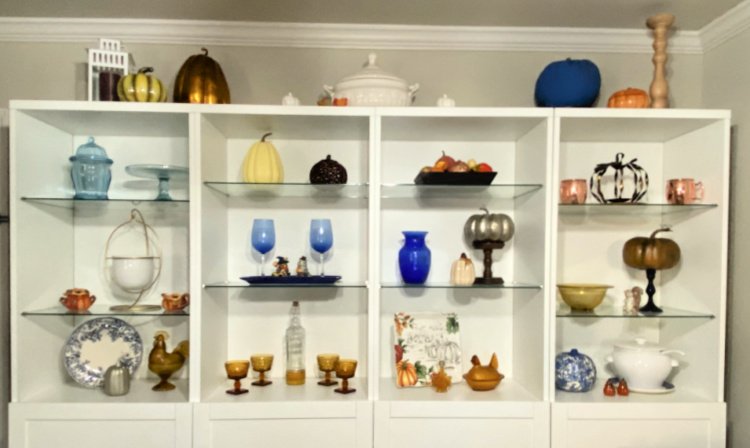 This is new: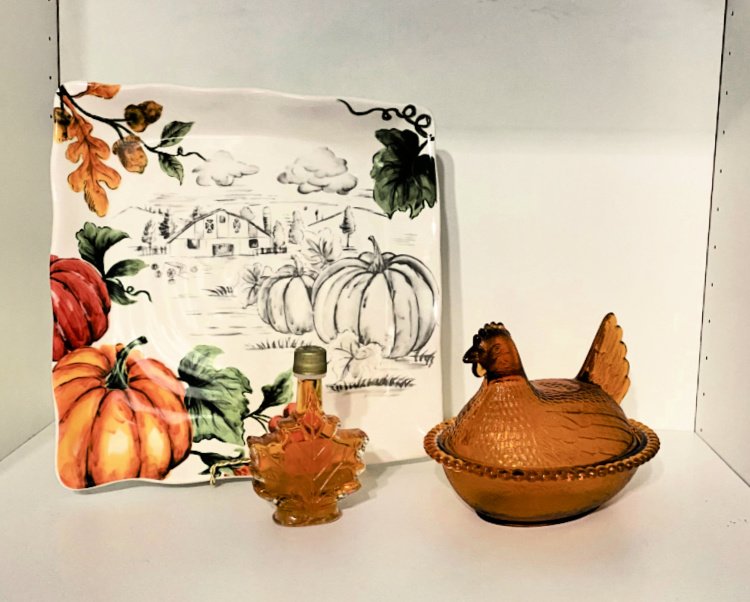 Plate – Home Goods
Maple Leaf bottle – full of fresh maple syrup, purchased on our recent Road trip at Tamaracks – West Virginia
Hen – vintage piece which was purchased for my Mom from us, probably for Mother's Day. And most likely from the "dime store".
On the Buffet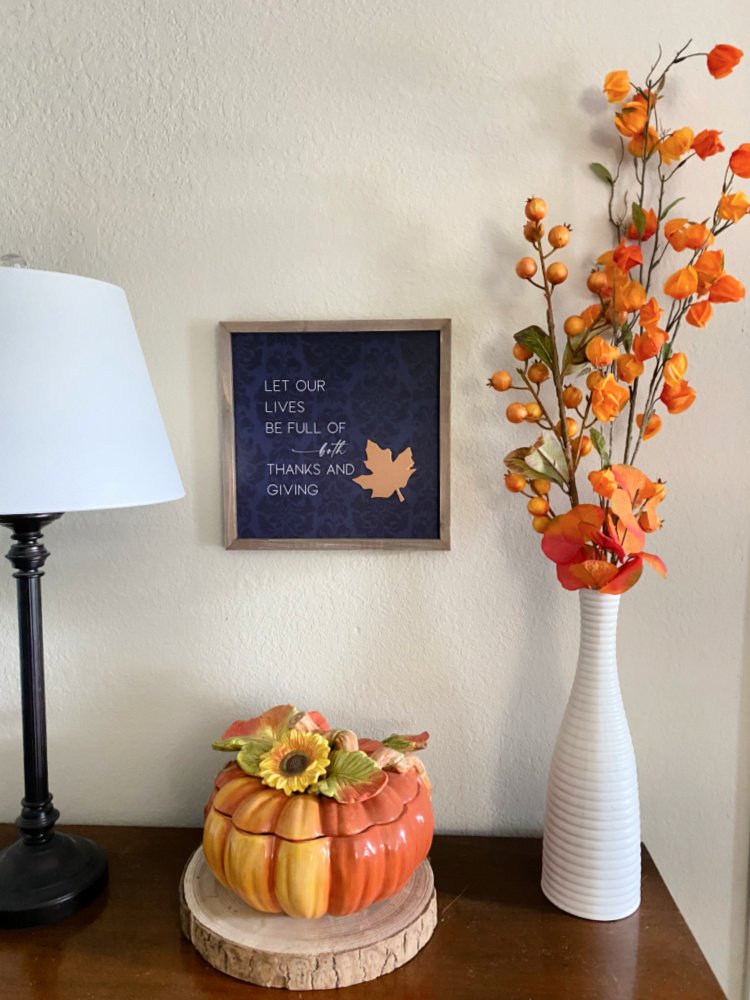 Sign – Hobby Lobby
Soup Tureen – old yard sale find.
Florals – Michaels
Living Room Area
For the entertainment center, most everything I had. Most of the blue and white had been purchased the past year.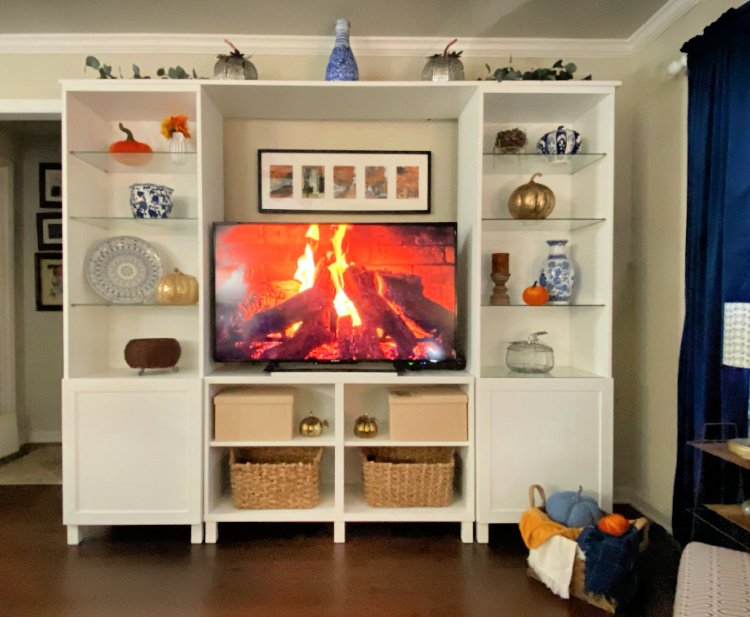 Photo collage – I knew my blue "beachy" looking print wouldn't work so now to find what would. After searching, I happened upon this frame at Ikea. And it was the perfect size. The prints are from some of our travels during the fall season.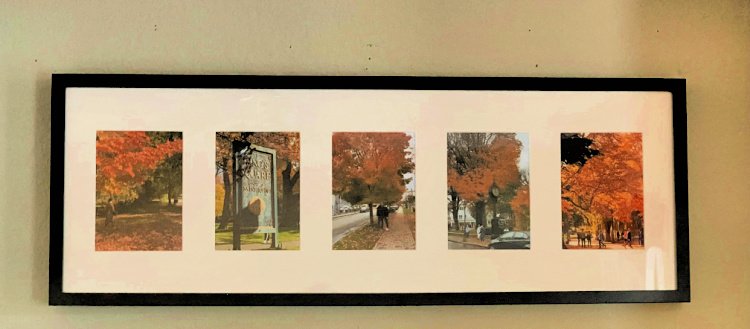 A little hint here – if you want this look and can't find the frame, buy 5 x 7 frames from Dollar Tree and hang side by side.
It may become a permanent picture changing with each season.
The fireplace scene is just a free download from YouTube.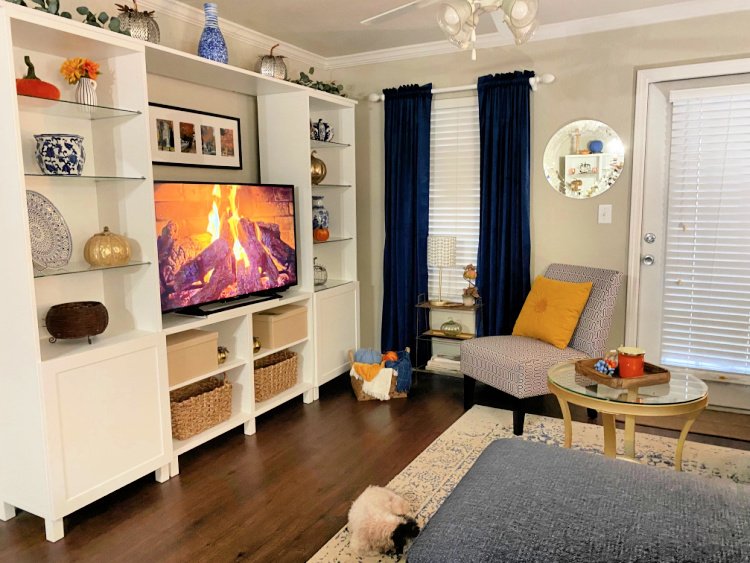 The Navy Velvet Curtains came from Amazon – link below. I love having the darker look for fall and winter.
Lamp – Walmart – it was just one of those things I saw while in the store and thought maybe it would work.
Mustard pillow and throw – purchased at Home Goods last year.
Blue and white pillow – Hobby Lobby
Mirror – Ikea, no longer available
Basket – yard sale.
Throws – Off white – Ikea, mustard – last year from At Home
Blue Pumpkin – T J Maxx, small orange velvet pumpkin – Dollar Tree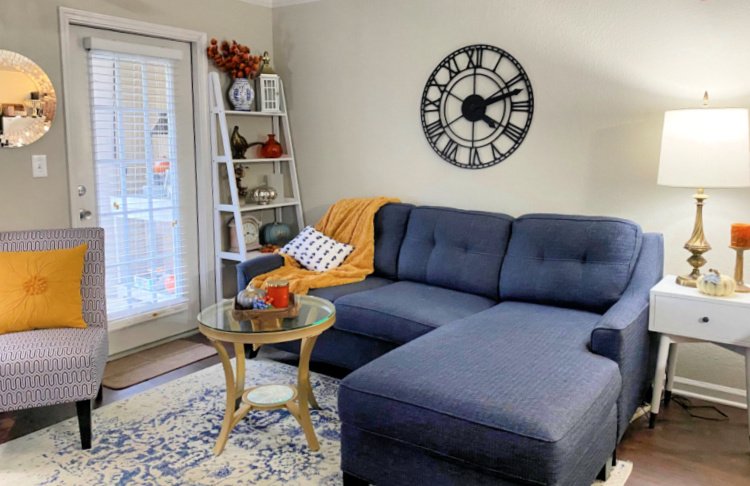 Coffee Bar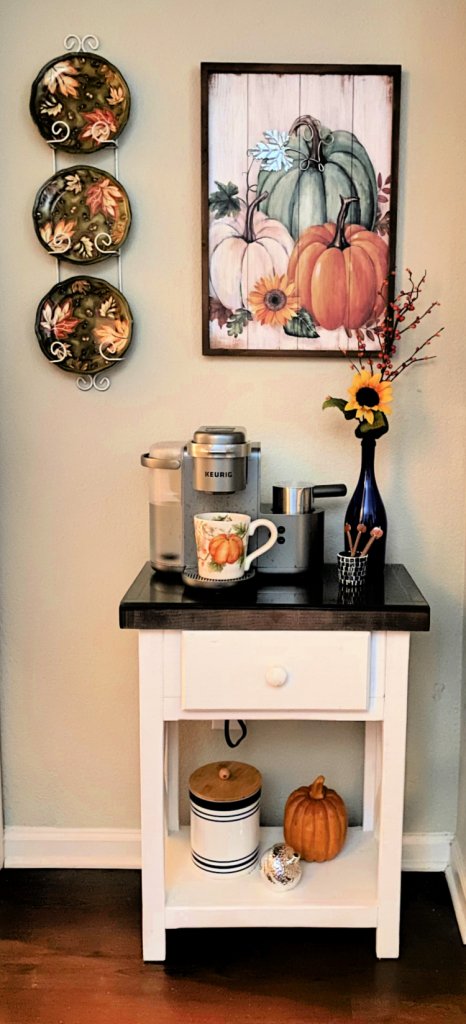 Pumpkin picture and small pumpkin spoons – Hobby Lobby.
Large coffee mug – Home Goods
Plates – I think Walmart – many years ago
An idea for a flower vase – a used wine bottle. This doesn't show so much, but it is cobalt blue.
A Few Changes To Be Made
There will be a few things added or changed about the first of November. I have a few turkeys to make it feel more like Thanksgiving.
Now the question – when does Christmas come out? We will be traveling some in December, so it MIGHT go up before Thanksgiving, but it never has before. We shall see.
I've included affiliate links to Amazon for you to find some products easier. I may receive a small commission, but the price is the same for you. It just helps my blog out.
Happy Travels,
Rosemary