Gorgeous Decorations For Your Fall Table
It's almost fall, y'all! If you're ready for some simple gorgeous decorations for your fall table, I am as well! One of the best parts about fall is getting the house ready and decorating it as well. In fact, I might have already started in my house because I just can't wait that long.
Have you started a Fall Pinterest Board yet?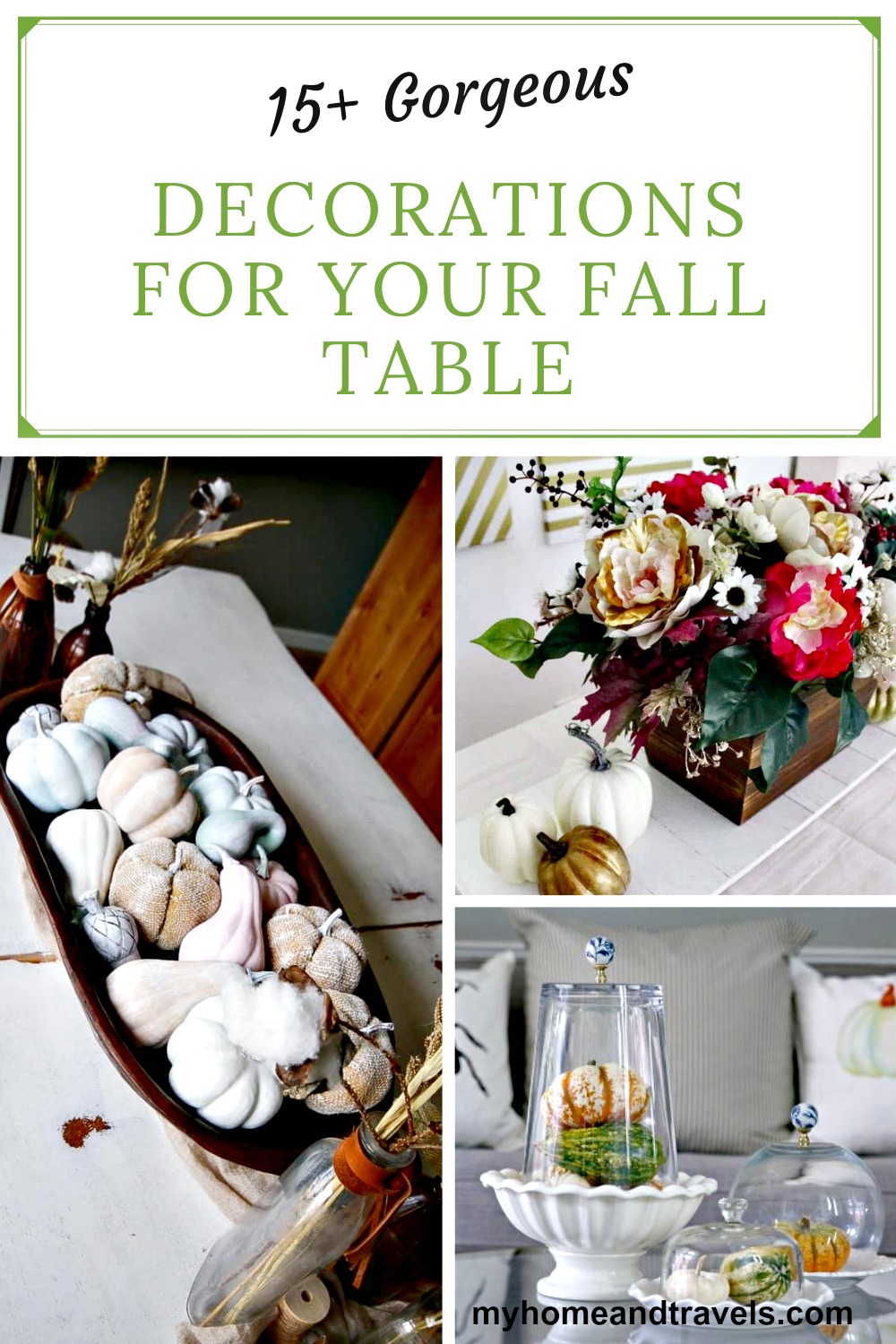 Once I get a hint that summer is over and that cool crisp air is on the way, I just have to load up the house with DIY fall decor immediately. I can't help it.
I do the same for Christmas, Thanksgiving, and just about any other holiday as well. Decorating is in my bones. It makes me happy and it gives me something to look forward to.
If you're ready to decorate your fall table as well, it's time to get creative with these simple homemade decor ideas for your fall table.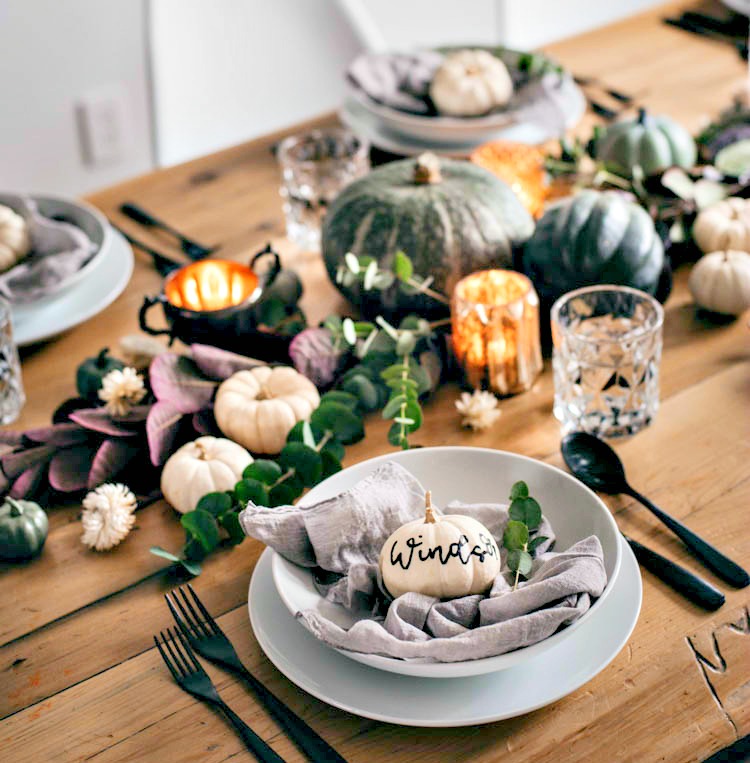 Gorgeous Decorations For Your Fall Table
These are just a few of the simple ways that you can get your table fall-ready with ease!
Autumn Greens Tablescape by Lemon Thistle
Simple and green is a great way to ring in the fall. This unique decor idea will have you loving the simplicity of decorating.
Rustic Hydrangea Tablescape by An Oregon Cottage
I'm a huge fan of the rustic look. It's classic and not overpowering to anyone entering the room.
Rustic Fall Tablescape by Laura's Crafty Life
This is another perfect example of rustic fall home decor that can easily transform an entire area.
Eclectic Fall Tablescape by Satori Designs
Looking for a fall table decor DIY that stands out and catches the eye? This is the one for you!
Easy Pumpkin Centerpieces by Today's Creative Life
Why not use pumpkins for your decor? Such a fun way to add in real props at an affordable price, too.
Rustic Fall Tablescape by Making it Manzanita
I love this fall tablescape! Simple and full of beauty, this one needs to be on the top of your list.
Easy No Sew Fabric Wreath by Needle Pointers
If you're looking for a simple wreath, this has got to be it. Literally no sewing involved at all and it will look great. Can be done quickly, too!
Dollar Tree Centerpiece by Ann's Entitled Life
Why spend a ton of money when you can buy everything that you need at the Dollar Store? Affordable decorating is my kind of decorating!
Fall Leaves Tablecloths by Redneck Rhapsody
Easy, simple, and full of color. Using this concept to decorate is a really great way to light up the room.
Pine Cone and Pumpkin Centerpieces by Drugstore Divas
What a clever idea. I love using items that you can find in nature as a focal point in a room.
DIY Fall Table Decor by Today's Creative Life
Get creative and excited because you'll have no issues making up this beautiful DIY table decor. You might even want to create some extras for your friends.
Floral Fall Table Decor by Pretty Providence
Fall florals are a thing and this table decor proves just that. Use your time crafting and creating to make this!
Cool Blue Fall Table Decor by Atta Girl Says
The blue colors in this fall decor are calming and really do light up the room.
Fall Dollar Store Decor by Mad in Crafts
Another visit to the Dollar Store needs to happen to pick up all crafting supplies needed for this simple project.
Fall Tray Table Decorations by Stonegable
Last, but not least, this fall table decor is certain to look good in your space.
When you think table, maybe you think dining room – but remember all the other tables around the home.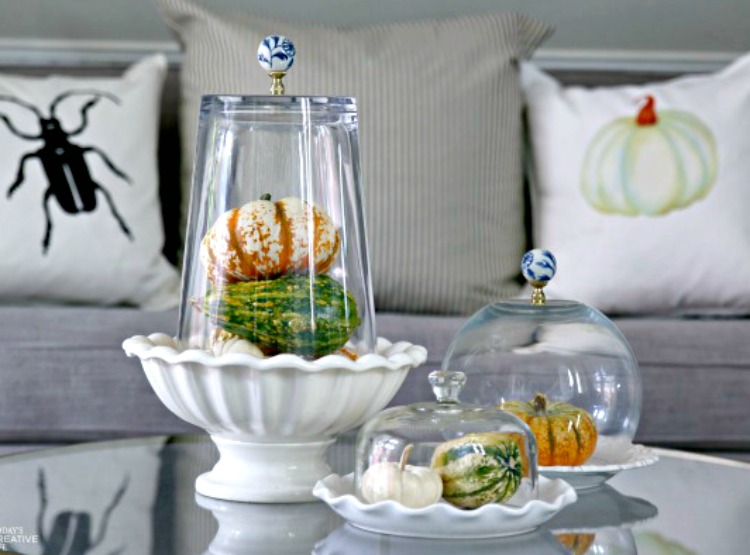 Simple white dishes are always a great base for anytime.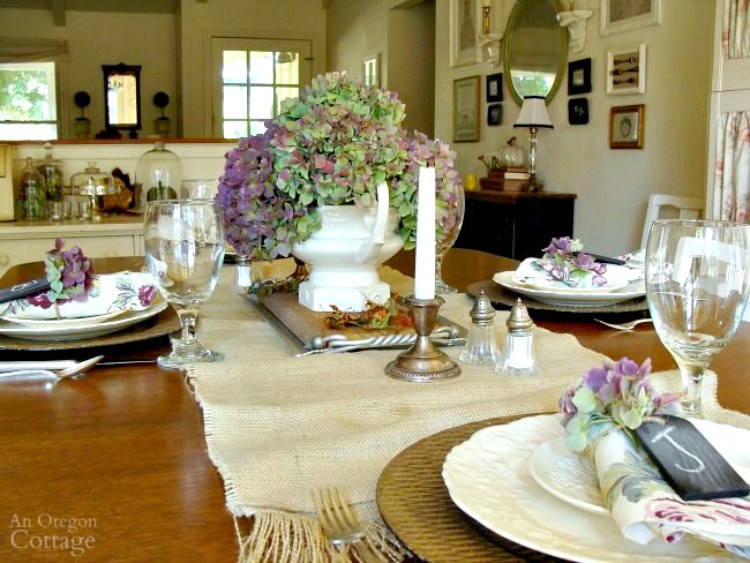 No matter what simple fall decor you choose from the options listed above, make certain to take a pic and share it with me on Facebook. I love seeing how you implement that suggestions and make them your own, too!
Out of all these decorations for your fall table, which one are you going to start with first?
More Fall Decorating Ideas
I've included affiliate links to Amazon for you to find some products easier. I may receive a small commission, but the price is the same for you. It just helps my blog out.
Happy Travels,
Rosemary