Do you love comfort food? This Southern Sweet Potato Casserole recipe is literally the best! Not only does it scream "comfort", but it's the perfect addition to any holiday table as well. This year make sure to add this to your Thanksgiving menu or Christmas menu – or both!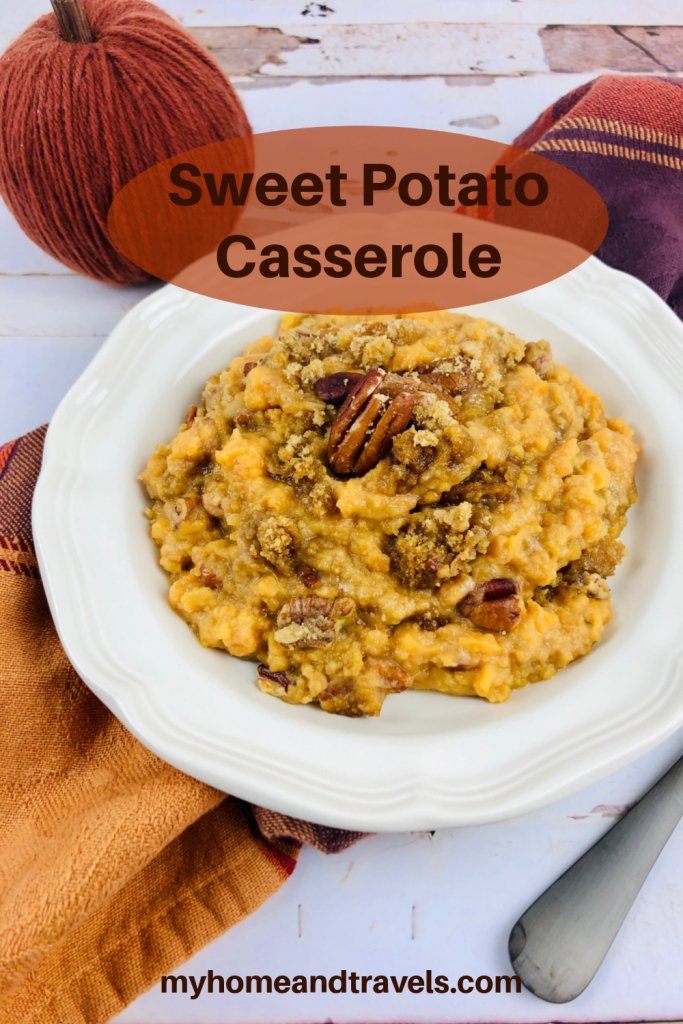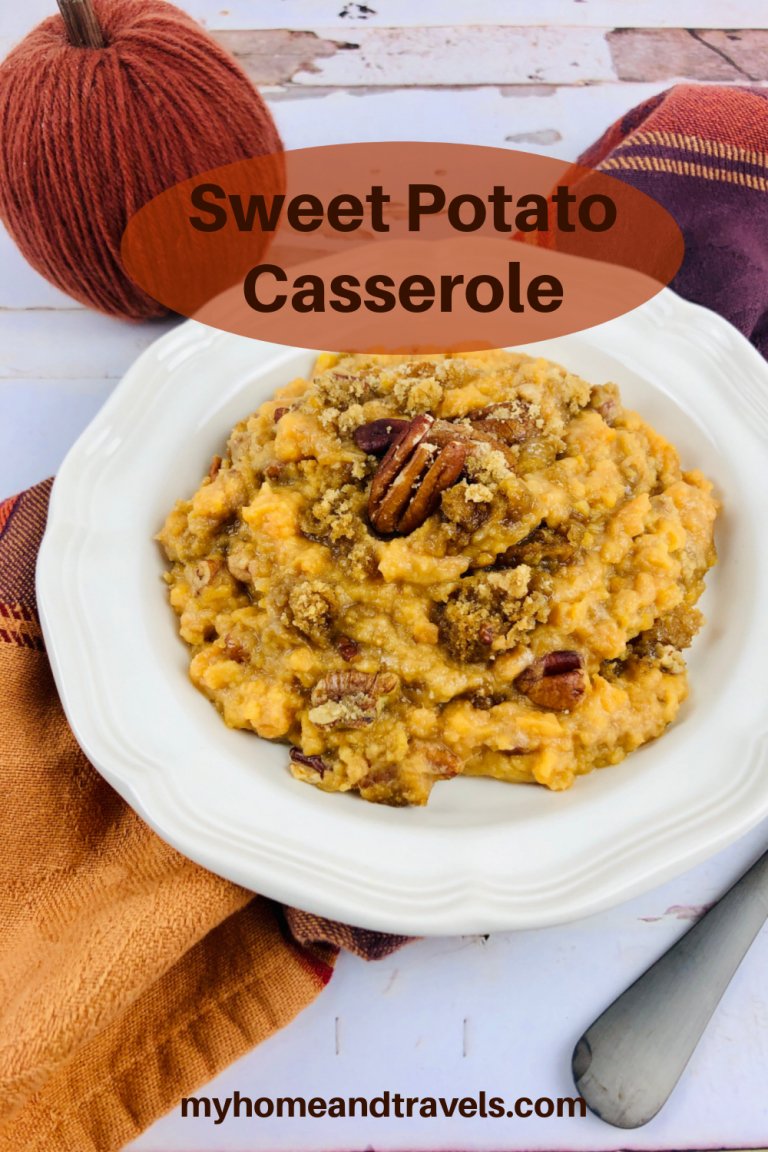 Be certain to check out my Slow Cooker Southwestern Breakfast Casserole for another one of my favorite southern recipes.
Southern Sweet Potato Casserole
What I love about a good casserole recipe is the texture of the casserole. It's the perfect balance of creamy and hearty, and it's just a dish that always provides a way to fill your tummy easily.
Since this recipe uses 5 pounds of sweet potatoes, you can rest easy knowing that you're going to be feeding a lot of people – that or you'll have leftovers for days!
You can always cut this recipe in half to make a smaller dish.
I also think it's important to note that you might adjust the amount of sugar added if you want to cut down on the sweetness. Sweet potatoes have their own level of natural sweetness that you might find perfect without adding in a bunch of extra sugar!
Ingredients needed to Make Sweet Potato Casserole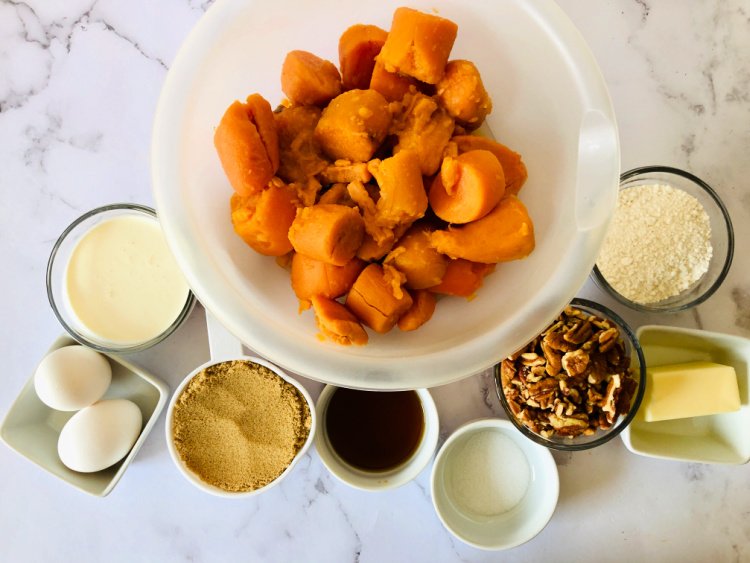 5 lbs sweet potatoes – boiled, drained, mashed (can also steam or bake)

4 tablespoons no salt butter, melted

1 cup brown sugar, packed

½ cup heavy cream

1 Tablespoon vanilla

1 teaspoon salt

2 eggs
Topping:
1 cup brown sugar, packed

1 cup pecans, chopped

½ cup flour

4 tablespoons no salt butter, room temperature

½ teaspoon salt
How To Make Oven Baked Sweet Potato Casserole
Preheat oven to 350 degrees and prepare an 8″ baking dish with nonstick spray
In a large bowl mix mashed sweet potatoes, melted butter, brown sugar, heavy cream, vanilla, salt, and eggs until well combined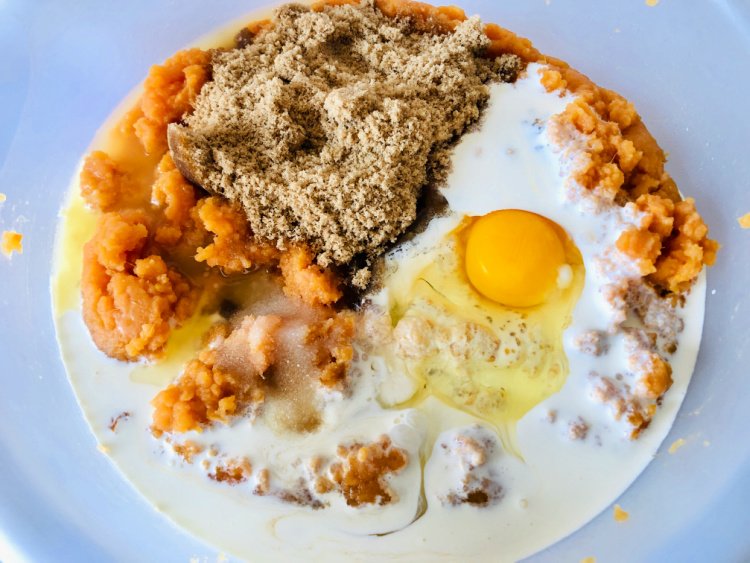 Pour into baking dish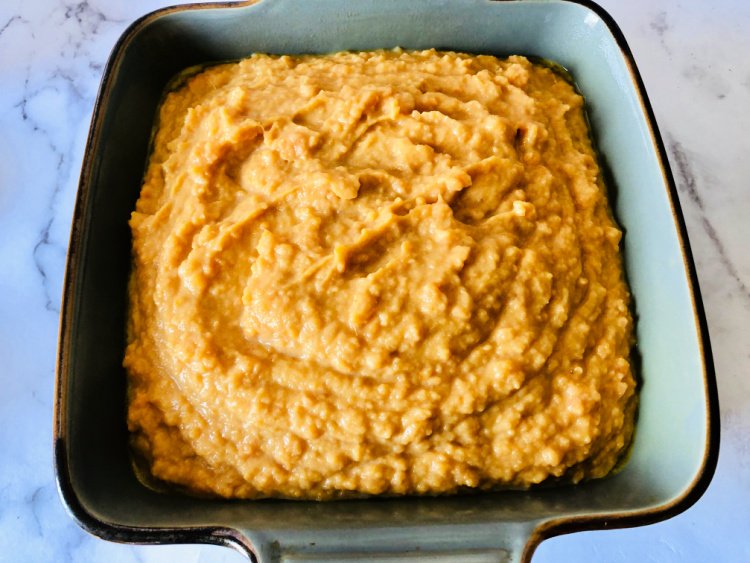 Combine all topping ingredients until crumbly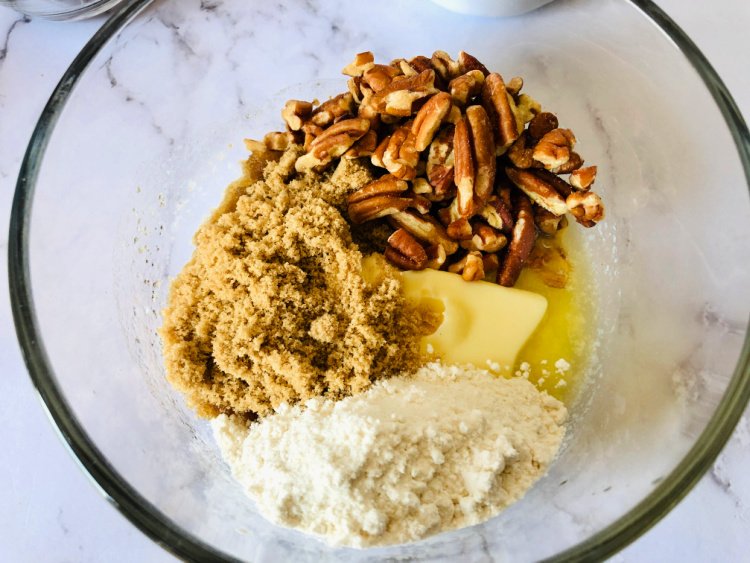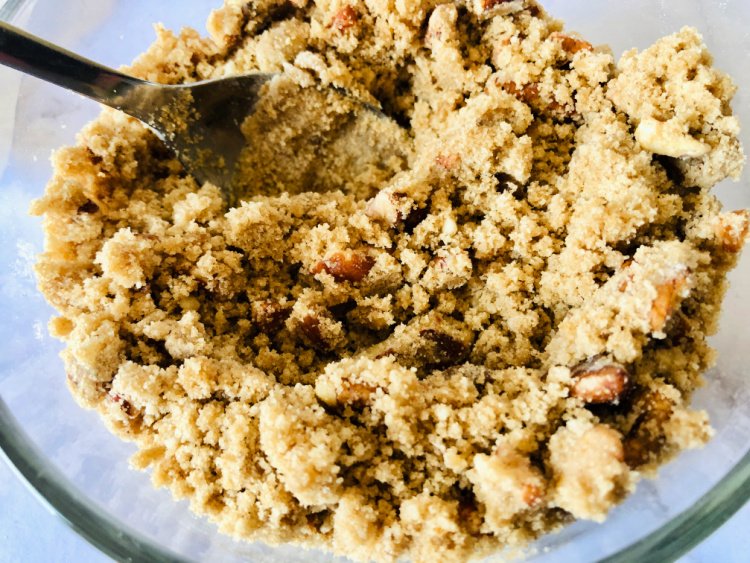 Sprinkle evenly over the potato mixture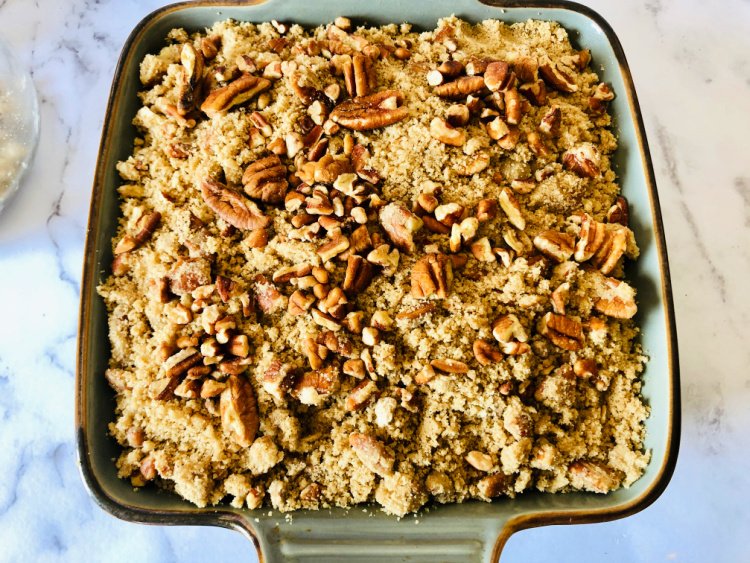 Bake 35-45 minutes until set and browning on top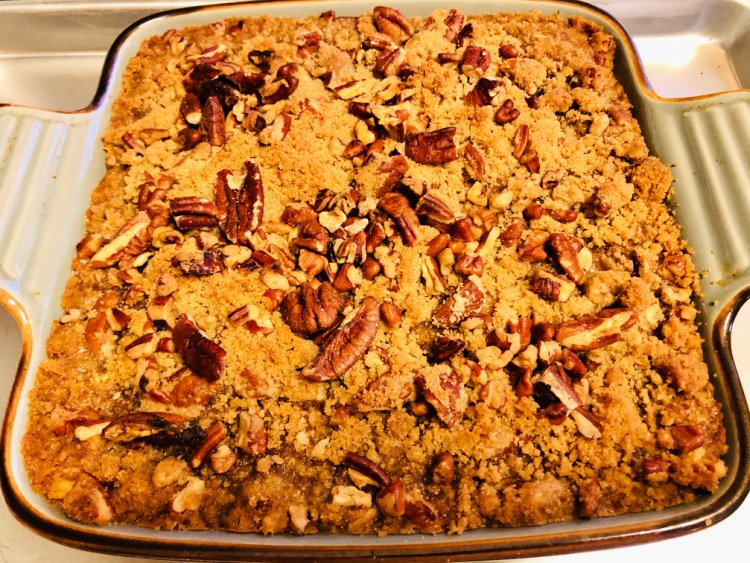 Why does sweet potato casserole need eggs?
The eggs are actually what holds all the yummy ingredients together. They're the binding agent in this recipe and are an integral part.
What is the difference between sweet potato pie and casserole?
There is actually quite a difference! This casserole recipe has a topping to it where sweet potato pie doesn't have any sort of topping at all.
Although, I'll never turn down a piece of sweet potato pie, either!
How do you know when sweet potato casserole is done?
For your casserole recipe to be considered done baking in the oven, the middle of the casserole should be solid (not jiggly) and the topping should be a golden brown.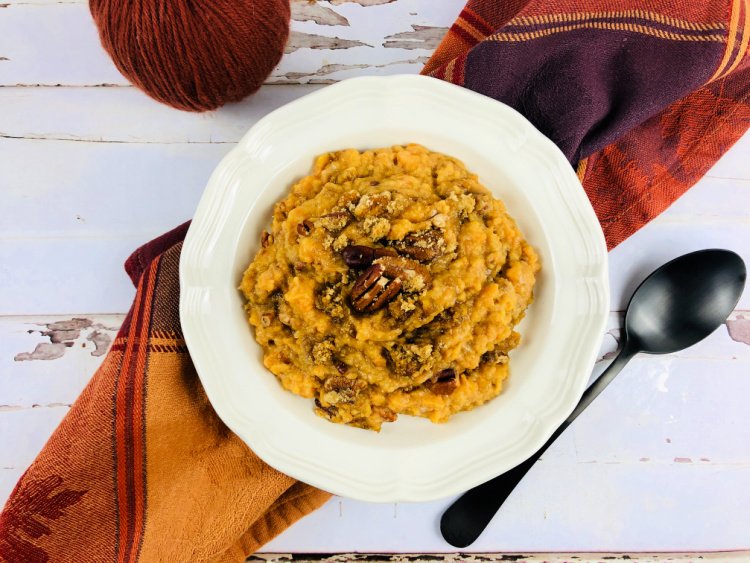 Can you prepare sweet potatoes ahead of time?
Absolutely! If you're needing some extra time the day that you're going to be putting the casserole together, just prep and cook up the sweet potatoes the day before. This will save you time the day of and also save you space in the kitchen, too!
Even make up the whole casserole dish and add topping right before baking. Great to do the day ahead.
Have fun making up this simple casserole dish! It's so full of great flavoring and taste!
More Easy Recipes
Southern Sweet Potato Casserole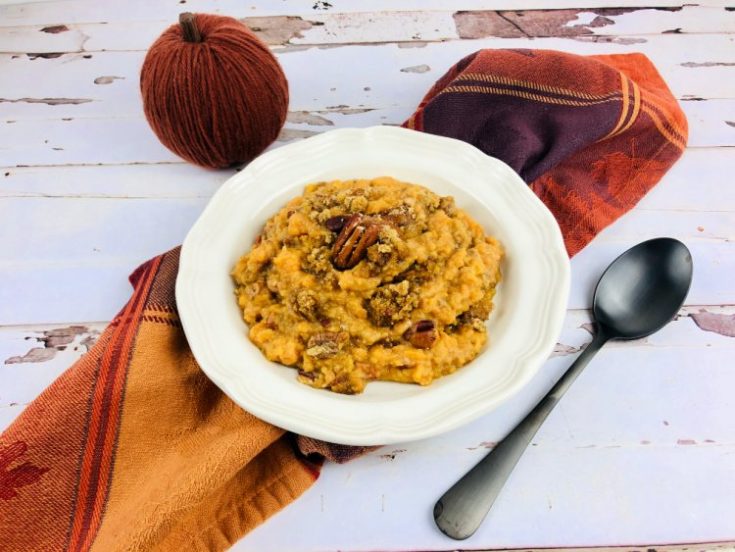 You're going to love the flavor of this easy casserole recipe!
Ingredients
5 lbs sweet potatoes - boiled, drained, mashed 
4 tablespoons no salt butter, melted 
1 cup brown sugar, packed 
½ cup heavy cream 
1 tablespoon vanilla 
1 teaspoon salt 
2 eggs 
Topping:
1 cup brown sugar, packed 
1 cup pecans, chopped 
½ cup flour 
4 tablespoons no salt butter, room tempurature 
½ teaspoon salt
Instructions
Preheat oven to 350 degrees and prepare an 8" baking dish with nonstick spray
In a large bowl mix mashed sweet potatoes, melted butter, brown sugar, heavy cream, vanilla, salt, and eggs until well combined
Pour into baking dish
Combine all topping ingredients until crumbly and sprinkle evenly over the potato mixture
Bake 35-45 minutes until set and browning on top