A More Modern China Cabinet Made With Ikea Shelves
Who doesn't need or could use more storage? Me for sure, especially when it comes to dinnerware and accessories. When trying to figure out how to store more of my dishes, I knew it was going to take a bigger cabinet so making A More Modern China Cabinet Made With Ikea Shelves was in the works.
Pin me for later.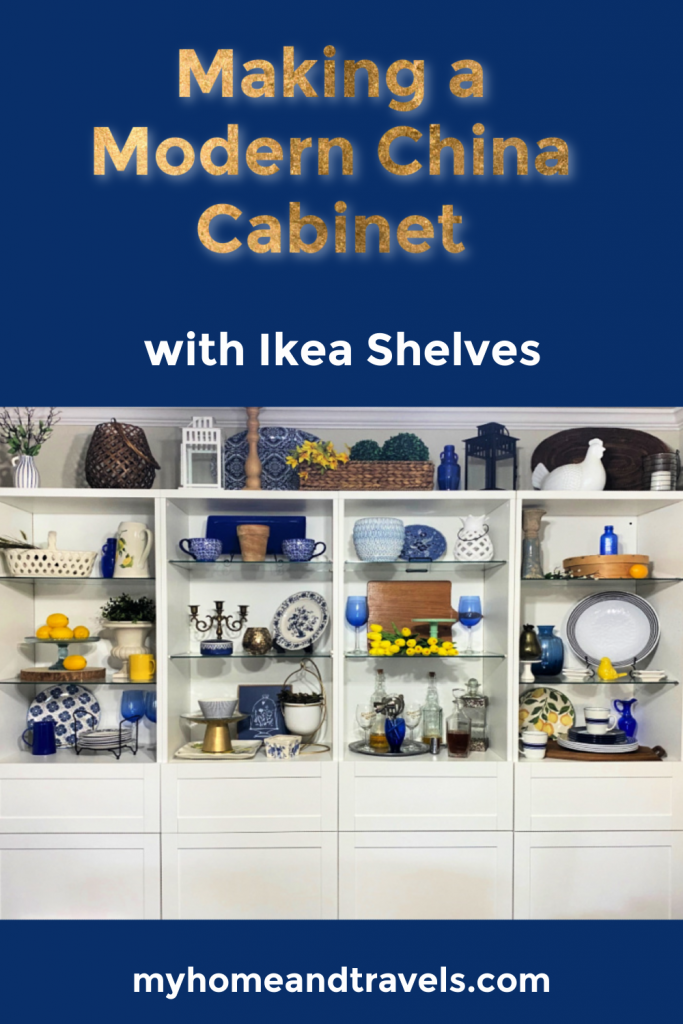 When your old china cabinet doesn't work
I loved my old china cabinet (SEE HOW IT WAS TRANSFORMED HERE), but needless to say it just wasn't big enough to hold all I wanted it to. And the space could accommodate a little bigger piece.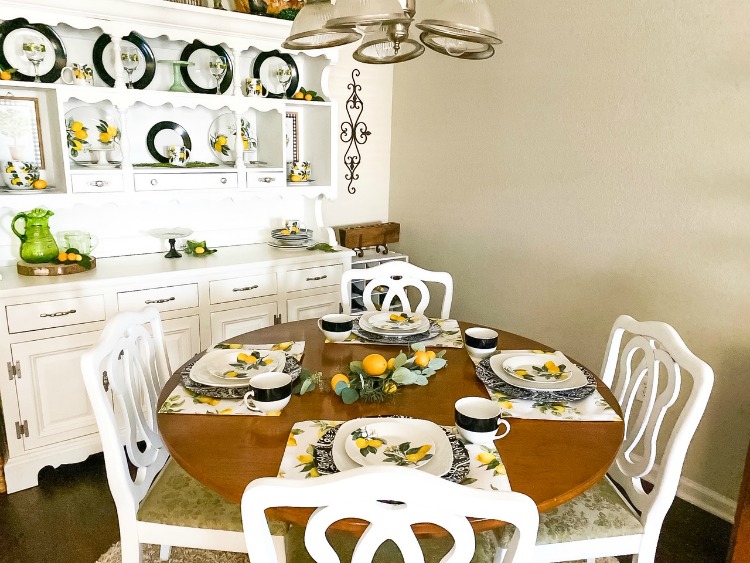 This project actually started last year when Covid still had things a bit on hold or trickier to work with. I was familiar with a lot of cabinets and shelving from Ikea, so I figured it would be my go-to after looking online for large china cabinets from furniture stores.
Not only was a traditional china cabinet more expensive, shipping time was either several months or a who knows when it will get here. And finding a true white piece was difficult because I didn't want to spend a thousand dollars on a brand new piece and have to paint it.
Why choose Ikea?
So IKEA was the answer plus it's only about a 2 hour trip. And there's always more fun things to shop to do in Atlanta, such as my husband's favorite record store and Trader Joe's.
I had already looked online to see some of the ideas, but I like seeing things in person. I knew I wanted some open shelving, maybe with glass shelves, drawers and doors.
BESTA from Ikea
My first choice had no drawers so I decided to go with the Besta series. We had already bought several of these for other places in our home, including a new entertainment center, which you will see later.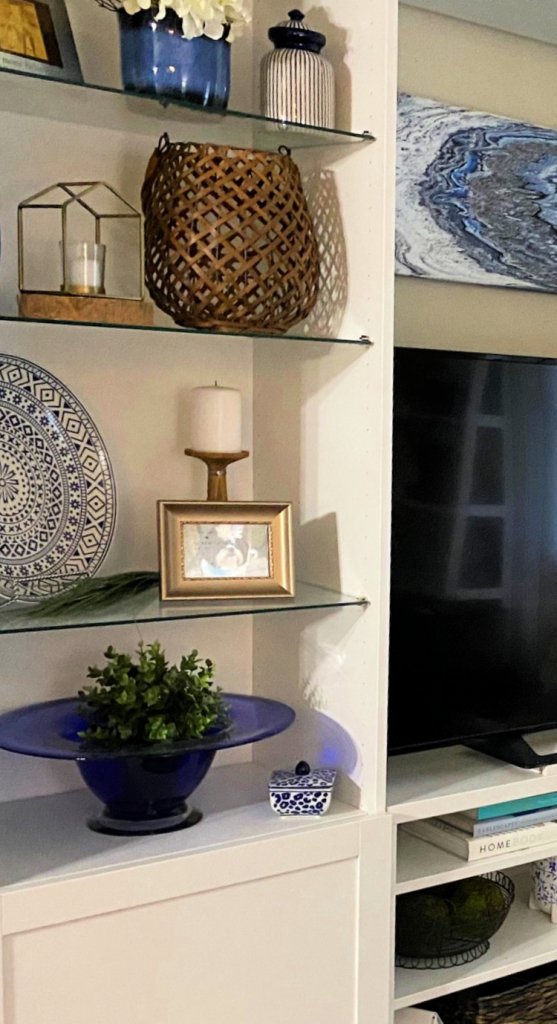 BESTA offers many options:
Size of frame
Size of drawer
Style of drawer fronts
Style of doors – plain, Quaker style, or even glass
Type of handles – I opted to not use any for a clean look
Type of shelves – glass or color to match frame
Type of legs
You can configure your ideas online before going or someone in the department can help you with IKEA PLANNER. Print out a list of the items you need, and go find it.
It also reminds you of the slides you will need for drawers or hinges for doors. Nothing worse than getting home and not having what you need. That is something to remember about buying Ikea products, almost all pieces are sold separately.
Another thing you always check on – will your car hold what you are purchasing? I've seen many arguments in the parking lot of people trying to get a huge piece of furniture in a small car.
Now the fun begins when you get home with all of your boxes. Most of the items we have purchased from Ikea are pretty simple to put together, but reading the directions will always help.
Also, having someone help (Thanks to my son Doug) to lift the heavy pieces and put them together is a great thing. Even Derby approved of this choice.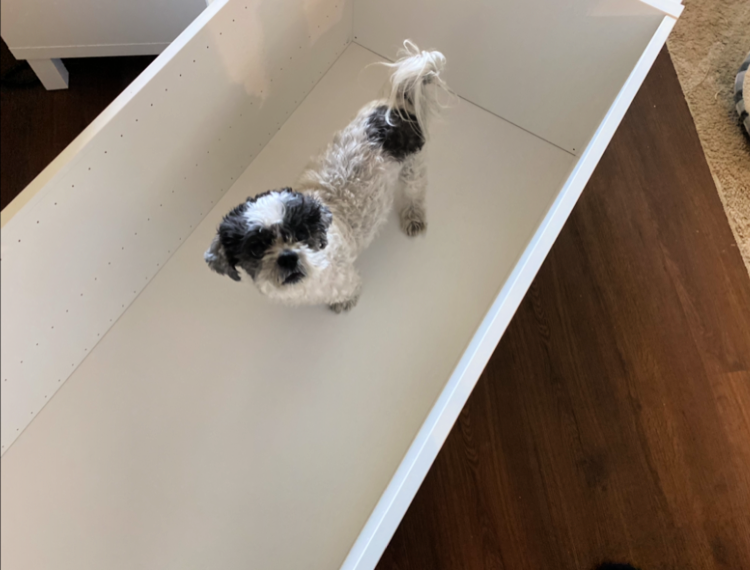 The drawers were a bit tricky to get just right, but after a couple, you know the system.
I had planned on putting brass pulls on the drawers and doors, but after seeing the set up, I really liked it plain. Maybe if the fronts didn't have a detail on them, it would have been different. They are very easy to open and have a soft touch to close.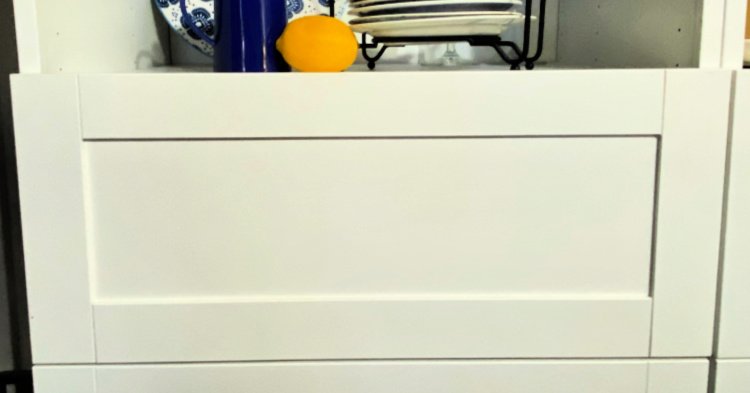 You will find at Ikea, they might not have all you need in one trip. You can look online for availability and even do the Click and Collect and pick out your time and date for pickup. That helps to make sure you get things you need.
Ikea does offer shipping but it can take a longer time, and can be quite expensive for the larger pieces. But if it's your only option, just figure that in on your final price.
For any project, you need to have in mind what you want or need:
For me, open shelving, drawers and doors.
Know the dimensions of your space.
What color do you want?
Be prepared if not all in stock.
What I like about my new modern china cabinet:
It has tons of storage
The glass shelves for display can easily be moved if needed
Shelves can be used behind the doors too for extra storage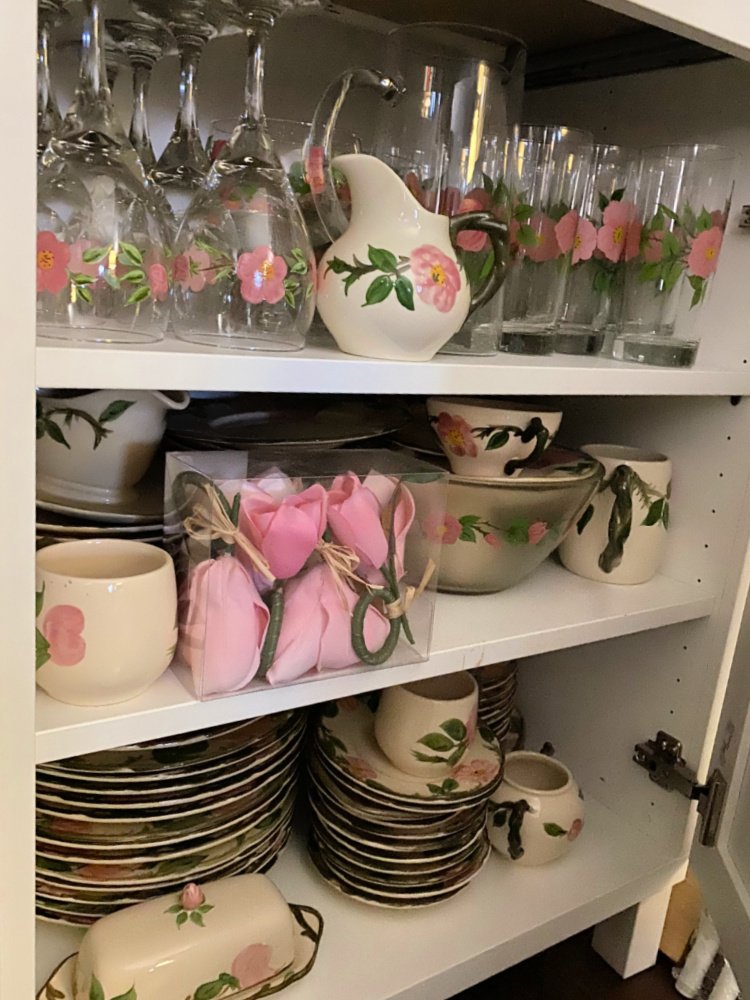 They are very sturdy – you know dishes are heavy
Adding legs will make these shelves look more like furniture
In case you haven't put Ikea products together, or even purchased pieces, a few hints.
Double check the box when you are pulling it for what you want.
Many items come in multiple colors – check the tag and number.
Check if it comes in more than one box. Box 1 or Box 2 will be marked.
Make sure the box doesn't looked damaged. This is something Ikea is great about not having them on the shelves though.
Make sure it will fit in your car.
When home:
Check each piece as you unbox it for damage
You may have bags of parts – empty these into a pan to keep them together (this was from another project)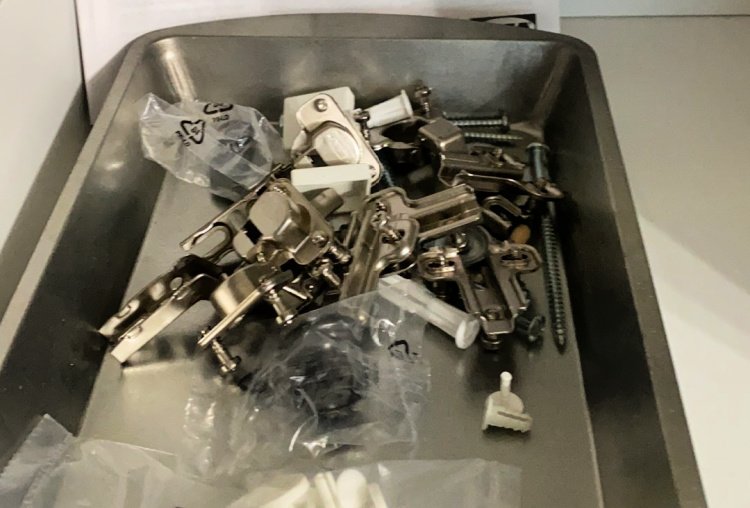 Lay a blanket or towel on the floor to prevent scratching
Read directions
Enjoy your new pieces in your home.
A More Modern China Cabinet Made With Ikea Shelves
Overall, I love A More Modern China Cabinet Made With Ikea Shelves, now only if my wall was longer to have more.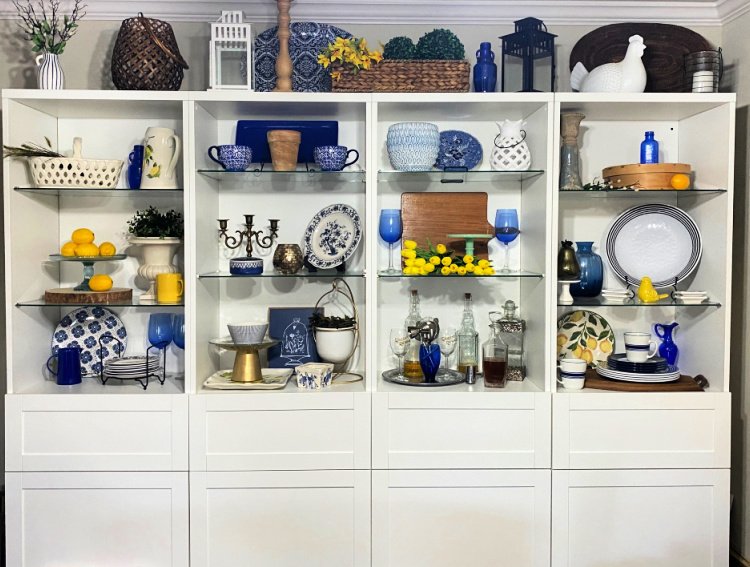 With getting separate pieces like this, they can easily be taken with you when you move and can be used as separate units.
I have on my list for another shelf to place inside a closet to store craft and hobby supplies.
I've included affiliate links to Amazon for you to find some products easier. I may receive a small commission, but the price is the same for you. It just helps my blog out.
Happy Travels,
Rosemary