When I travel, I'm always looking for a hotel that offers me comfort, class, and honestly, is updated nicely and clean. I've found that I'm always impressed with my stays at Drury Inn & Suites whenever I have stayed at any of their locations. Here's my five reasons I loved staying at Drury Inn & Suites in Orlando.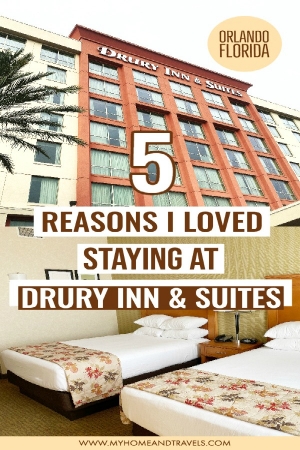 While it's true that each hotel is different in its own right, the underlying theme of any Drury Inn & Suites is cleanliness, affordability, comfort, and style stays true throughout the entire brand.
Just in case you're wondering why I loved my stay, here are the top five reasons why I know for a fact I'll be returning there the next time I'm traveling in that area as well.
Five Reasons I Loved Staying at Drury Inn & Suites In Orlando
To be honest, I could probably have many more reasons why I enjoyed my stay, but I'll highlight the aspects that I felt really went above and beyond.
It's a Universal Partner Hotel with Shuttle Service
This is huge! There is actually even a Universal desk in the lobby that can assist and answer questions. It was such a stress reliever knowing that I could head to the lobby and get on the shuttle, simple as that.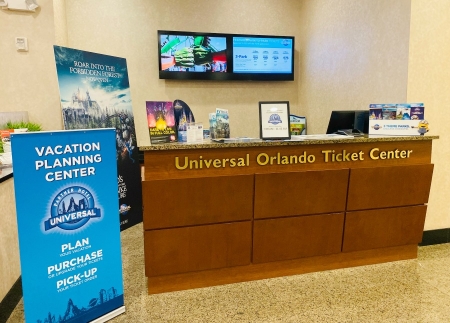 The hours of the desk can vary a bit, but it's normally open for any early morning plans until early afternoon. You can call ahead for hours and to speak to a Universal representative about tickets.
The Shuttle Service runs during morning hours, then again later in the evening. Reservations are suggested but you can do that at the desk. Just check for the shuttle number so you know which one to catch back from City Walk.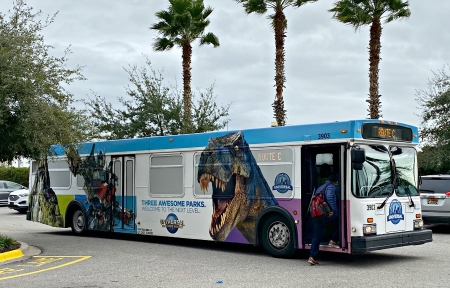 The FREE Food and Drinks Available during your stay
Yes all Free.
We all know that the key to kicking off the day is having a great breakfast and Drury totally understands that. On their breakfast buffet, you're going to find so much more than cereal and fruit. So. Much. More.
Eggs, Sausage, Bacon, ­­­­Oatmeal, and Pastries. Something for everyone's diet.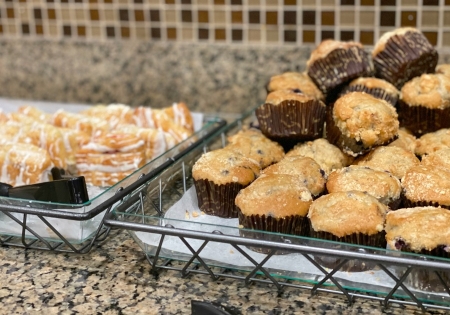 I thought the "D" waffle was just for my Don and Doug, but really it stood for Drury.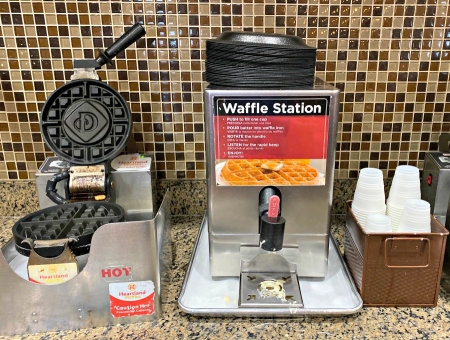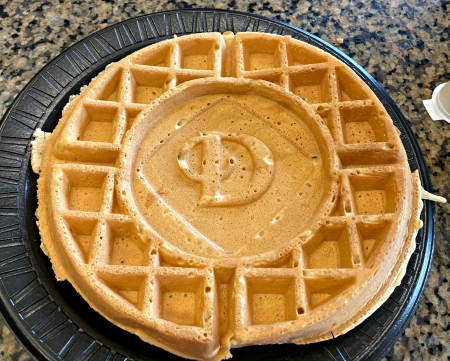 Hot breakfast is ready and waiting for you every single day. And it's tasty, delicious, and filling!
Then each afternoon is the 5:30 Kickback.
With the variety of food options served during this time, it's basically a small meal. A different menu each day but there's usually a soup, hot dogs, nachos, baked potatoes, salads, tacos, or chicken.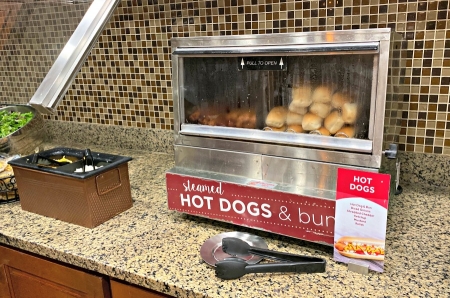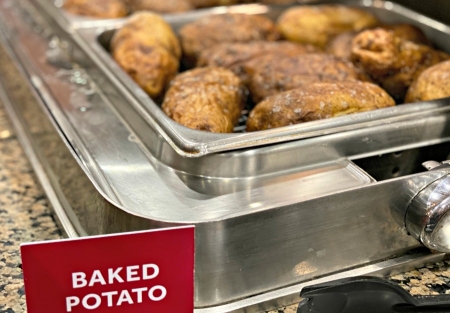 Doesn't that sound like a full meal.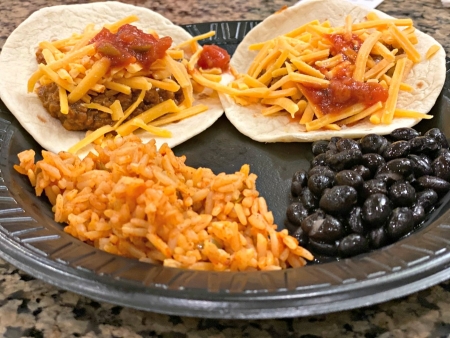 Oh and cocktails are available too with a good selection of wine, beer, and a mixed drinks.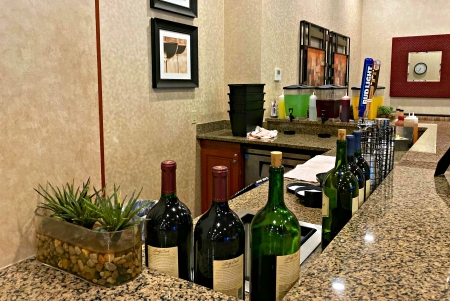 The location is convenient to everything
The Orlando Drury Inn & Suites is just of I-4 and is close to a lot of different things. There are even walkable options for food, shopping, and coffee.
Drury rooms and suites are spacious
When I'm traveling, I really hate feeling like I'm in a tin can. I like rooms that are spacious, open, and inviting. It's possible to have a roomy feel without being cramped and Drury knows this and delivers.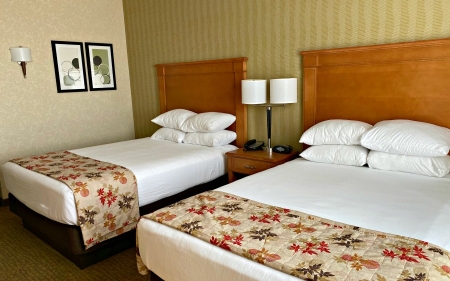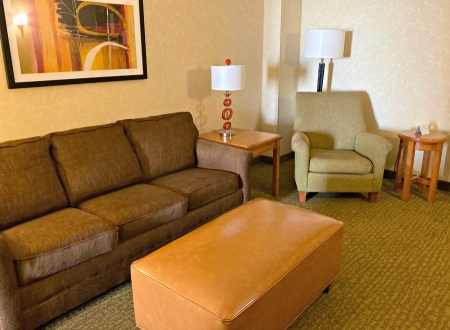 On this trip, there was all three of us, so the one-bedroom suite was great. Plenty of room for three adults.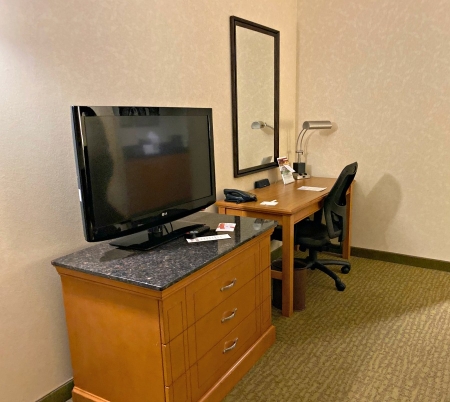 The coffee bar area was great for our snacks and daily coffee.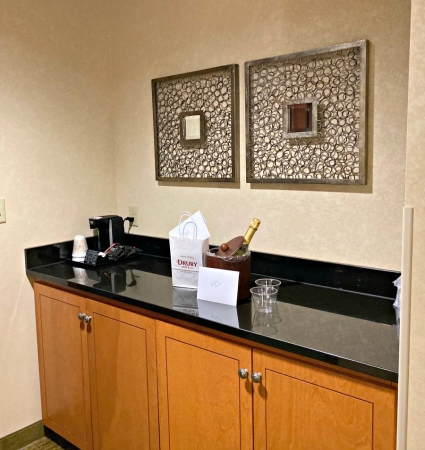 The extra amenities are great
Don't forget your bathing suit when you arrive. With your down time, you can easily take a few laps in the pool or just float and relax. The pool is indoor – outdoor so if you catch a cooler day in Florida.
Their pantry offers extra goodies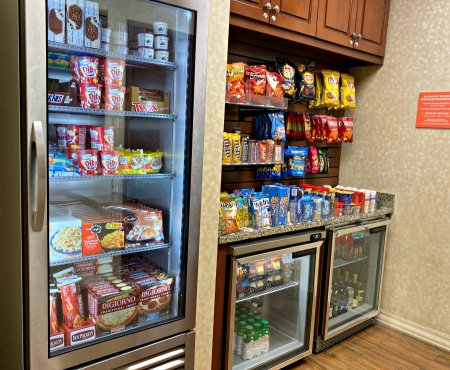 If you're anything like me, sometimes you just need something "extra" and when that feeling happens at the hotel, the last thing I want to do is get into my car and drive somewhere. This is why the pantry at Drury is great because they have sweets, treats, and so much more that you can buy right there!
Overall, the location and ease of travel to Universal Studios is something that really makes this Drury property stand out. Most Drury Inn & Suites still offer guest laundy, which is becoming more rare in hotels. And in Florida, this is a plus if you are staying more than a couple of days.
Even if you're visiting other attractions and parks, the convenient location of this hotel will have you thanking your lucky stars for choosing this hotel.
And just like all Drury Inns & Suites, they're top-notch in everything that they do. Knowing that I'm able to book a hotel stay at Drury Inn & Suites and feel comforted by the fact that I'm staying with a brand that offers convenient locations, affordability, cleanliness, and comfort literally marks all the needs off of my traveling list.
Have you ever stayed at the Drury Inn & Suites in Orlando before?
If you travel to New Orleans, here's my review on that location. Such a pretty hotel with all of the local decor.