There are so many DIY ways to hang stockings. If you're looking for a creative and unique way to show off your holiday stockings, here are some simple and easy options for you!
The great part about these is that they're all really simple to implement. They're the perfect way to show off those Christmas stockings for all to see this holiday season.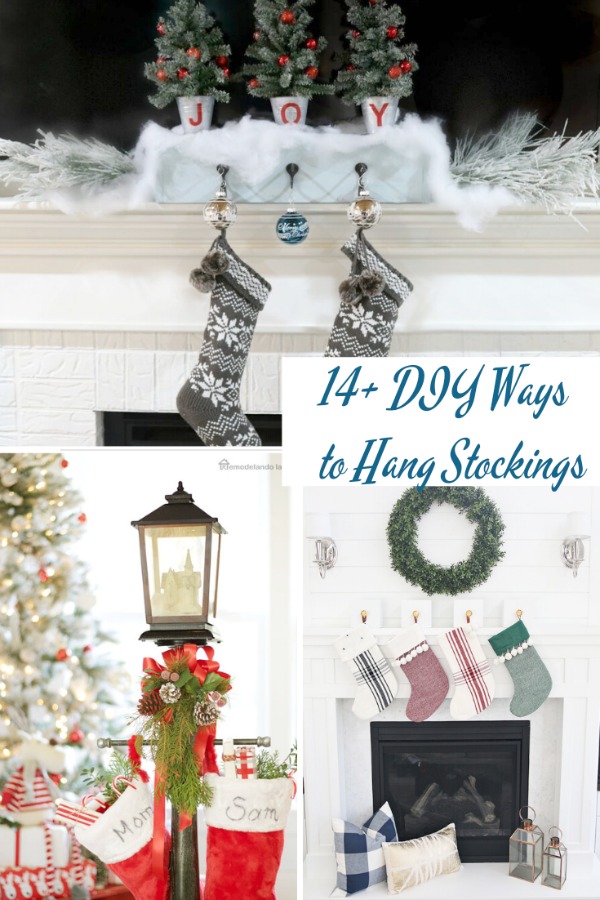 14+ DIY Ways to Hang Stockings
Need a few fun ways to display those "giant socks"? These simple stocking hangers might be just perfect!
Christmas Stocking Post by Sawdust Sisters
Who says you have to do anything fancy? Sometimes a stocking post is all that you'll need.
DIY Stocking Hanger by Dukes and Duchesses
This is one stocking hanger that won't take you any time at all!
Gift Box Stocking Holders by Handyman's Daughter
Who knew that gift boxes could have so many different uses?!
Stocking Holders by Refresh Restyle
What do you think of these stocking holders? I told you that I'd have some simple ideas for you!
Stocking Hanger Box by The Crafting Chicks
In just a few moments of time, you can create something totally crafty and unique.
DIY Stocking Post by The Heathered Nest
Just in case you need more stocking post motivation, you won't want to miss this one!
Mantle Stocking Holders by Madness and Method
These are the perfect size to go right on your mantle.
Mantle Free Stocking Holders by Designer Trapped
If you don't have a mantle, no worries! Not all stockings are meant to go on mantles.
Wall Mounted Christmas Stocking Holder by Mod Podge Rocks
Yes, it's totally possible to mount your stockings to the wall!
Golden Animal Stocking Holder by Cutesy Crafts
Just wait until you see this DIY Stocking Holder. So simple and cute!
Character Stocking Holders by Rain on a Tin Roof
Can one ever have too many stocking holders? I'm going to have to say no!
Lamp Post Stocking Holder Remodelacasa
This lamp post stocking holder just reminds me of an old-time Christmas.
Scrap Wood Stocking Holders by Pretty Handy Girl
It's fun to create with things that might have just lying around the house.
Decorative Stocking by A Cultivated Nest
Wait until you test out your creativity with these fun decorative stocking!
As you can see, there are so many different ways to create your very own DIY stocking holders! And if you have more than one person in your household, why not create a different one for each and every person?
Do you have a favorite DIY way to hang stockings from the list?