Big Bad Breakfast in South Pittsburg, Tennessee
Whether you are just looking for a great breakfast or maybe visiting Lodge Museum of Cast Iron and Lodge Factory Store, Big Bad Breakfast in South Pittsburg is your place to go. It's a great stop on a road trip so check out all the locations with it being just about thirty minutes outside of Chattanooga toward Nashville.
After doing a tour of Lodge Museum of Cast Iron, it's so convenient since BBB, as it's known, is in the same building.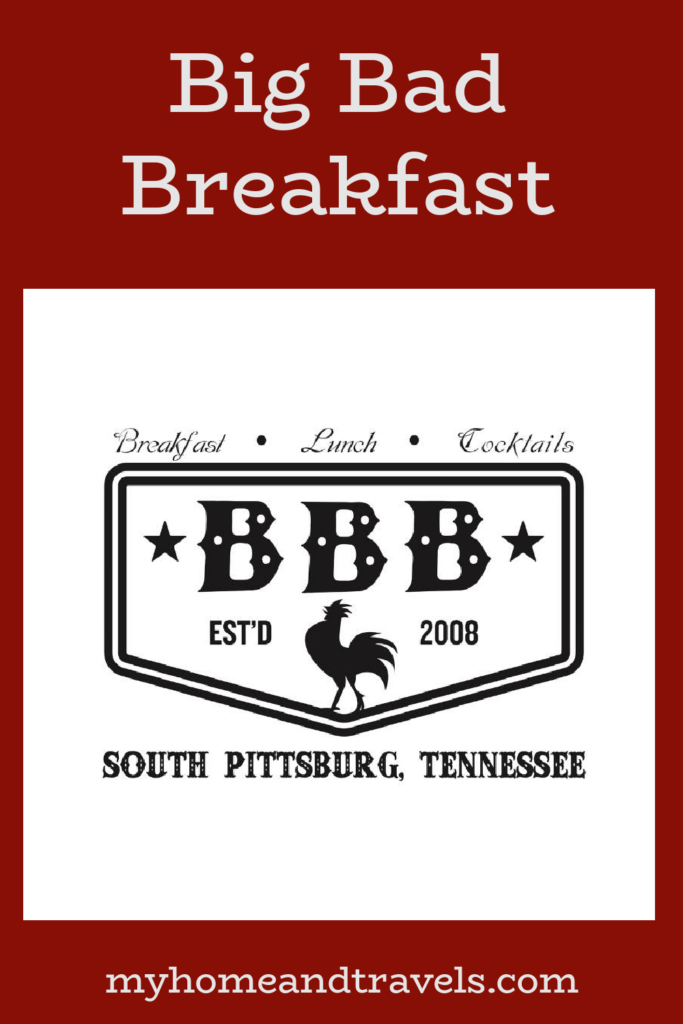 One of the first things you notice is the bright and airy feeling plus the light fixtures. Don't they look like eggs?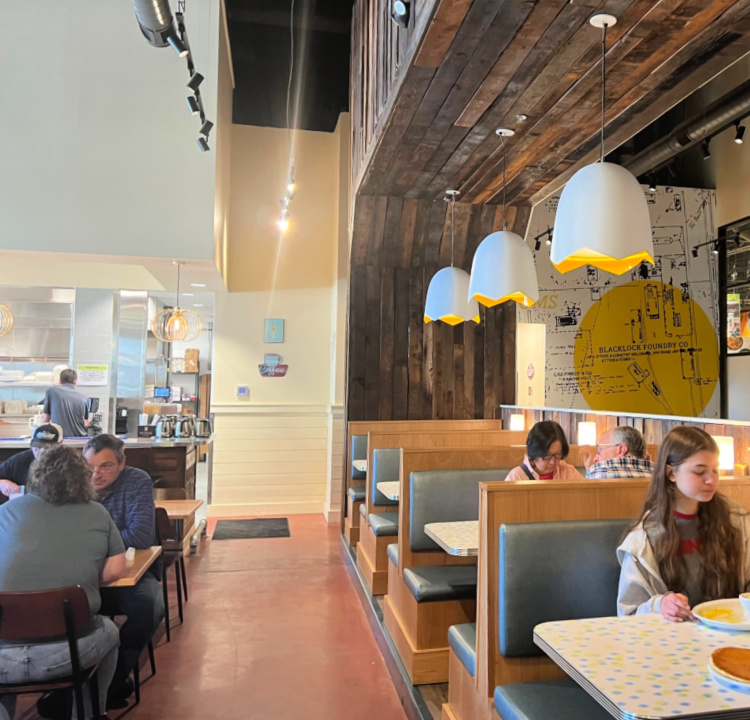 The James Beard Award-winning chef, John Currence, decided there needed to be a brunch place for the students at Ole Miss plus everyone in town for games. He opened the first location in Oxford, Mississippi in 2008 with this being his 15th. I'm anxiously waiting for the next one to open here in Chattanooga, maybe late April to early May. Five more are in the works including Huntsville and a second location in Nashville. Find all the locations HERE.
One of the partners, Rob Stickley, spoke with me about how they started and continued in business.
They wouldn't be considered a typical chain, as each are managed and owned independently. No two locations are exactly alike either. There's a wall of records to be finished here in South Pittsburg so I offered a few of my husband's collection if needed.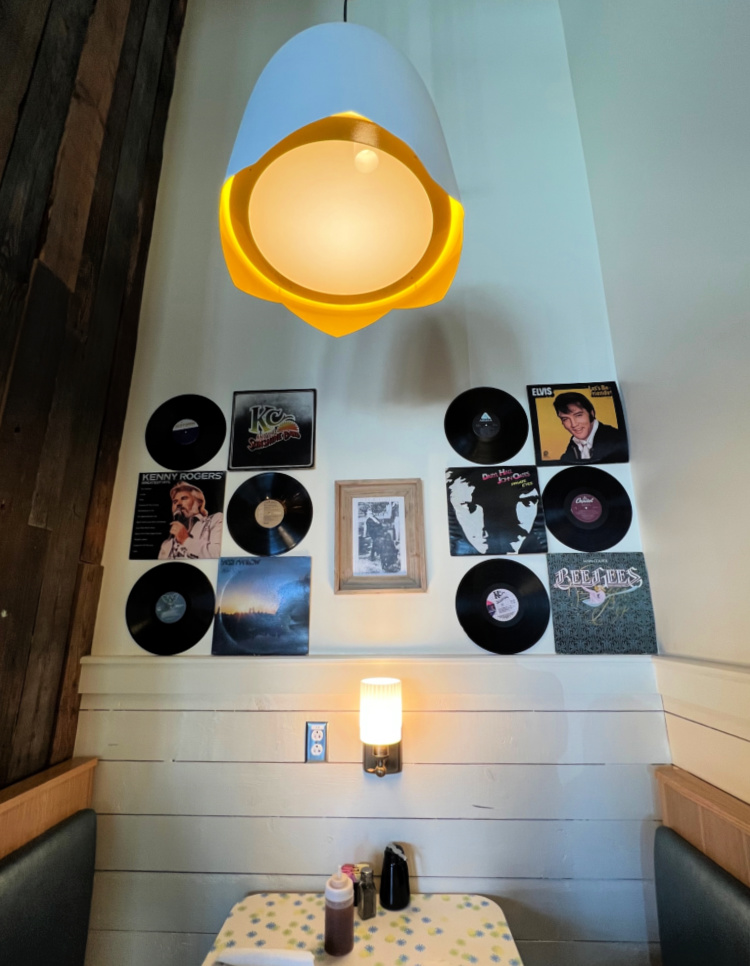 Many of the recipes are from the Currence's family, going back several generations, such as the biscuits and sausage. They have their sausage currently processed in Alabama, and it tastes like homemade.
I got to try their gravy trio of Tomato, Sausage, and Red-Eye. Full disclosure, it was my first time to try tomato gravy and I wasn't crazy about it on a biscuit, but…I could have eaten a bowl of it as it had a bisque like consistency.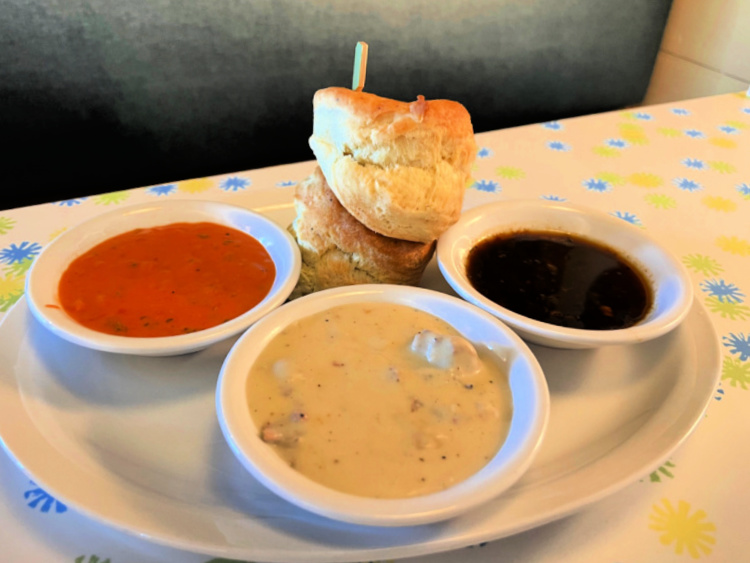 The biscuits were large and tasty. Just enough flakiness in the center and crust on the outside.
I did prefer the red-eye and sausage as they were outstanding. Not too many places make red-eye gravy anymore.
Drinks Available
If you love OJ – this fresh squeezed is some of the best I've ever had. Don't think you have to be in Florida for a great juice.
With all they serve, there's no way it can be done by hand, so this not so little squeezer does the work for them.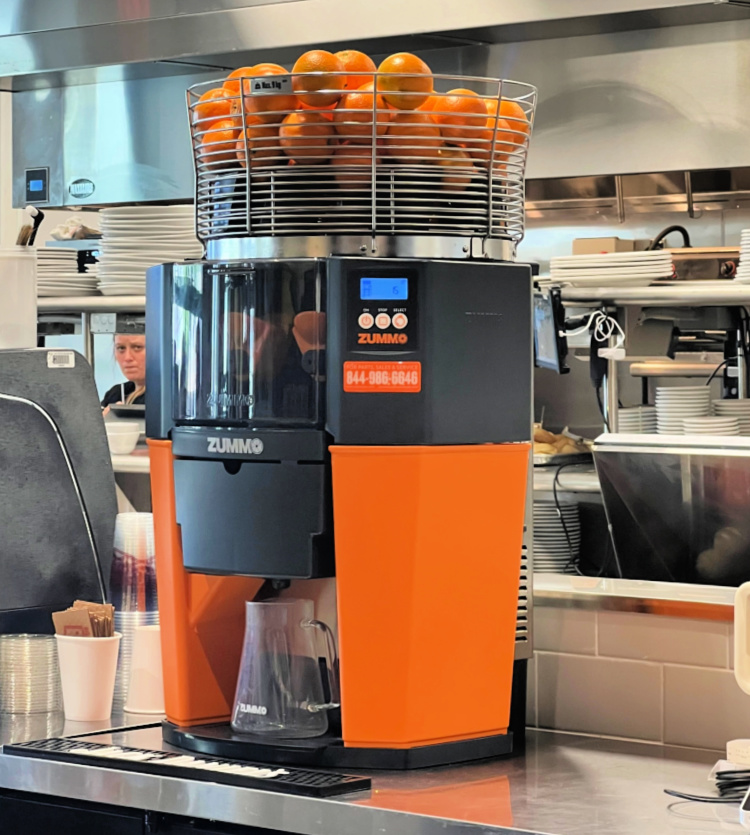 I would have loved to try the Bloody Mary – they looked so good – but as visiting alone, I stay away from any alcoholic drink. That will be on my list when Chattanooga opens.
Not Just For Breakfast
Although the name can confuse you, there's a lot more to the menu than just breakfast items. Typical later in the day a variety of entrees are offered since most locations are open until about 2:30.
Shrimp and Grits is always a top seller for a brunch or lunch, and usually my go-to entrée. I'm thinking too the Big Bad Burger will be a family favorite, with adding a fried egg for my guys.
Hours can vary by location, so check out your location before planning a visit.
Since I was there during breakfast, I chose something made especially for this location – a cornbread omelette. It's not a typical omelette filled with cornbread, but a base of cornbread filled with your favorite fillings. My favorites include bacon, mushrooms, peppers, and bacon or ham.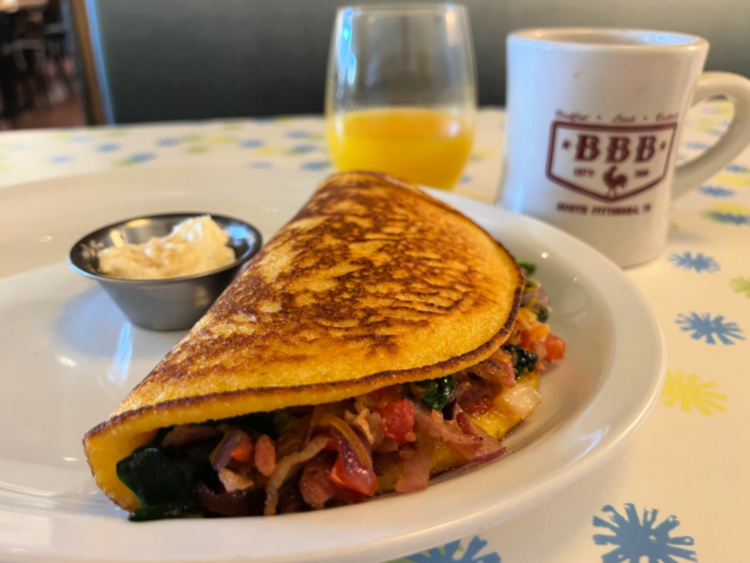 I have made these at home so I'm thinking it's something I need to share my recipe with you. Look for this soon as I want to add a few "travel inspired" recipes to the site.
This was delicious and something all should try. I just hope it's on the menu for the new Chattanooga location. I'll keep you posted on the opening.
The cornbread had a great southern taste along with crispy and brown edges. My favorite way to have cornbread especially when I cook it in a Lodge Cast Iron Skillet. On the side, was honey butter (using local honey) to add to your cornbread. It was sometimes served on the omelet but were told they liked it on the side better. I know I enjoyed it that way.
Big Bad Breakfast
The décor is simple with an open kitchen. Some might even think of it as a diner, but with upscale food offerings. Plenty of seating, but as it has become more popular with the locals and visitors to the Lodge Museum, you might find a wait at peak times. Right now, it is a first come – first served. Maybe in the future there will be a wait list offered online.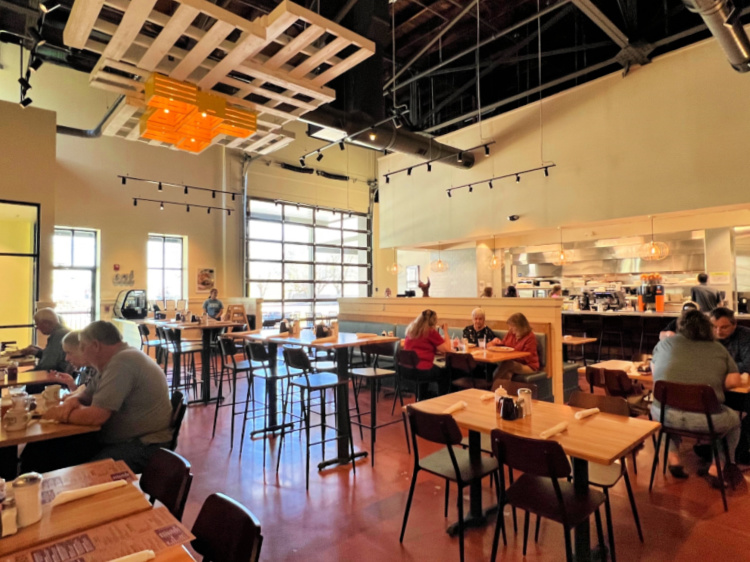 His first restaurant, City Grocery in Oxford, was a success and lead to his many James Beard nominations over the years. Want a little more history on John and Big Bad Breakfast, HERE you go.
You can enter from Big Bad Breakfast two ways. One is from the inside the Lodge Cast Iron Museum.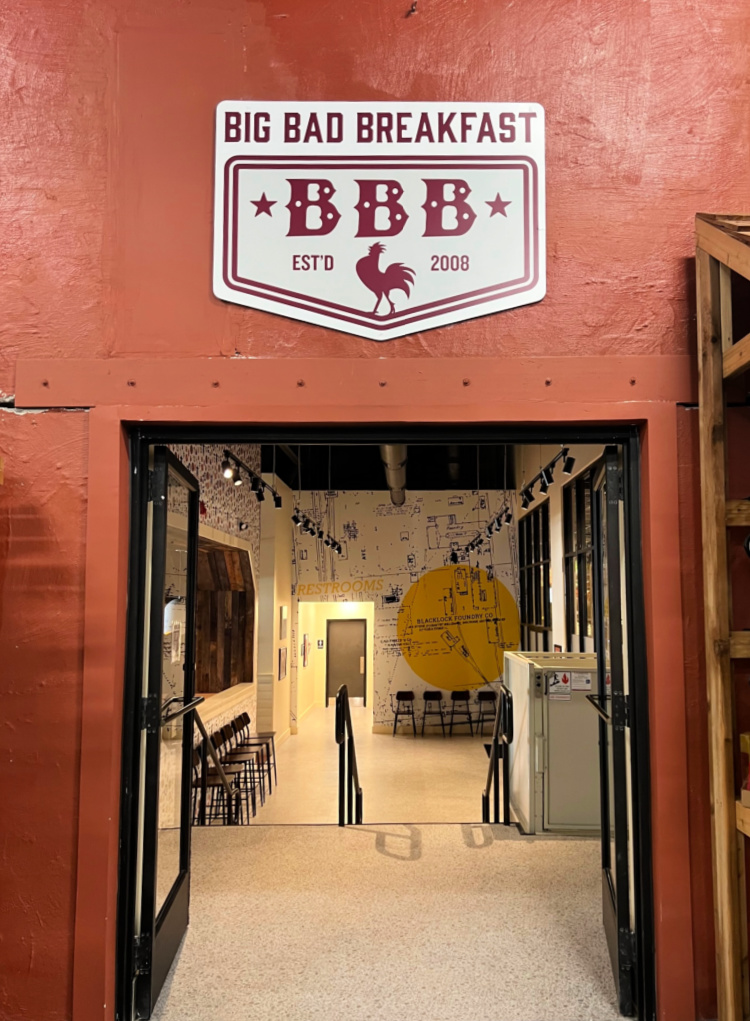 From the outside, look for the sign next to the Museum and Store Entrance.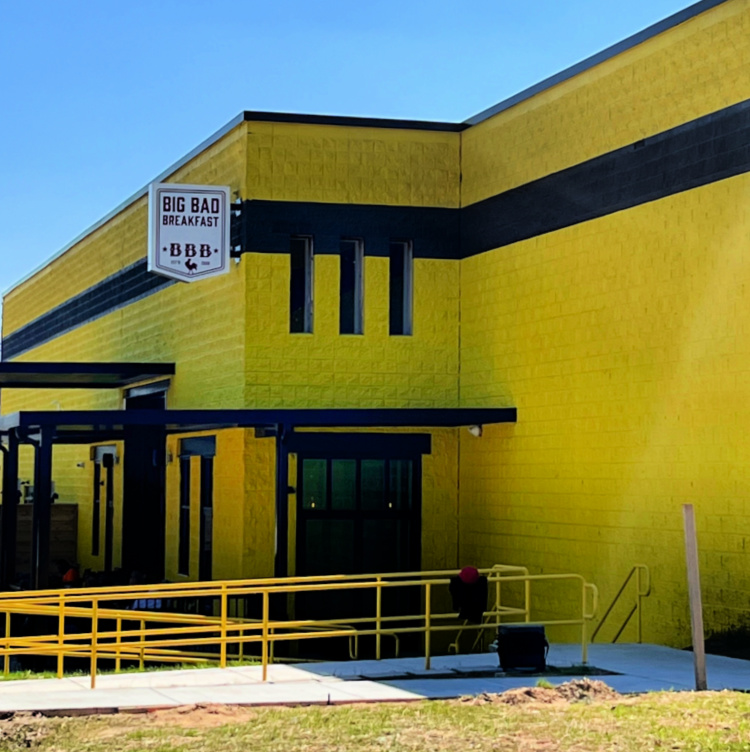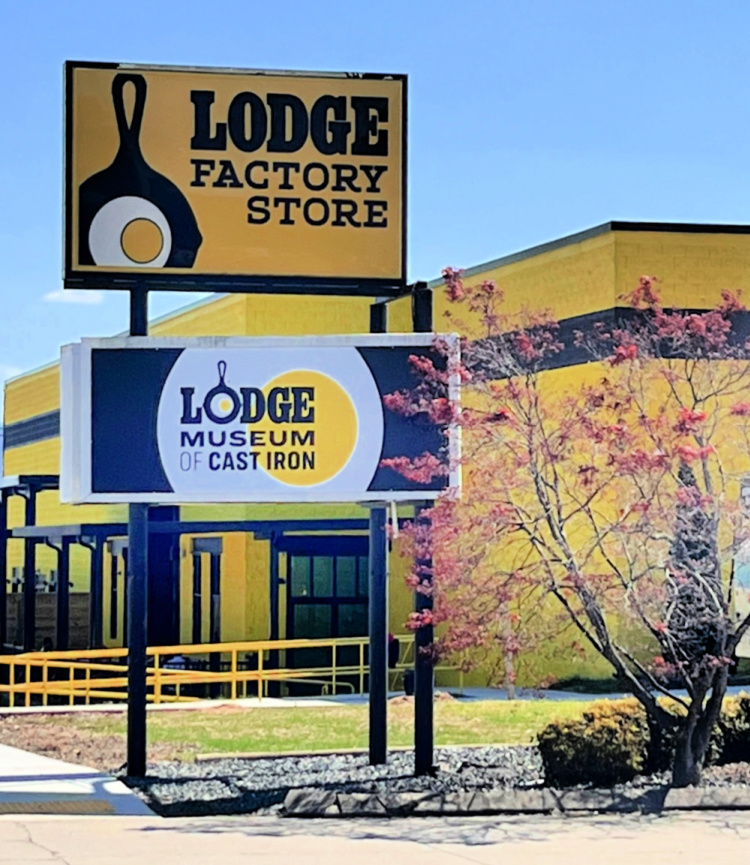 Final Thoughts
I loved the food and the history of how it came about from family recipes to share with the world. Even with several locations, I would still consider it as a local place to check out.
NOTE to those traveling from Chattanooga – you enter Central Time zone just outside of the city limits and South Pittsburg is in the CST.
Things to try next time:
Shrimp and Grits
Low Country Skillet
Breakfast Margarita
Who's ready to try this cornbread omelette when visiting South Pittsburg?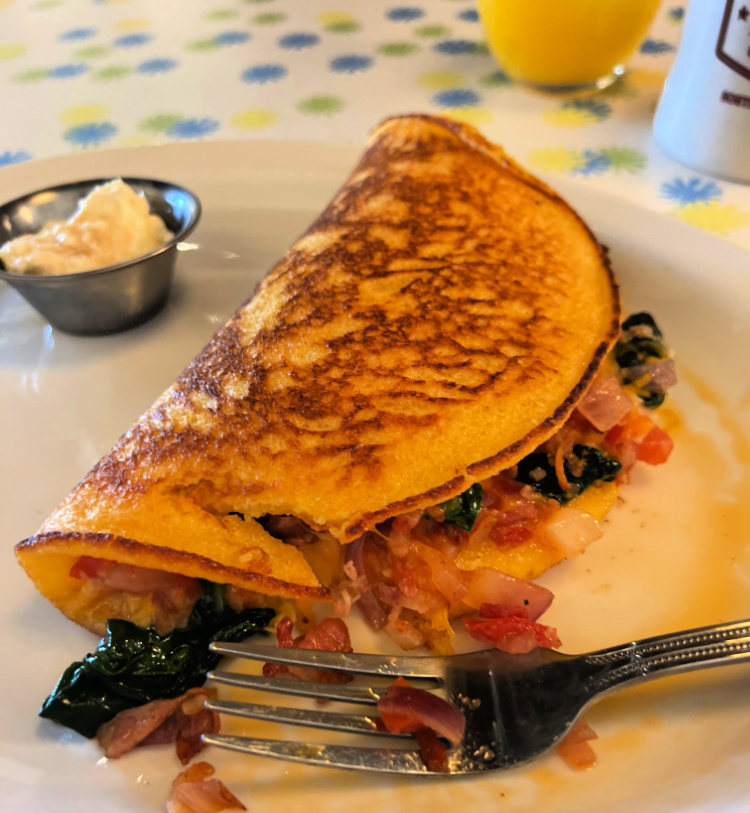 Read about my visit to the Museum HERE and see The World's Largest Cast Iron Skillet.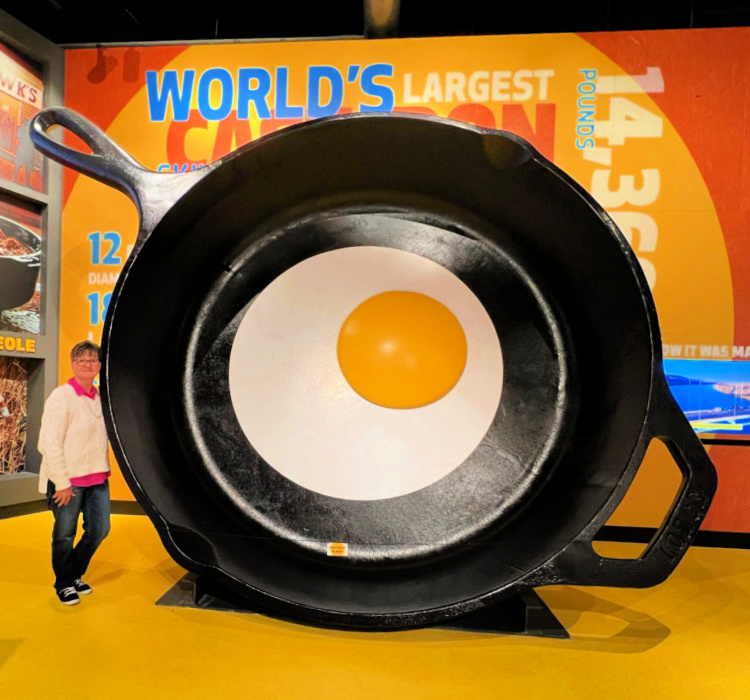 Don't forget about the NATIONAL CORNBREAD FESTIVAL happening in South Pittsburg on April 29 – 30.
I've included affiliate links to Amazon for you to find some products easier. I may receive a small commission, but the price is the same for you. It just helps my blog out.
Happy Travels,
Rosemary