Ever wonder if visiting AT&T Stadium for a Cowboys football game is worth it? Read all about my experience and decide for yourself! Although I will always admit, basketball is my sport, I knew visiting AT&T Stadium for a Cowboys Football Game would be an experience, not just a game. And it was.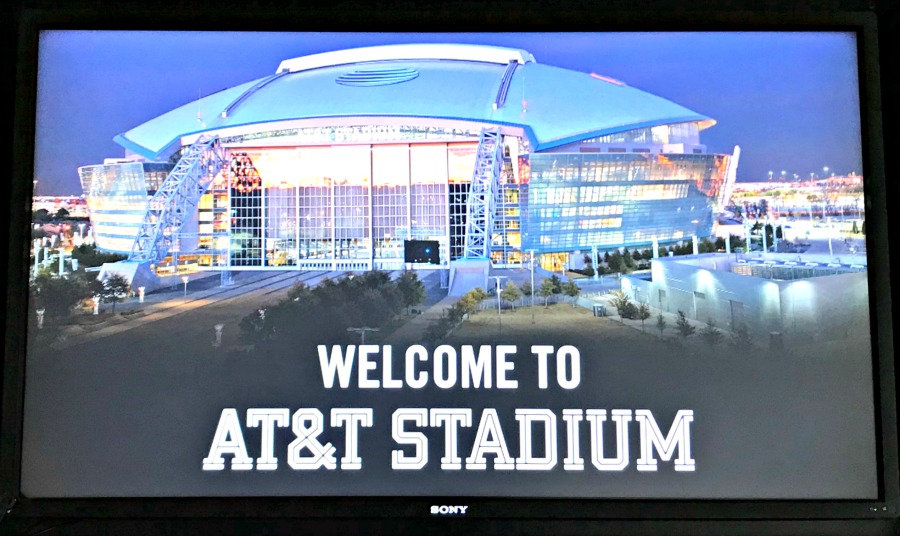 It's no secret that football is America's Favorite Sport. And when you're in Texas…you better be a Cowboys fan for sure. I know that some states are super excited about their football teams, but Texans? Really, really proud. They always say that everything is bigger in Texas, right? Well, this includes their love for football, too.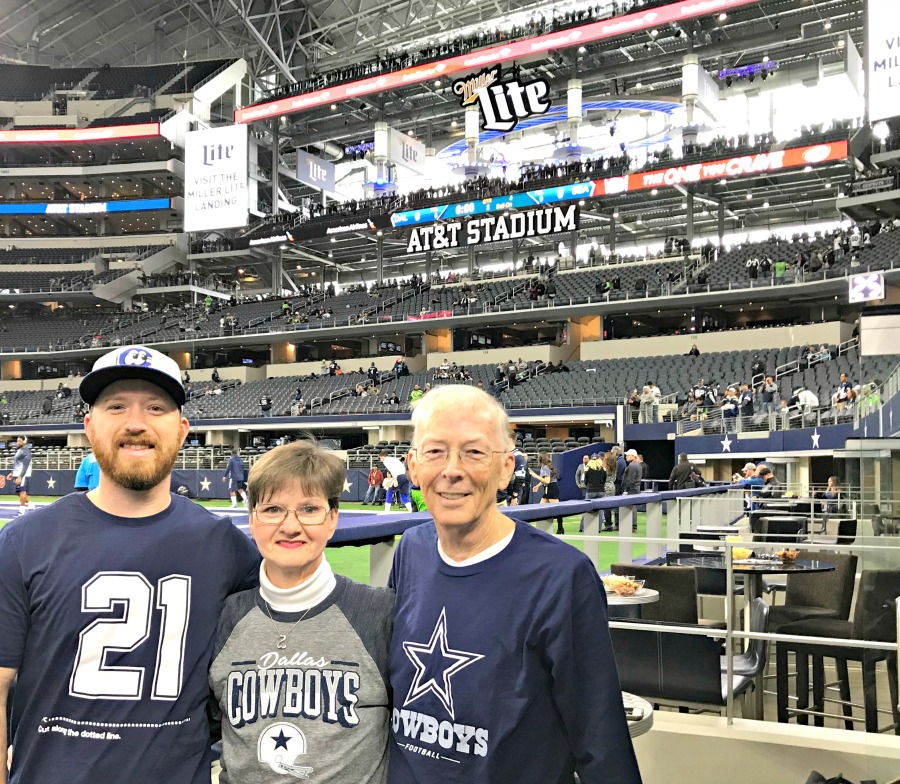 Luckily, I was able to visit the AT&T Stadium and it's an experience I'll never forget!
Visiting AT&T Stadium for a Cowboys Football Game
Opening in 2009, the AT&T Stadium is just one of those football stadiums that you'll never, ever forget. And it's hard to imagine that literally thousands upon thousands of people arrive faithfully every home game to cheer on their beloved Cowboys.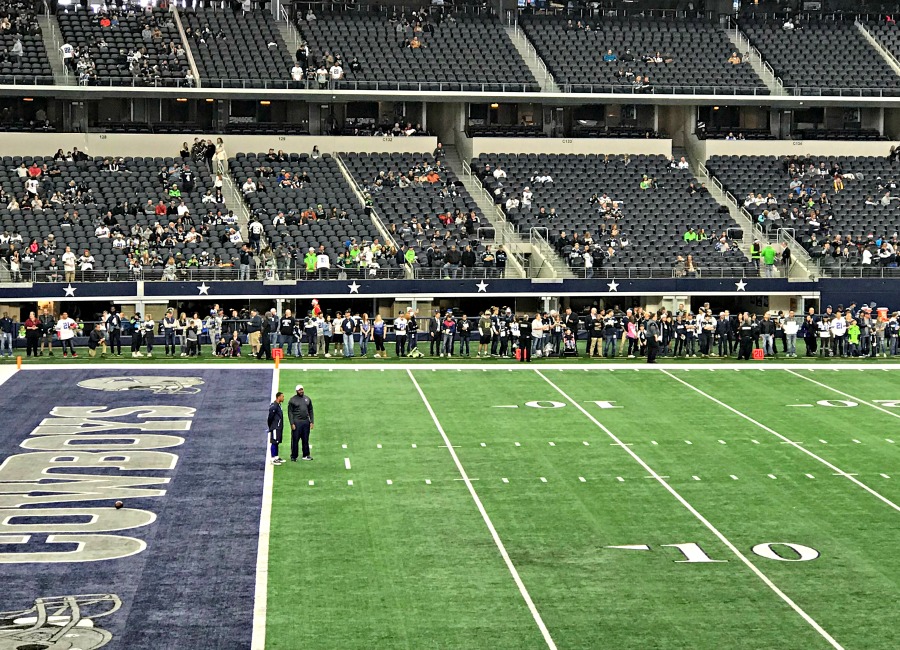 But honestly, once I stepped inside and started looking around, I got it…the inside of the stadium is beautiful, massive and somehow, welcoming all at the same time.
Also with the nickname of Jerry's World – after the owner of the Cowboys, Jerry Jones, who also played a little football for my favorite team. You know – the Razorbacks.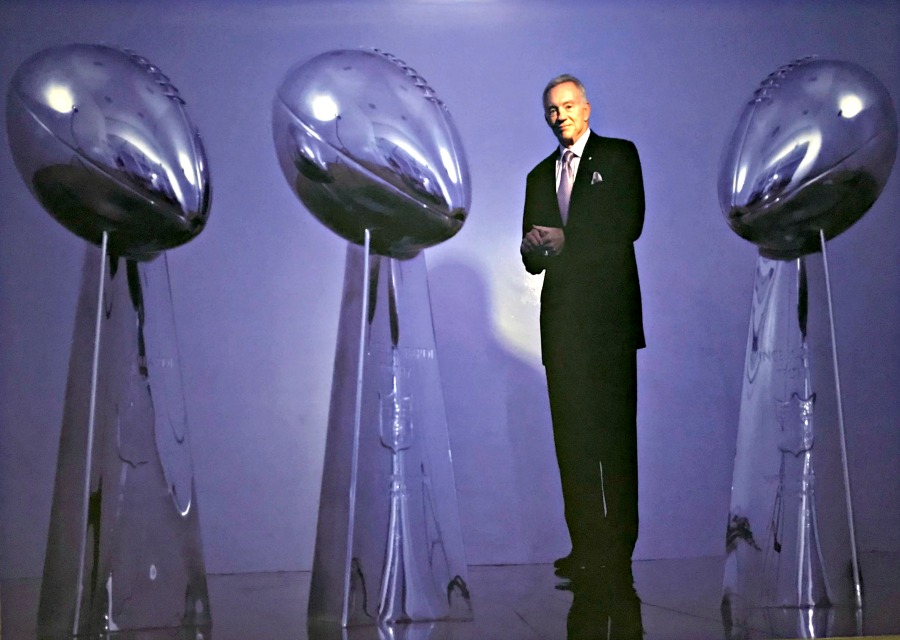 Fun Facts about the AT&T Stadium
There are so many cool facts about the Cowboys Stadium, but here are a few that I thought you'd be interested in just like I was.
The stadium is 140 acres in size.
Holy Moly! Get your walking shoes on. This is why people show up and tailgate before a game before walking and heading into the stadium. It's no joke that attending a football game here with most definitely help you achieve your 10,000 steps for the day!
The entire roof is retractable.
The weather is never a concern when playing in the Cowboys Stadium. The retractable roof keeps the interior at a nice temperature that makes the game really enjoyable and comfortable for all. Since we was there in December, it happened to be a rainy, cold day for Texas. I was thankful to be inside.
The AT&T Stadium has one of the largest video boards in the world.
Makes sense, right? With how large the stadium is, you've got to have something big enough for all the fans to see! Keeping an eye on the score and all of those replays is important! It stretches from one 20-yard line to the other 20-yard line.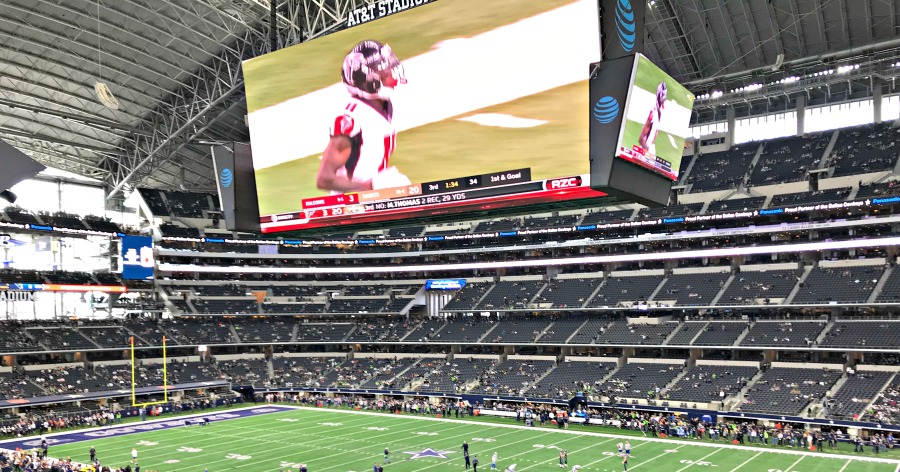 There are some pretty amazing art exhibits located throughout the stadium as well.
The stadium has an appreciation for art and it shouldn't be overlooked! If you want to see some truly stunning art pieces, you'll be able to feast your eyes on them at the art exhibit.
I loved the lighting too. My son said everyone else taking pictures of the team, I'm taking pictures of the decor. Some were hand picked by Jerry Jones' wife and brought in from Italy.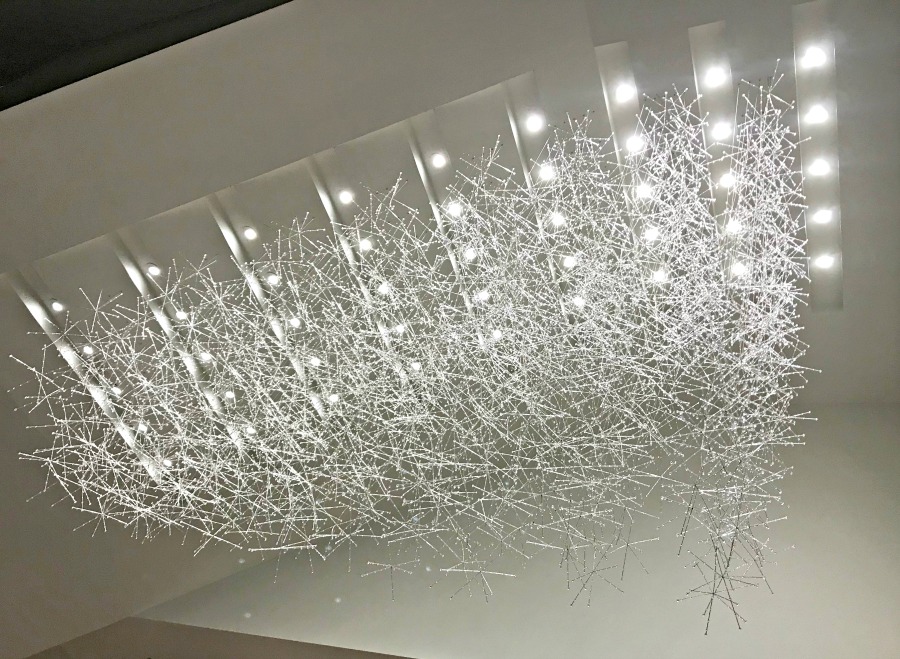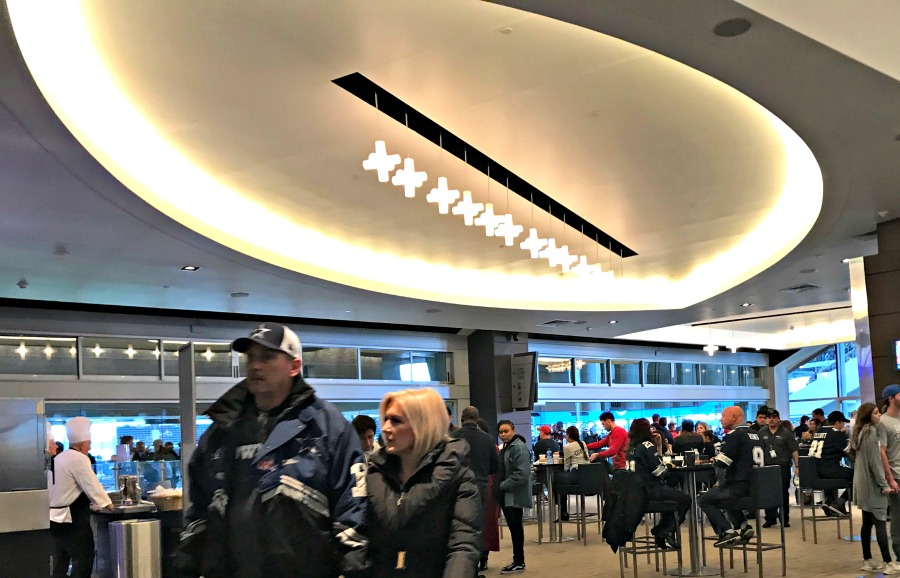 The stadium is used for more than just football games.
While it stays pretty busy during the football season, the AT&T Stadium also has hosted and held a lot of other really cool venues. Plenty of concerts, Wrestlemania, bowl games, NBA game, CMA music awards, and the Superbowl. Hard to believe that it can change so suddenly and with ease.
If you find yourself in the Dallas area, you need to take a tour of this stadium, which is actually considered in Arlington. There are plenty of selfie opportunities and you'll love being able to take a peek behind the scenes of what goes on in one of the biggest and most beautiful football stadiums in the world.
Make certain that you pack some comfy shoes, and plan ahead because the tours do fill up quickly!
Taking a tour as a group is also a really fun idea so that way, you can experience it together and talk about it later. There's nothing like experiencing something truly amazing together and then comparing what each person thought about it. And the good part about visiting the AT&T stadium? It's suitable for families, kids and really anyone of any age!
If you have a love for football and want to learn more about what goes on behind the scenes, you'll love the tour of this grand stadium!
The other attraction at a Dallas Cowboys Game
While many love the game, others may say the other great attraction are the DCC – Dallas Cowboy Cheerleaders.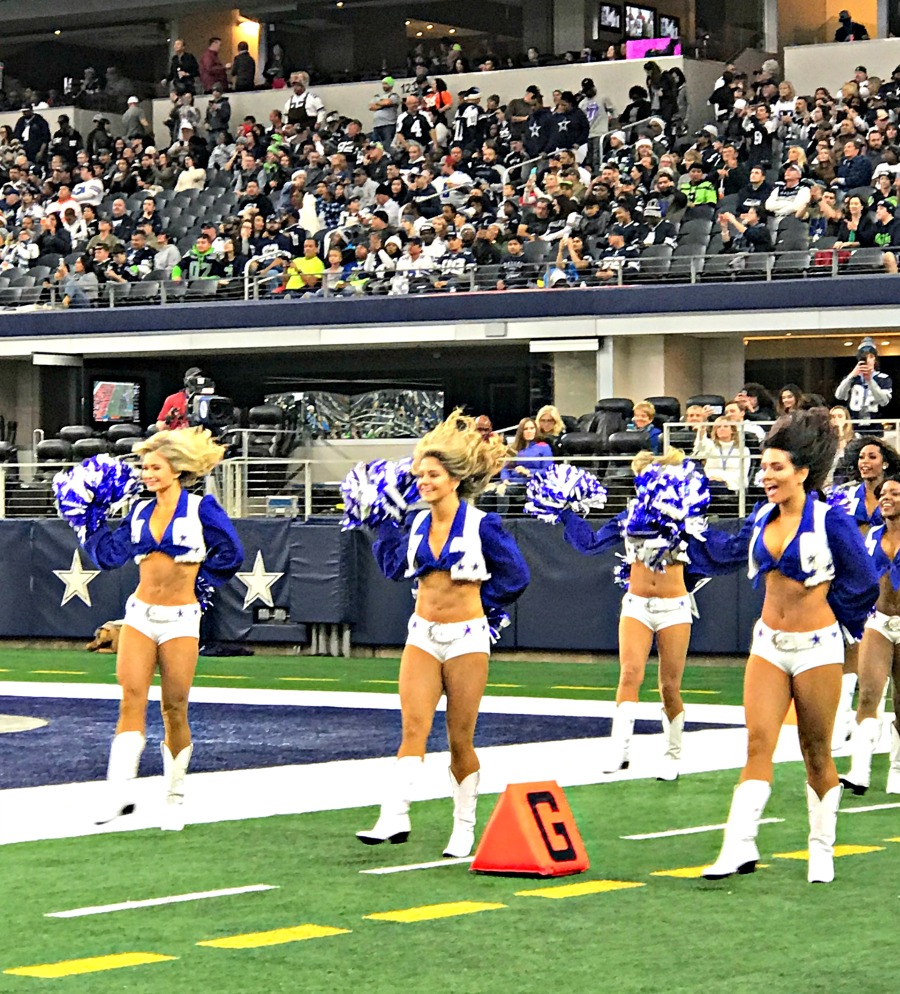 America's Sweethearts are known for their iconic uniforms, kick line, and drop splits.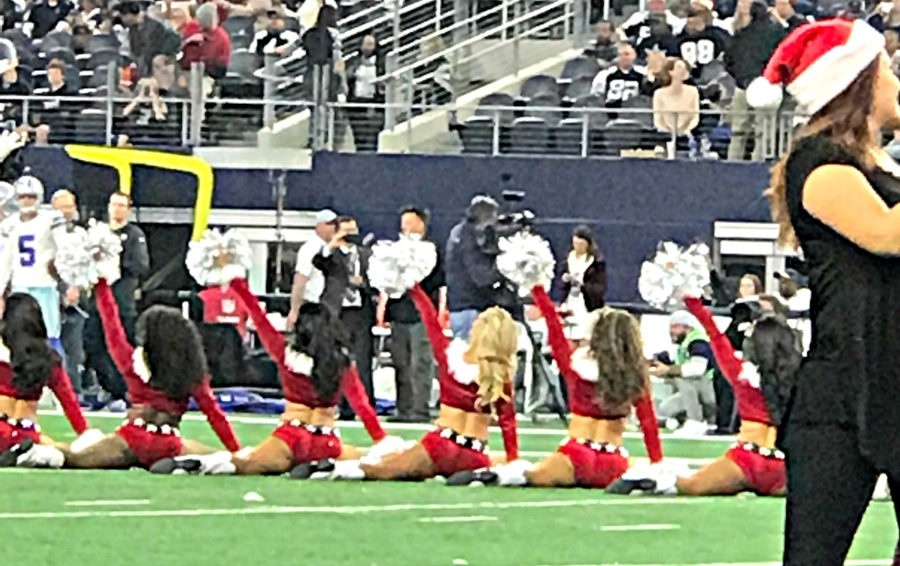 A popular saying is:
They are often imitated…
They are never equaled…
They are the Dallas Cowboys Cheerleaders!
My guys loved having seats on the field so they had this chance! This was well worth the ticket price.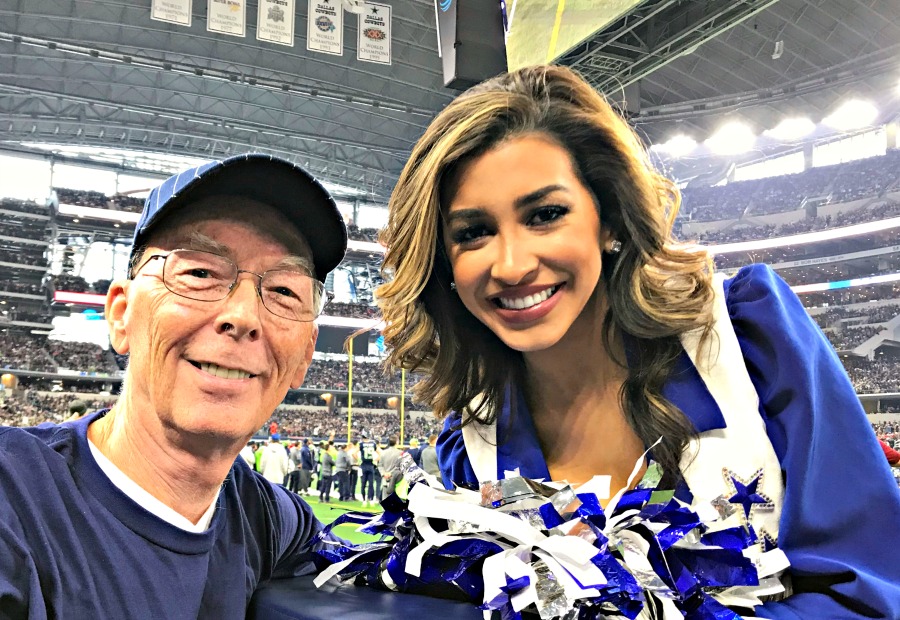 Back to the game
Game day is a big deal! As I said, the weather wasn't the best for trying to tailgate, but great for exploring inside before the game. With our tickets, we had access to the lower level of the stadium. Watching all the players from the Cowyboys and Seahawks team coming in and out of the locker areas, was fun. My son could tell you most of the names, I couldn't. Some would even stop for autographs and photos.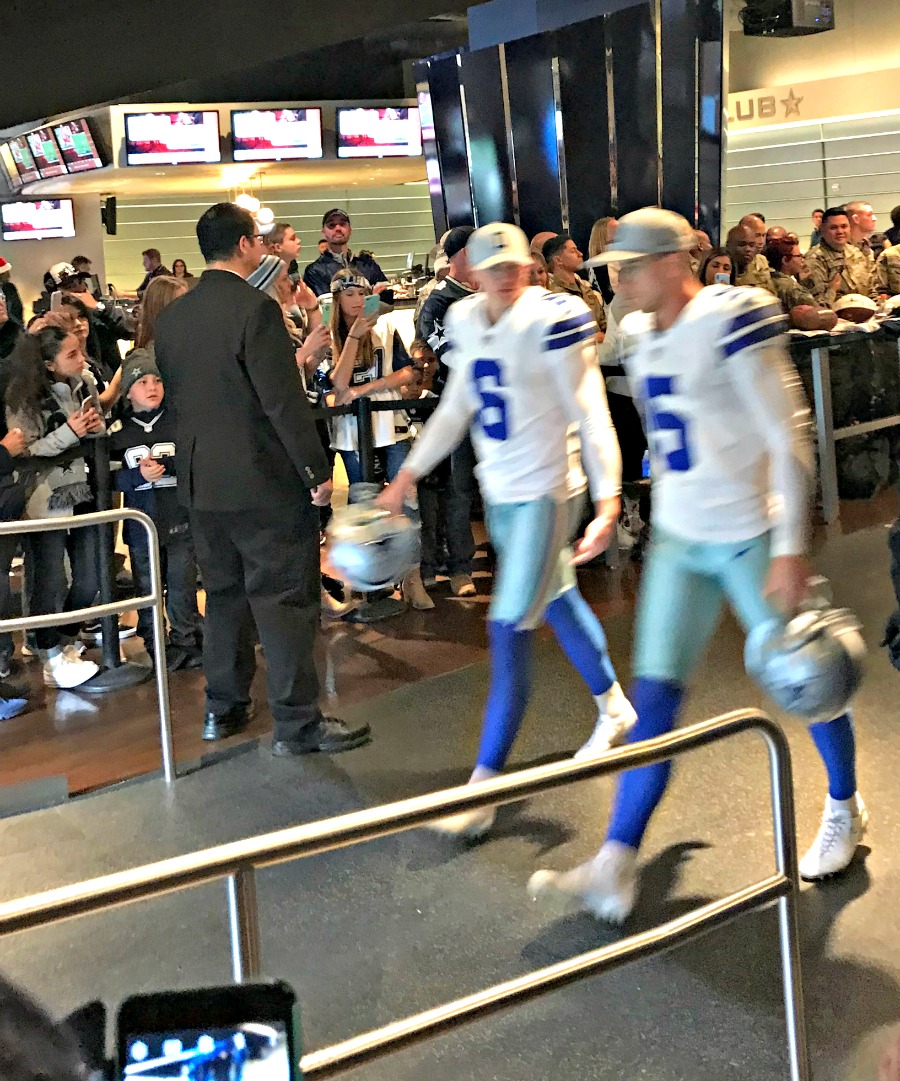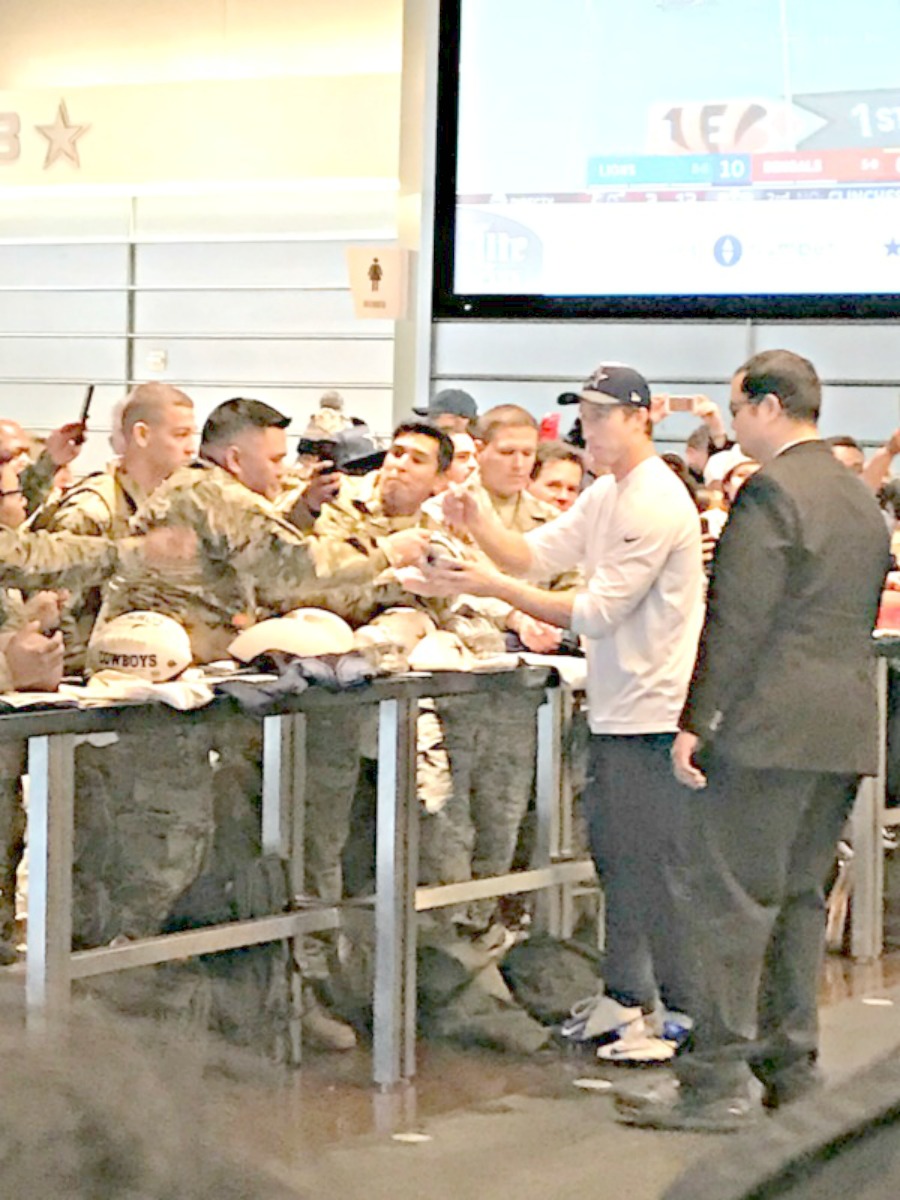 There's also several bars on this lower level and the press room for after game interviews.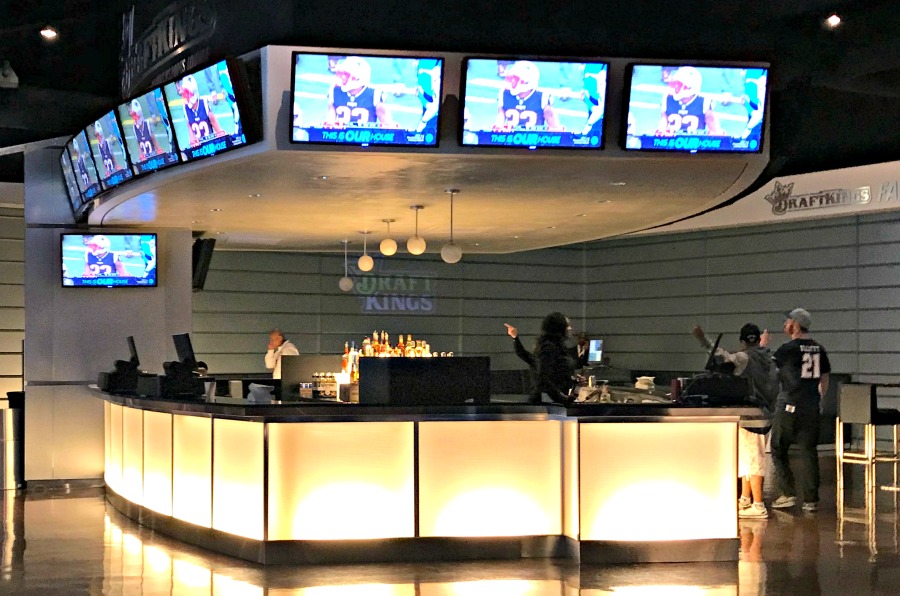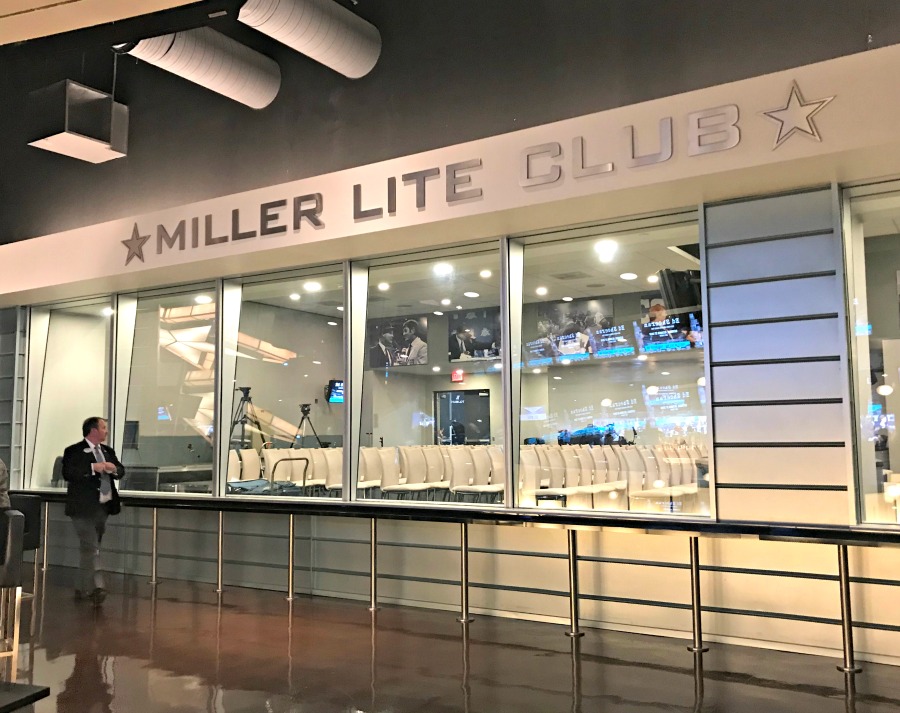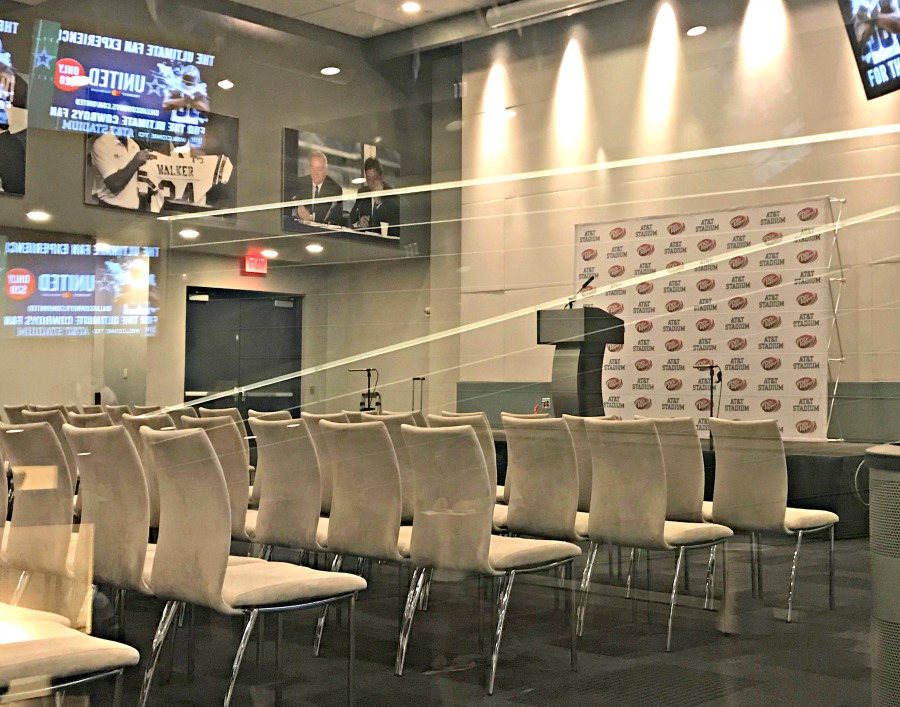 Tickets aren't cheap but this was our Christmas present to ourselves. I also discovered it's sometimes hard to find three seats sold together. After searching, the on-field suite wasn't a lot more than far worse tickets. The view from our suite which we did discover was sometimes blocked by so many on the sidelines.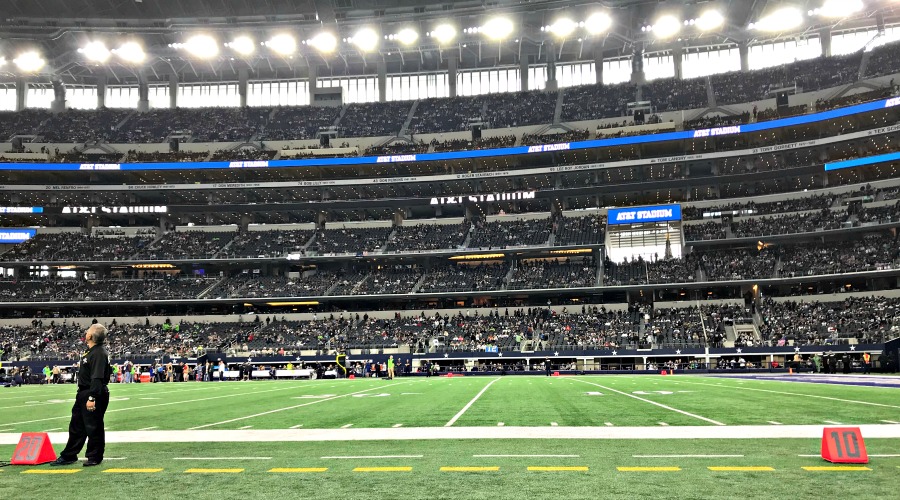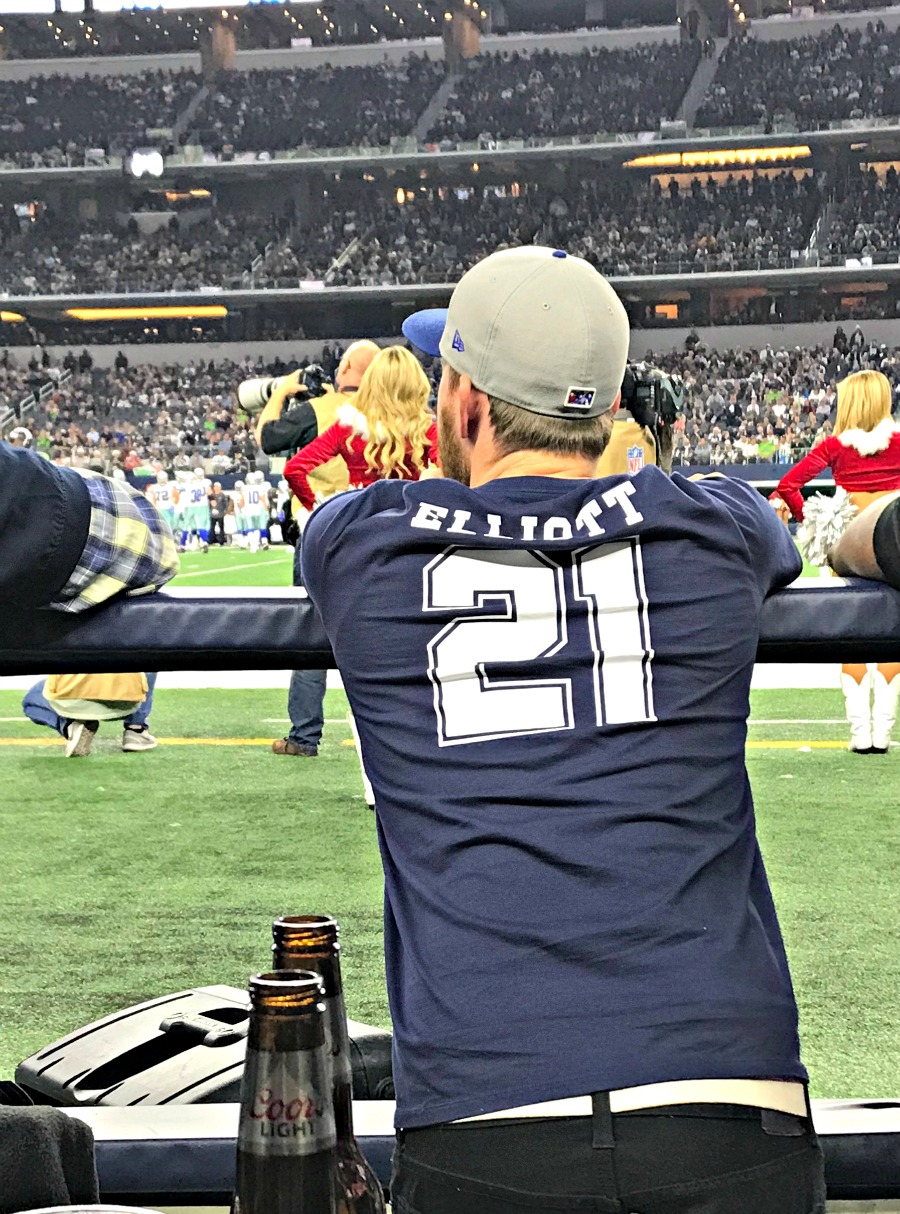 We were fortunate too that one of the companies which used this box during the year bought food and drinks for everyone. There was about 15 people in the suite watching the game.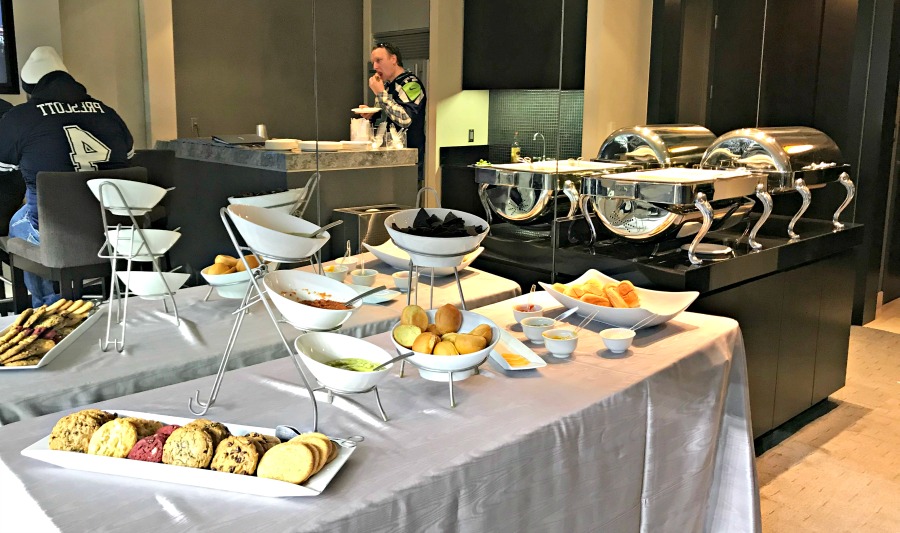 The Jumbo Tron made seeing the game and the precision of the DCC a little easier too.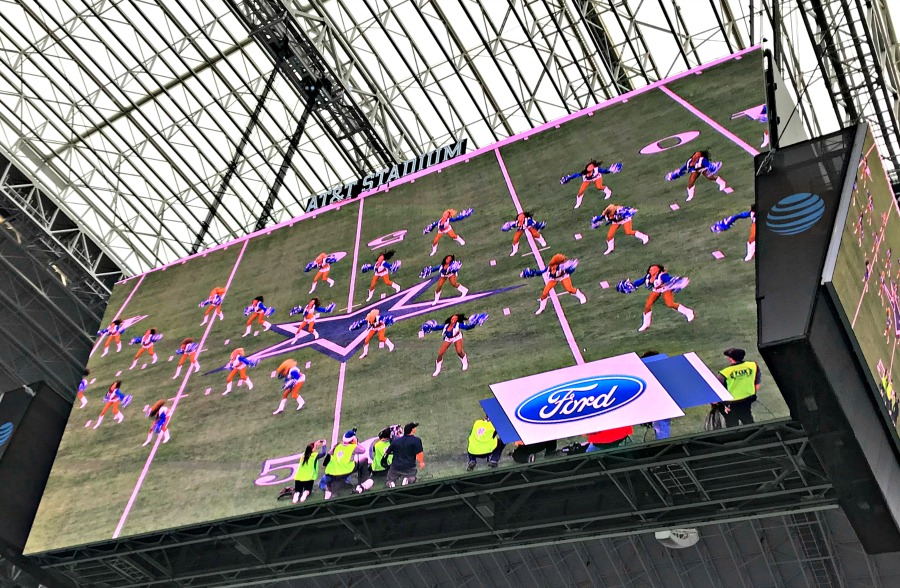 A few more perks, photographers took pictures of each ticket holder, complimentary programs, and a private bathroom. A very nice way to watch a game.
The game didn't end that day with a W for the Cowboys, but what an experience.
A little suggestion about parking, don't. We had a shuttle from the hotel, but would suggest any ride share such as Uber or Lift. You will be towed, or pay a HIGH fee. Even local restaurants get in on the parking action.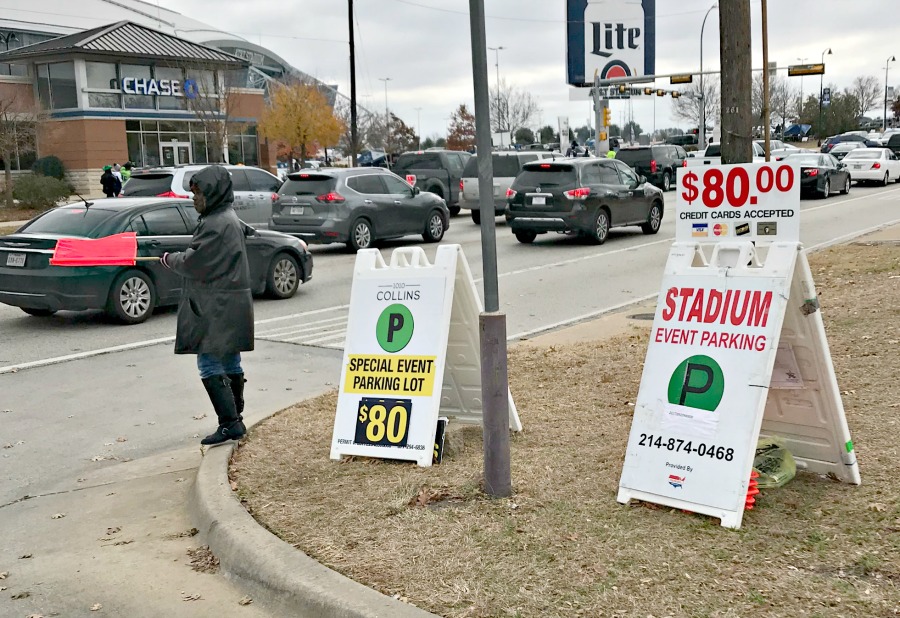 Even if you aren't a Cowboys or a football fan, this was a fun day and experience.
A few celebrity sightings too including Erin Andrews.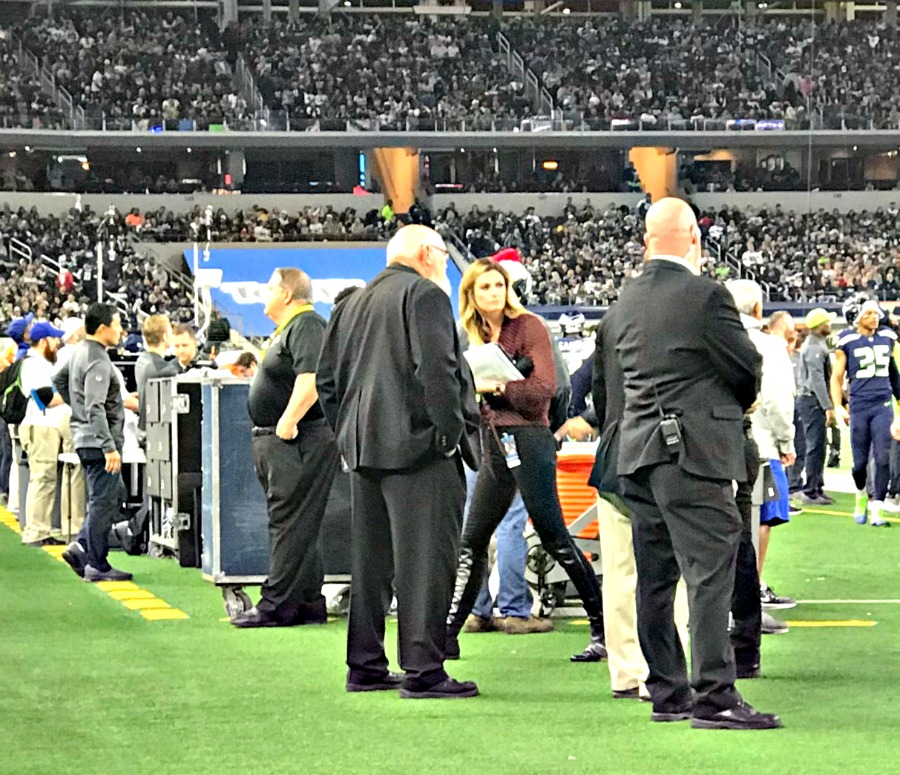 What's your favorite team and have you attended a game? We also attended a New Orleans Saints game a couple years ago.
If you are in the area, make sure you make a visit to Fort Worth also.