Village Food Tours in Cocoa, Florida
Do you hear about great restaurants in an area you are visiting, but there's just not enough time to try them all? I have a solution to help with that. Check out to see if a Food Tour is offered around there. We only had one day between cruises and loved finding one in the Port Canaveral area. Village Food Tours in Cocoa, Florida is a must for you to try. I guarantee you won't be disappointed.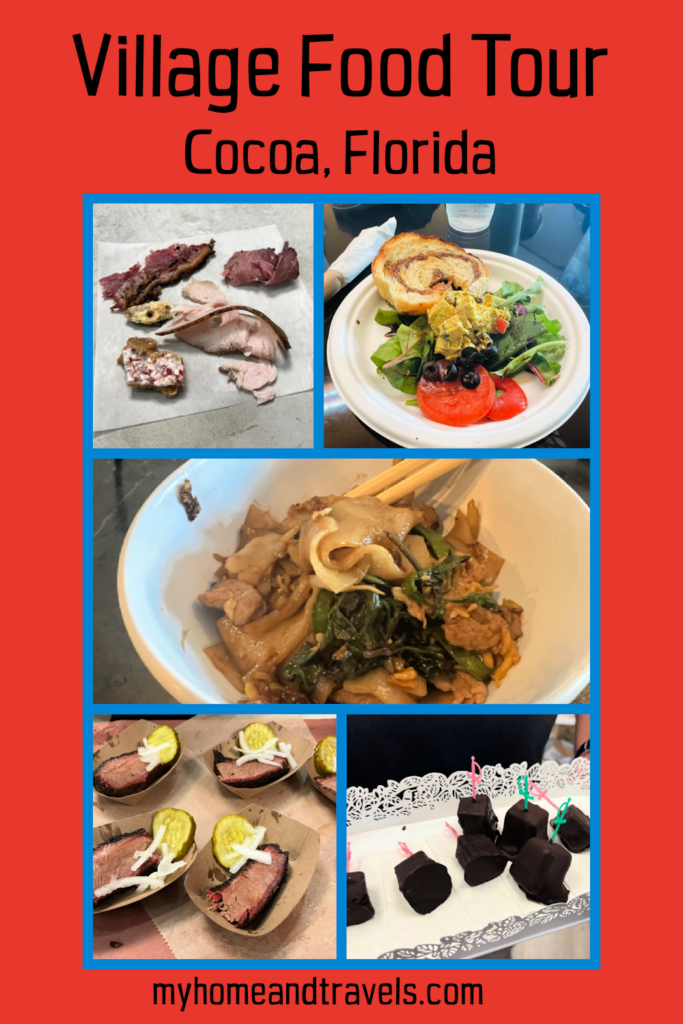 As with any tour, the tour guide can make or break the tour. Halim was great. He was so knowledgeable about not only the restaurants we visited, but also with the local area sharing a lot of history. It made me realize I need to visit Cocoa, Florida again.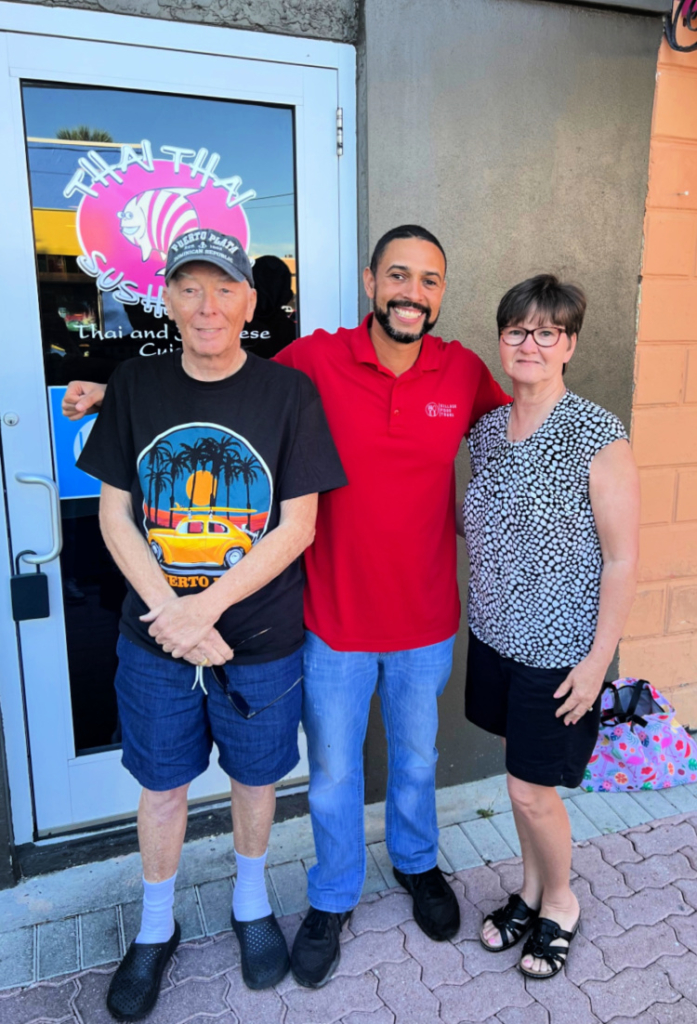 What is a Food Tour?
A food tour is usually a tasting of food and drinks from four to six local restaurants. A local business itself, this food tour company will offer maybe just one tour, or several depending on their location. These can be anything from desserts, seafood, drinks, BBQ, or those we love – a variety of everything. You may even find one visiting a local market with a Chef.
You will meet up with your tour guide, then travel – usually walking – to the selected locations. A table will be ready for you for your tasting. The amount of food you receive can vary from an appetizer portion to a full portion of an item.
The restaurants, and one shop, we visited on this tour didn't disappoint. You didn't have to worry about finding dinner after this tour.
Most of the time you will have the option of purchasing a separate drink, even an alcoholic beverage at some stops.
Stops on Village Food Tour and What We Tasted
I've included a link to each of the stops for you to check them out.
Pub Americana – Gator Bites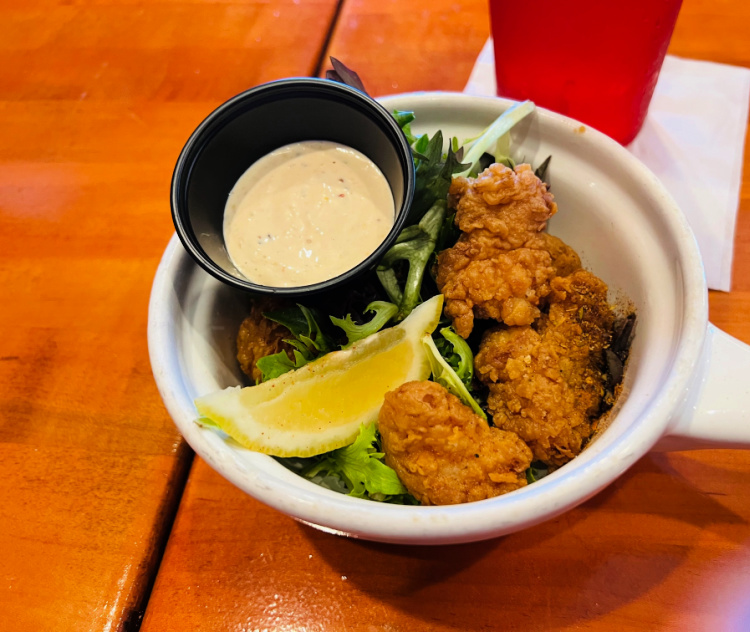 I've had gator before and really enjoyed this. Yes, to me, it does taste a bit like chicken, but how it's prepared can be a big factor in taste. The dipping sauce offered was very tasteful and not too spicy for me. This Pub is known locally for their tasty burgers, so that will be on my list for next time.
There was also a lot of seating outside to soak in those sunny Florida days.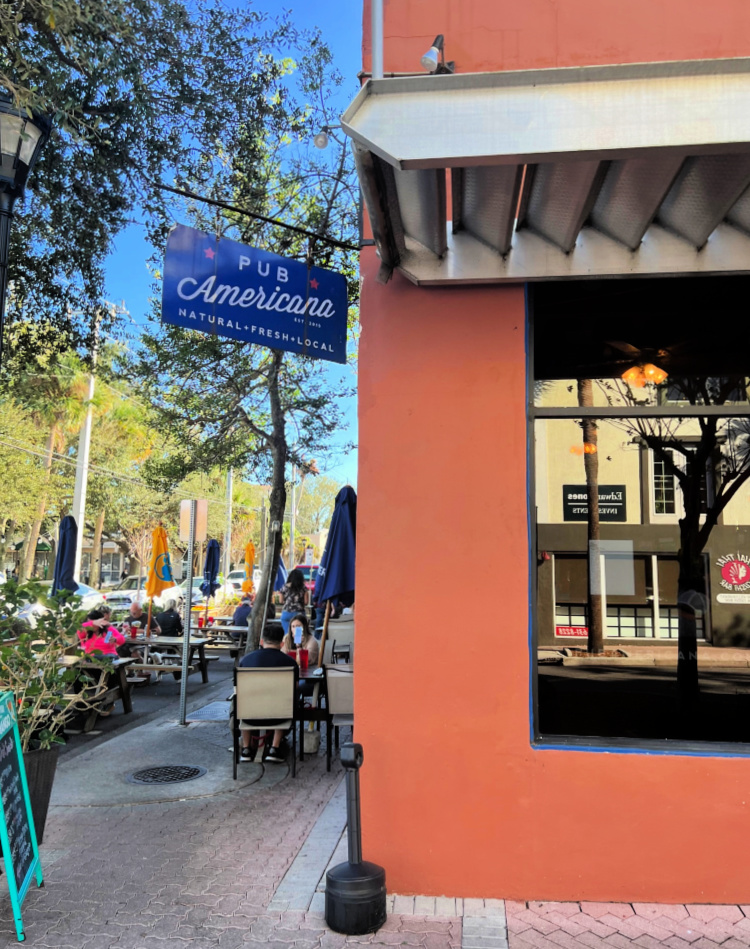 I normally try to look at the menu for all of the restaurants we visit, and Pub Americana is definitely one place I would visit again with all of their choices.
Cindy Lee's – Key Lime Pie Bites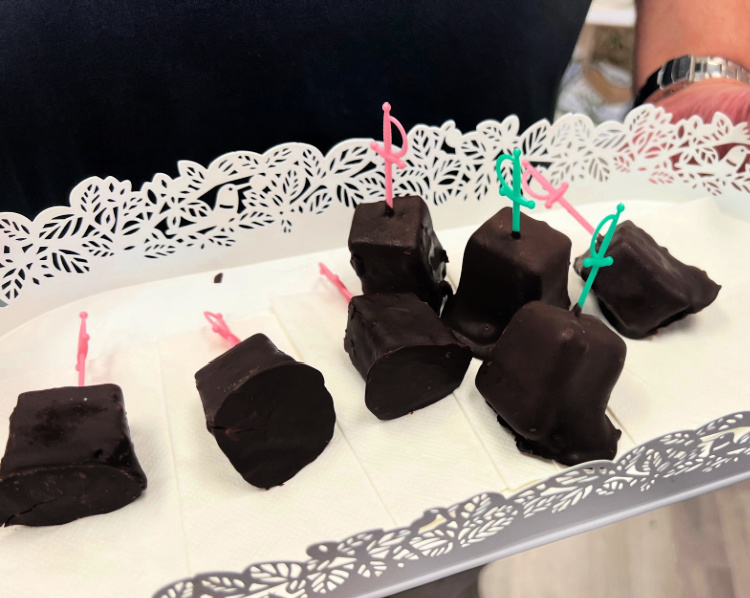 Cindy Lee's was a boutique shop with apparel, gifts and everything food and kitchen related. My kind of store to say the least.
I admit, Key Lime Pie isn't one of my favorite desserts, but when a bite is covered in great dark chocolate, it might become a favorite. Of course, my husband loved it as Key Lime Pie is his favorite dessert.
This is authentic Key Lime Pie and shipped in from a famous shop in Key West. If you have ever visited Key West, you probably made a stop at Kermit's Key Lime Pie for a slice, or for something different, the Key Lime Pie on a stick dipped in decadent dark Belgian chocolate.
Make sure you go back and shop after the tour and receive a 10% discount on anything you buy. Such a cute shop.
Crydermans Barbecue – Beef Brisket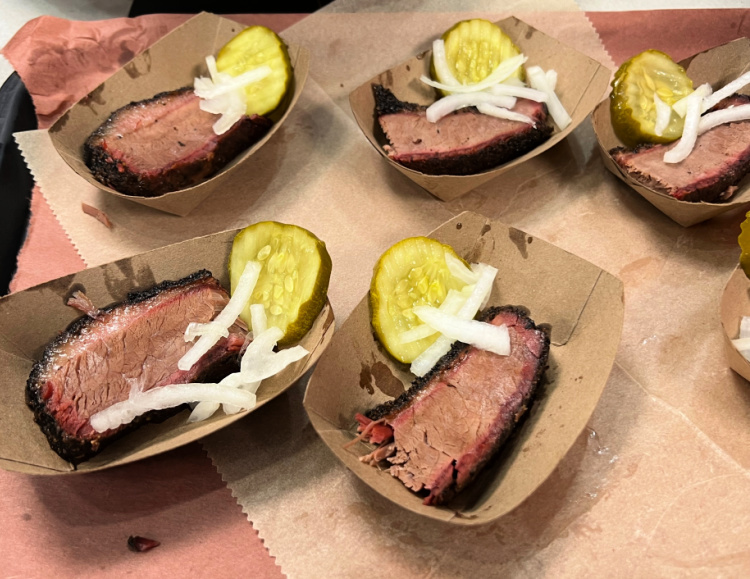 Sometimes in the South, you only think of pork for BBQ, but when you can find a great Beef Brisket, it will give it a run for taste.
Crydermans know how to do all types of BBQ, including a delicious and tender Brisket and all of the sides to go with it.
A trip to a restaurant like this is one reason you can enjoy a food tour. Get a slice of the Brisket, and you will want to come back for more. Even consider a little take out for later, maybe a picnic by the beach.
They need a large smoker to prepare enough food for the day. They can even cater your event for you. There's also a location in Melbourne.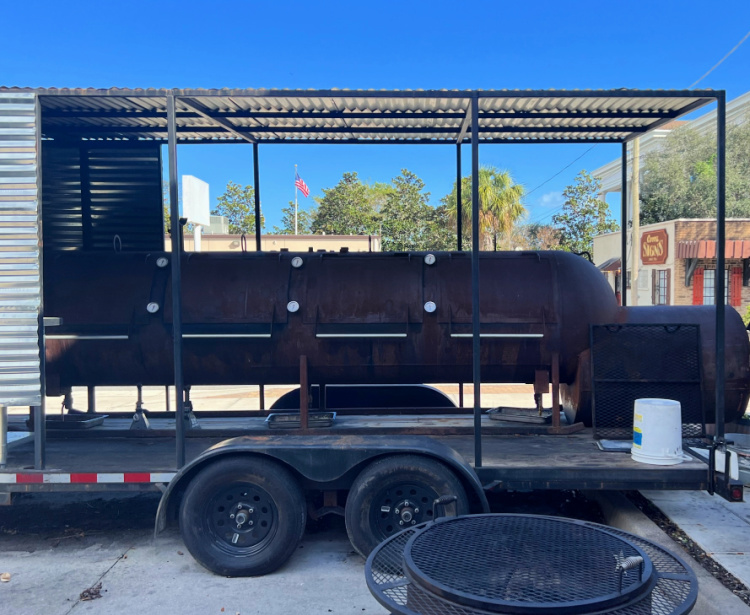 Crydermans Meat Market – Wagyu Pastrami/Roast Beef/Turkey and Crack for the Crack Pudding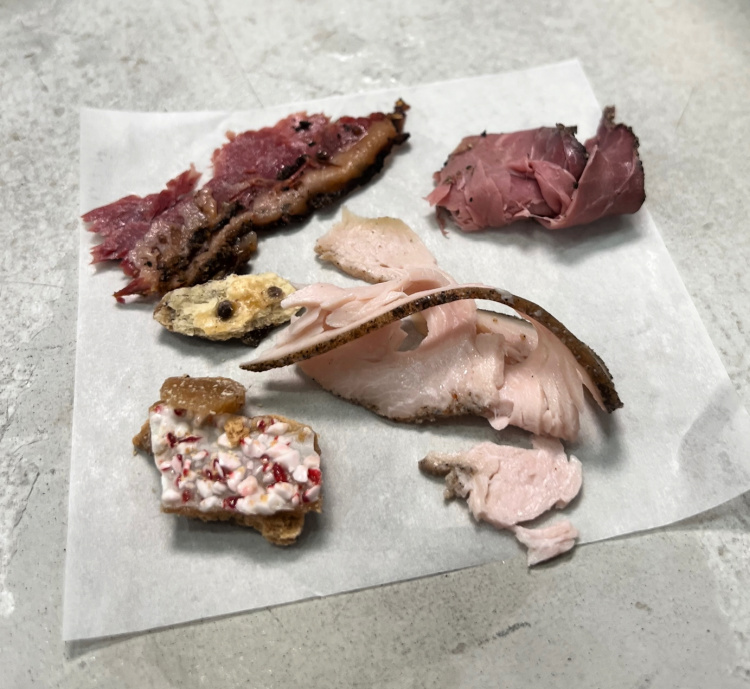 Next door to the Barbecue, you will find the meat market with one of the best selections of all types of meats, rubs, sauces, wines, and homemade goodies.
Ever wanted to try Elk or Wagyu? They will even help you put your own Charcuterie Board together. There's a cooler full of grab and go items to go with your meal including entrees, sides, desserts like the Crack Pudding,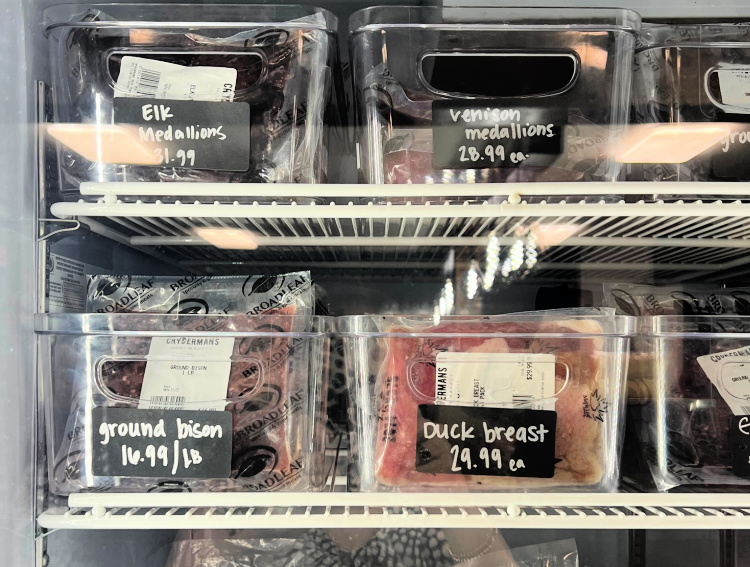 I think on my next trip I need to bring a cooler with me to take some of these goodies home.
On the side of the meat market, facing the BBQ area, you will find this More Cowbell Mural. Rumor has it, it's loosely based on a Saturday Night Live skit.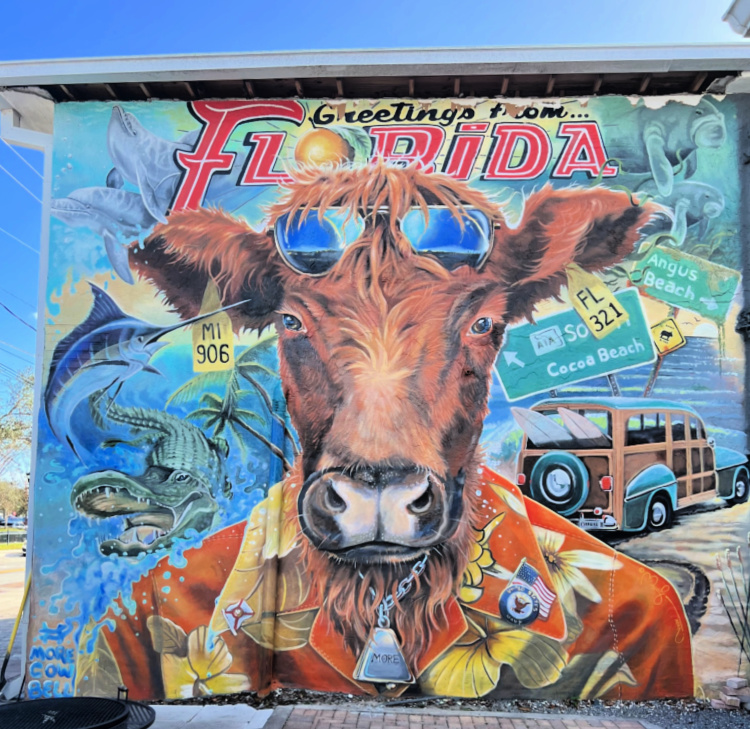 Ossorio Bakery & Cafe- Curried Chicken Salad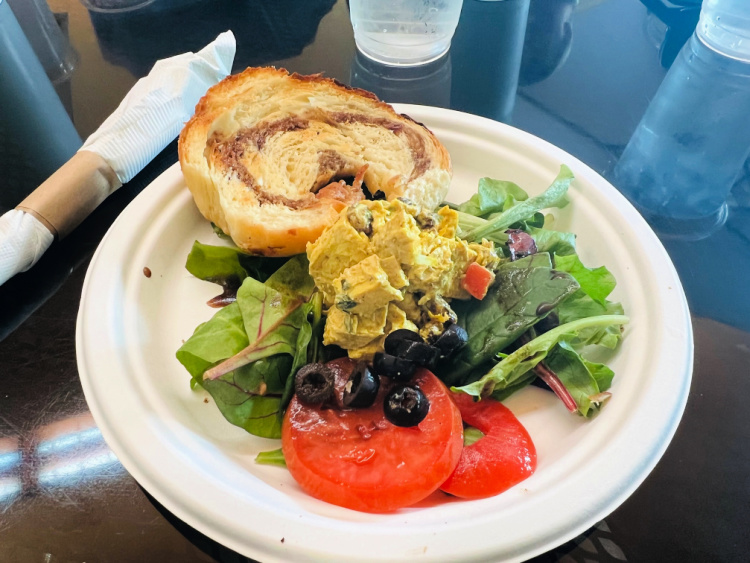 When you walk into this bakery and café, you will have a hard time making a choice of what to order. They have a vast menu for breakfast, lunch, dinner, or a snack break. Many options of coffee and ice cream will make this a regular stop while in town and for locals.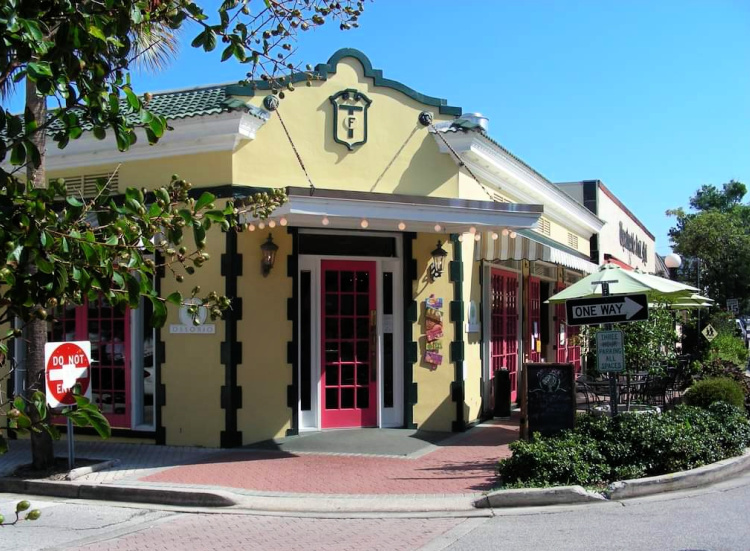 I'm not a huge curry fan, but there was just enough in this Chicken Salad to add flavor, but not overwhelm the taste. Having a homemade croissant and greens, made this a complete meal.
Thai Thai – Drunken Noodles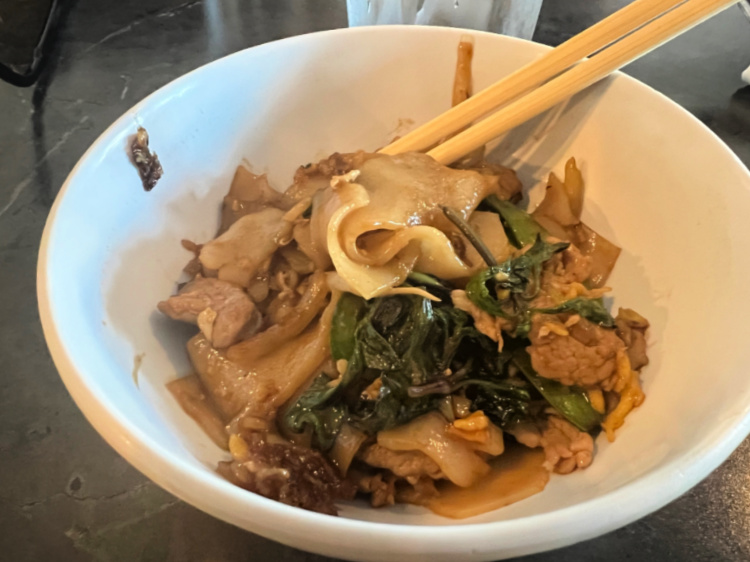 We order from a local Thai place often, but I go for the mild dishes, so I was so happy to find out this bowl of Drunken Noodles was just right. So flavorful, it would be something I said our son would love too.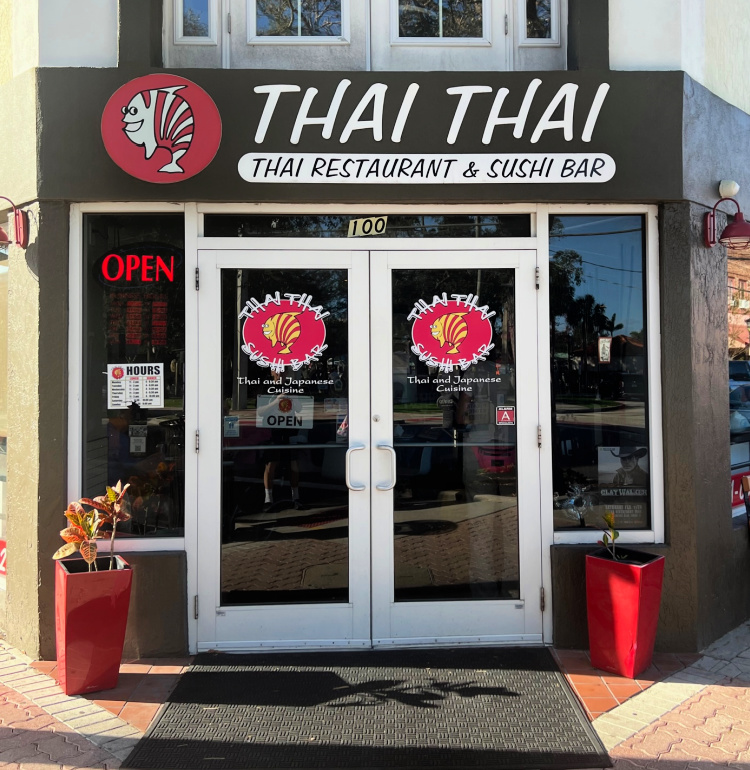 Drunken Noodles, also known as basil noodles, also known as Pad Kee Mao, are really wide noodles shipped in from Thailand. So a very authentic Thai dish.
Sometimes we don't consider this type of restaurant in our travels, but having to rethink after such a great bowl.
A food tour and local recommendations is always great for finding new places to try in your travels.
Why take a Village Food Tours in Cocoa, Florida
This was one of the best food tours we have experienced. All of the food was tasty and the Cocoa Village was just cute. This tour did what was needed. It gave you a taste of different local restaurants and made you want to come back for more. Each place was different enough to give you a chance for so many tastes.
Considere a tour like this as a great date, family event, or how to spend time in a new area.
Now who's ready for a Village Food Tour in Cocoa, Florida? They will be announcing a Food Tour in the Melbourne area soon.
Find all the pricing, hours, and options, on VILLAGE FOOD TOURS. Tell Halim I sent you.
Space Coast of Florida
I wasn't aware the difference in Cocoa and Cocoa Beach. We had never spent much time in this area except to cruise out of Port Canaveral but now I see there's so much more to offer. Extra days before or after a cruise would be great, but it's also a great destination.
The Cocoa area, also known as Cocoa Village, has such a small town feel with so many locally owned restaurants and shops. Don even found a few record stores so that's a great excuse to always make a visit.
There's a few murals around town showing how the area was back in the day. A wood bridge, which was always catching on fire, is depicted. It was a stop along the way for merchants.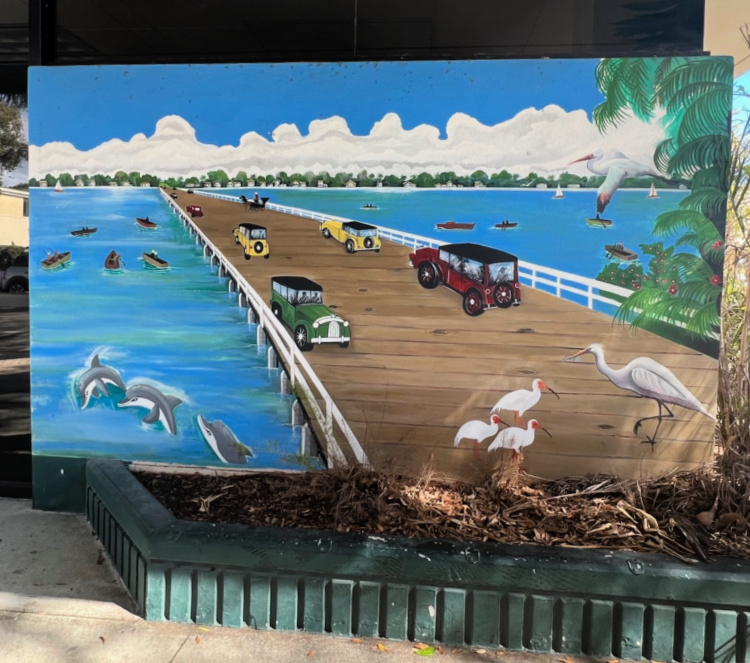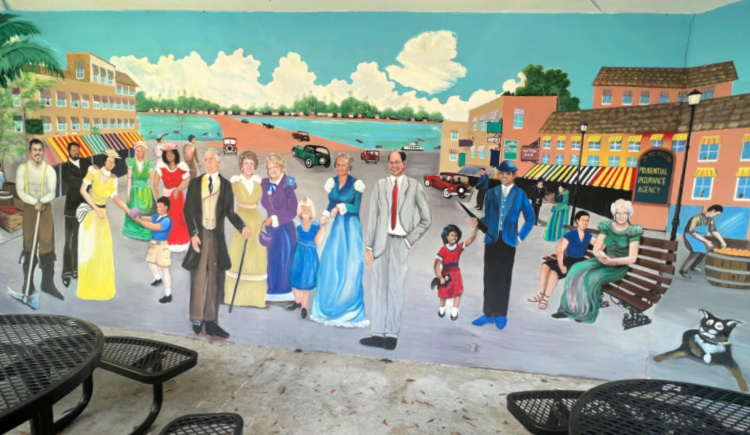 Taylor Park is centrally located with events happening almost every weekend. There was a huge Brew Fest going on the weekend we visited. A great place to grab your food and have a picnic.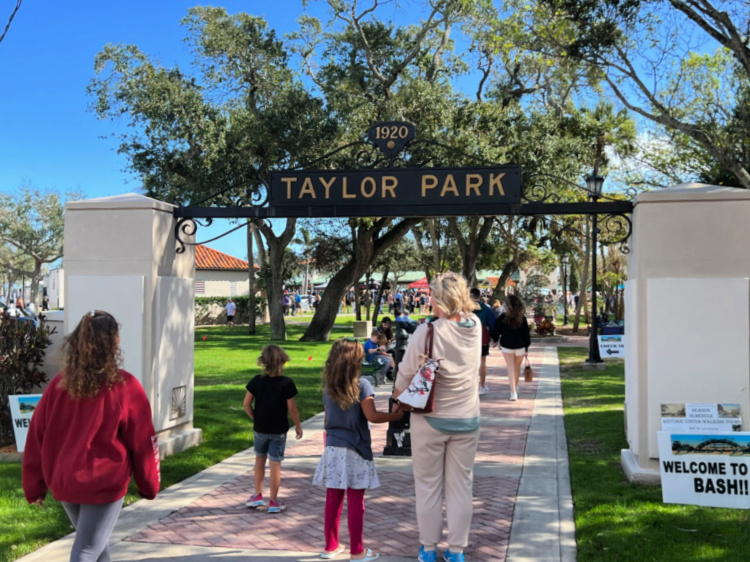 Be sure to spend some time in this area when you are cruising out of Port Canaveral.
I've included affiliate links to Amazon for you to find some products easier. I may receive a small commission, but the price is the same for you. It just helps my blog out.
Happy Travels,
Rosemary