Going Neutral for a Quick Change
With the promise of spring and warm weather, I am taking my living room to a more neutral tone. Although with that it's always easy to add something for a pop of color. It will time for a little Easter Decor in just a few weeks.
With a recent trip to Ikea, I purchased the "greige" pillow covers to replace the bright colored pillows which came with the couch.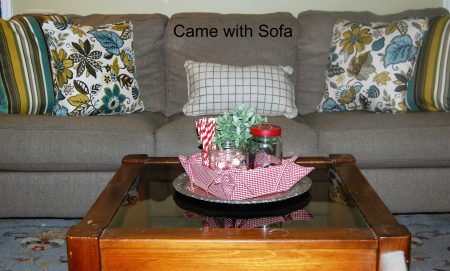 One of the great things about pillow covers is you don't have to go to the expense of new pillows, plus you don't have to store them away.
Although I do like bright colors, I've been in a neutral mood and these helped me work on it.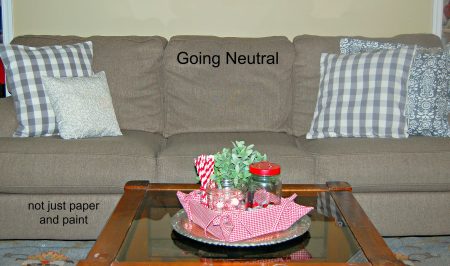 No matter what I did to my pictures and camera, the couch is looking really taupe and pillows gray but I promise you they aren't.
The three larger pillow covers were about $7 each and the small pillow was $2. So for less than $25 there's a whole new look for the couch.
Coffee table – this was picked up at Goodwill for $4 and I'm trying it out to see if I like it before painting. If so, it will probably become a winter white or pale gray. I do like the glass top so it doesn't look so heavy.
The centerpiece is kind of leftover from Christmas but with the red I let it extend over for Valentine's Day since I don't actually decorate for it.
With the red centerpiece, that's always a good area to bring in that pop of color and placing it on an old silver tray gives that little bit of vintage and old feel.
I love picking up pieces of silver at yard sales or thrift stores to use around the house. I don't even worry about polishing them.
So now the fireplace area is done and the couch, so I've got to see how the new curtains are working. Do you ever put up decor and look at it for a day or two before deciding? I do.
Show me how you are changing your area over for spring so far.
Come on warm weather.
I've included affiliate links to Amazon for you to find some products easier. I may receive a small commission, but the price is the same for you. It just helps my blog out.
Happy Travels,
Rosemary