Another quick change – don't you love when you can go to your stash of decorating items or family keepsakes and have a new look in just 10 minutes? And, the best part – it costs nothing to do. #homeyouhave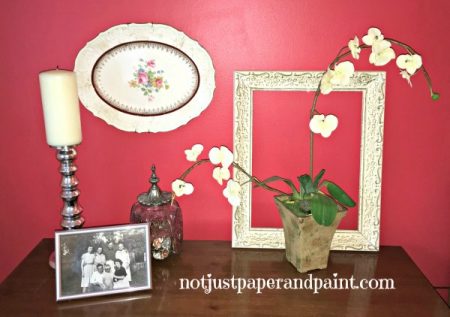 This is a small Mid-Modern chest I purchased at an Estate Sale several years ago for only $30. I keep thinking it will get painted, but probably not until the bedroom gets redecorated.
It's actually being used as a night stand. Later today it will have his keys and wallet on it so I need to find a small tray or basket to add.
Red wall – this was painted when we moved out last year, and I haven't decided what color I want it done yet.
The silver candle stick, frame & orchid (which is artificial) – you know I can't keep plants alive, are all yard sale finds from over the years.
Plate – old family heirloom
Glass canister – had for many years, think it came from Cracker Barrel. Always a good place to find small decorative items.
A few hints when decorating any areas:
Candles should always look as if they have been burned. No lighter – trim the wick to 1/4″ and use a Sharpie to color it.
Do you collect change? Use a pretty decanter or canister.
Picture frames don't always have to hold pictures. And they don't have to always be hung up. This one leaned up against the wall frames the planter and orchid to give it a better presence.
Dig out old family pictures. This is one of my husband's Mother's family when she was young.
Pick a piece to be your inspiration and work from there. Knowing I wanted to hang something besides a mirror, I started with the plate. It's has a vintage, antique feel so I knew the frame would work well with it. Nothing else is vintage, but I think pulling the whites in with the frame makes it all work.
Seems like no matter what I do, there's always some silver in it. And your metals don't always have to match. The candle stick is shiny silver, the small frame is almost a light copper, there's gold trim on the plate.
Even if the rest of the room is piled with laundry to put away or summer clothes still being packed away (hand raised – had a cruise then a trip to Florida upcoming), just do a quick change on an a dresser or nightstand, and your room will feel fresh again.
So with the promise of Spring coming soon, go make an area feel new.
Another hint – as you are working on any area such as this, maybe a centerpiece, or arranging plants – snap a picture with your phone. This way as you are changing things around, you won't forget your favorite layout.
Let me see what you have done. Dig through your stash and don't spend any money. HAPPY FRIDAY!
A few other quick changes.
Going Neutral with throw pillows
I've included affiliate links to Amazon for you to find some products easier. I may receive a small commission, but the price is the same for you. It just helps my blog out.
Happy Travels,
Rosemary