Tampa Marriott Water Street – Luxuirous Living While Away
Tampa Marriott Water Street offers luxury and comfort in the heart of downtown Tampa, combining location, amenities, and an all-around welcoming and relaxing atmosphere. It's an excellent hub for any trip to the Tampa area.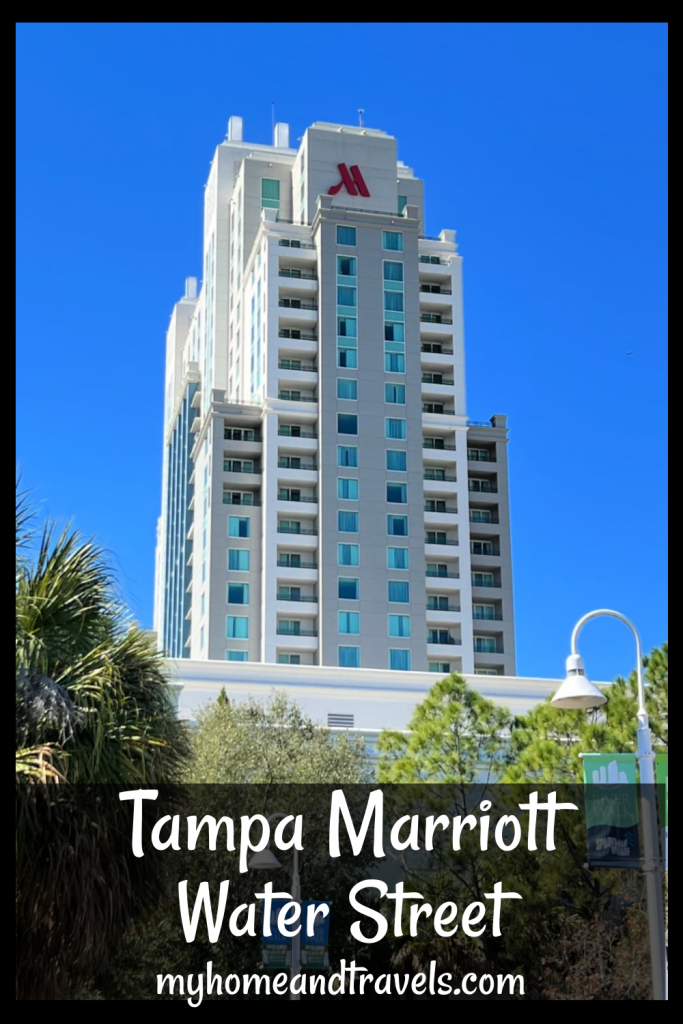 Tampa, located on Tampa Bay along Florida's Gulf Coast, is one of the major business hubs of the State. However, it's not all about commerce in this city on the water. It's also known for its museums, culture, history, and family-friendly attractions. You'll find Busch Gardens which features pulse-pounding rides and animal-viewing areas, historic Ybor City, a neighborhood developed by Cuban and Spanish cigar factory workers, and much more. It's a city that's worth exploring if you've never been. Our first visit, but not last.
Tampa Marriott Water Street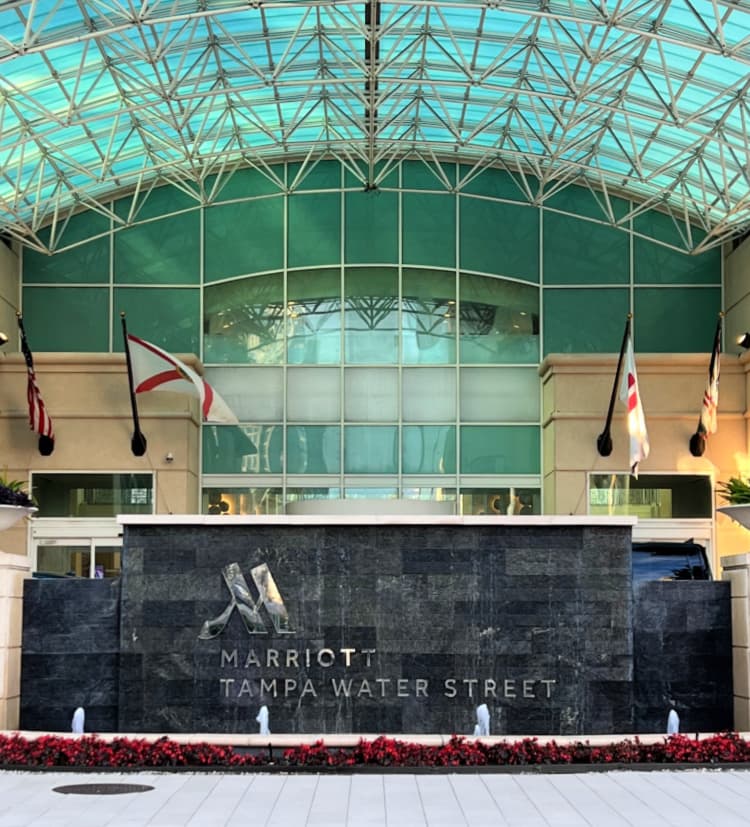 You'll need a home away from home while you're visiting this beautiful, eclectic city, and Tampa Marriott Water Street makes an excellent hub for your trip. The hotel combines modern elegance with a welcoming atmosphere that simultaneously evokes feelings of posh luxury and neighborhood friendliness in equal measure.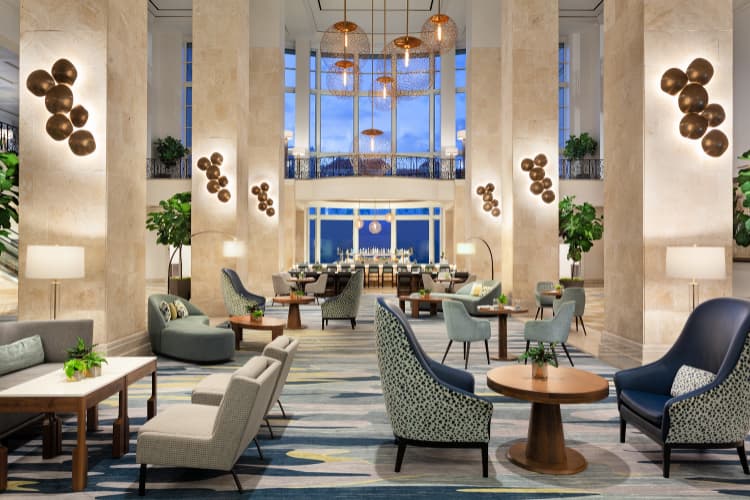 While the hotel's style is modern, the little touches throughout still leave it feeling quite cozy and inviting, making it perfect for relaxing after a day of exploring everything Tampa has to offer.
Location
Tampa Marriott Water Street also offers excellent access to almost everything you'd want to see in the city. Located adjacent to the convention center in Tampa's vibrant Water Street neighborhood, the hotel sits right on the Tampa Riverwalk, so walking to the Florida Aquarium, Amalie Arena (home of NHL Tampa Bay Lightning) and Sparkman Wharf makes it convenient.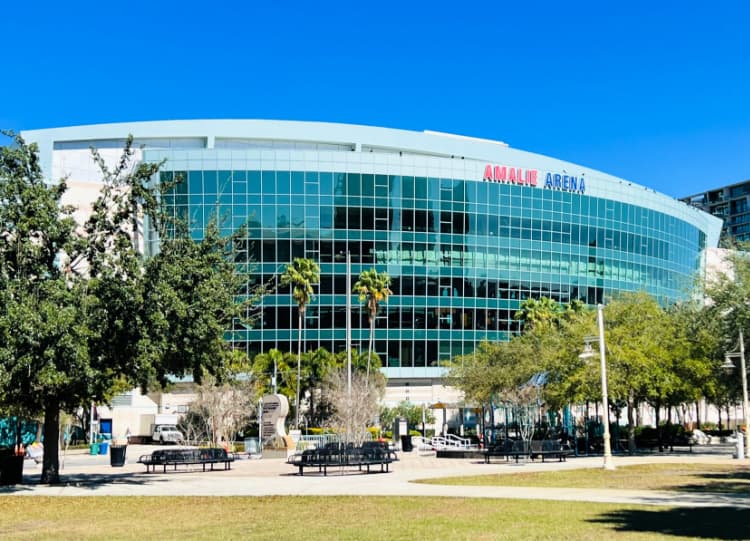 From there it's only a short trip to everything else the city has to offer, including tons of restaurants, bars, and entertainment venues, making the hotel both relaxing and convenient. You'll even have easy access to boat tours, water activities, water taxis, and dolphin tours!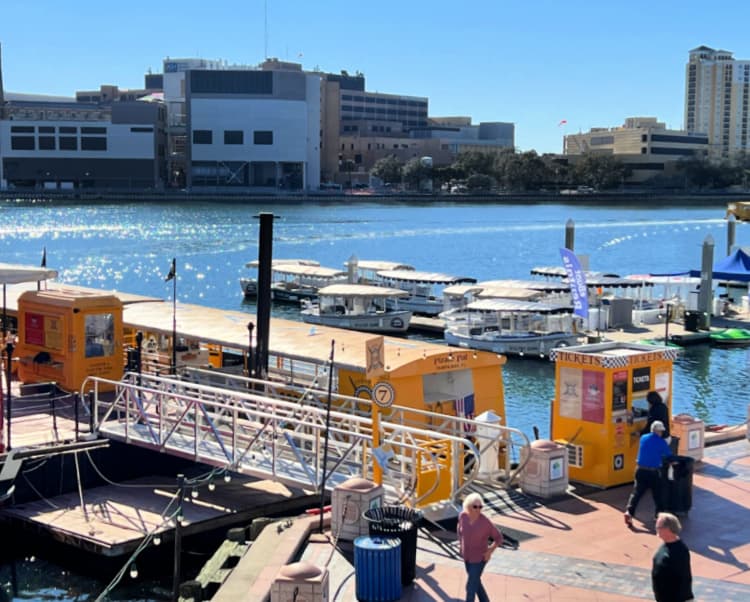 You can also catch the free TECOLINE Streetcar just across the street. Ride it to other attractions and restaurants, or just ride for fun.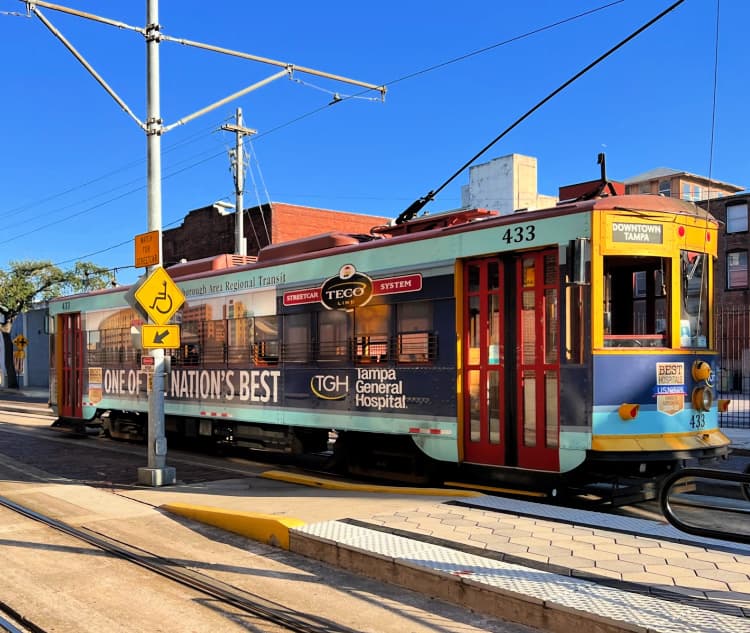 Welcoming Lodging for the Entire Family
At Tampa Marriott Water Street, the entire family is welcome – even pets. Their Stay Well Rooms are designed around the idea that the right environment plays a huge role in the quality of your stay and your trip. The rooms are engineered to provide ultimate comfort and health with state-of-the-art amenities like air purification systems for better air quality, circadian mood lighting for more restful sleep, and natural memory foam mattresses for more comfort while you're in dreamland.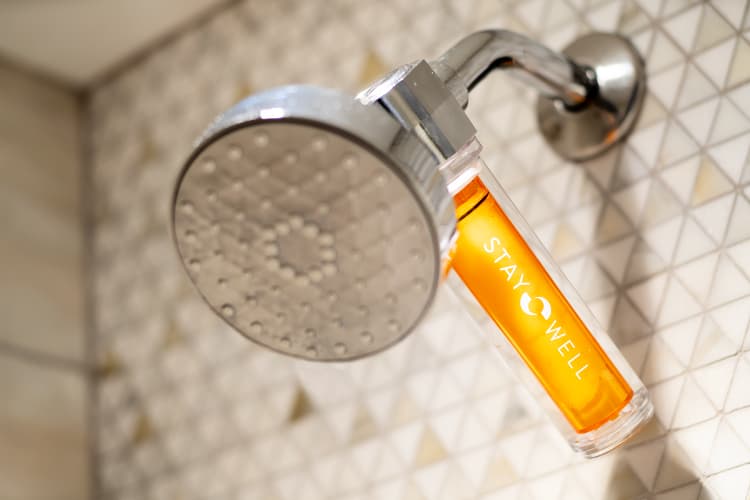 And because pets are welcome, you'll never have to feel guilty about boarding your pets in a strange place. Simply bring them with you. This hotel welcomes all members of the family, and you'll all enjoy great views from the higher floors with large, picture windows that look out over the city. Always ask for an upgrade or high floor, sometimes you get lucky and get it – at no extra cost.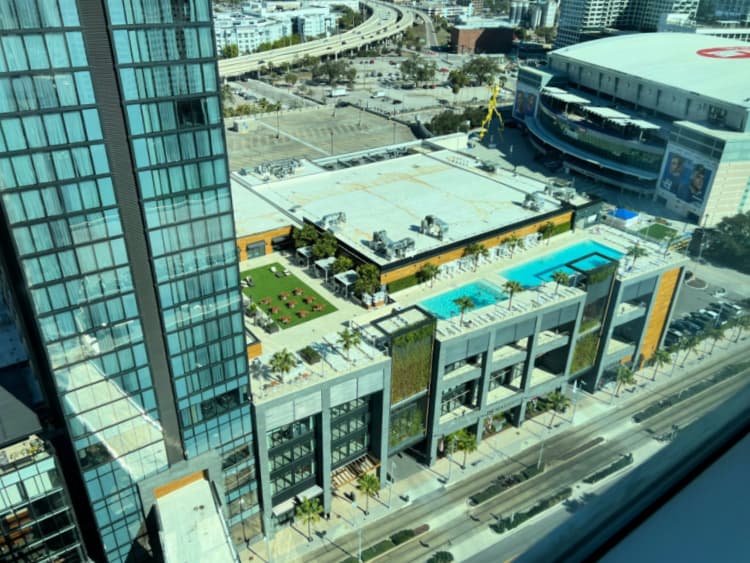 Night views are amazing as well.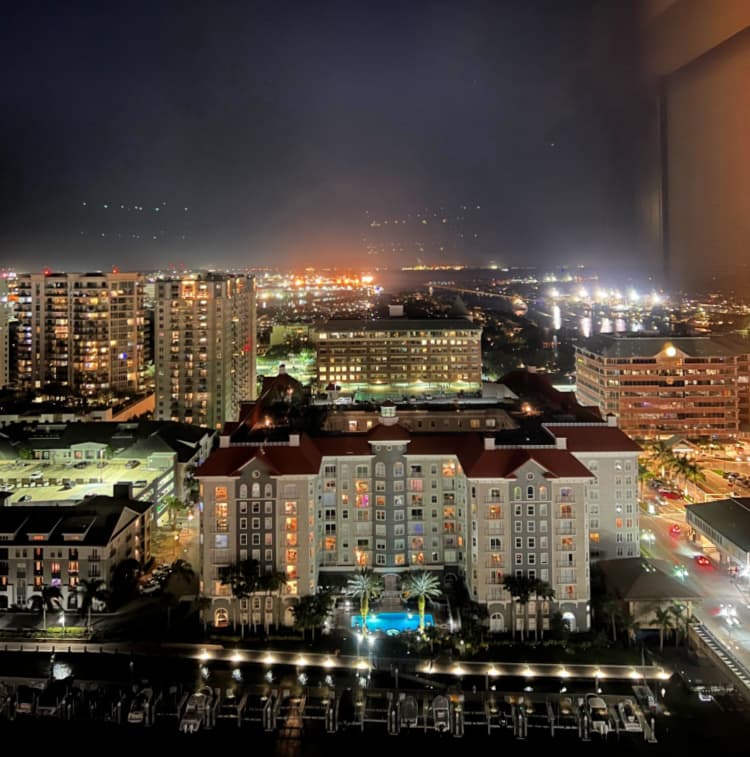 A sign of a great hotel, is a great bathroom. Spacious and well-lit are two factors for this and many are adding the back-lit mirror for another high end look.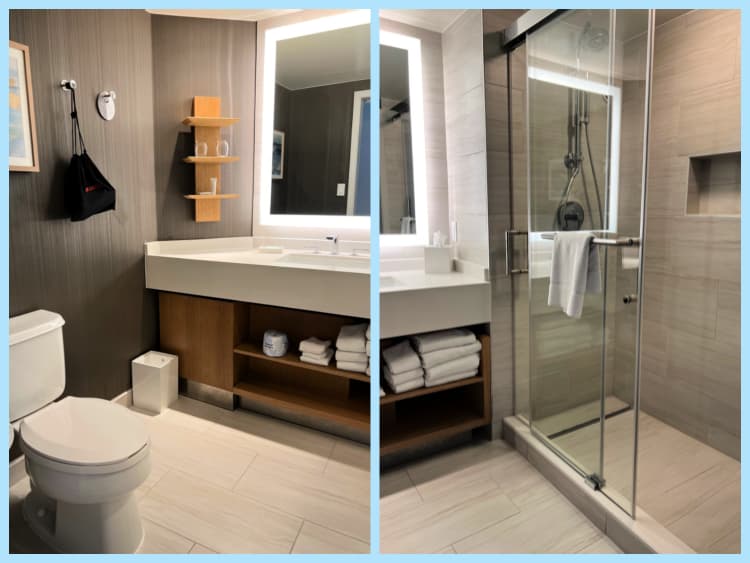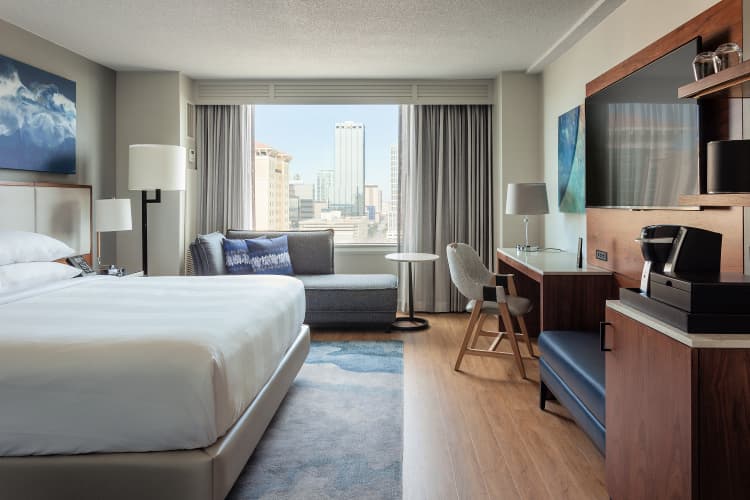 Fitness Center & Pool
For those who like to maintain their fitness routine while traveling, the hotel offers an excellent fitness center. You'll find a full complement of cardio and free weight equipment to take advantage of including elliptical machines, bikes, free weights, weight machines, and much more.
They also offer a lovely pool for swimming laps or simply lounging and relaxing. The large rooftop pool area features a heated pool for year round pleasure. For a bit of privacy and some shade, private cabanas can be reserved (for a fee). And don't forget to try the snacks and drinks available at the bar.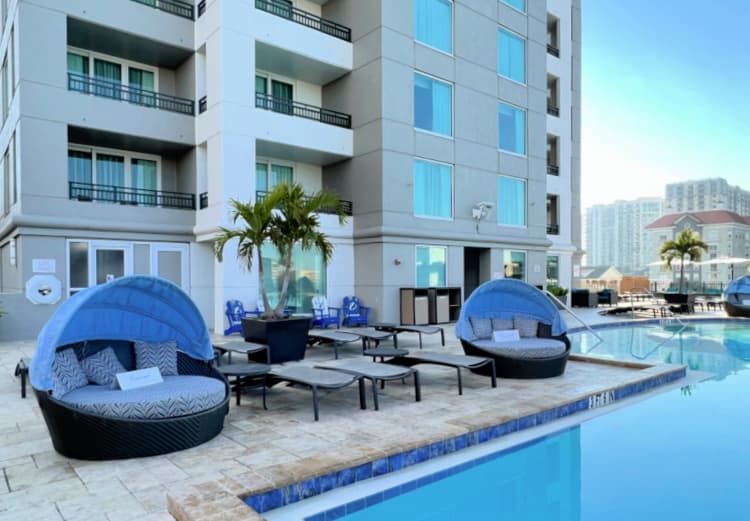 Tampa Marriott Water Street Dining
In addition to a wonderful atmosphere and beautiful dining, you'll also find fantastic dining options at the hotel, as well. From outdoor dining to breakfast at their cafe and even their delicious ice cream shop, Tampa Marriott Water Street offers the best of the best in dining.
Anchor and Brine
Anchor and Brine combines high-class dining with a welcoming atmosphere, offering a delicious seafood-centered menu that you can enjoy as you sit by the water and take in the beautiful views while enjoying the amazing food.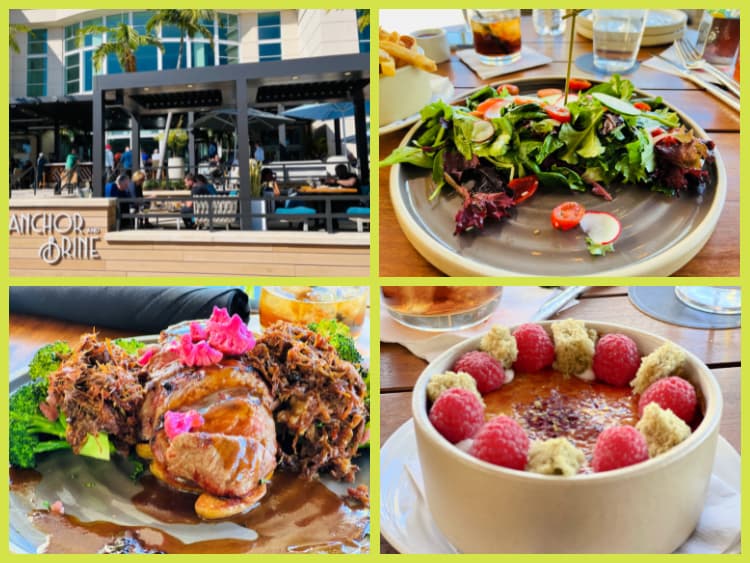 Enjoy an evening on the patio – great view for people watching and boats in the canal.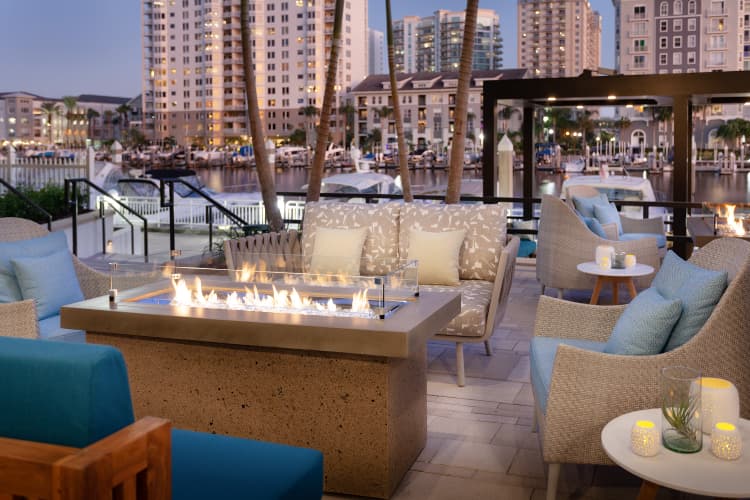 Garrison Tavern
Garrison Tavern offers a modern take on the classic pub. This beautiful modern pub offers Tampa-inspired food, craft beer, and the kind of friendly competition you can only get at a local pub.
Cafe Waterside
At Cafe Waterside, you'll find beautiful views along with some of the best casual breakfast options you'll experience anywhere in Tampa. It's situated next to the Riverwalk, making for views that are as wonderful as the food.
Bright Ice Scoop Shop
If you're in the mood for something sweet, stop by Bright Ice Scoop Shop. More than just an ice cream parlor, this place offers the best in super-premium ice cream. If you're into simple flavors like vanilla and chocolate, you'll find them here, but why not take advantage of their more interesting flavors like Espresso with Kahlua, Key Lime Pie, Blueberries with Cinnamon, and more.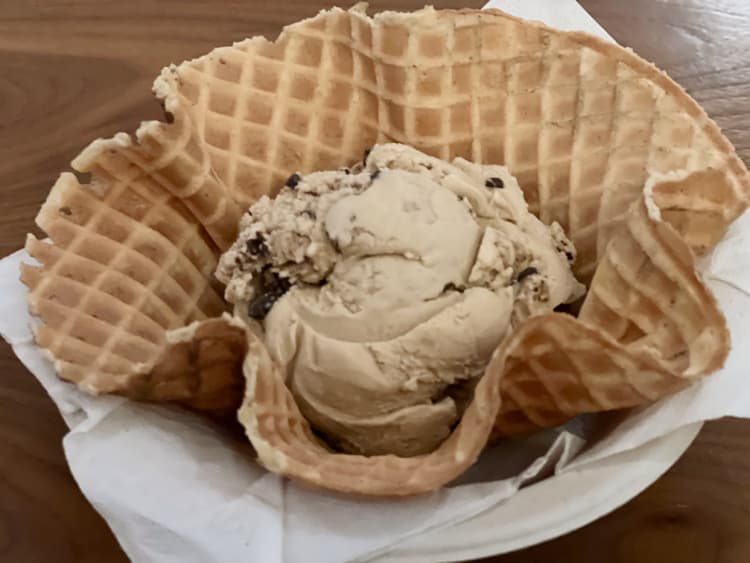 Starbucks on Site
If you have to have that morning cup of joe or afternoon triple soy latte, the hotel has you covered with an on-site Starbucks, as well.
Tampa Marriott Water Street – Luxury and Comfort for the Whole Family
Whether you're a couple, a family with kids, or a family with kids and furry friends, Tampa Marriott Water Street is waiting to welcome you with open arms. This incredibly relaxing and utterly beautiful hotel combines luxury and comfort with all the amenities you'd expect from a high-end hotel along with easy access to everything Tampa has to offer. If you're looking for a great hub for you trip to the city, you'll find it here.
For making your fun plans around Tampa, and saving on the budget, consider CityPASS. READ HERE how we saved and had a great time.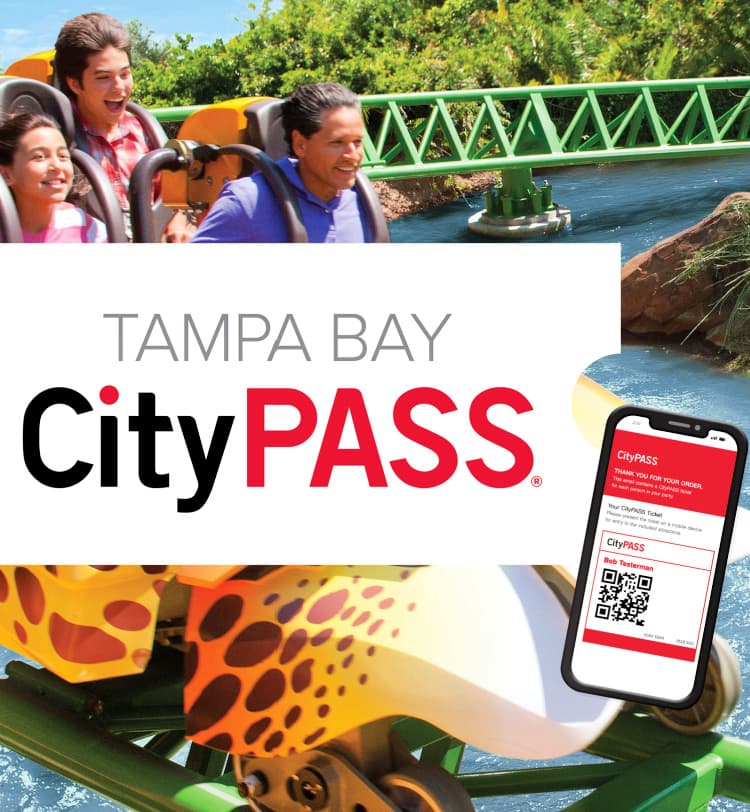 Some photos used with permission from Marriott
I've included affiliate links to Amazon for you to find some products easier. I may receive a small commission, but the price is the same for you. It just helps my blog out.
Happy Travels,
Rosemary