Aloft Downtown Atlanta – Urban Chic with Retro Vibe
Aloft Downtown Atlanta offers a five-star experience and decor with a retro feel, but not out of date. The Aloft Downtown Atlanta – Urban Chic with Retro Vibe hasn't lost sight of the one thing that truly matters when it comes to a great hotel experience – guest happiness. We recently stayed at Aloft Downtown Atlanta, and I was thoroughly impressed with the hotel's beautiful decor and its friendly staff.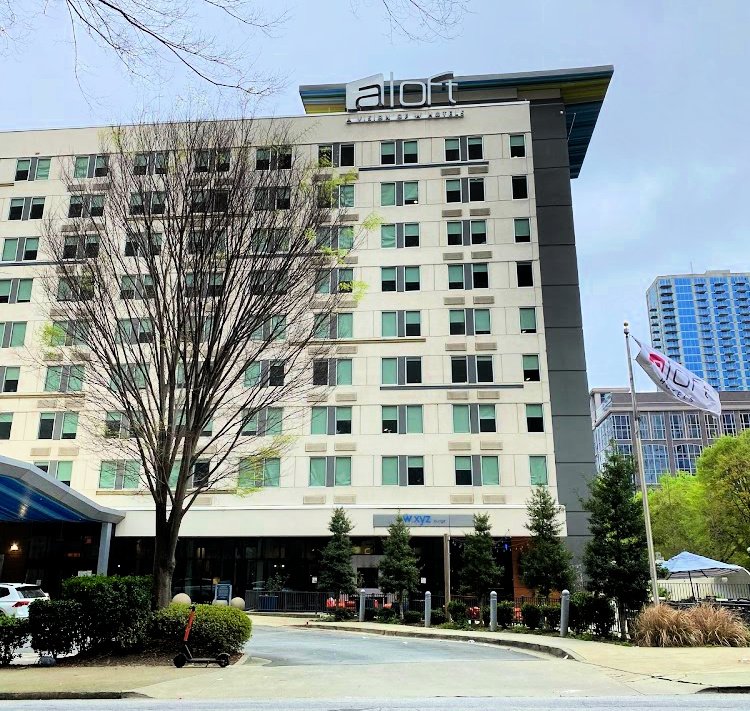 Aloft Downtown Atlanta – Urban Chic with Retro Vibe
When you enter the front doors of the hotel, you'll be immediately greeted by an ultra-modern chic vibe that features clean lines, sophisticated furnishings, and unexpected splashes of color. The polished concrete floors immediately make you think of downtown living, in the heart of the city. Although Aloft is a high-end hotel, they're not afraid to spice things up with rich colors. You won't find boring, sterile, all-white decor here. Rather, you'll be treated to clean lines that aren't afraid of treating your eyes to a colorful feast of textures and hues that will delight and impress in equal measure.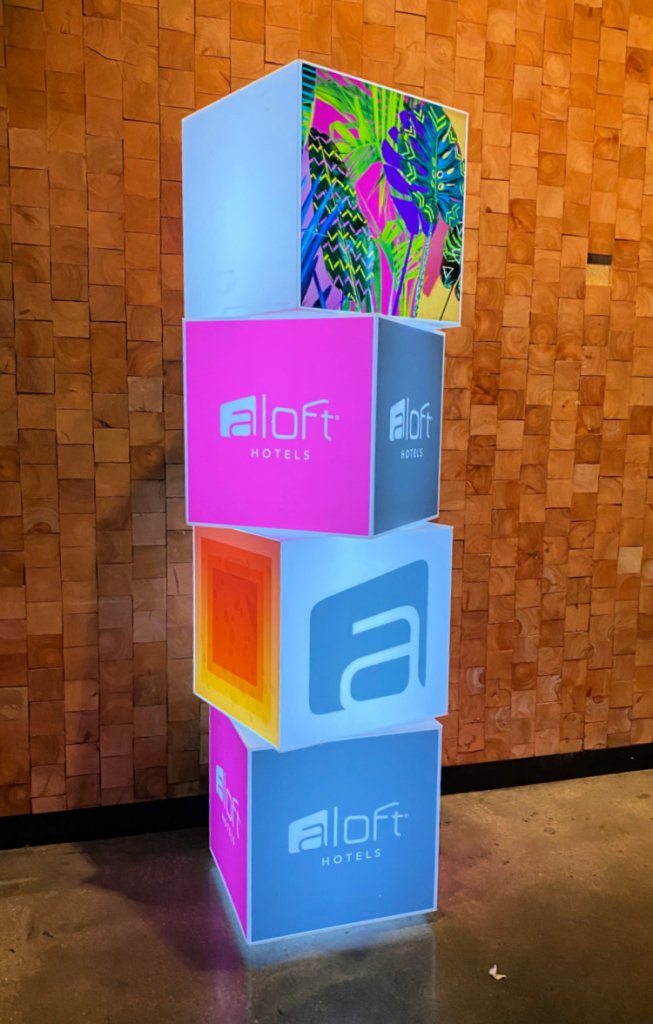 Make your way from the lobby to your room, and you'll find yourself in a space that is modern, posh, and comfortable. That's a combination that is rarely pulled off without a hitch, but Aloft Downtown Atlanta managed to do it. Their King Bed, 2 Queen Bed, and 1 Bedroom Suite options are all ultra-chic, boasting clean, modern lines, simple but impactful decor, and that same splash of color that you were treated to in the lobby. It's a combination that simultaneously evokes feelings of total comfort and being in a five star hotel – which is exactly what it is.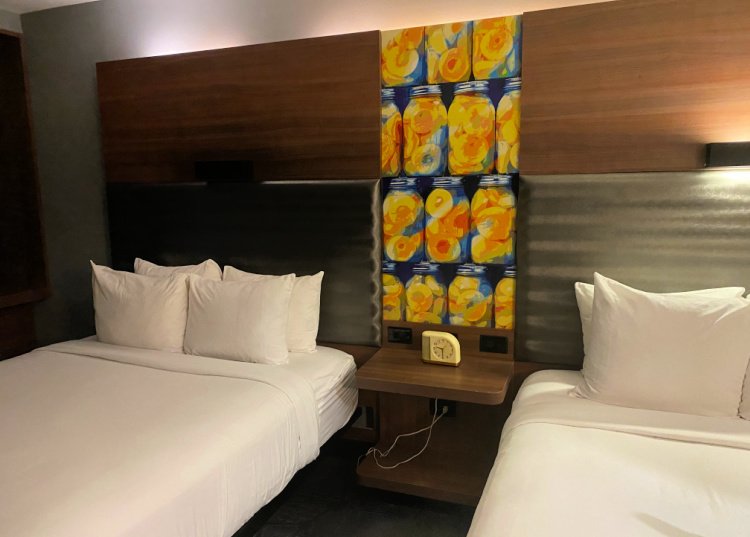 And guess what, animal lovers? Aloft Downtown Atlanta welcomes your pets as warmly as it welcomes you. If your dog is 40 pounds and under, bring him along!
Amenities
Aloft Downtown Atlanta features all of the amenities that you'd expect from a high-end hotel. You'll enjoy a pool, 24-hour fitness center, complimentary newspaper, WiFi, and more. Each room features a refrigerator, big screen LCD TV, wired and wireless internet, cable, designer toiletries, hairdryers, safes, and more.
The hotel also features a bar and lounge with your favorite appetizers and drinks. A grab and go breakfast is available along with the pantry for purchasing food items or those things you might have forgotten.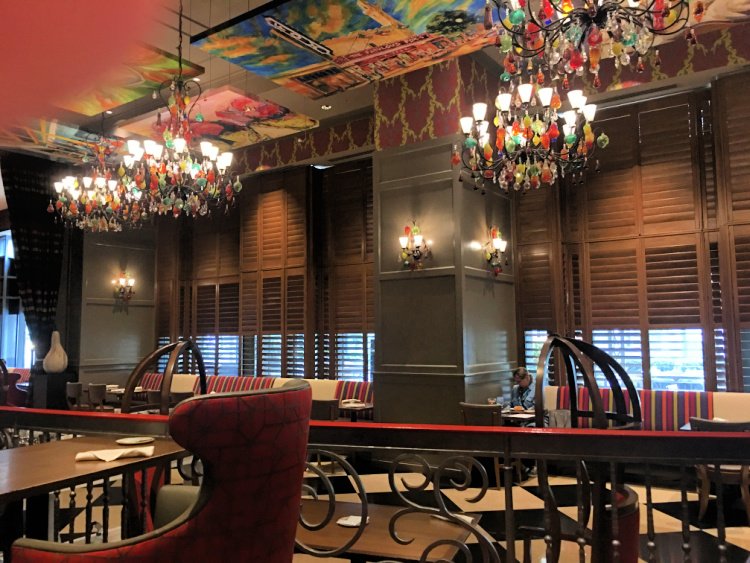 An outside seating area is great too as a spot to enjoy delicious food and refreshing drink either alone or with the family.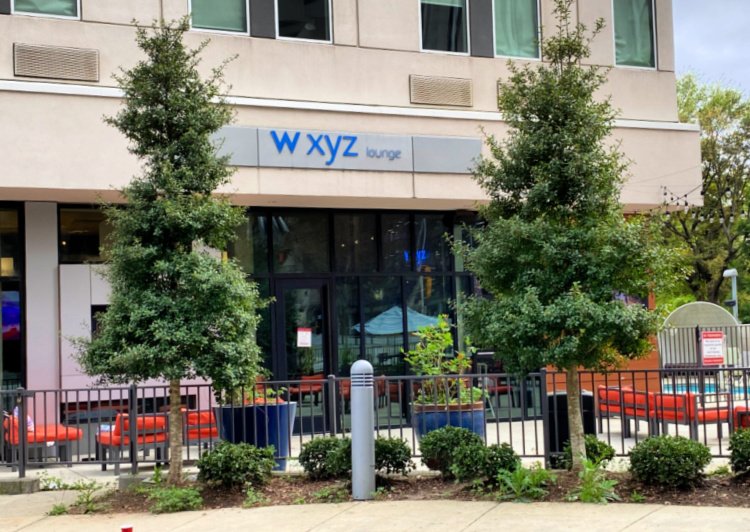 Centrally Located
Aloft Downtown Atlanta has so much going for it, but one of the biggest things that makes it fantastic is its location. It's located in close proximity to all the great spots that Atlanta is known for. A short walk or drive will have you exploring every part of the city you'd ever want to see on your trip to Hotlanta. It makes the perfect relaxing hub for your Atlanta Trip.
Valet parking was closed at the time of our visit, but a large self-parking lot is on-site for convenience and safety. On a nice day, park and walk to your favorite attractions like the Georgia Aquarium, World of Coke, Centennial Park or the College Football Hall of Fame. You will save on additional parking charges, which is always a good idea in downtown areas.
Aloft Downtown Atlanta Has it All
For that retro feel, you can even "check out" a turntable and vinyl records. Our room had that 70's feel with orange and yellow, but I didn't feel like I was back in the 70's at how it was used in an updated way.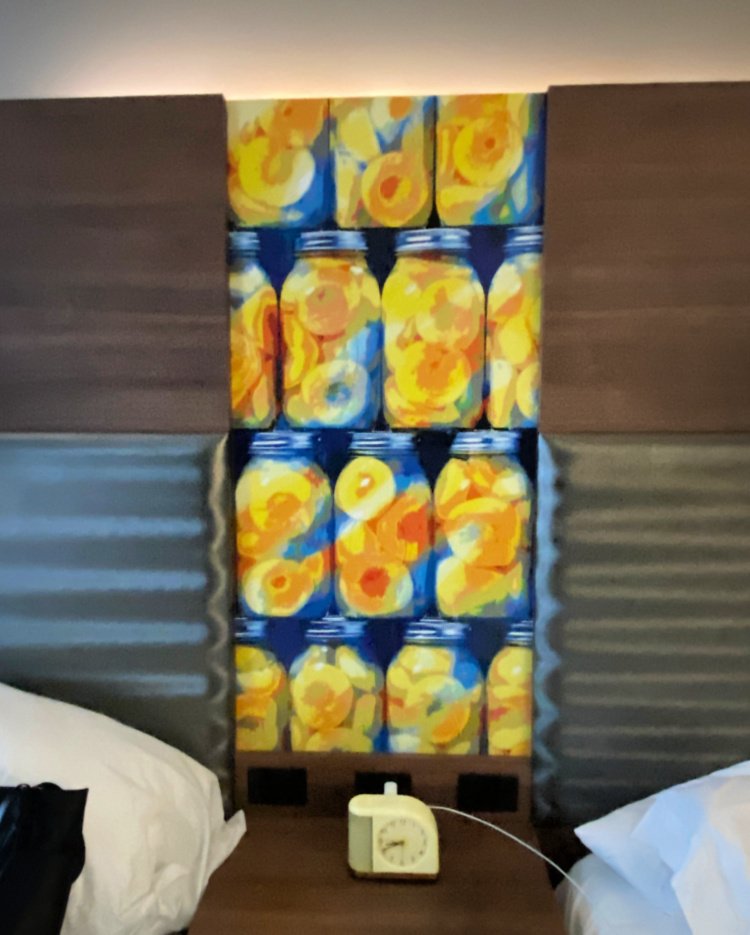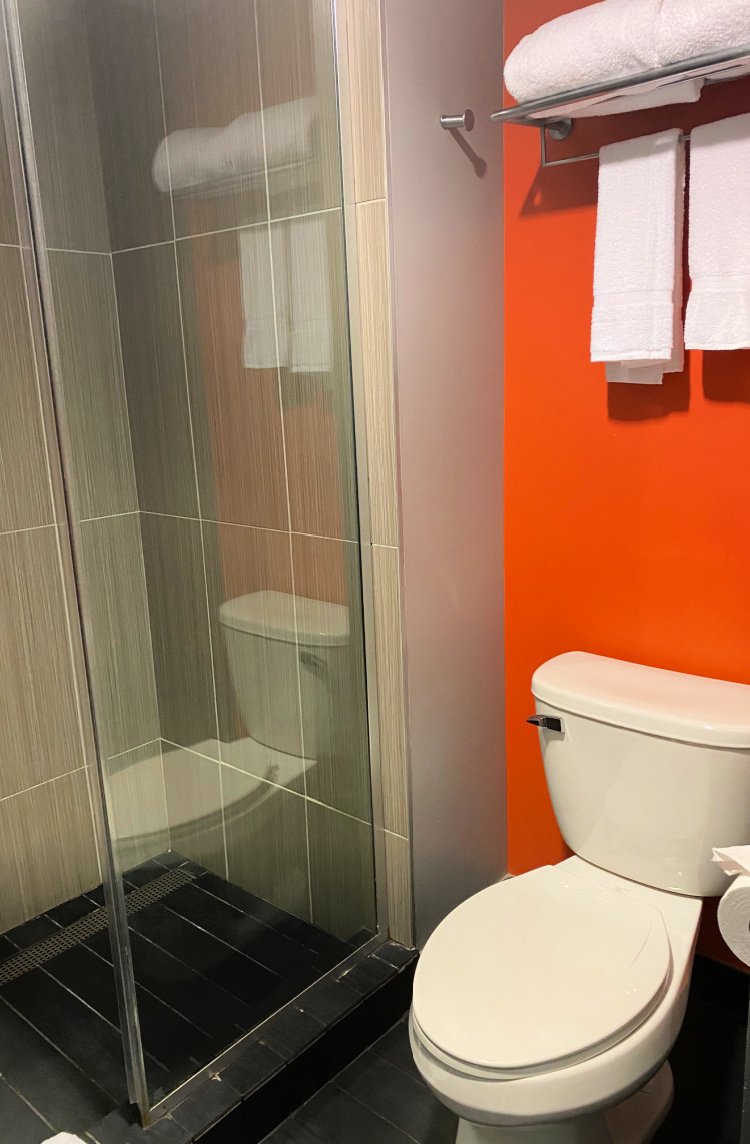 What about this cute alarm clock? These little touches are what will set a hotel like the Aloft Downton apart from others.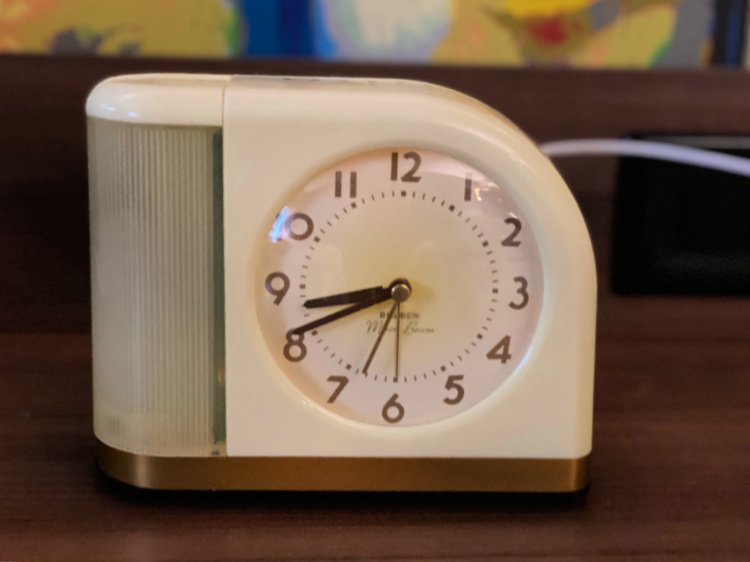 From the posh decor to the friendly atmosphere, amenities, proximity to everything, and even being pet-friendly, Aloft Downtown Atlanta has it all. If you're planning a trip to Atlanta, make Aloft Downtown Atlanta your hotel of choice. If you live in the area, make it your choice for a great weekend getaway, as well.
Remember in these times, things seem to change day to day at what is offered or opened at all hotels. It's best to check their website or even call ahead with questions before you make your trip.
Follow me on PINTEREST and make your own travel boards, like adding this.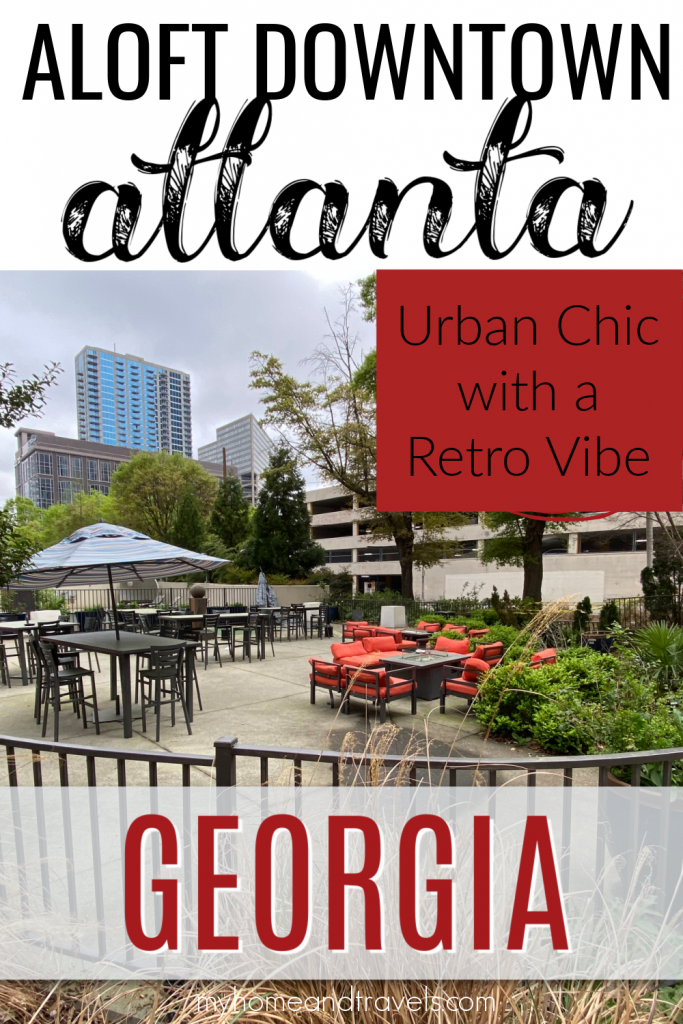 I've included affiliate links to Amazon for you to find some products easier. I may receive a small commission, but the price is the same for you. It just helps my blog out.
Happy Travels,
Rosemary