Comfort Inn Monticello – A Great Hub for Your Charlottesville Trip
Comfort Inn Monticello is one of the places to stay on your next trip to Charlottesville. On our recent trip to Charlottesville, we visited some amazing places. From Monticello to the University of Virginia, our trip was filled with history, the beauty of nature, and a real sense of awe at the history of these areas. When we got back from these outings, we enjoyed relaxing and unwinding in our room at Comfort Inn Monticello. This location was about 10 – 15 minutes from most areas to visit.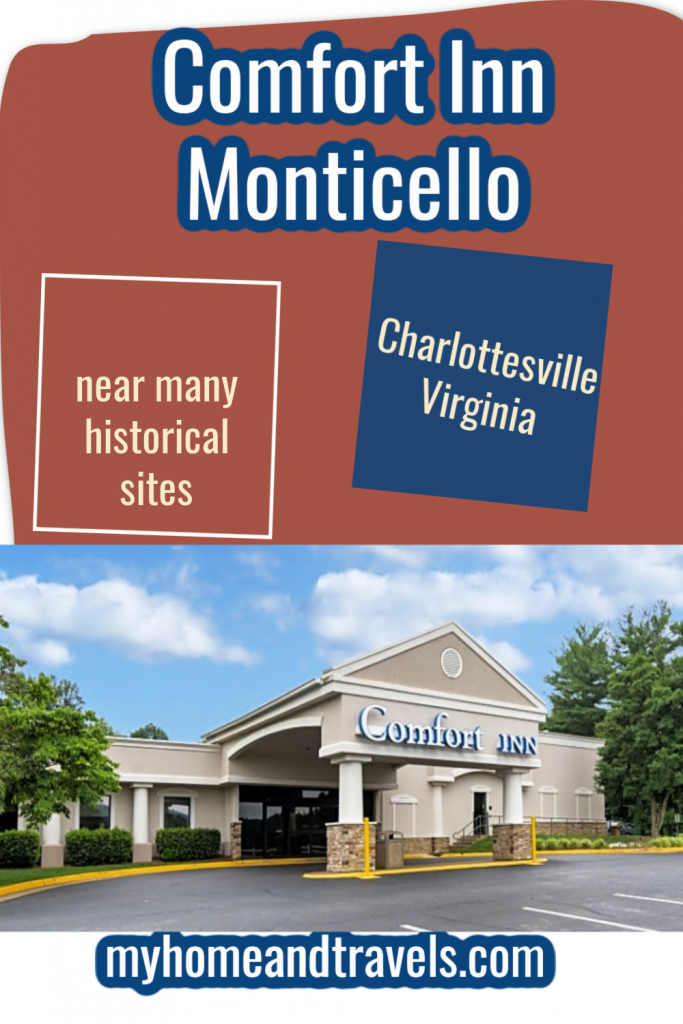 We choose Choice Hotels on many of our road trips. There is a rewards program offered to earn points toward future stays. If you enjoy travel like we do, this comes in handy. And helps with the budget.
Comfort Inn Monticello is a Great Home Base
I was very impressed with the hotel's cleanliness, decor, atmosphere, staff, and its location. In my opinion, the hotel you choose can make or break a trip. Staying at a hotel that doesn't make you feel at home can cast a cloud over your entire vacation because you just don't want to come back to your hotel, and we definitely did not have that feeling with Comfort Inn. It's such a lovely hotel, and it made for a wonderful hub for our Charlottesville trip.
A spacious lobby allowed several to wait for check in and still being socially distanced.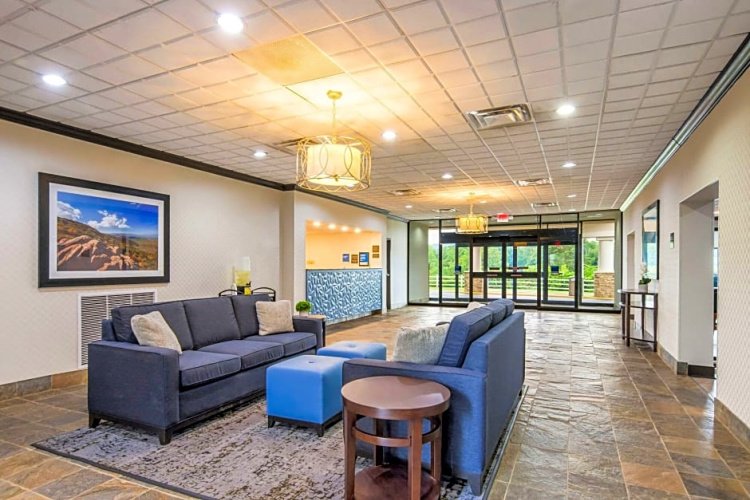 This location featured many pictures in the room and all around the lobby with local landmarks. Even the bathrooms.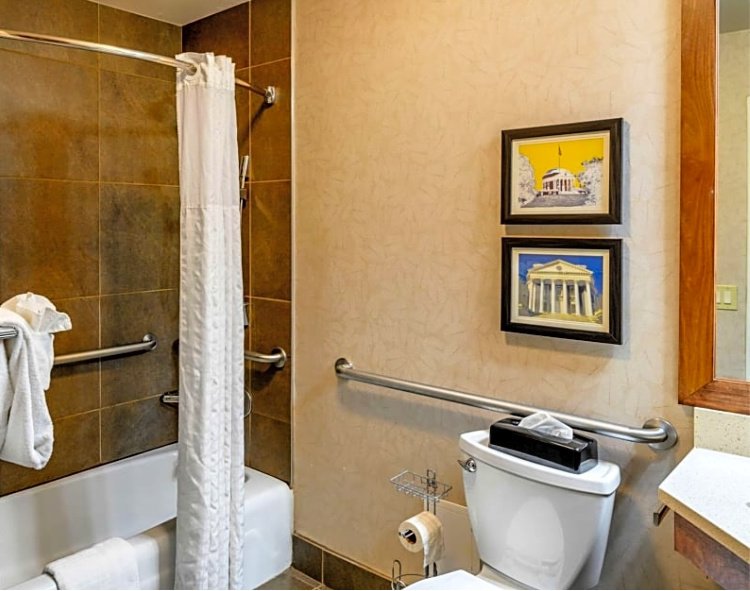 Safety Precautions
As we all know, travel safety is of the utmost importance right now, and one of the things I was most impressed with at this hotel was its commitment to keeping both visitors and staff safe. While I'll be listing all the amenities that can normally be found below, some of them were not offered at the time to ensure safety. In addition, face coverings in the hotel common areas were required to further ensure safety.
Amenities not currently offered for both guest and staff protection:
Fitness center
Pool
Dining
While we may not get in a pool a lot, we usually do enjoy sitting around it in good weather with our breakfast or a drink. These are the little things we miss.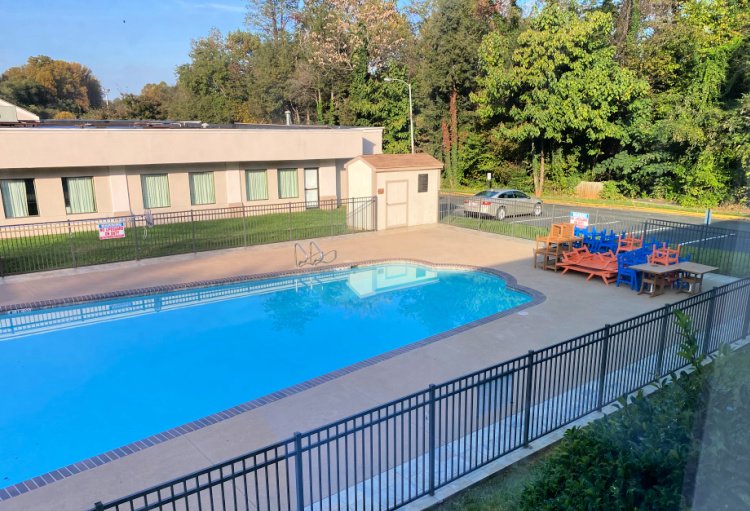 Amenities
Comfort Inn Monticello lives up to the use of the word "comfort" in its name. The hotel has amenities that offer comfort to guests in their rooms, convenient quality of life options outside of the rooms, and even areas for conducting business.
Hotel Amenities
Free WiFi
Seasonal Outdoor Pool
Exercise Room
Laundry
Sun Deck
Free Weekday Newspaper
Free Hot Breakfast
24-Hour First-Aid Staff
Free Coffee
Business Center
Meeting Room
Room Amenities – May Vary by Room Type
Safe
Desk
HBO
Flat Screen TV
2-Person Hot Tub
Refrigerator
Iron and Ironing Board
Coffee Maker
Hair Dryer
Microwave
Free WiFi
Wake-Up Service
Our Comfort Inn Monticello Experience
We were quite impressed with our stay at Comfort Inn Monticello. The staff was helpful and friendly, the room was immaculately clean which is so important to me these days, and the amenities made it feel more like a home away from home than a standard hotel room. Even the refrigerator was larger than your typical mini-fridge.
Our room was lovely. While not overly fancy, it was pretty and well put-together. The bathroom was friendly and not sterile-feeling like some can be in a hotel. In addition, the beds and furniture were very comfortable, and it was nice to kick back and relax with the TV and a movie on HBO while we recharged for another day of exploration around Charlottesville.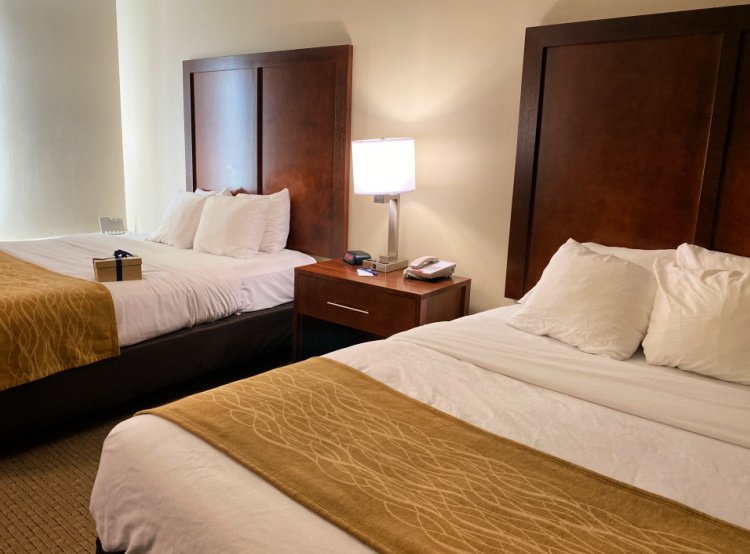 Overall, I feel confident saying that Comfort Inn Monticello is the perfect place to call home on your next trip to the Charlottesville area. If you're planning a trip to the area, give Comfort Inn Monticello a look.
One of the biggest differences I noticed on this trip due to Covid was breakfast. The normal hot breakfast choices were a bit limited. You were still offered hot foods such as a choice of breakfast meats and eggs, along with the waffles. An attendant made them for you, but as always you can enjoy that hot waffle. It's always one of my husband's favorites.
If you ever have questions about your upcoming stay, always check out the hotel website for details. I do this even not during Covid times. Also, you way want to check out any local and state guidelines and mandates as they may differ from yours.
What do you look for in a hotel? Of course cleanliness is at the top.
Here's a few of our favorite places while VISITING CHARLOTTESVILLE.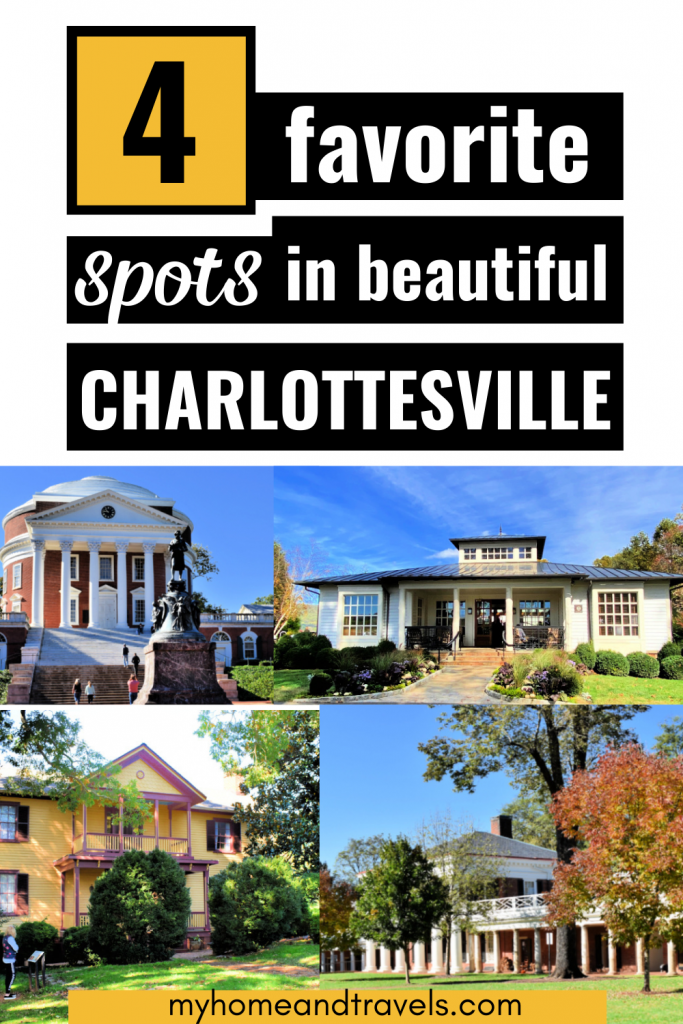 I've included affiliate links to Amazon for you to find some products easier. I may receive a small commission, but the price is the same for you. It just helps my blog out.
Happy Travels,
Rosemary