I had picked up this sad looking table at a local flea market for $3 and although it was covered in old brown paint and highlighted by purple glitter spray paint, I knew it could be a treasure with a little work.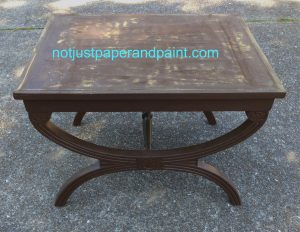 After doing some pretty heavy sanding to remove the glitter paint, I cleaned it well and decided on my color. I decided on trying the Frog Shape Tape in Chevron pattern. (Sorry no pics of my taping procedure).
I painted the whole table with 2 coats of General Finishes Linen Milk Paint. I let it dry for 24 hours before applying the tape.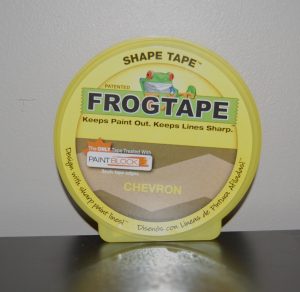 After making my stripe designs with the tape, you always want to make sure you burnish your edges with an old credit card so paint won't get under the edges of the tape and you will have a smooth, straight line. I applied 2 coats of General Finishes Basil Milk Paint inside the taped lines where I wanted to the stripes. Right after the 2nd coat, I carefully removed the tape. If you do have some uneven areas, just take a small, fine brush and touch up those edges. If it's a large area, it might require you to retape.
Since it was a table and would take some wear & tear, I used General Finishes High Endurance Finish for a finish.
I've included affiliate links to Amazon for you to find some products easier. I may receive a small commission, but the price is the same for you. It just helps my blog out.
Happy Travels,
Rosemary