Old Puzzle Pieces Means Crafts for Valentine's Day
Admit it, who has ever had kids and have puzzles with a few missing pieces. Or even yourself. Instead of tossing them, put them to use. Old puzzle pieces means crafts for Valentine's Day. I don't decorate a lot for Valentine's Day, but these items are easy to make – almost free – and easy to store. Do you decorate for Valentine's Day?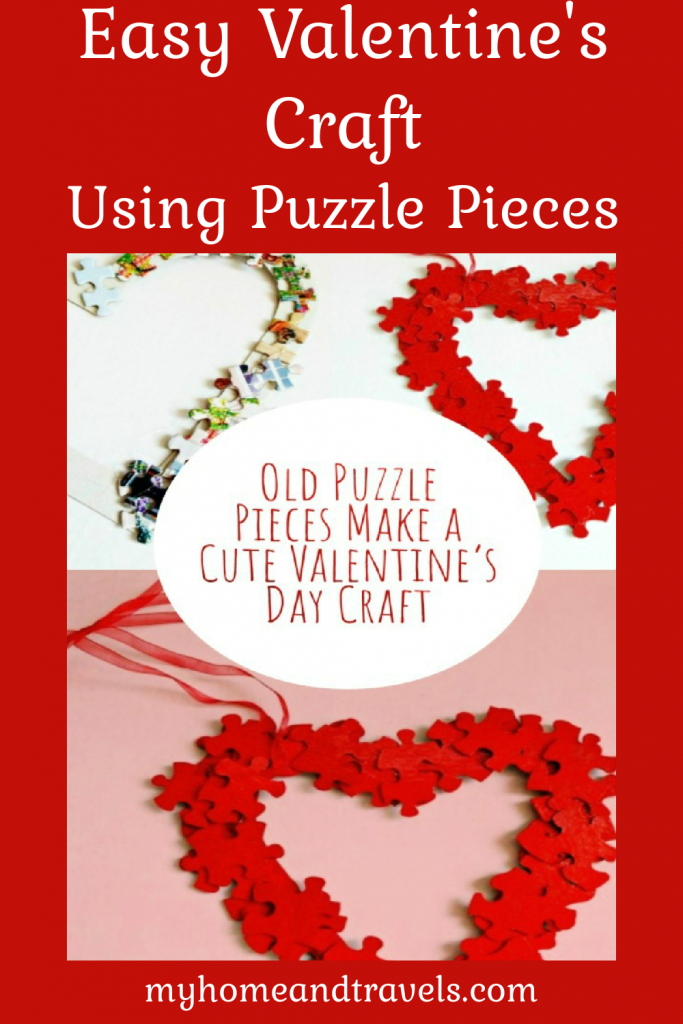 Old Puzzle Pieces Means Crafts for Valentine's Day
If you don't have any, pick them up at Goodwill for $1 or less. Even Dollar Tree sells puzzles. A variety of size pieces are fine.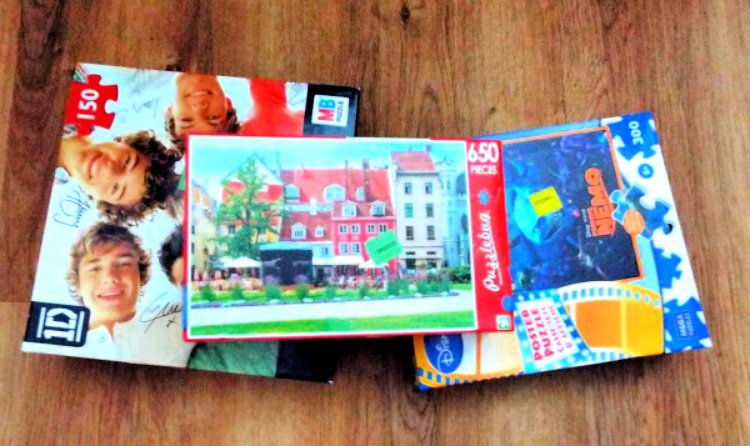 Many of you may be cleaning out closets or your kids toy boxes at this time of year. Save the pieces and toss the boxes to save space but have all these pieces on hand for your next craft. Get your kids involved in cleaning up and sorting.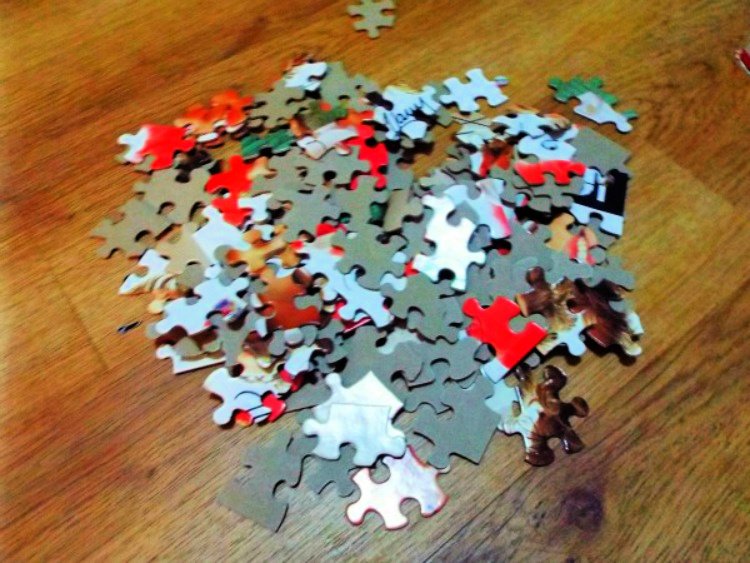 With just a few of your favorite crafting supplies, paint, glitter, and glue, you can turn this trash into some Valentine's Day Decor or gifts.
PICTURE FRAME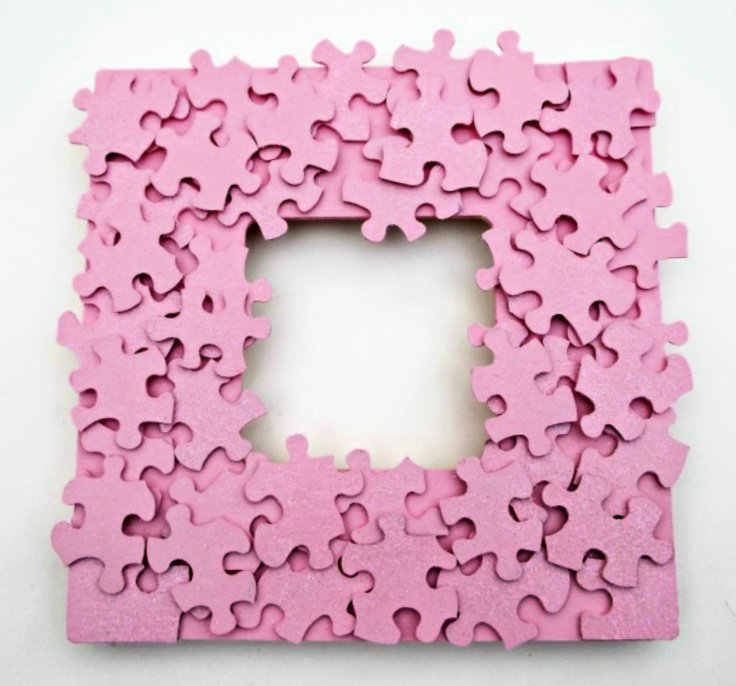 Supplies:
Wood frame
Puzzle pieces
Acrylic paint
Spray sealer
Glitter
Hot glue gun & glue
Lay puzzle pieces out before any painting to determine approximately how many pieces you will need to paint.
How you design this can vary depending on the look you want. They can be placed in a single layer or stack in 2 or 3 layers for a 3D look.
I started with a $1 wood frame from a craft store. Give it 2 coats of paint, letting it dry between each. Acrylic paint dries quickly. Unfinished wood can absorb paint differently, and it could take more than 2 coats.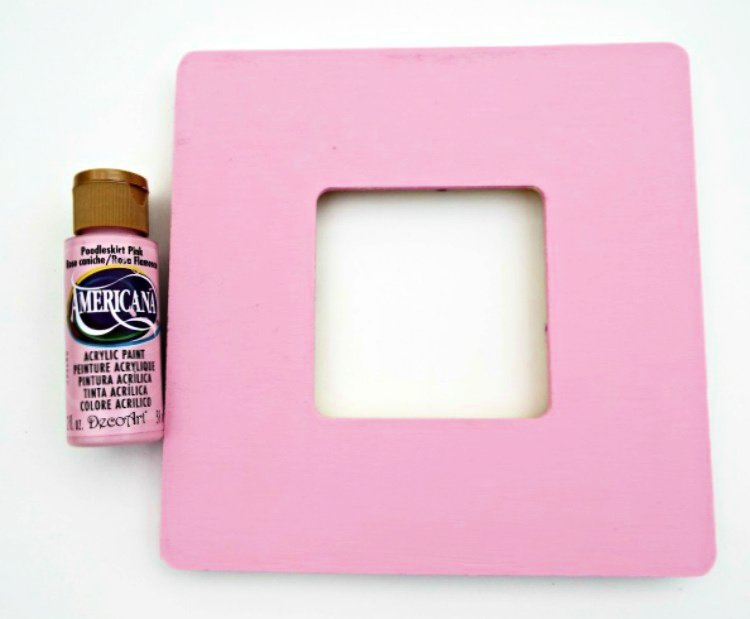 You know I've always said to sand between coats, especially on unfinished wood but since you are covering this up, it might not be necessary.
Puzzle pieces were also painted with 2 coats of acrylic paint, allowing to dry between each coat. I found painting the back side of pieces was easier and absorbed the paint better than the front coated side.
After the pieces were dry, a quick coat of sealer was sprayed over them, then IMMEDIATELY sprinkle very fine glitter lightly over them. Do about half for a third of the pieces at a time since the sealer dries fairly quick. Allow to dry.
If you are doing this inside, place the pieces inside a box since there is over-spray and this will help to contain it.
Start arranging each piece onto frame and glue one piece at a time. As I like to do with puzzles, start with the corner. Glue this down first then work your way around.
Add the first layer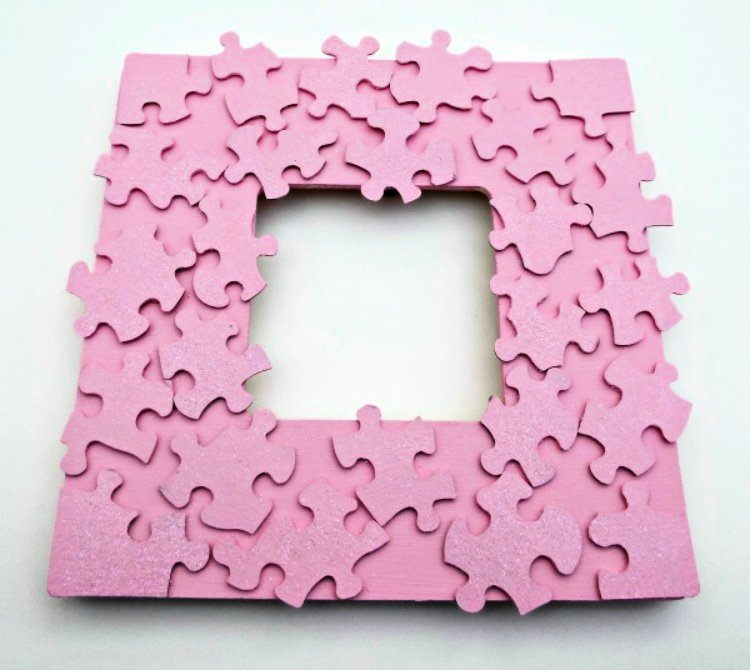 If using hot glue, it will dry almost immediately so you are able to go to your 2nd layer. Again, lay them out before beginning to glue.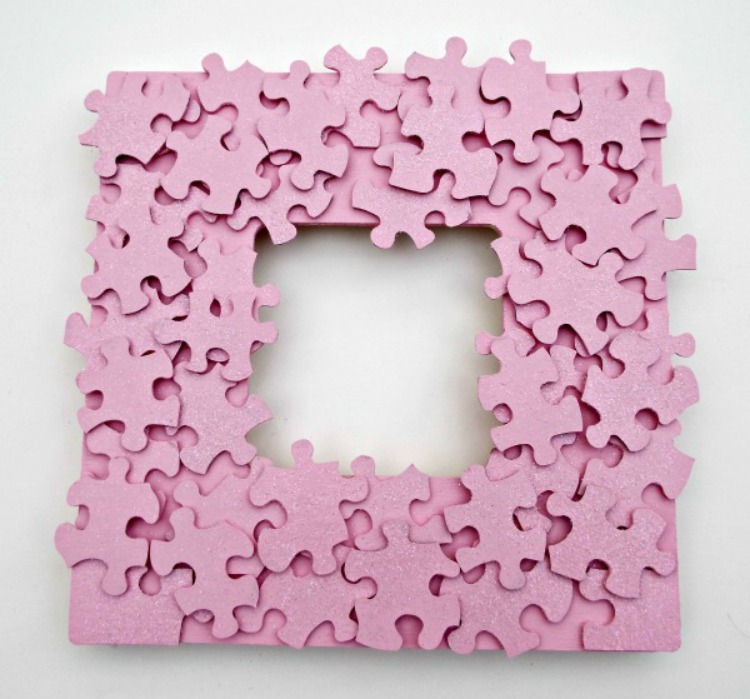 You could use any frame you might have on hand, but it does need a flat surface for best results.
PLEASE NOTE: If this is a standing frame, place your pieces along the bottom fairly straight across or it could interfere with it sitting straight.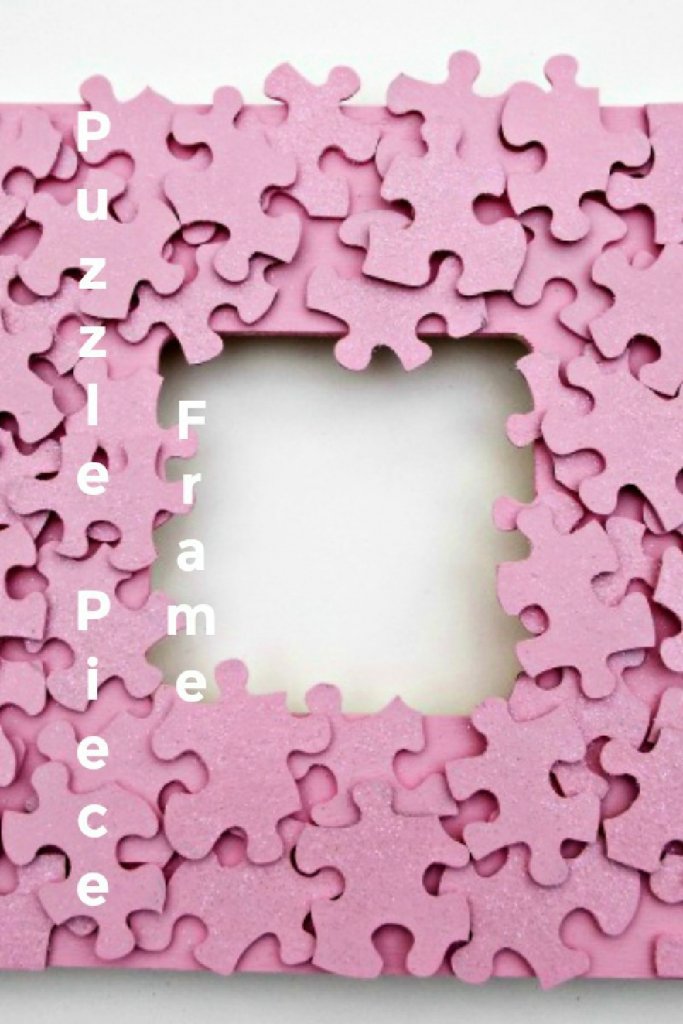 HEART HANGING – MINI WREATH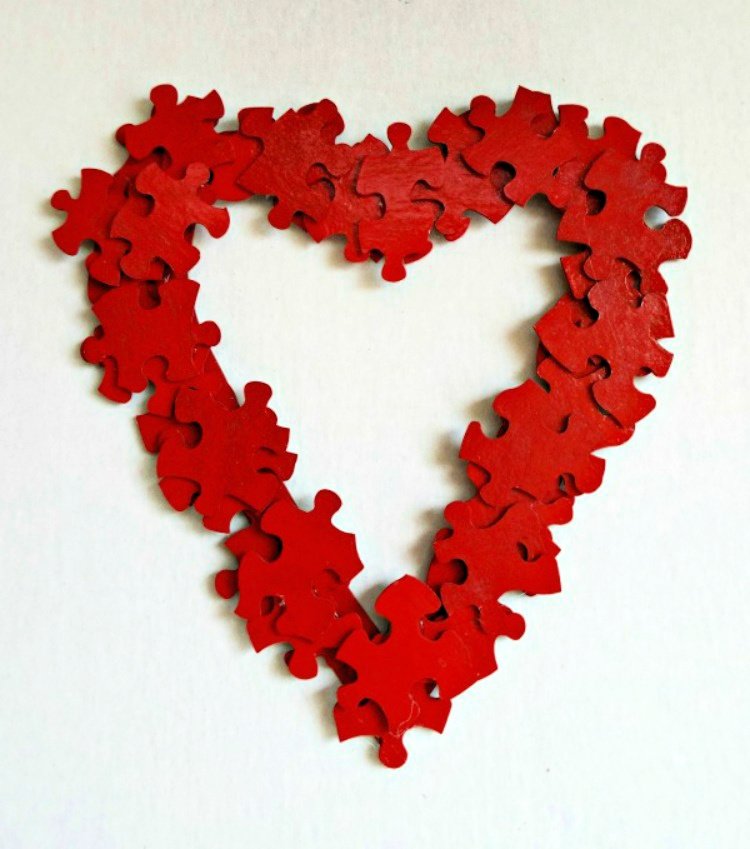 Supplies:
Puzzle pieces
Spray paint
Heart template
Hot glue gun & glue
Ribbon
These could be made any size depending on where you want to use it.
This was made as an ornament to hang from a mirror. It could also hang over a door knob or lamp. What about the back of chairs for a special dinner?
Start by drawing or cutting out a heart. I am no artist so I thought back to all of those hearts I cut out in elementary school.
Fold a piece of paper in half, or use a piece of newspapers and cut a heart out with scissors.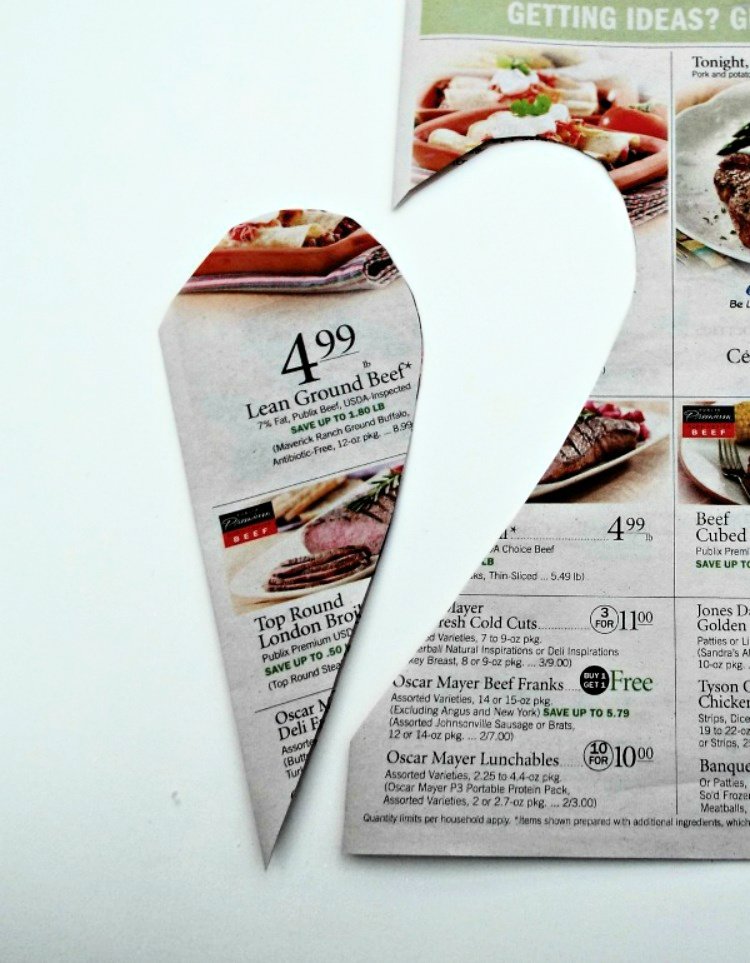 Unfold and check. Trim to the desired shape and width. Remember, this is only a a pattern for your heart. Draw this onto chipboard and cut out. Heavy scissors or an exacto knife will work.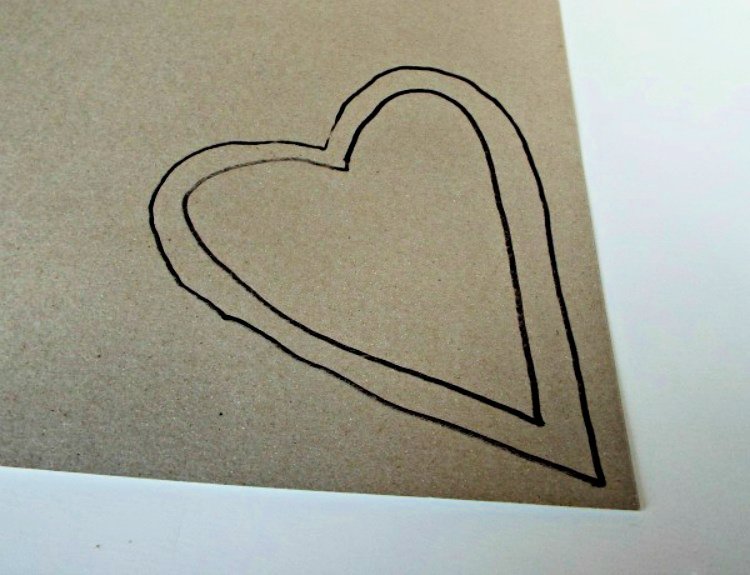 This is your "form" which puzzle pieces will be adhered to. The width of form will depend on what you want your finished size to be.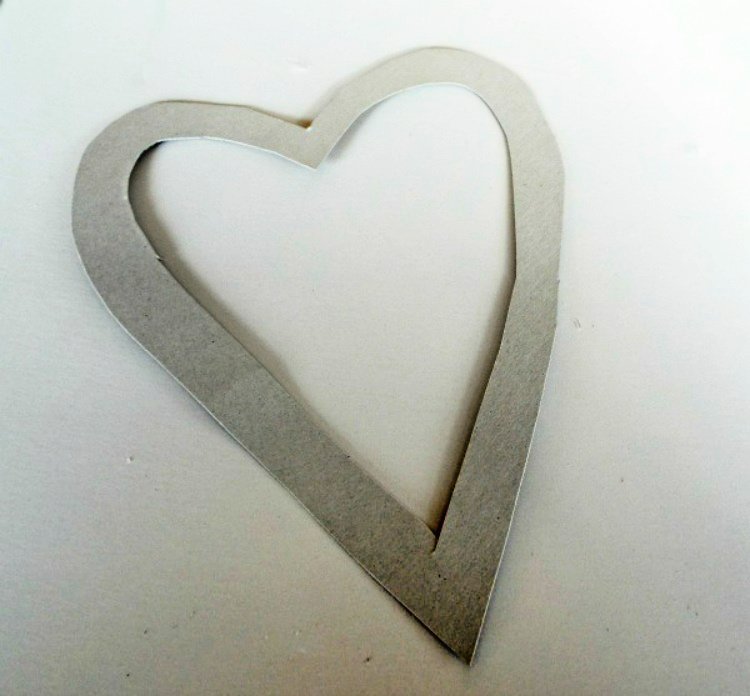 Lay your puzzle pieces onto the heart to get an estimate of how many pieces you will need just to make sure you have enough. This will be painted after adding your puzzle pieces with spray paint.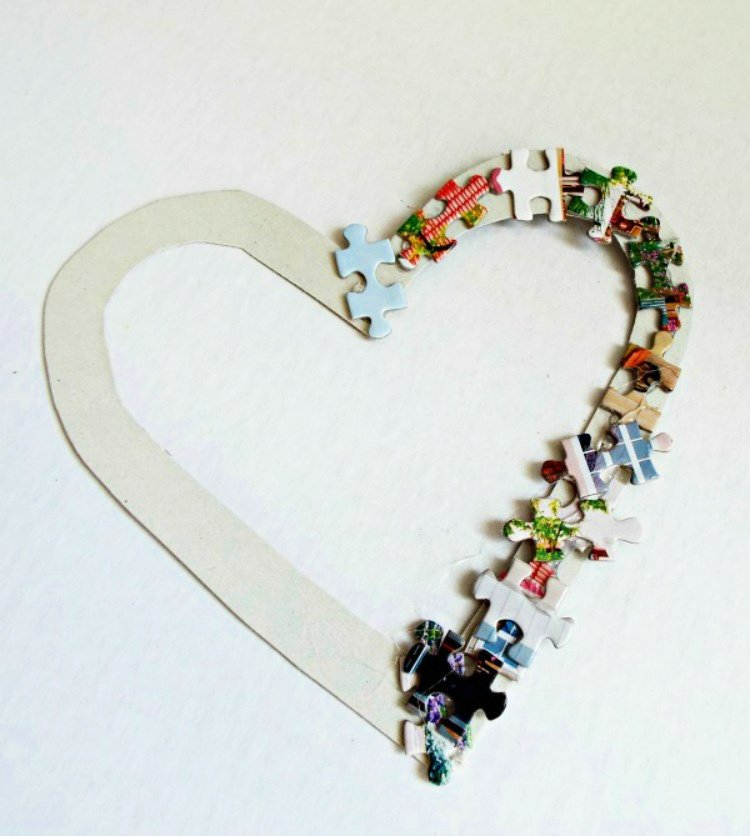 Start at the bottom point of the heart with a piece, then add one piece at a time, making just a short stream of glue as it dries quickly. I found doing a few pieces on each side helped to keep the heart in line.
Add as many layers as you desire for a 3D look.
Spray paint the entire piece with two coats of paint, allowing to dry between each according to the directions on can.
If you want the glitter look, spray with a light coat of sealer and IMMEDIATELY sprinkle with fine glitter.
Use a piece of ribbon looped around the heart for hanging.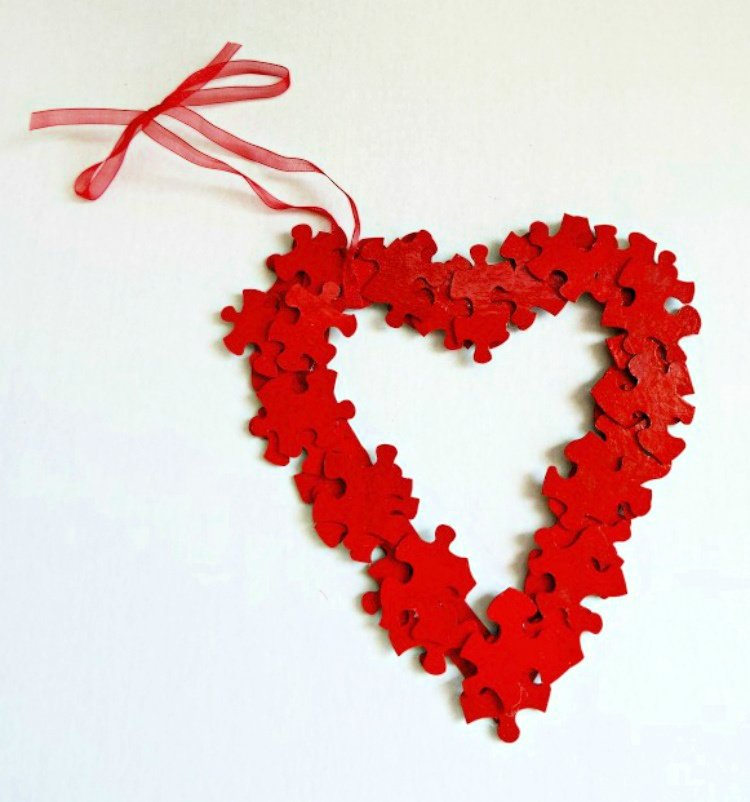 If you want to make this as a larger size for a wreath I would recommend using a piece of cardboard as the base.
These can be made any size to fit your space. Smaller sizes would be great if you are decorating a tree for Valentine's Day.
Let kids make this project using acrylic or kid friendly paint. Craft glue can be used instead of hot glue for younger kids.
What about some goodies and treats, great for almost any time of the year.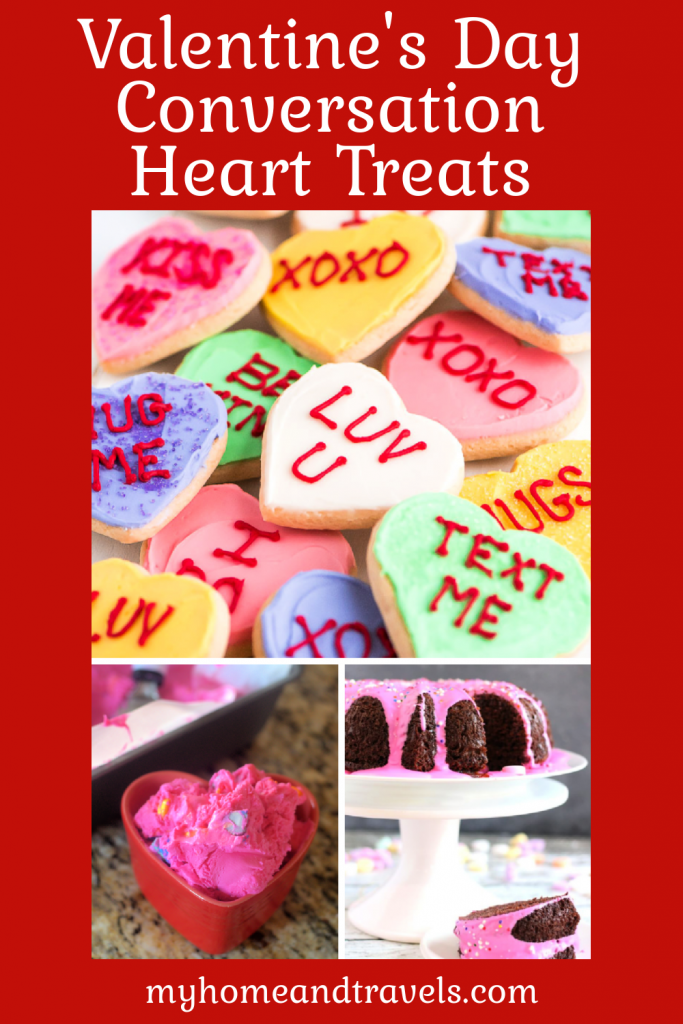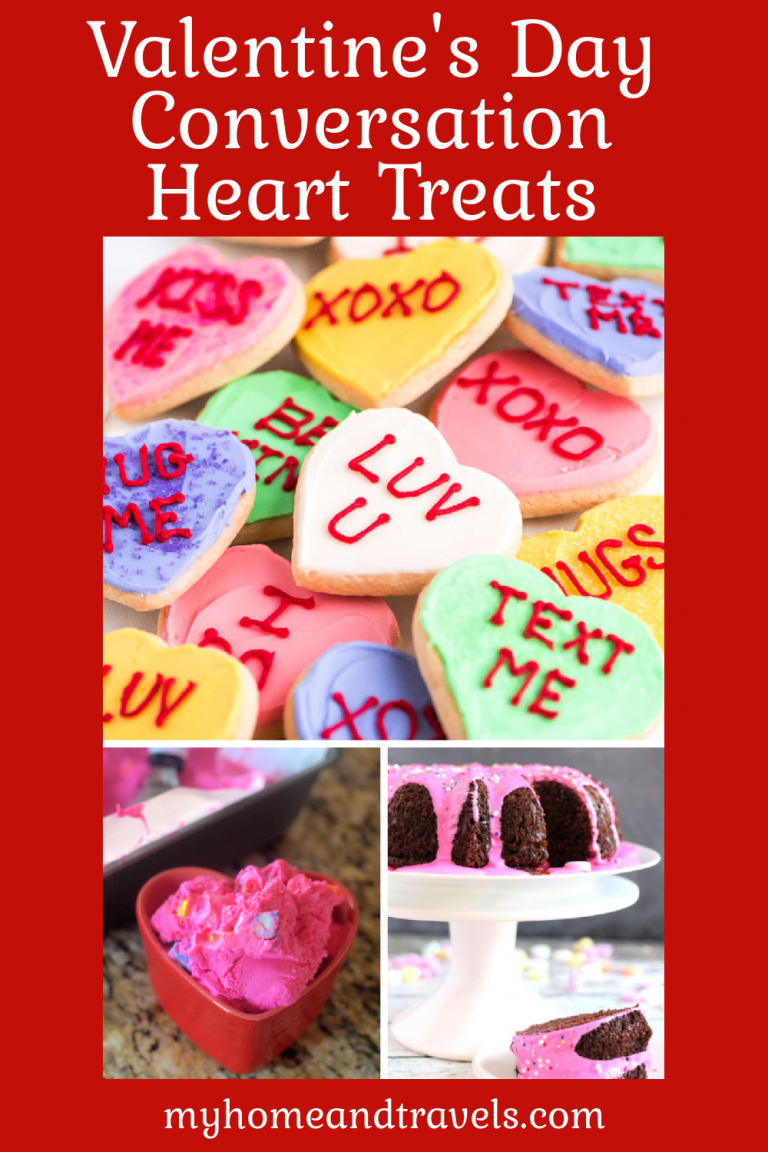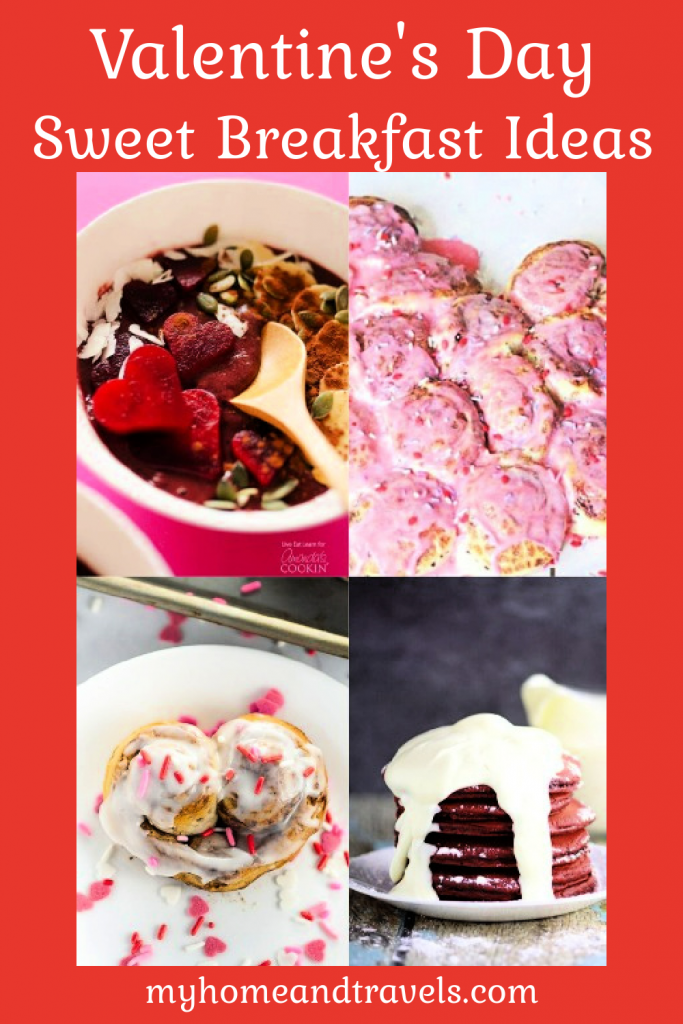 I've included affiliate links to Amazon for you to find some products easier. I may receive a small commission, but the price is the same for you. It just helps my blog out.
Happy Travels,
Rosemary