If you need a shelf in your entry for keys or bathroom for hanging towels, here's a great idea. What about in a child's room for coats or backpacks?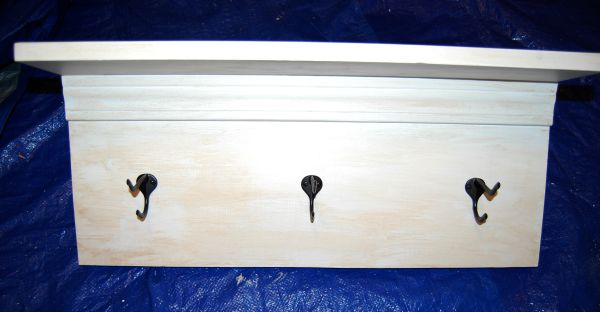 This was inspired by this month's
DIH (Do It Herself) Workshop
at
Home Depot
designed by
Shanty2Chic
. If you're not familiar with Ashley & Whitney, they are a must see, especially for anything wood and furniture. I have attended several classes with them and watched them on Periscope – they are such fun.
Each month on the 3rd Thursday of the month, Home Depot hosts a DIH Workshop a new project is presented. It's a great way to learn about anything DIY. In the past, it's included working with power tools, tiling, and woodwork. You can register online. Next month it's a Rustic Decorative Pumpkin Stand.
I loved the chunky shelf with mitered corners which is being presented but thought I would make a version which would be easier for anyone who is just beginning DIY. This can be made any length to fit your space.
One reason this is a good starter project, you can get all of your wood and trim cut at Home Depot if you don't have a saw.
With any project, it's always easier if you gather everything you need for the project before you start.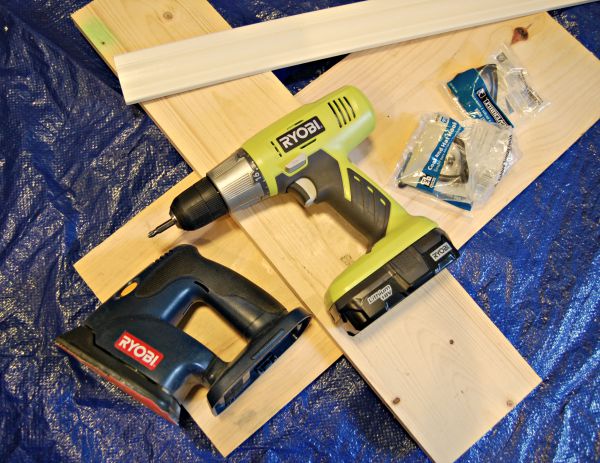 Supplies needed:
1″ x 10″ board
1″ x 4″ board
Trim board
Wood glue
Nails – sizes vary
Wood putty
Sandpaper
Paint
Wax – clear and dark
Hooks
Power tools such as
Ryobi Drill
and
Sander
are great to have as you begin to build your power tool collection.
Determine size of shelf and cut the boards and trim to length. Mine were 26″ in length.
Notice my make-shift table. It was raining so a workshop was set up on the front porch. Love my Ryobi saw. But remember, Home Depot will be glad to cut your boards if you don't have a saw.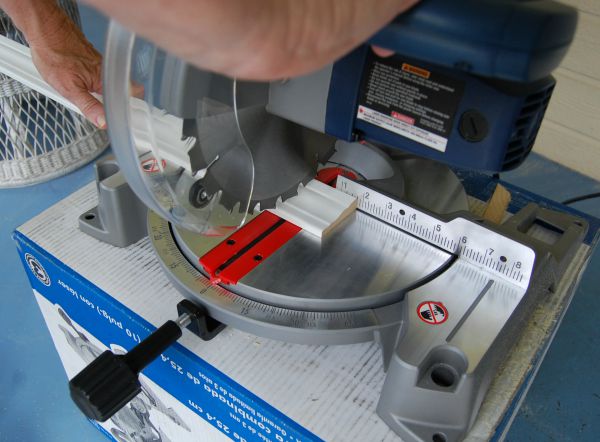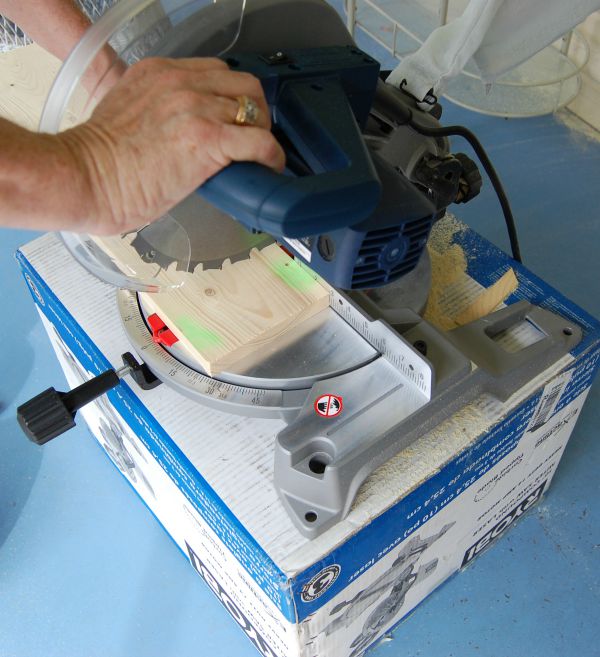 Sand as needed, especially the cut areas. If you don't have a power sander, sand paper or a sanding block will work fine too.
For this project, painting after the project was complete was easier to me.
Stand the 10″ board vertically and run a small bead of wood glue along the top edge.
Place the 4″ board as the shelf aligning all the edges. Having a 2nd person to help hold this helps a lot.
Drill 3 small pilot holes 1/4″ from the edge for your nails.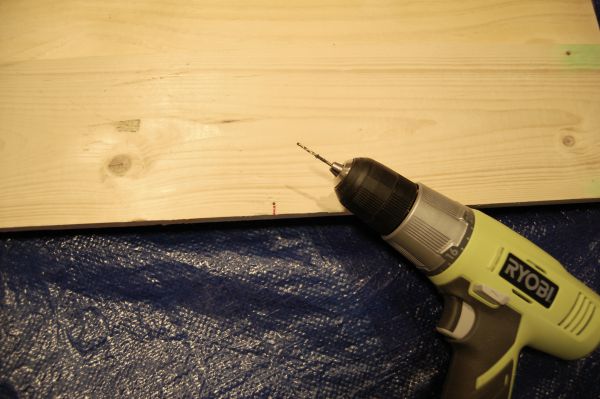 Nail shelf together. Wipe off any excess glue with a damp cloth.
Make sure your nail is long enough to go through the shelf and into the wood. Mine were 1 1/2″. If your shelf is longer, add nails aboutevery 8″ – 10″.
Apply a bead of glue along the under edge of shelf for trim piece. Use a small nail or brad and attach trim. Again, wipe off any excess glue with a damp cloth.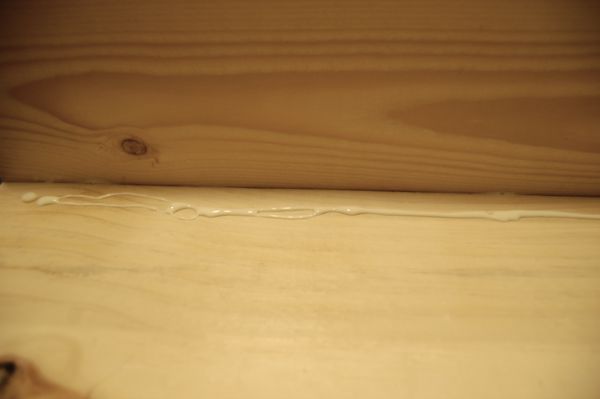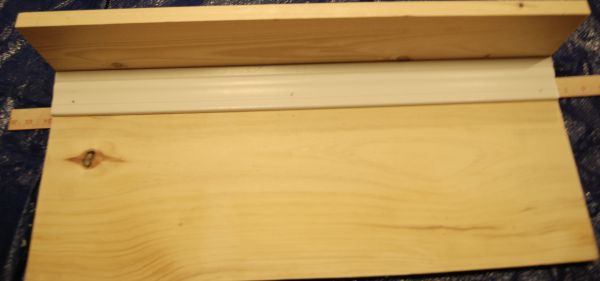 Fill in all nail holes with putty and allow to dry. Sand if needed.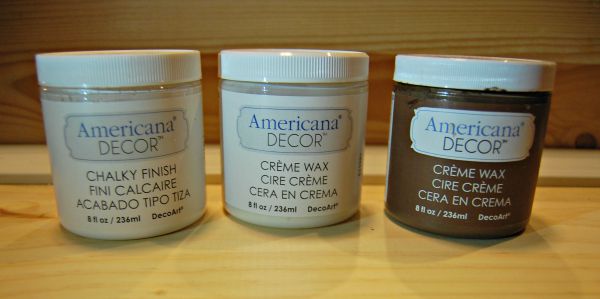 Using
Americana Decor Chalky Finish
in Everlasting, apply first coat and allow to dry. Always follow directions on can.
Since this was unfinished wood, there was a lot of wood grain to raise so a light sanding was needed to smooth it out. Also, unfinished wood will absorb more paint than a previous painted piece.
Wipe off dust and apply 2nd coat.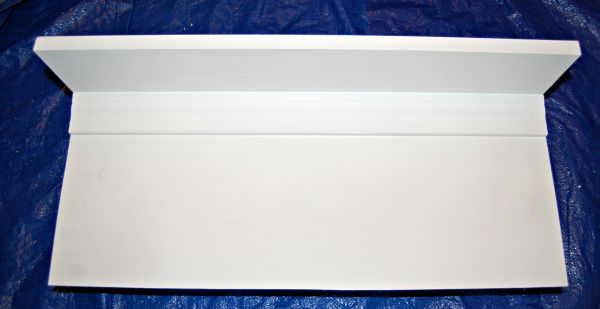 Let dry. Although it is dry within 30 minutes, I waited about 2 hours before going to my waxing steps.
For the antique look apply
Americana Décor Crème Wax in deep brown
a small section at a time. It's important to apply this wax over clear wax while it is still soft. This allows you to be able to wipe off any excess dark wax as you apply. If you get a little more dark wax than desired, use a little clear wax on a soft cloth to remove it.
Allow to dry for about an hour and buff with a soft cloth to bring out a nice shine.
Determine where hooks will be placed. Using an odd number is always is more eye pleasing. For 3 hooks, place first one in center then measure out evenly for placement.
Attach hooks with screws provided.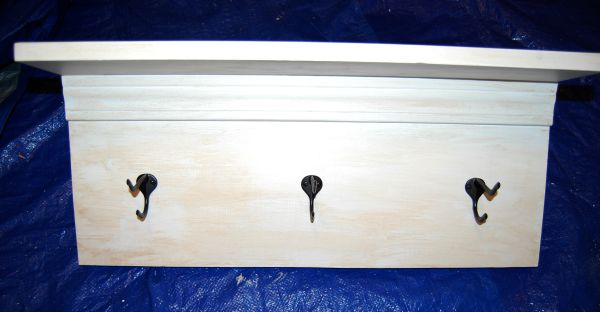 Depending on size and weight of shelf, purchase brackets or my favorite, 3M Command Strips to hang. If this is going onto drywall, anchors are best to use. You can always ask an associate at Home Depot for recommendations.
I have used Americana Decor Chalky Finish for several small projects and really like the results. The waxes are very soft and easy to apply with a rag or a brush.
HINTS
Anytime using new stains or glazes, I make a sample board to see how it covers. The longer you leave a stain or dark wax on, the darker it will be.
Always check boards carefully when purchasing to find one straight and no cracks.
Gather all supplies before starting any project.
Determine which side of the boards you will use for front/back and also top/bottom. If not painting all sides, mark your non-painted sides either with a Sharpie or a piece of painters tape.
Unfinished wood will absorb more paint, so a primer might be needed. Various types wood will absorb paint and stains differently.
When painting unfinished wood, the grain of the wood will usually raise a bit so a light sanding helps to smooth.
Pine wood is a softer wood so it's easier to sand and to nail into.
Drilling a pilot hole before nailing, or inserting a screw, helps to keep the wood from splitting, especially on thinner wood and close to the edge.
If you plan on staining, make sure your wood is stainable. The putty should be stainable also.
Wood putty is also great for filling in any uneven places in the woods, such as knots.
Wear gloves to keep stain from getting on your hands.