PIGGY MAC & Cheese recipe by Puckett's Grocery & Restaurant
This is literally the best mac & cheese recipe, ever! Pulled pork with mac & cheese? Is there a better combination? With Puckett's Grocery & Restaurant opening this Monday in Chattanooga, I was given one of their most popular recipes to tryout – PIGGY MAC & Cheese recipe. For all of you locals, it's located in the old TGIF location, next to the Aquarium.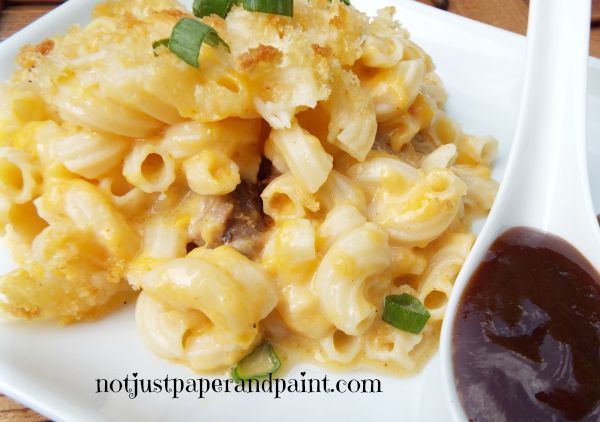 Billed as a "soft launch" to help train associates from August 24 through August 31, the eatery will be quietly slinging biscuits and barbecue as it gears up for its public grand opening on Tuesday, September 1. With three locations in Middle Tennessee, the Chattanooga restaurant marks Puckett's first expansion to a new market. For a step back in time, visit the location in Leiper's Fork.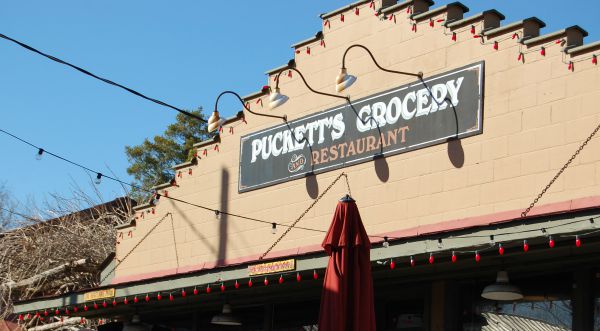 "Puckett's first priority is putting roots in the community, and that community is an important factor at each location. We've already seen Chattanooga's response to that, and hope to continue to help drive the energy downtown," said Max Stephenson, general manager of Puckett's Chattanooga. "We think locals will enjoy our emphasis on an intimate and laid-back atmosphere that makes you feel like you're in your own home when eating a meal or listening to the music."
Puckett's menus boasts of its Tennessee heritage, with "their own special spin" on breakfast, lunch and dinner items. Morning favorites include sweet potato pancakes topped with pulled pork and a downhome take on the eggs Benedict; lunch highlights range from a fried green tomato B.L.T. to heavy helpings of meat-and-three classics; and popular dinner dishes include grits topped with blackened sautéed shrimp, Cajun fried chicken over a bed of hot waffles or grilled salmon brushed with a moonshine glaze.
PIGGY MAC & Cheese recipe
Now to the recipe, it's always important to read through a new recipe before beginning to ensure you hall all the ingredients and correct tools and pans. Nothing worse than starting something then realizing you are missing something.
This recipe calls for a couple of cheeses which are considered "specialty" types that you might not always have on hand. We are lucky in Chattanooga since we have several stores that have great cheese sections. Many times you are able to purchase small amounts, and even grated.
Can I halve this PIGGY MAC & Cheese recipe?
After reading over the recipe, I realized it was making a larger amount than I needed so I just made half of it. And this should be about the right amount for my favorite Lodge cast iron skillet. Even half was a lot for two of us, but after my son and a friend showed up, hungry of course, there was almost an empty skillet. Thumbs up by all on this.
thi
Here's the basic steps and pictures but look for full recipe below as it was provided by Puckett's.
How to make PIGGY MAC & Cheese recipe
Gather your ingredients.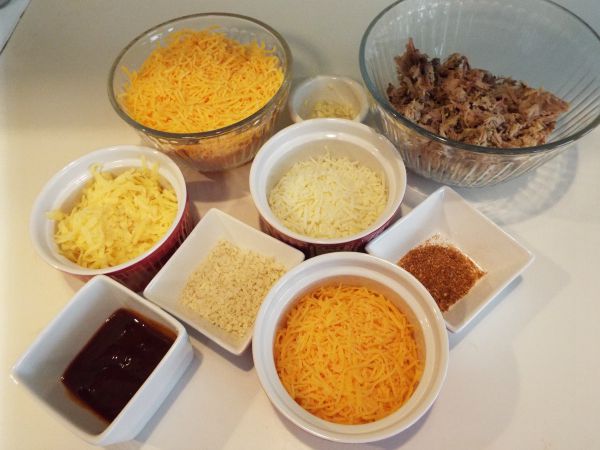 Layer pulled pork and BBQ sauce in skillet. This was a 10″ skillet.
Hope you try this and love it as much as my family did. I'm thinking this would be a great dish for those fall tailgate parties, or your next potluck.
How do you store leftovers of this mac & Cheese recipe?
Just keep the leftovers in an airtight container and place in the fridge. When you're ready to eat, just reheat and enjoy.
Can you make this mac & cheese recipe spicy?
You bet. Just add in some hot sauce, spicy BBQ sauce, or even a bit of salsa to give it some heat.
I'm really anxious for Puckett's to open next week as we are always looking for new places and dishes to try. Looking over their menu, you see it's full of so many favorites for breakfast, lunch, and dinner. I immediately noticed shrimp & grits, always one of my go to meals.
Having live music will also make it more entertaining for meals. Plus a new place for a lazy weekend breakfast while visiting downtown.
The Piggy Mac started off as a special, but quickly climbed onto the menu after becoming one of most popular dishes to date! It's our slow 'n' low cherrywood smoked pulled pork placed in an iron skillet, and topped with smoked Gouda Mac 'n Cheese. This is Cliff's new favorite (Cliff is owner Andy Marshall's son, a current student at University of Tennessee at Chattanooga).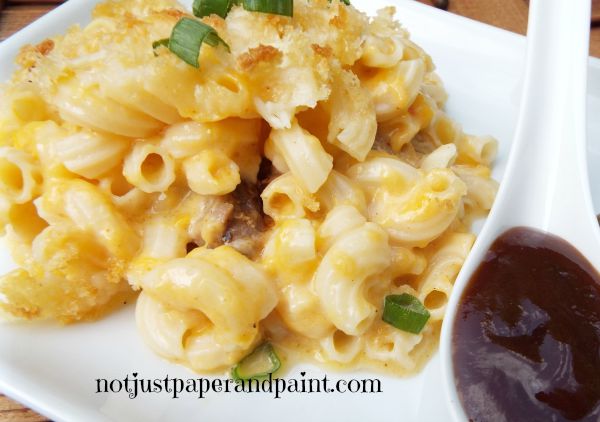 A specialty dish turned favorite at Puckett's Grocery & Restaurant.
Ingredients
Piggy Mac Ingredients
1 Iron Skillet or Casserole Dish
6 oz Prepared Pulled Pork BBQ
1 oz Puckett's Spicy BBQ Sauce
8 oz Macaroni & Cheese Prepared, see recipe
1/8 Cup Shredded Gouda Cheese
2 Tbl Panko or Italian Bread Crumbs
Green Onion for garnish
Piggy Mac 'n' Cheese Ingredients, will make more than you need
1 # Elbow Noodles
1 # American Cheese, shredded
3 Cup Whole Milk
4 Tbl Butter
¾ Tbl Salt
½ Tbl White Pepper
¼ Tbl Cajun Spice
¼ Tbl Granulated Garlic
¼ Cup Asiago
¼ Cup Shredded Cheddar Cheese
Instructions
Mac 'n' Cheese Directions
Cook elbow noodles to directions and drain.
In a saucepan, bring your milk to a simmer.
Add the butter to the milk and then slowly add the American cheese, whisking as you add it to allow to melt.
Once the cheese is melted, add your dry spices and whisk.
You can now pour the mixture over the drained, prepared noodles.
Fold in the Asiago cheese and shredded Cheddar cheese at this time.
Piggy Mac Directions
Place the prepared pulled pork into a small iron skillet or casserole dish.
Drizzle Puckett's BBQ sauce over the pulled pork.
Place the prepared mac 'n' cheese on top of the pulled pork.
Sprinkle the shredded Gouda cheese on top of the mac 'n' cheese.
Cover with bread crumb mixture.
Place in a 350 degree oven for 5-7 minutes until the top is brown and the macaroni is bubbly. Remove from oven, garnish with green onion and serve.
Notes
Puckett's uses an 18-hour process with their BBQ, which is smoked slow 'n' low over cherrywood and finished in sous vide tradition. If smoking your own BBQ intimidates you, they'll smoke a butt for you -- or you can pick up their pulled pork BBQ from the restaurant.

I've included affiliate links to Amazon for you to find some products easier. I may receive a small commission, but the price is the same for you. It just helps my blog out.
Happy Travels,
Rosemary