The Perfect Homemade Waffle
Yes I do have the perfect homemade Waffle Recipe. I love using my Waring Restaurant Style Waffle Maker. One of the best purchases I ever made. What do you life on your waffles?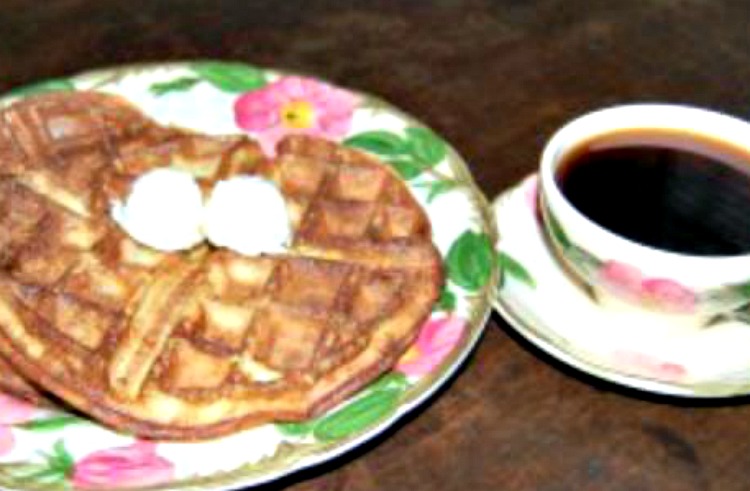 This isn't one to mix up without a little planning, but it is so worth it. I usually make a double batch and freeze the leftovers. And yes, there is sour cream and cornmeal in this. Don't worry, if you have someone who hates sour cream, they will never taste it.
Here's your ingredient list
Makes 6.
1 1/2 cups whole milk
2 tablespoons white vinegar
2 large eggs, separated, plus 2 large egg whites
1 cup all-purpose flour
3/4 cup sour cream
2 tablespoons coarse cornmeal
1 teaspoon baking soda
5 tablespoons salted butter
Vegetable oil cooking spray, for waffle iron
Stir together milk and vinegar; let stand for 5 minutes to thicken.
Melt butter and let cool slightly.
Beat whites with a mixer on high speed until stiff peaks form.
In large mixing bowl, add yolks, flour, sour cream, cornmeal, and baking soda. Mix together with spatula. Stir in milk-vinegar mixture. Fold in half of egg whites, add other half to mix well. There should be clumps of egg whites still in batter. Add melted butter into batter gently (do not overmix).
Preheat a waffle iron on the highest setting. (You will want to try your settings. Mine on high created too brown of a crust).
When hot, spray both sides of waffle iron with non-stick vegetable spray. (Do this each time).
Pour 1 cup batter into waffle iron (it should be three-quarters full). Close lid, and cook until waffle is golden and crisp, about 6 minutes.
Some of the mixture will ooze out the side and you should hear a slight hissing sound. That is the air from your egg whites evaporating.
Remove waffle from iron. Quickly toss between your hands to release steam and help retain crispness, and serve. Repeat with remaining batter.
Serve with your favorite toppings.
A couple of hints:
If I'm making these for a group, I go will cook a few ahead and place on a baking sheet lined with a tea towel. They can then be popped back into the waffle iron for about a minute.
These almost have a funnel cake like taste and are great served with just a little confectioner sugar on top.
To freeze – let cool completely. Wrap individually in plastic wrap and freeze flat, such as on a baking tray. After frozen, place in a freezer bag to store. To serve, let them thaw on the counter for about 10 – 15 minutes then put into preheated waffle iron for about 1 – 1 ½ minutes to heat up, making sure you lightly spray with vegetable spray. Taste just as fresh as first bite.
A few more breakfast ideas for you.
I've included affiliate links to Amazon for you to find some products easier. I may receive a small commission, but the price is the same for you. It just helps my blog out.
Happy Travels,
Rosemary