How To Clean A Stainless Steel Sink
Cleaning and keeping a stainless steel sink shiny can be tricky. Let me show you How To Clean A Stainless Steel Sink With 2 Household Items. And, I bet you already have the two things needed to clean it, without chemicals, in your pantry. White Vinegar and baking soda is all you need.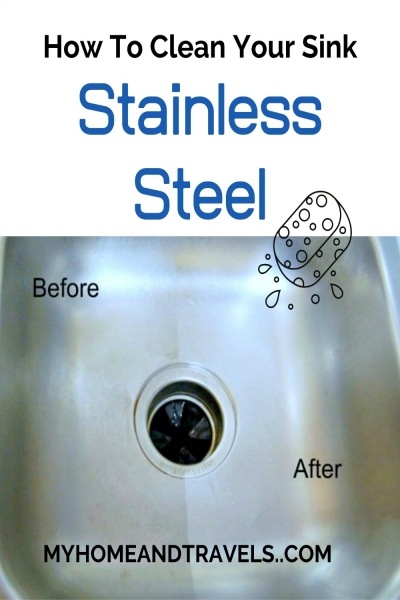 Through the years I have tried many cleaners and found the results to be okay, but not always great. It seemed to leave the sink dingy and dull. If you do have an older sink, it's really hard to shine it up.
You may think your sink doesn't look too dull, but after cleaning it, you will notice a huge difference. And be so happy you cleaned it.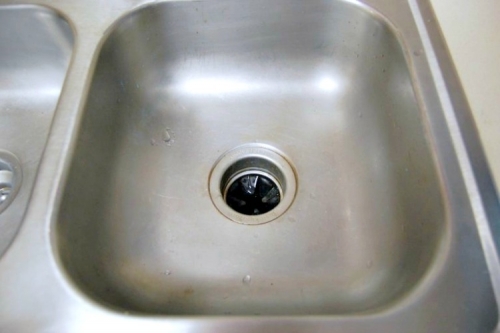 Even with wiping it down and drying it often to avoid water spots, didn't seem to help. It was still ugly. So now what to do?
As in anything these days, if you aren't sure of how to do something, you Google it. There were a lot of products made for stainless steel sinks but I in my frugal way, didn't want to spend anymore money than needed. Plus, I have tried to get away from so many chemicals.
I would try the vinegar and baking soda trick to clean it, then if it failed – I would always hit up Amazon for something.
One of the common factors in a lot of cleaning is baking soda. This has so many uses around the house. Maybe I'll make a list of those like I did the coffee grounds.
Just to see if using the vinegar and baking soda method worked, I taped off half the sink for this experiment. Don't you love as a DIYer you have items such as 3M painters tape around?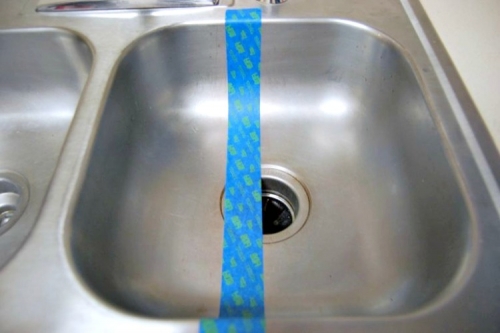 Remember, I am only doing half of the sink at this time but these directions will refer to your whole sink.
How To Clean A Stainless Steel Sink With 2 Household Items
Start by giving the whole sink area a heavy spraying of plain white vinegar then sprinkle a heavy coat of baking soda all over. Let this set for at least 5 minutes. Don't forget to do the faucet area and outside rim of the sink.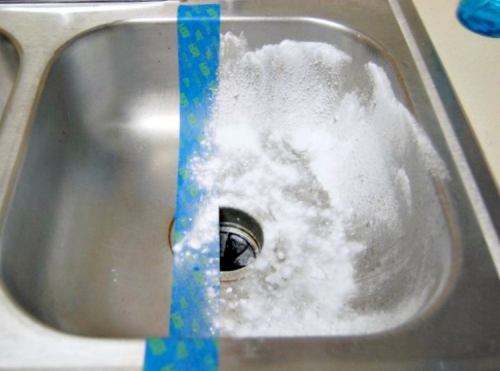 After letting the baking soda soak into the vinegar, dampen a dish cloth, or you might prefer a sponge, with just enough water, or more vinegar, so you can make a paste with your baking soda. Keep scrubbing with the paste solution until you have done all of it.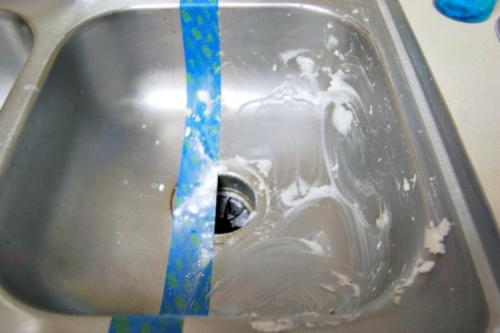 Rinse well. Remember the baking soda is really gritty so also do a bit of scrubbing as you rinse.
After it is rinsed well, wipe it down with a dry towel.
The Results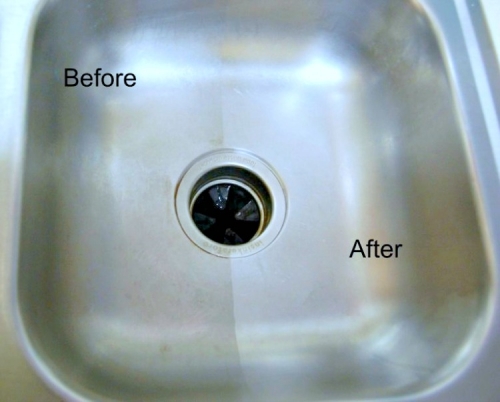 Enjoy your clean and shiny sink. I know this sink is older and a bit worn but I was still happy with results and especially after cleaning the whole sink.
The baking soda is also a great deodorize foe the drains and garbage disposal.
What tricks do you have for keeping a clean and shiny sink?
Here's a few more ideas to help out.
I've included affiliate links to Amazon for you to find some products easier. I may receive a small commission, but the price is the same for you. It just helps my blog out.
Happy Travels,
Rosemary