Do you need a simple project for some of the upcoming events or holidays? You know it's getting that time of year for Mother's Day, Father's Day, graduation, and all of those baby and bridal showers. Not only is it a great gift idea, but a wonderful keepsake for the future.
Start by taking a profile picture. Depending on the age, this might be the toughest step of the whole project. Plus, as you are just using this as an outline, the quality of the picture isn't that important. Grab your phone for this.
Print this off on your own computer onto regular copy paper. You will either need to enlarge it, or most have programs to choose what size to print, so this is done as an 8 x 10 since I was putting it into an 11 x 14 frame. You would just adjust the size of your print to the frame you chose.
After printing it, and don't worry so much about the quality of the print since you are basically using this as an outline.
Place your photo onto another sheet of paper and trace around the profile with a Sharpie. This Sharpie will bleed through to the other side and make an outline for you to cut out. The extra sheet of paper gets some of that "bleed through" of the Sharpie so you need to watch what kind of surface you are using as not to damage it from the Sharpie.
After you get it outlined, turn it over and see if it looks like the profile you want. This is when you miht want to touch up the outline to define facial features or hair details. Either using an exacto knife and mat, or good sharp scissors, cut around the lines. You will need to determine how much of the base "shoulders" you want exposed. This will be in proportion to the rest of your pattern then make a straight cut for your base.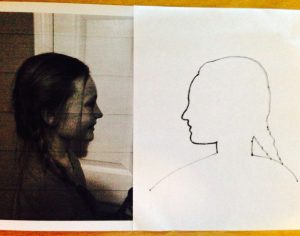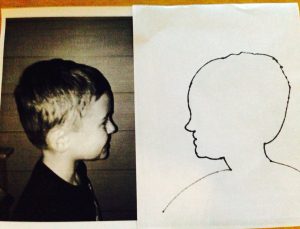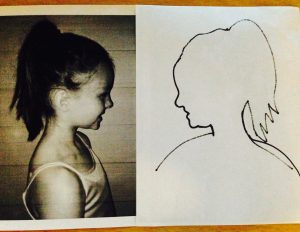 Now you are ready to trace it onto your paper. If you are using black paper, a very sharp pencil works great to make a line you can see. Chalk or chalk marker would also work for this. This is also when you will decide which direction you want it facing. The side you make your outline on, will be the opposite facing so when you cut it out, you don't have to worry about your drawing lines showing.
After tracing, you are again ready to cut it out using your exacto knife or scissors. An exacto knife works great especially if you have a lot of details in your pattern.
Cut it out and you are ready to frame. Use a little spray adhesive or even a glue stick to adhere your profile to you background paper. Proceed to frame as usual. Now hang it up and admire your masterpiece you have created. You could even add their name or the date.
For a fun no sew pillow, you can make a profile of your favorite pet and cut it out of felt. Using a generous amount of spray adhesive especially around the edges, spray the reverse side of your felt, then place on your pillow. I just used one I already had on hand. Since the felt wont fray around the edges, don't worry about sewing it.
Remember, when using spray adhesive, it's best to do this is a well ventilated area, and cover other surfaces to allow for the overspray. This stuff is super sticky.
This same idea can be used to make home décor for your home. Consider bunnies for Easter, a Santa for Christmas, or a deer head or other wildlife for that man cave. Or what about that favorite car or boat? Maybe hand and foot prints of that new baby. You have an unlimited choice for your background, or even your silhouette. You can use leftover fabric or wall paper, scrapbook paper, wrapping paper, or even burlap not only for your background, but even for your silhouette.
Chalkboard art is still a big trend. Outline your bunny onto a chalkboard painted board – add a cotton ball for a tail. Instant Easter art.