Day Twenty Three of Twenty Five Days of Christmas. Not just during the holidays, but it seems everyone is busier and it will sometimes make your entertaining more frazzled, or maybe you just don't do it. I don't like to admit it, but having help can make me enjoy my party more. I have found many times, having my favorite grocery store is a big help. Making entertaining easier with Fresh Market because of their large selection of party trays, the dessert options, and the deli – prepared foods. Plus so much more. Thanks to Fresh Market for providing products I sampled, but the ideas and opinions are all my own.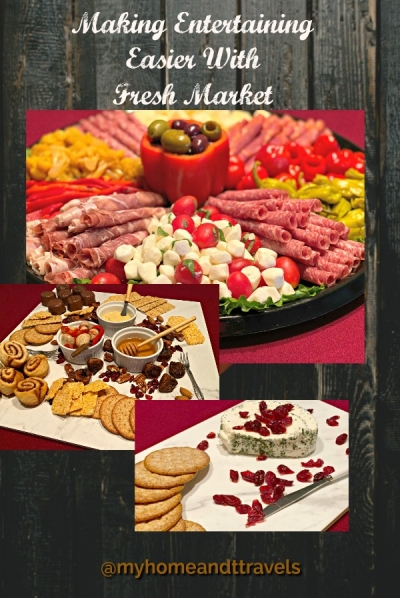 As with any party, or maybe a family get together, there's always those initial ideas – when, how many, what type of food, likes and dislikes – make a plan.
Fresh Market offers many party platters so you should be able to find one to fit your entertaining needs. From cheese to desserts to antipasto to sandwiches, they have a little of everything.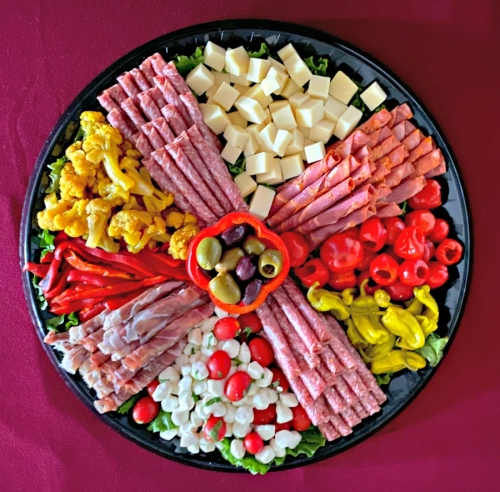 Another easy option for these trays, order online. Let them know when you need it, and you are done. If you are running short of time, make sure to check deadlines for ordering, or call the store with questions. This isn't just for a home party, but they also offer catering ideas.
For a smaller get together, this Antipasto Tray was a perfect fit for me. With only a few more things to pick up, the night was made easy such as a variety of crackers, desserts and those other accoutrements.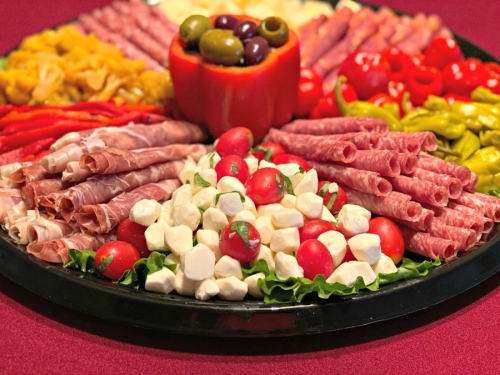 With the variety of meat and cheeses on it, I opted to add a Garlic and Herb Cheese Roll to add another flavor of cheese. Presentation is everything especially during entertaining and the holidays. An easy idea is to place the cheese on a ceramic tray, sprinkle with a few dried cranberries and add crackers. Add those red cranberries and having the green herbs, made it look a little more festive.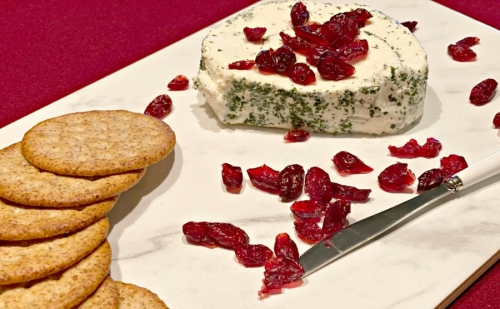 The Antipasto Tray was pretty enough to serve how it came. If you are worried about room on your serving table, you can always check to see the size of the tray before you pick up.
Another large ceramic tile was used for some of the "extras" such as crackers, sweet items, nuts, mustard and honey. Remember me showing you how to DIY these tile trays?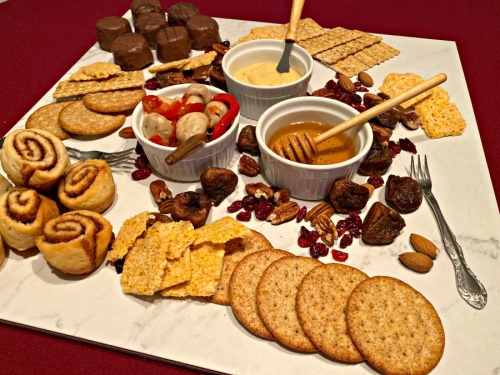 I find it easier to have more bite size items for desserts, such as the mini-cinnamon rolls and cake bites so you aren't having to plan for more plates and serving a large dessert. Cake and brownie bites can be purchased individually (great way to try them) or by the box.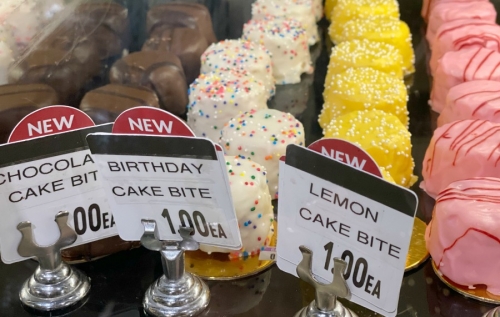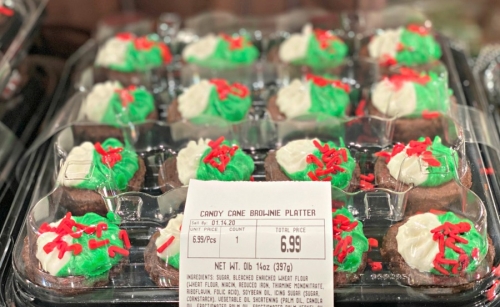 Or if you are wanting to go heavy on desserts, opt for an additional dessert tray or cakes. These are also great for a last minute coffee and dessert get-together. If you are too late to order a dessert tray, many of these come in individual sizes which can be cut into smaller pieces to serve.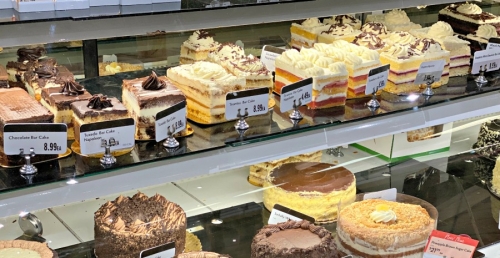 After everyone has served themselves and "picked" at the trays, I like to remove it and freshen it up. This can be done by having an extra ramekin of sauces, more meats and cheeses, or even just re-arranging the items on a smaller tray. Your guests will think you had another tray of food for them.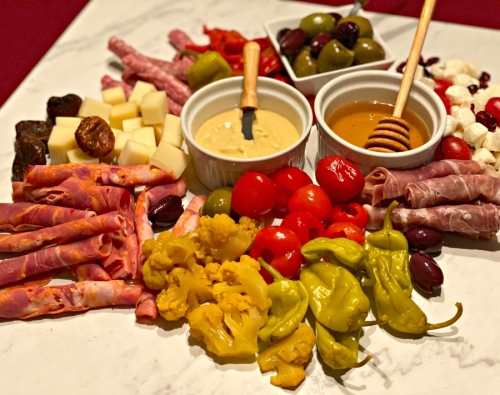 If you aren't as familiar with the selection of items available in Fresh Market, and especially with added holiday items, make a trip to explore a week or so before your party. I seem to find new things every visit I make. The cheese and deli counters are great to offer a sample for you to try.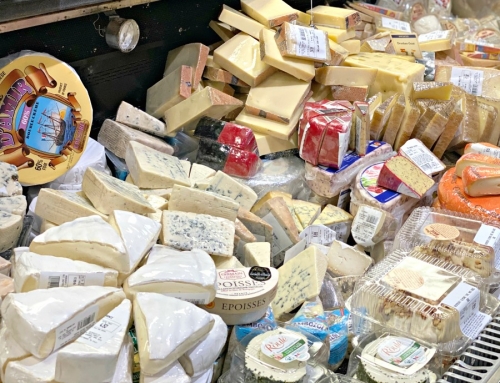 There's usually special cookies or breads not offered at other times of the year you may discover.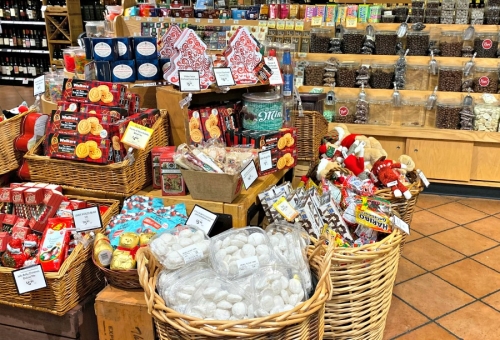 In the produce department, talk to a manager or employee who is knowledgeable about when the items will be available or even to suggest different produce items. I have had fresh and preserved figs before, but couldn't decide on which I wanted, so after talking to them, I decided to go with preserved. Good choice. The only bad part is now I am obsessed with them and want them all the time.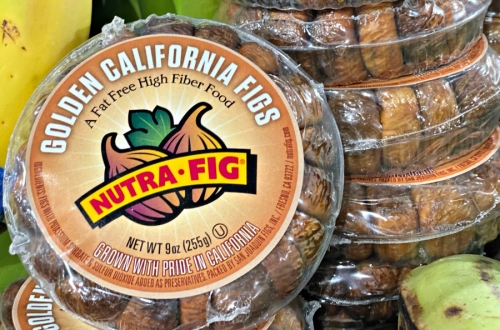 If you love olives, the olive bar has a huge variety to choose from and also I found the marinated mushrooms there. Adding just a few new things to a menu to party platter, really elevates the feel of the food. Since it's sold by the pound, you can get as few or as many as you need.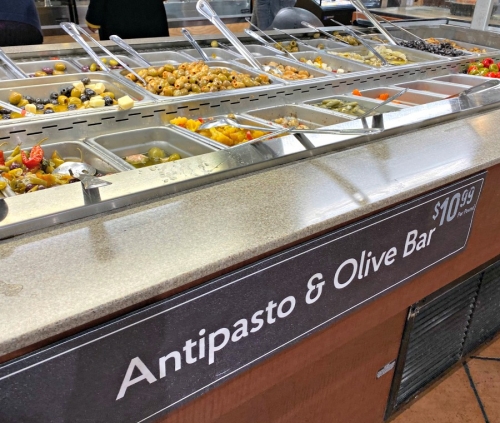 Are you looking for coffee, beer or wine? Fresh Market has you covered in those areas too. There's always a couple of flavors of coffee out daily to try.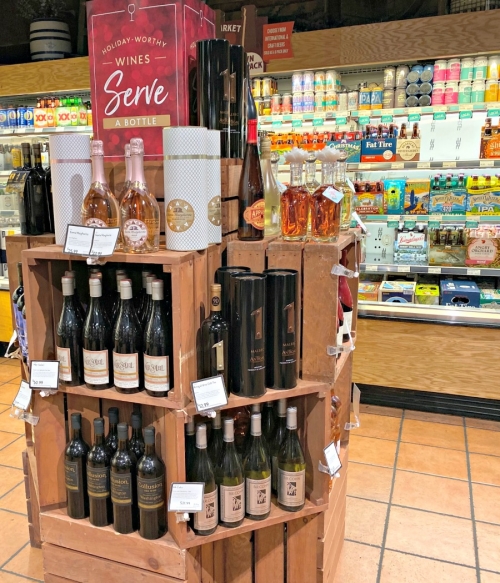 What about flowers for your table or a plant? You can pick them up here also. You know I love a good Rosemary Plant. Not only can it look like a mini-Christmas Tree, but it will last beyond the holidays.
Need a gift? These few items such as coffee, wine, gift baskets or flowers are always great to pick up on your way for a hostess gift or a special friend. Also, during any holiday time, there's special candies available as gifts or stocking stuffers.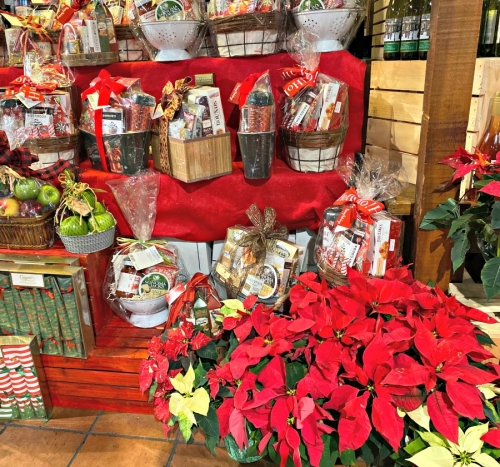 Fresh Market has always been my go-to place for fresh produce and meats, not just during the holidays. I love their $2.99 chicken and beef sales on Tuesday.
Do you shop at Fresh Market? What's your favorite items?
Maybe you are starting to plan some events around New Years, all the Football Bowl Games, and even into the year for Super Bowl. Make Fresh Market your first stop, in-store, or online for all of your needs.