Property Brothers are coming to Chattanooga – and a giveaway
OK – who loves the Property Brothers? With three shows on HGTV at most times, they have quickly become the go to show for home renovations or for considering a fixer-upper when buying a new home.
I am super excited to get to meet them this weekend at SHE: An Expo for Women here in Chattanooga.
The Ultimate Girl's Weekend Out
She, an Expo for Women is a fabulous two-day event attended by Southern women of all ages on Saturday, July 26 & Sunday, July 27. Don't miss this year's event, which is sure to offer you the ultimate girl's weekend out, featuring over 150 vendor booths offering exciting new products and services for you and your home. It also offers food, fun, entertainment and more. Just some of the exciting things you'll find at this year's She Expo are:
Free Health Screenings / Beauty Products & Services / Food Sampling
Cooking Demonstrations / The Latest Fashions / Fun & to Die For Accessories / Fitness
Health & Nutrition Products / Entertainment / Fashion Shows & More . . . . Not to Mention the Celebrities!
PLUS – there's a Pie Baking Contest. Enter here: Pie Contest The winner of this will receive VIP Meet & Greet to Ree Drummond. Oh and did I mention, I'm a judge for this contest?
OK – back to the Property Brothers.
Did you know these facts about Jonathan and Drew:
They were named to People Magazines Sexiest Man Alive edition in 2013?
Jonathan is the older of the two?
Both can play the bagpipes?
They grew up in Canada and loved riding horses?
They bought their first house to flip while in college and made a $50,000 profit?
Most popular question they are asked – are you single?
There is another brother? JD
They tried their hand at acting before HGTV? Drew on Smallville and Jonathan on the X-Files.
Now, don't you want to meet them too?
They will be doing fan photos from 2:00 – 3:00, and then onstage at 3:30.
For tickets: Times Free Press
For a full schedule of the weekend events: Schedule
You can win a box of goodies even if you can't attend SHE.
I have been supplied a box from Proctor & Gamble containing Charmin, Bounty, Gain Flings, Downey UNstoppables, plus a $25 gift card to Home Depot to give to you. I would enter just for the Home Depot Gift card, a girl could always use it.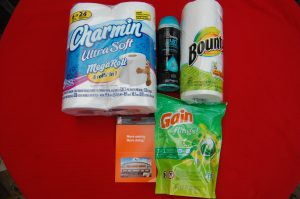 Entering couldn't be simpler – no long forms or questions to answer. Just leave a comment on this post telling me which brother you enjoy watching more. Make sure to comment here, Facebook likes or comments don't count. This isn't a scientific poll, just a fun one. This contest is open for residents of the US only.
I will be picking a winner on Saturday, July 26 at 10:00 pm EST. I will then post the winners name on my Facebook page. It will be shipped during the week of July 28, 2014.
To keep up with the action all weekend, follow me on instagram http://instagram.com/notjustpaperandpaint
Thanks for entering and following along with my Journey.
I've included affiliate links to Amazon for you to find some products easier. I may receive a small commission, but the price is the same for you. It just helps my blog out.
Happy Travels,
Rosemary