No plans for a beach trip in your future? Then create that beachy, coastal feeling in your home by pulling together a few things you may already have, including all those shells you picked up on previous trips to the coast. Or you can find them at most craft stores.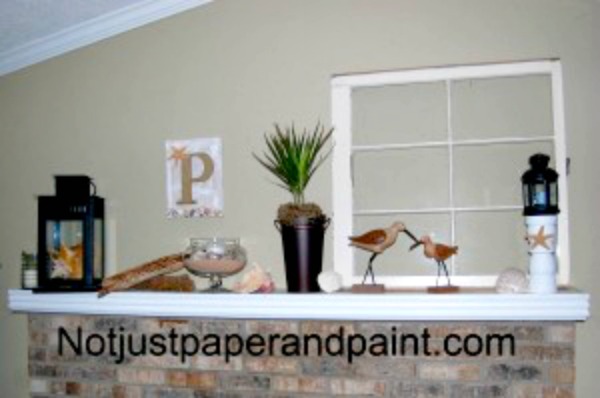 Imagine all of the soft colors associated with the coast, not the bright neon lights of the souvenir shops – the colors of the shells, the sand, the water, and even the sky such as a soft blue or turquoise makes a serene feeling like those days of you lying on the beach. Different heights and textures add dimension and interest to your vignette.
My fireplace and mantel aren't centered on the wall so I always like to use something tall to offset that and take your eye off the peak of the ceiling. An old window works great for this and these can be found at most antique or resale shops. A lantern doesn't always have to have a candle in it. Think about a large conch shell you brought home from a favorite vacation or cruise. Shells are my favorite souvenir to collect.
Use a large wooden candle holder with a small starfish attached. Pick out a colorful shell or starfish and attach with your low temp glue gun. Place a small lantern on top to create a lighthouse look.
A plant with always add the feel of nature, whether it's live or artificial. To add height, this was only about a 4" pot, so I used a mason jar turned upside down to fill in the bottom. I just have to take it out about once a week to water. By doing this, it eliminated the need to have a larger pot full of dirt, and to have to drill a hole in my bucket for drainage.
The monogram on canvas was made last year for a Michaels event but here's the details. Coastal Monogram. Hanging it with 3M Command Brand Picture Hanging Strips makes it fast to put up and no damage to the wall when I take it down. If you want to hang your window, there are heavy duty Strips for this too. Just check the weight limit. Oh, and they have great hooks in a variety of sizes too.
Add other items such as small candles, shells, birds, and driftwood to complete your mantle. This would also be a great look on a side board or buffet, could modify it for a tablescape, or even a table in your entry way.
See below for a version of the sand filled vase.
PLANK CANDLE CENTERPIECE
Grab a piece of old wood which could be from a pallet, a fence, or even a new board which has been distressed to make it appear "weathered". Work with an odd number of candles, place these on your board, scatter around some shells and/or rocks and it's done.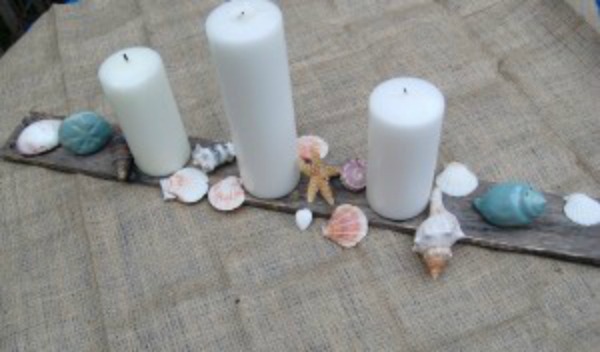 I also added a salt & pepper set I had picked up at Cracker Barrel. These were bought last summer.
PERSONALIZED PLACE CARD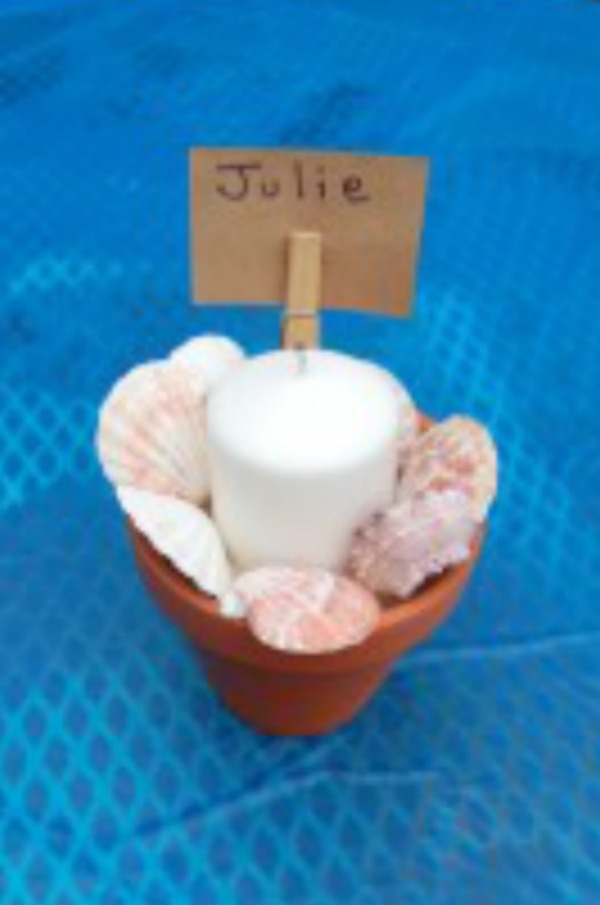 If you want your friends to get acquainted with others they may not know, consider putting a place card and seating those who don't know each other, next to a new friend. Plus this can double as their hostess gift.
Start off with a plain 4" terracotta pot and cover the drainage hole with either a little hot glue or just a piece of tape. Fill with sand about 2/3 full. Place a 2" pillar candle in the middle forcing it down into the sand just a little to secure it in place. Trim the wick to ¼" and light for just a few seconds so it doesn't have that new candle look. If you don't have a lighter handy, just use a magic marker or Sharpie on the wick to give it a "burned" look.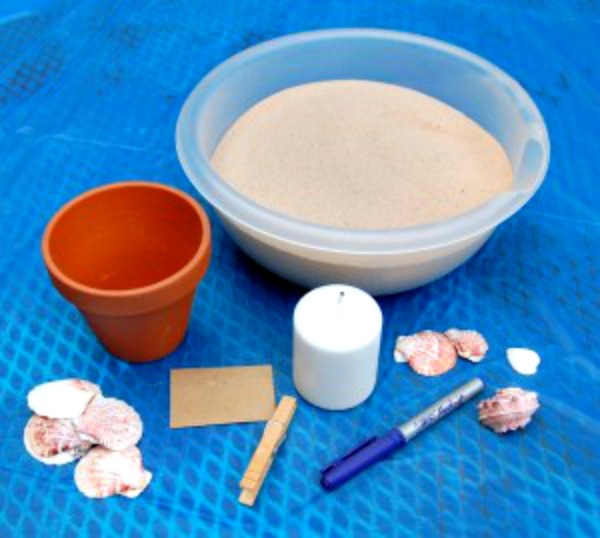 Cut a piece of brown craft paper approximately 2" x 2" and write the name with a marker. Clip this with a regular clothes pin and place it on the edge of the pot.
Fill in the around the edges of the candle with a variety of shells.
SAND FILLED VASE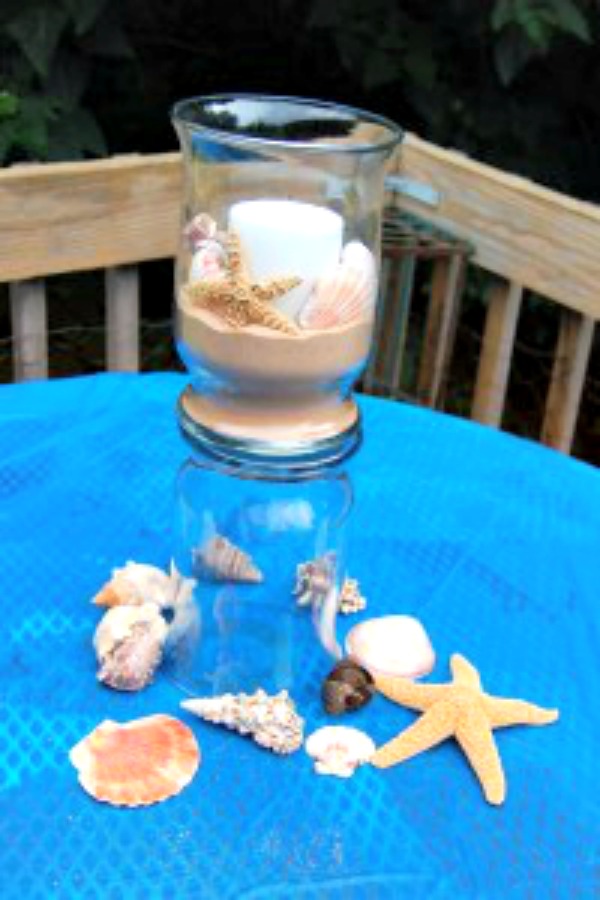 Using two matching vases, turn the first one upside down and glue the other one, right side up matching the bases. I used a low-temp glue gun because by doing this, they could be taken apart later if needed. **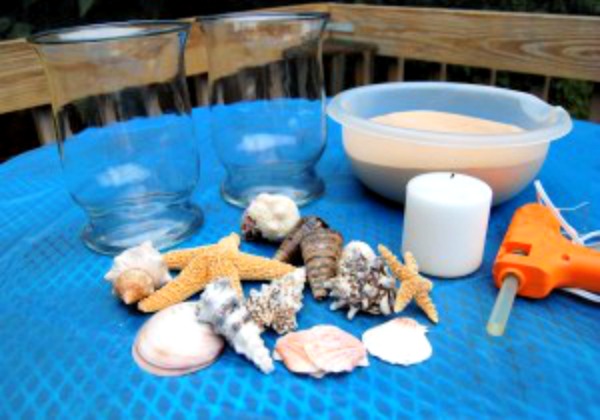 Fill about 1/3 full with sand and place your candle down in the sand to set. I used a 3″ pillar, but depending on the size of your vase, this can vary. Fill in around the edges with all colors and shapes of shells.
Can you see this being done for other occasions? Remember that with doing this with taller vases, you do need to be careful that they aren't too skinny or it will make it not as steady to stay upright.
**To remove something glued together (glass items) with a low-temp glue gun, the easiest way I have found is to place in the freezer until it is very cold. CAREFULLY use a knife to pry them part. Go slow and easy so you won't crack your vases.
Play sand can be purchases at most hardware stores for about $4 for 50 pounds.
SETTING THE TABLE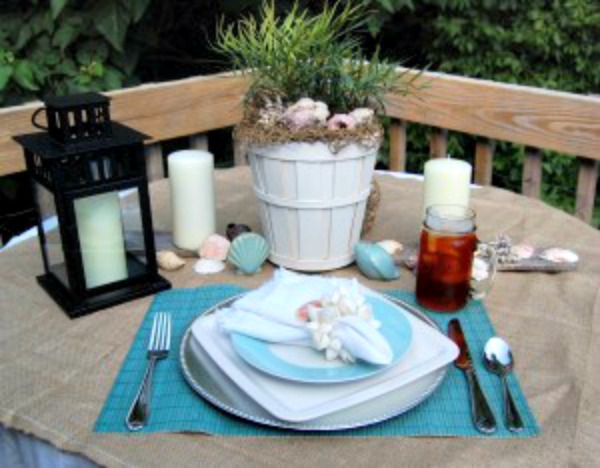 Set the table and pretend you are sitting beach side at one of those little local restaurants.
Layer your tabletop. Think sand. Start off with a linen or linen look tablecloth. One of my go-to ones is actually an old linen look curtain. Always be on the lookout at yard sales or thrift stores for your basic items like this, including white dishes.
Doesn't burlap have the color of sand? It's always great to use on a table, either as a full cloth or even just a runner. This can be picked up in craft and fabric stores at a great price. If the edges aren't finished, it will ravel, especially when washed. If this happens, just do a little fringing around the edges.
A placemat in a great color or even a wood tone and then a charger just keeps that layer look going.
Again, pull out any dinnerware with the soft colors. A set of white dishes are a staple for entertaining. You can always add your color with your accessories and centerpieces. Think about picking up a set of luncheon or bread plates in a color to add to your white dishes.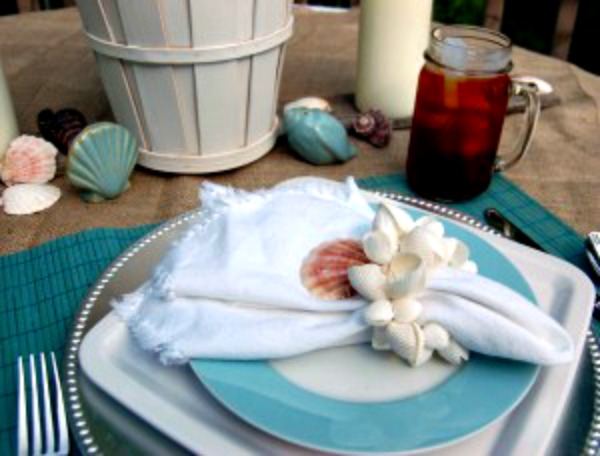 I added a simple shell napkin ring which I have had for several years. Tuck in another colorful shell just to add another touch of the coast to your setting.
TOUCH OF NATURE
A touch of nature is always needed to any table. Most think about buying cut flowers, but next time consider buying a plant which can then actually be used after your event.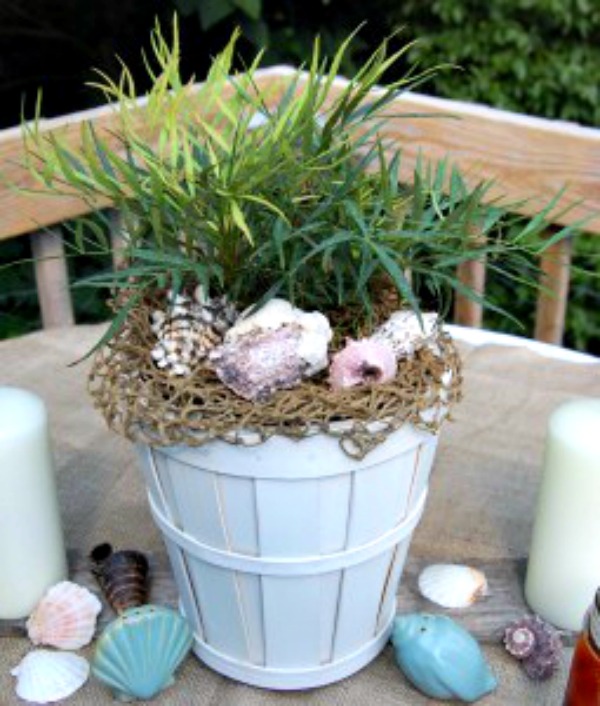 This is a Soft Caress Mahonia from Southern Living Plant Collection. Check your local garden centers for their wonderful plants. This one is actually for the shade and will bloom in the early spring and late summer.
To use, I left it in the plastic pot it came in and placed it in a wicker basket. I added shells around the top and fish netting to cover the edges of the pot.
Can't you feel that warm breeze and smell of sea salt now?
57a54dfb710bb5b4ad68a42d9cf271611da73b869fc4980bd1