Have you been noticing all the metals being used again in fall decor? I'm loving all things copper, and especially loving copper pumpkins for the fall. Just with a little paint, any pumpkin can add that copper color. I purchased some vintage Amber glassware a few years ago so this is perfect to go with copper.
You used to think of fall decor and you thought bright orange pumpkins.
Do you follow me on Pinterest? It's a great way to have these projects for inspiration later.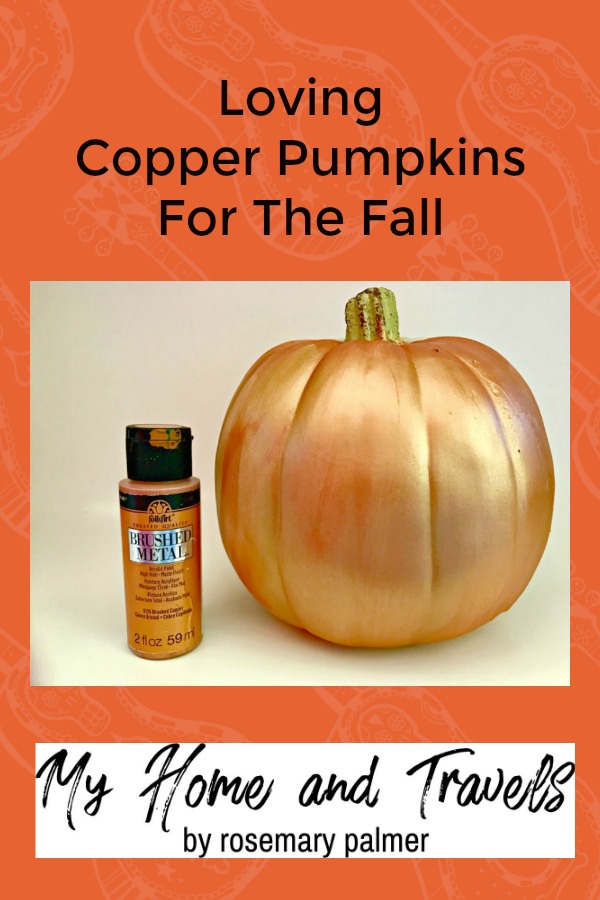 No more. As the saying goes, we've come a long way baby.
There are many sizes and colors available to buy at your local pumpkin patch or produce stand, but also there are so many faux pumpkins on the market. The faux pumpkins have really become popular in the non-traditional colors as well.
You will be seeing lots of shades of copper in my home this year for fall.
Please note – always use the type of paint for the surface you are painting. And as always, follow directions for painting and drying.
Copper Sample Board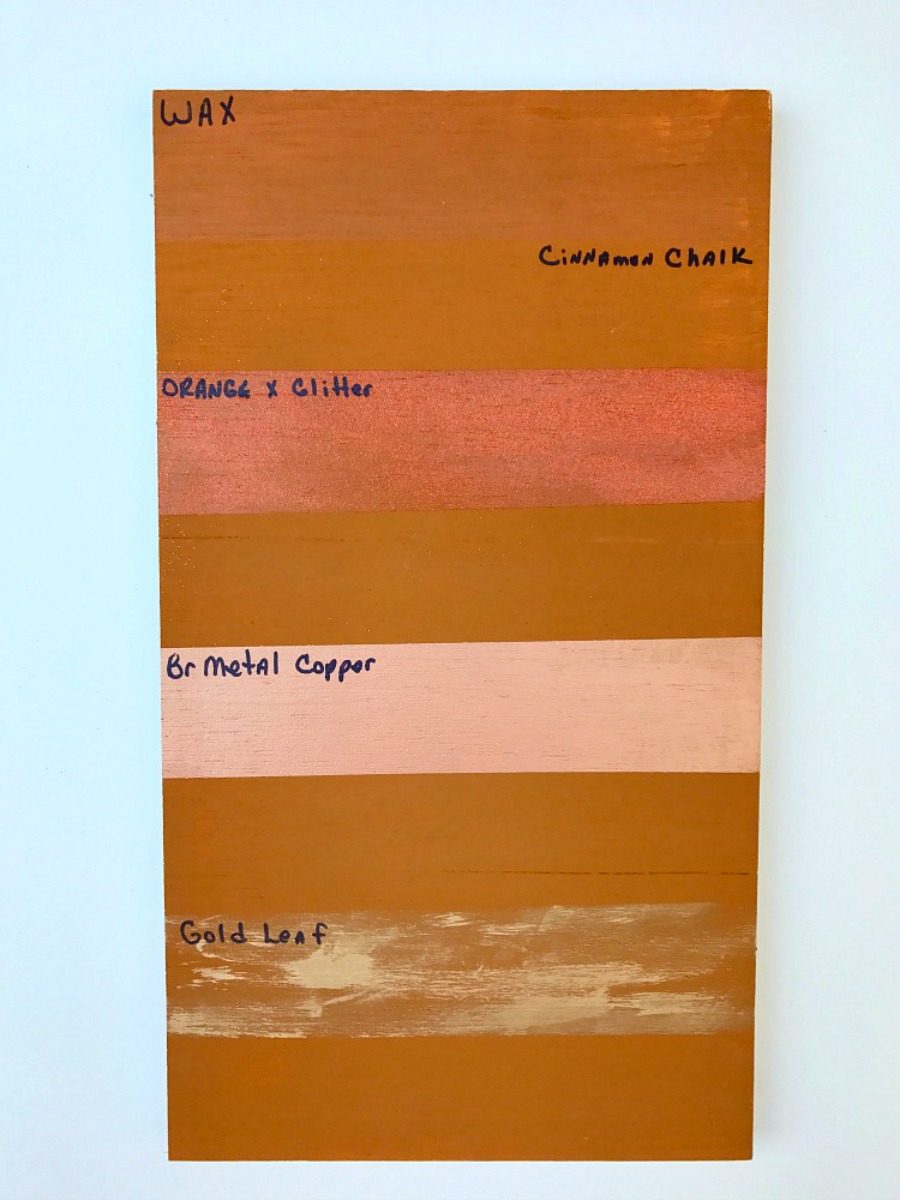 Something I like to do if I'm playing around with colors and different types of paint, is to create a sample board.
This board was painted with FolkArt Cinnamon Home Decor Chalk Paint, then taped off and finished sections with Home Decor Wax, Folk Art Extreme Glitter, Folk Art Brushed Metals, and Classic Gold Liquid Leaf. This is a great way to try your colors and finishes for any project you are doing.
Loving Copper Pumpkins For The Fall
Copper Gourds
These came from a basket of things at a yard sale, but can be found at any craft store or Dollar Tree.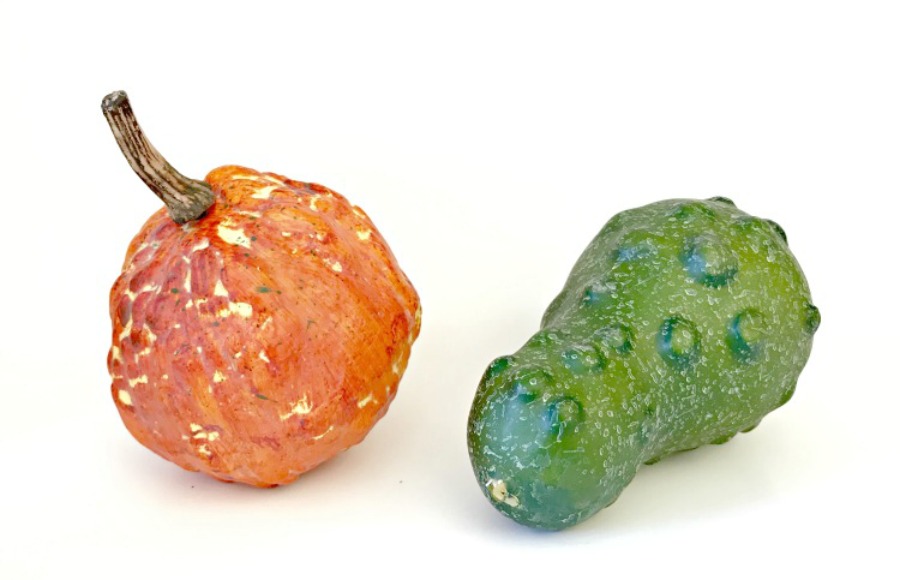 To achieve a couple different looks, both were given two coats of FolkArt Cinnamon Home Decor Chalk Paint.
Although they started off in different colors, by giving them two light coats, they come out with a uniform look.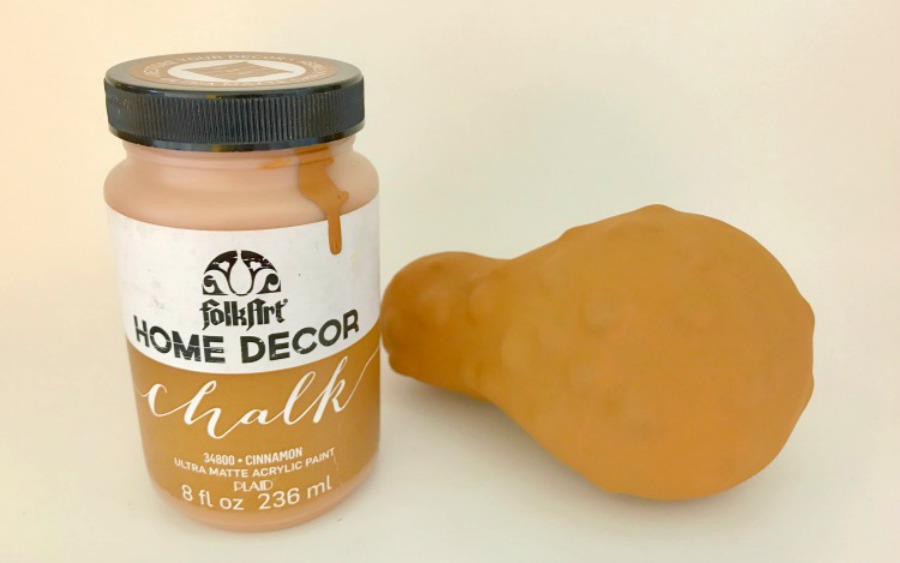 Extreme Glitter – Two coats was added, allowing to dry between each. I didn't get quite the overall glitter look I was expecting from the paint, but it does have a glittery effect. It doesn't rub off as using regular glitter tends to do so that's a plus.
Brushed Copper – I'm loving this paint. After two coats coats was added, allowing to dry between each, I knew this was becoming my new favorite paint. You will see a total different look on a pumpkin below.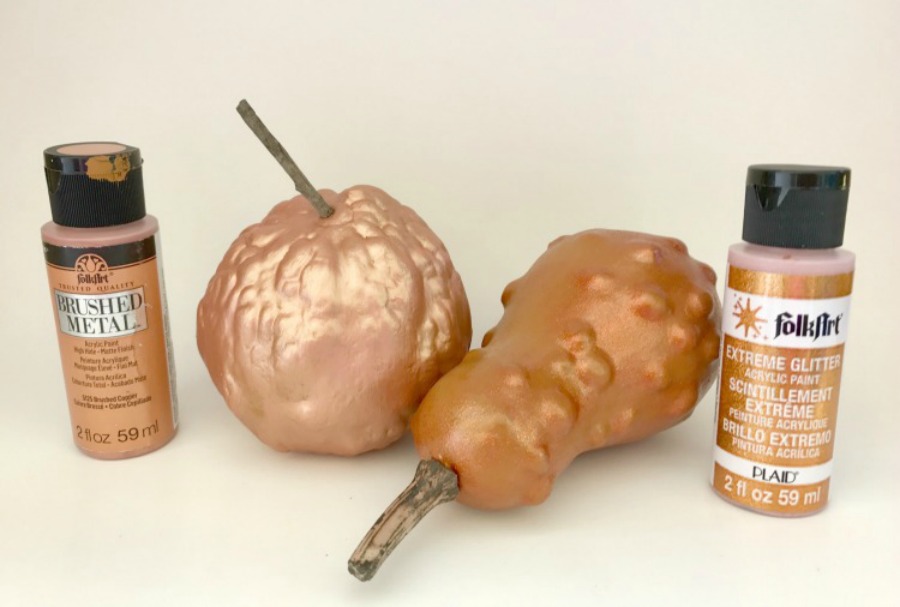 Brushed Copper Pumpkin
As I said, this is becoming my favorite paint at this time and I'm LOVING how this pumpkin turned out with brushed metal in copper.
By painting over the light faux pumpkin with just two light coats, it produced a more true copper color than above going over Cinnamon Chalk paint. If you start to paint anything and the original color is either a lot darker or brighter than the finish you are going for, consider a coat or primer or gray paint.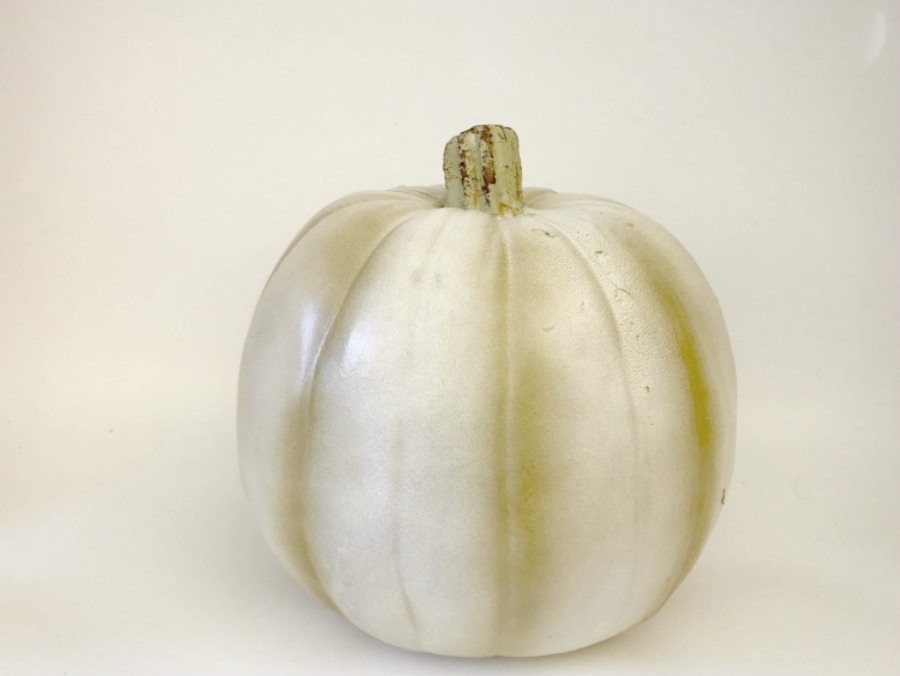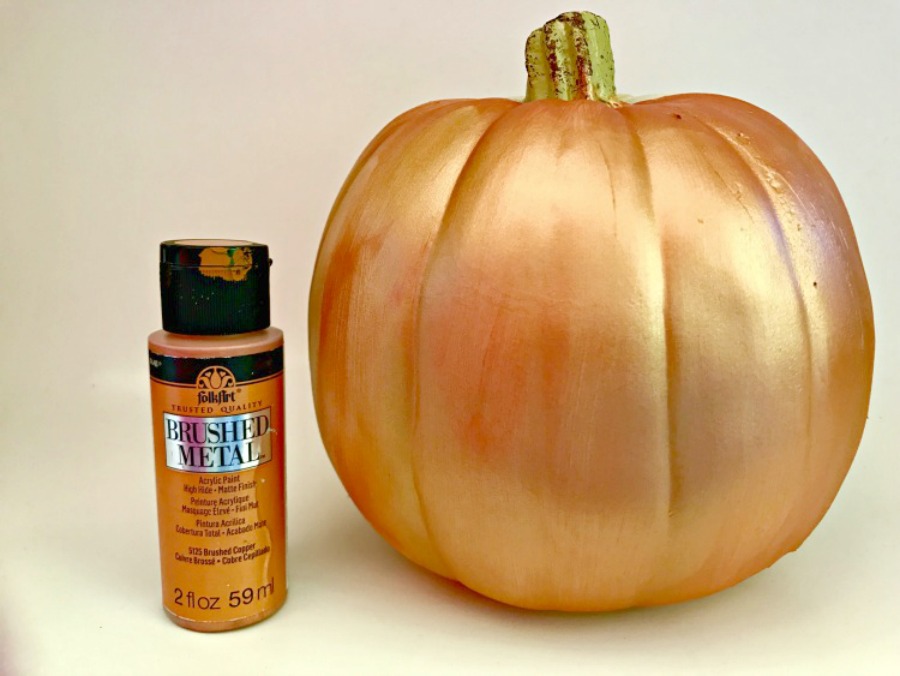 I'm debating on painting the stem, or replacing it with wood. What do you think?
All Over Glitter
This was done a couple years ago when I was doing shades of golds, it's one of the $1 pumpkins from Dollar Tree.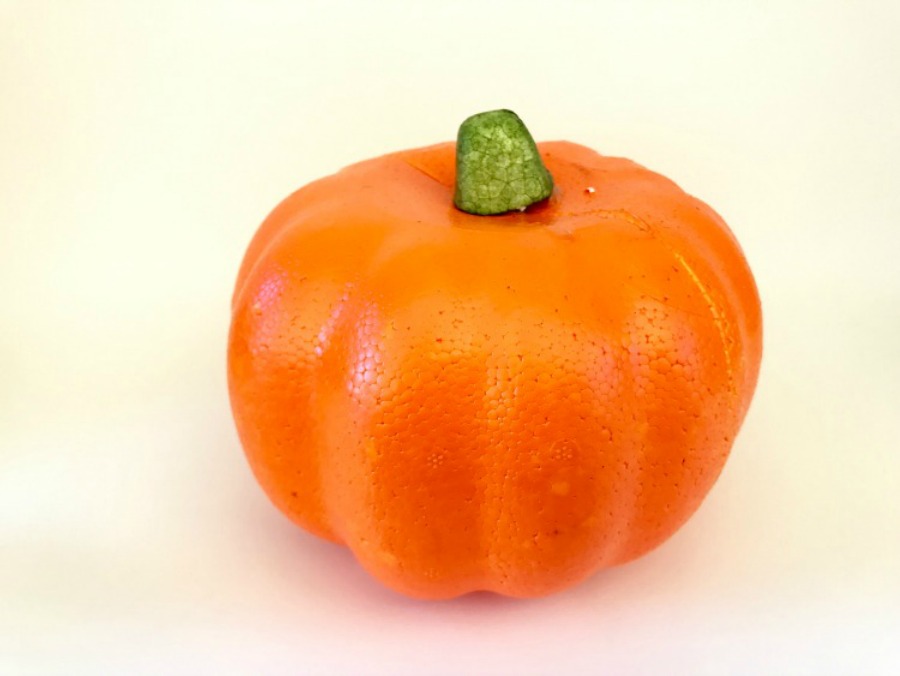 I don't have the exact shade of glitter, but I think it was an ultra-fine by Martha Stewart. It was attached using a heavy coat of Mod Podge.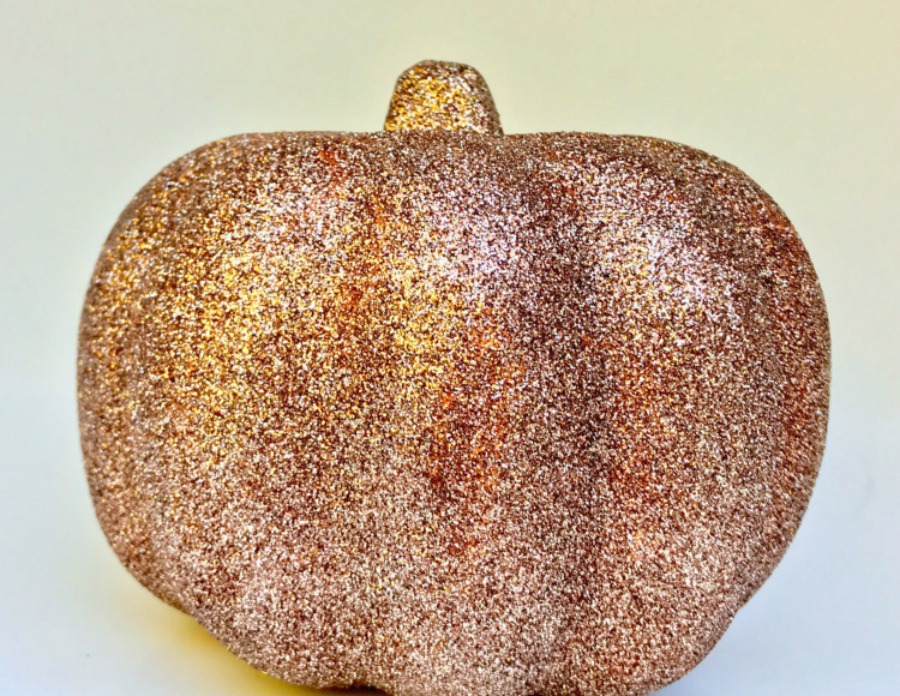 As I noted above, the glitter can come off slightly when rubbed, but could always be sprayed with a sealer to prevent this.
Always using the right tools will give your project better results. Don't use cheap paint brushes and expect great results. If painting around the stem, a small angled brush gets into the grooves well. A larger, flat brush can give more coverage with each stroke.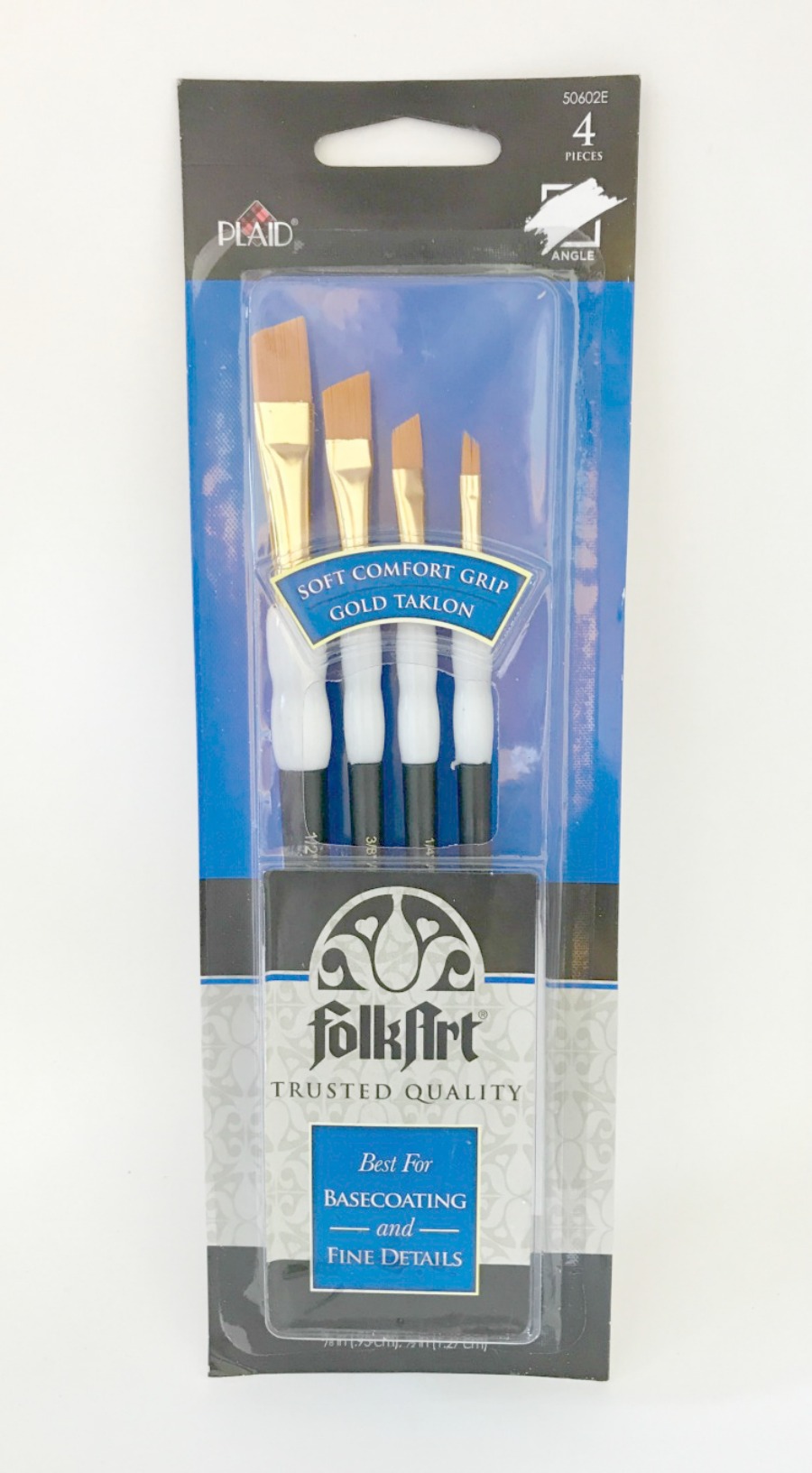 Now do you want to use some copper?
If you look at Plaid Online, you will find additional projects and ideas on how to use all of these paints.
Here's a link to "No Plain Pumpkins" for a few more paint ideas, and it includes a link to an older TV segment.