More Kid Friendly 4th of July Treats
Just in time, MORE kid friendly 4th of July treats, or a kid of any age. Who doesn't like ice cream? With just a few items, you can take a simple ice cream sandwich or cone from plain to dazzling. Seems like adding sprinkles to just about anything makes it a more fun treat. And adding red, white, and blue, now it's ready for the 4th of July.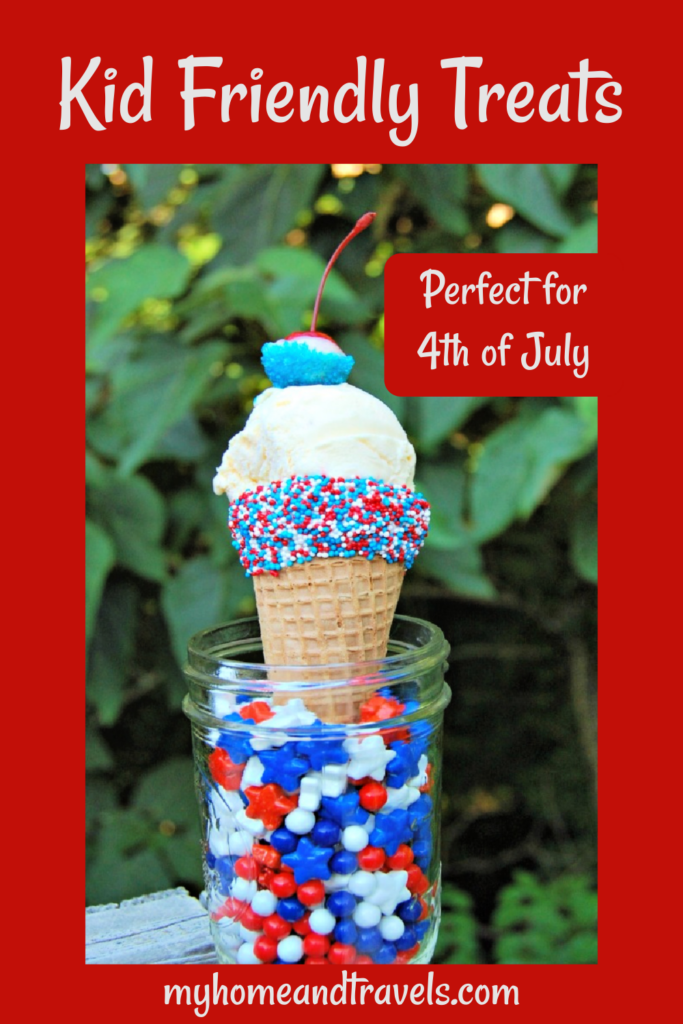 Anytime you can get your kids involved, especially in cooking, makes them proud of what they did. And maybe they will tend to eat it more too. No cooking involved so this is perfect for kids to make but be careful when melting chocolate for the ice cream cones.
How to Make More Kid Friendly 4th of July Treats
ICE

CREAM

SANDWICHES
What you need:
Your favorite ice cream sandwiches – mini sizes are great for this
Sprinkles
Craft sticks – for popsicles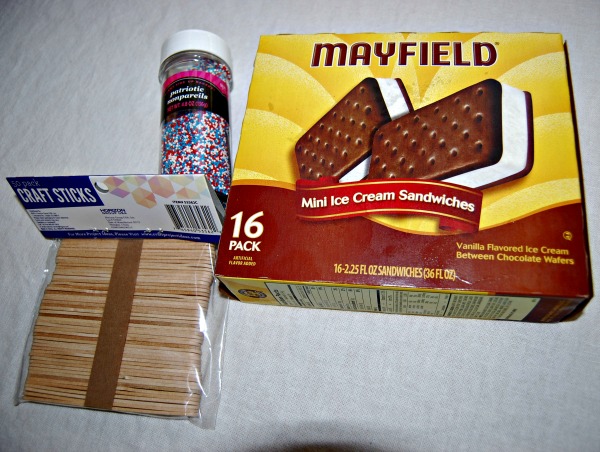 Keep your ice sandwiches frozen until ready for use as they tend to thaw rather quickly. I only pulled one out of the freezer at a time, then quickly put it back in the freezer after sprinkles were attached.
Pour the sprinkles a dish which is long enough for the size of your ice cream sandwich.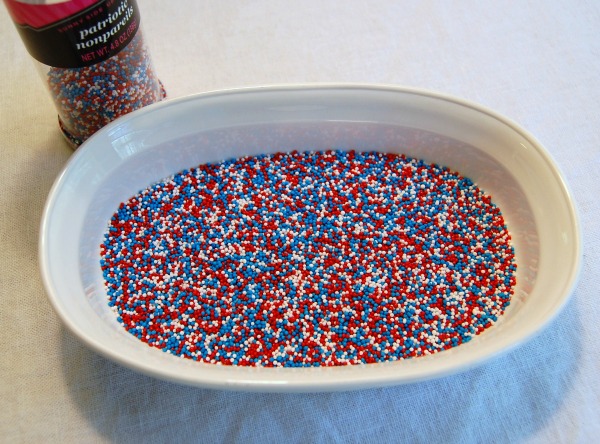 Unwrap and dip each side into the sprinkles. Usually the ice cream will soften enough around the edges for them to attach. Do all four sides. You can always add a few more sprinkles by hand if needed.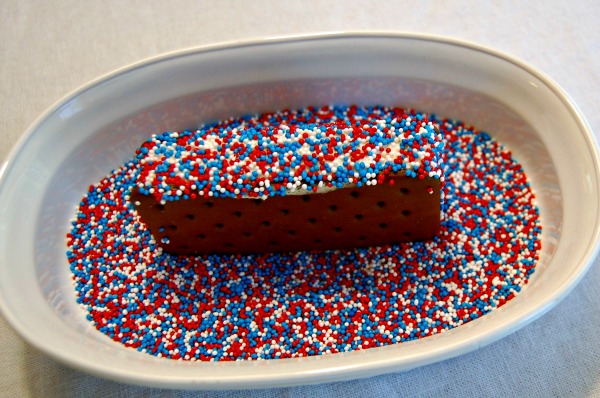 **This is the time if you want to add a stick to one end to make it a popsicle.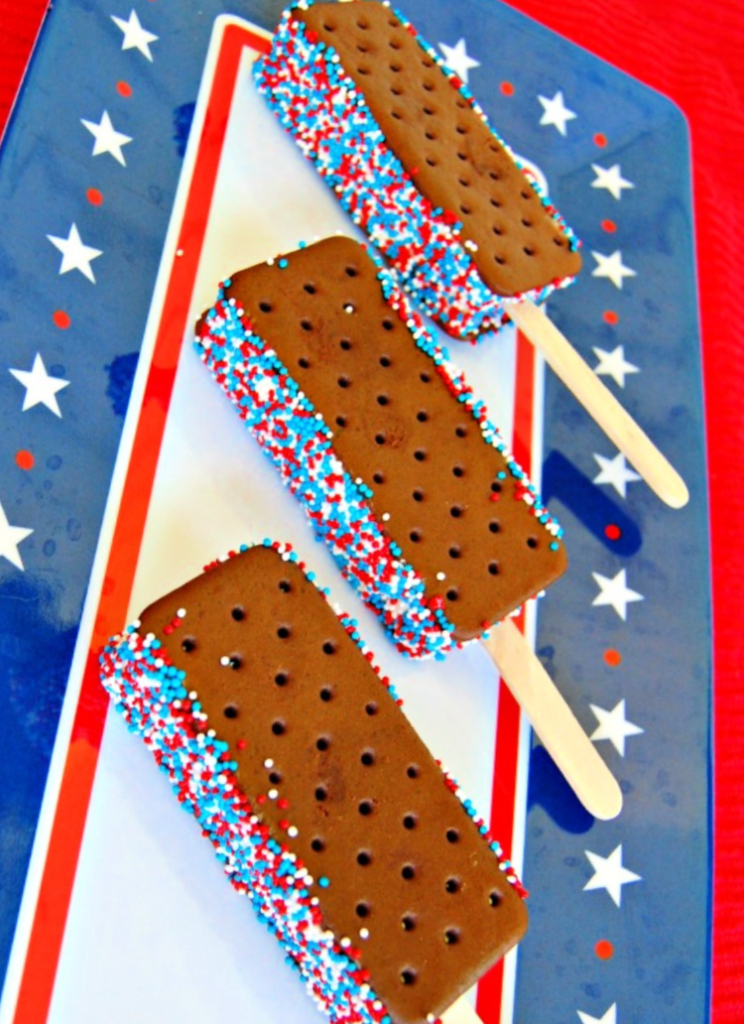 Return to freezer immediately.
If you are making these ahead of time for a party, place them in a single layer on a baking sheet which has been covered in parchment paper. Cover with plastic wrap. Remove just before serving.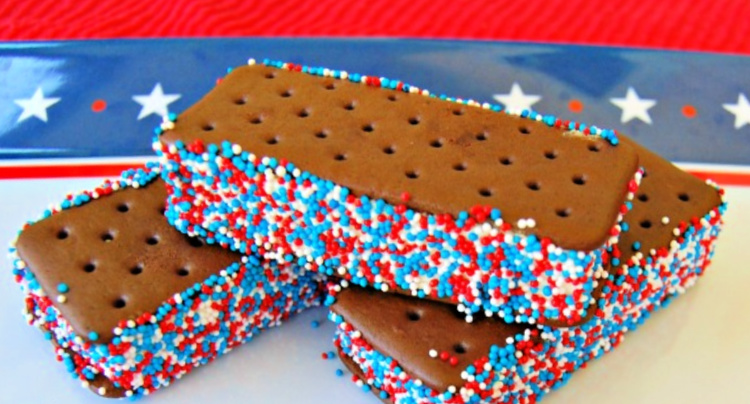 Sprinkles, sugars, and candies are available in so many colors, this could be adapted for any occasion or party.
ICE

CREAM

CONES
Make your ice cream cone go from ordinary, to extra-ordinary with just a couple simple steps.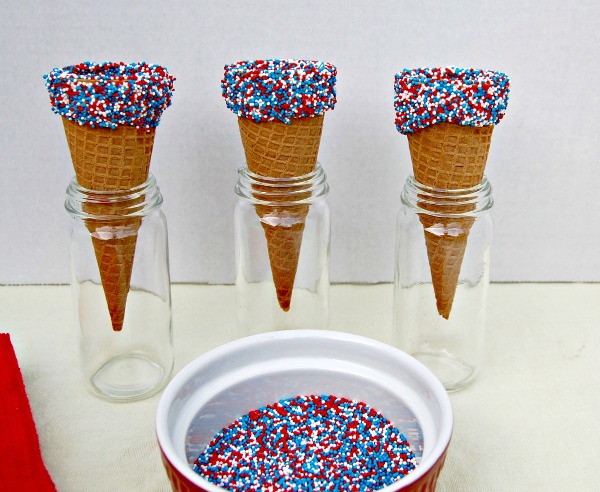 What you need:
Candy coating – I like to use Wilton Candy Melts
Sprinkles
Ice Cream Cones
Container for holding cones to dry
Because you want the cones to dry upright, find something to use for this before you start. I happened to have some empty spice bottles which were the perfect size. If you can't find anything, pour enough sugar in a jar or bowl to hold your cones upright.
I like the look of a sugar cone. Hint – to prevent melting drips, place a small marshmallow in the bottom of the cone before you put your ice cream on top. Some companies even have colored cones.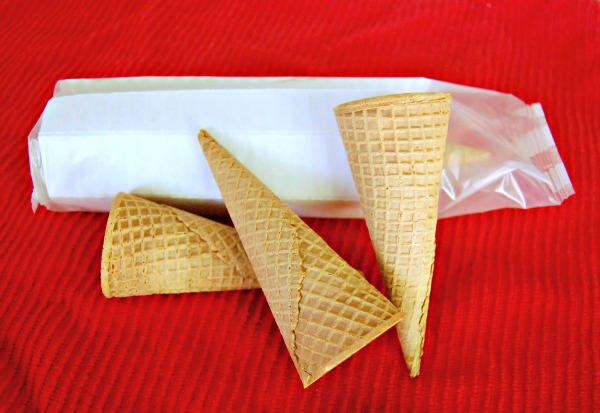 As with any project with kids, safety is always first. The melting of this chocolate needs to be supervised especially close.
I like to use Wilton Candy Melts as they have a smoother finish than some other brands. My preferred way of melting is over a pot of simmering water. There are instructions on the bag if you prefer the microwave method.
Place the wafers in a heat proof bowl and place over the simmering water, stirring until all is melted and smooth. Take special care to not let any water get in your chocolate as it can cause your chocolate to start hardening or cause a streak color.
Carefully remove the bowl of melted chocolate from the pot and stir well.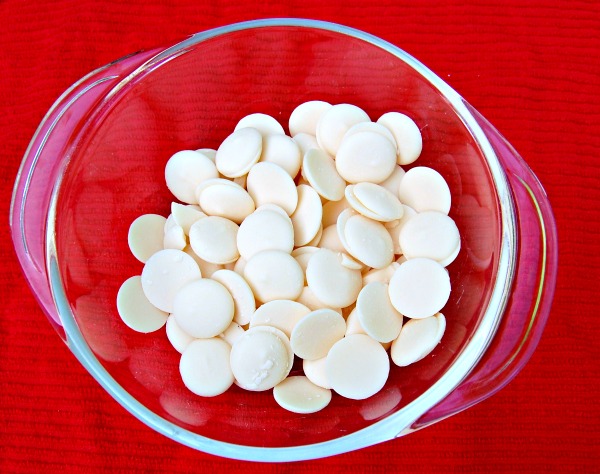 Dip the tops of the cone into the melted chocolate. I did about an inch. Gently shake off excess or use a knife to smooth.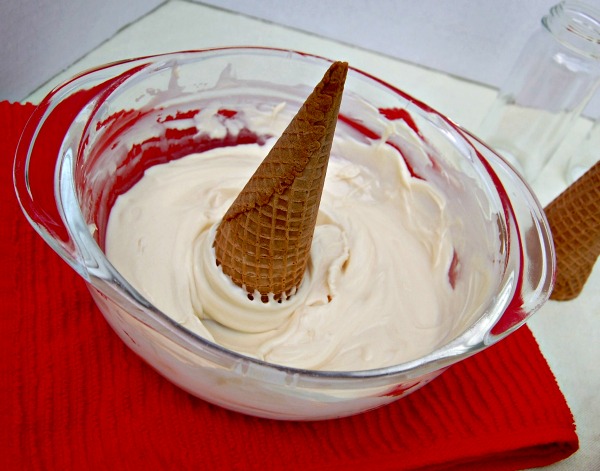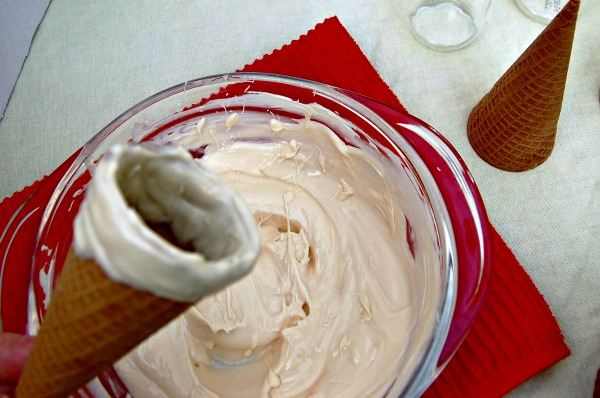 Immediately dip this into the sprinkles, rotating to get complete coverage. You can never have too many sprinkles.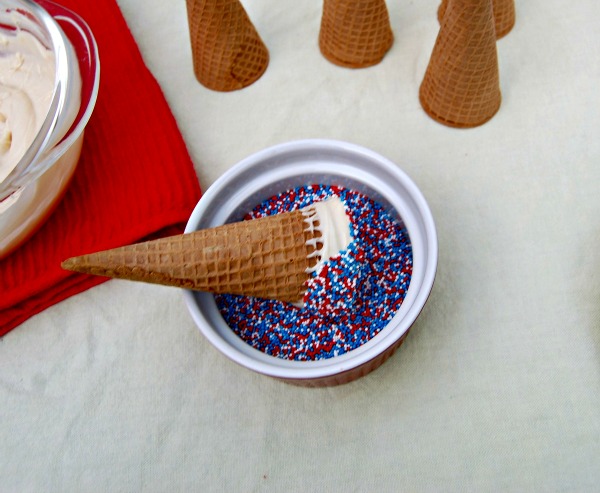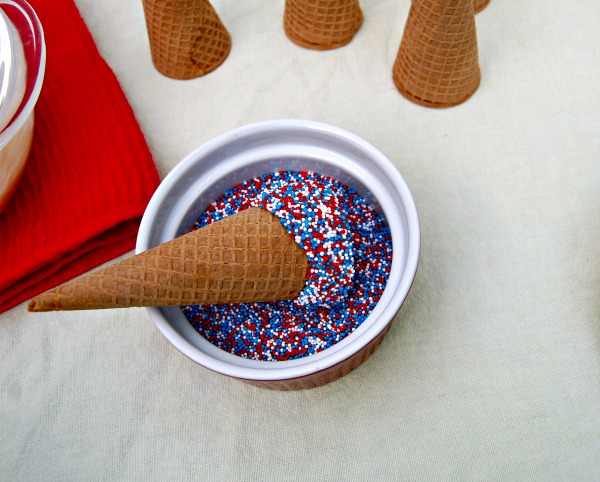 Set upright to dry. Depending on how thick the coating is, the dry time can vary. To speed up, these can be placed in the refrigerator or freezer for 10 – 15 minutes.
These can be made 3 – 4 days ahead of time and stored in an airtight container.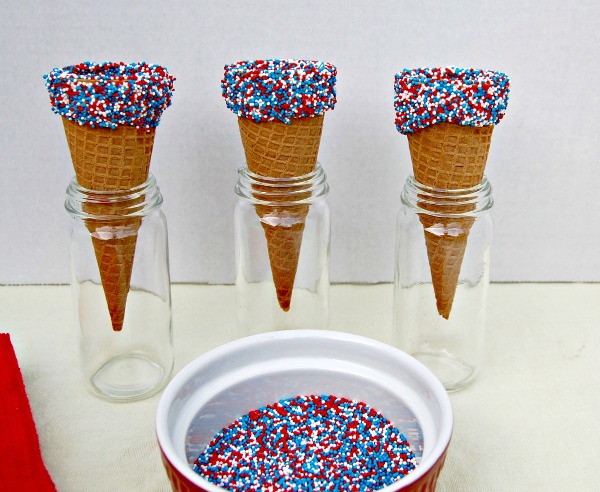 Serve with your favorite ice cream or frozen yogurt. I added one of the SUGAR DIPPED CHERRIES on top. For individual servings, these have been placed in a small jar of assorted candies. Bag the candies up for a treat to take home.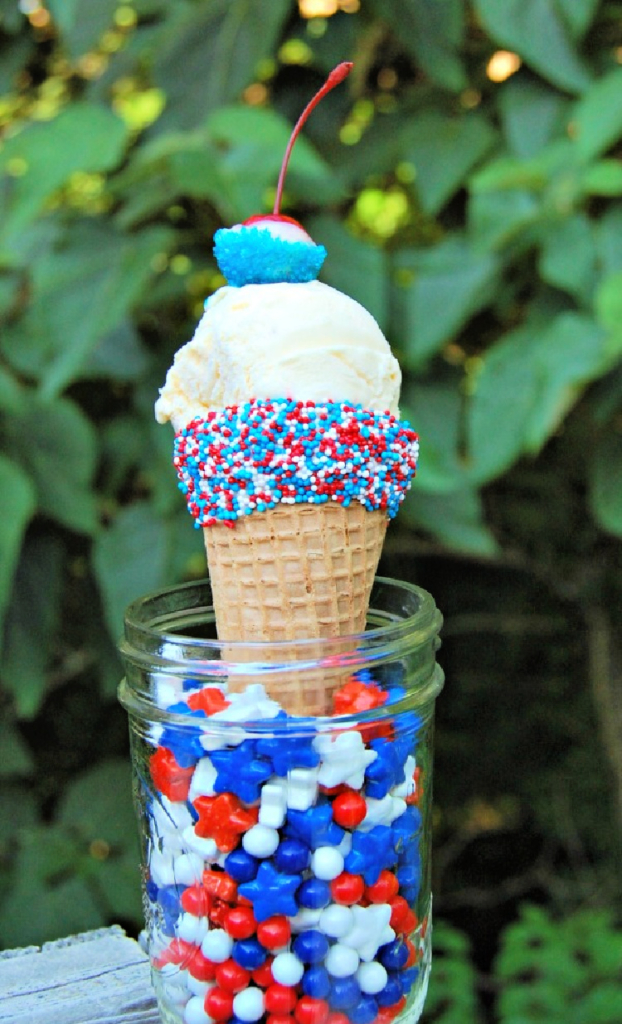 As with these other treats, use a variety of colors to customize it to match your occasion or party.
Have a safe and Happy 4th of July.
Want to know how to make the cherries – find it here.
More ideas great for the 4th of July or the summer:
I've included affiliate links to Amazon for you to find some products easier. I may receive a small commission, but the price is the same for you. It just helps my blog out.
Happy Travels,
Rosemary