It's pumpkin time in Tennessee – well really, everywhere. If you're looking for some delicious pumpkin recipes for dinner, you've arrived at the right place. Not only can you eat these recipes for lunch or dinner, but they're totally tasty as leftovers as well. These savory pumpkin recipes for dinner should be added to your recipe list.
Do you follow me on PINTEREST? Pin this to boards such as pumpkin, fall recipes, soups, desserts, etc.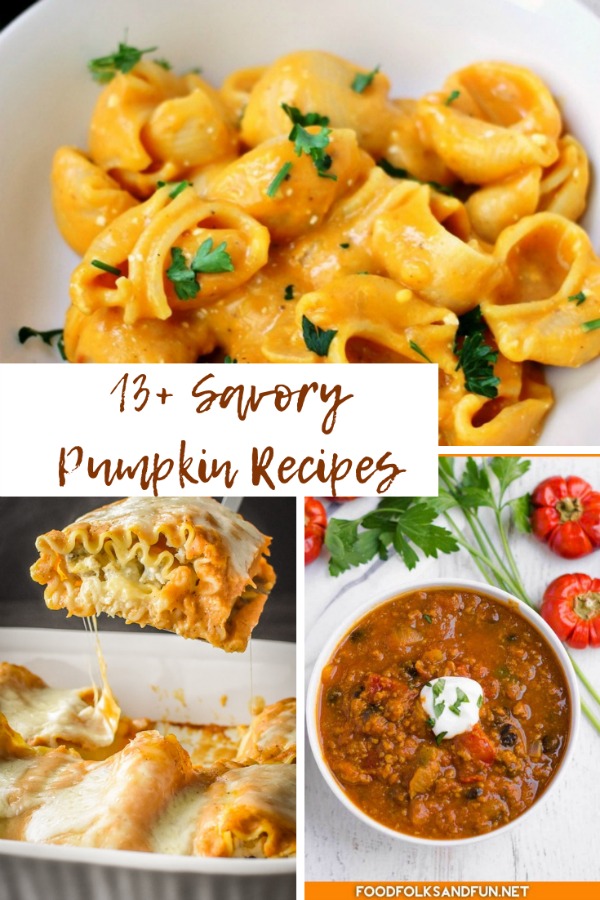 Grab your plate and get ready to fill it full. These are some of the best pumpkin recipes out there! I know that once we make these in our house, it's guaranteed that I'm going to be filling my plate multiple times.
Perfect for the fall weather, these simple pumpkin recipes are ones that you can easily enjoy for the next several months.
13+ Savory Pumpkin Recipes For Dinner
Pumpkin Sausage Lasagna Rolls by The Foodie and the Fix
One Pot Cheesy Pumpkin Pasta by Domestic Superhero
Pumpkin Dinner Rolls by Tastes of Lizzy T
Vegan Pumpkin Lasagne by Elephantastic Vegan
Pumpkin Bean Dip by Mom Foodie
Paleo Pumpkin Soup by Confessions of an Overworked Mom
Pumpkin Sausage Pasta by Creations by Kara
Vegan Pumpkin Nuggets by Elephantastic Vegan
Chipotle Pumpkin Turkey by The Foodie and the Fix
Pumpkin Chili by Food Folks and Fun
Savory Pumpkin Soup by Upright and Caffeinated
Loaded Savory Pumpkin Cornbread by Who Needs a Cape
Pumpkin Sage Scones by Housefull of Homemade
From pasta to scones, these simple pumpkin recipes need to be on your radar. Some of them are perfect for a lovely fall night in, but the others on the list are great to share with all your family and friends.
Don't miss out on the chance to create and eat these wonderful fall dinner ideas. Not only are they crazy simple to do, but you're really going to love the pumpkin taste and flavor. After all, this time of year, there's really no way to ever have too much pumpkin, right?
Do you have a favorite pumpkin recipe that you're excited to try from the list above?