Day Sixteen of Twenty Five Days of Christmas. Thinking ahead to be ready when you get in the organizing mood in the new year. These DIY Storage Ideas for your craft room are a simple way to get organized with ease. It's no secret that the craft room can become quite cluttered…but these simple de-cluttering tips can help. With New Years just a couple weeks away, you know everyone starts more organizing so get these ideas in the plans now.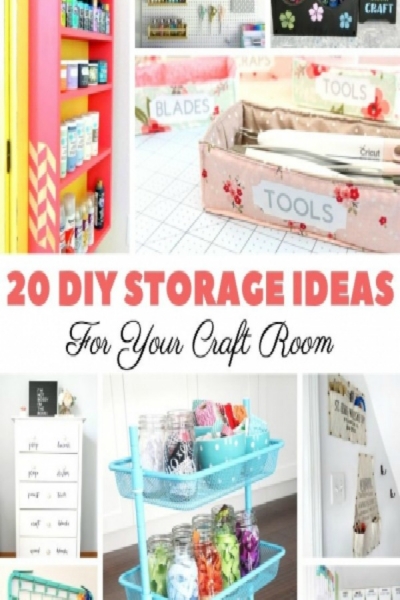 I'm always looking for ways to organize with ease. And let's be honest here…my craft room looks like a tornado hit it on any given day. This year is the year that I'm going to conquer the clutter and tackle the mess. Day by day, I know I can get my craft room back up and running in an orderly fashion.
If you're looking for some super simple DIY storage ideas to take your craft room from cluttered to clean, you're going to love this variety of options!
20 DIY Storage Ideas for your Craft Room
As you can see, there are so many different projects and DIY ideas that you can easily do.
Instead of looking at your craft room like it's a dreaded area, make it into an area that you know you're going to want to be creative in.
Just by implementing a few of these simple DIY storage ideas, your craft room can be 100% functional in no time at all!
Do you have a favorite DIY storage idea from above that you can't wait to start?
Watch soon for a master bathroom closet makeover soon. Do you hate wire shelves?