Day Seventeen of Twenty Five Days of Christmas. Everyone loves the taste of caramel, right? But where else can you get 14 decadent caramel desserts for any holiday all conveniently located in one place? Once you see all these recipes, you're going to be eating caramel for weeks!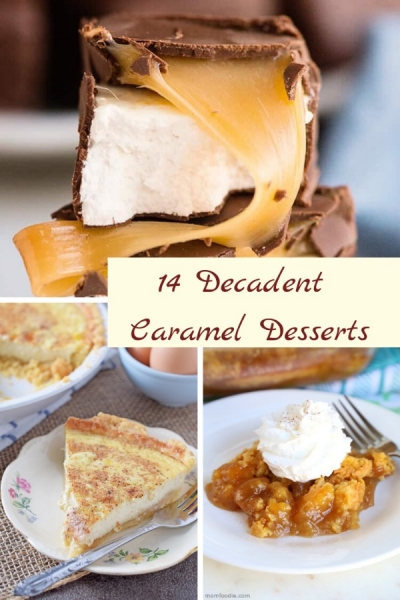 I love Caramel and have been know to open a jar of Caramel Sauce and eat it right out of the jar. Anyone else?
There's so much more that you can do with caramel than just drizzle it over food. And while that's delicious as it is, why not give some new caramel recipes a try? You're going to be head over heels for these simple caramel desserts…all are easy, doable and totally tasty!
14 Decadent Caramel Desserts
Here are some of the best caramel desserts that you can easily whip up in no time at all! Kick off fall with some of these simple caramel recipes.
Salted Caramel Banana Cream Pie by Centsless Meals
Cream Cheese Caramel Apple Bake by Julie Measures
Caramel Toffee Ice Cream Pie by Ashlee Marie
Salted Caramel Chocolate Shortbread by Joyous Home
Caramel Spice Poke Cake by Spend with Pennies
Caramel Pumpkin Cheesecake by Stef's Eats and Sweets
Caramel Dip by Julie Measures
Caramel Apple Dump Cake by Mom Foodie
Caramel Cake by Grandbaby Cakes
No Bake Chocolate Caramel Pie by Creations by Kara
Caramel Custard Pie by Adventures of Mel
Caramel Pecan Cheesecake Dip by My Creative Days
Caramel Marshmallows by Ashlee Marie
See how versatile caramel can be? It can be the star of cookies, dips, and even cake, too! The next time that you're caramel taste buds are kicking, you need to try one (or all!) of these delicious caramel recipes.
And why not go big? Create a bunch of these recipes and have an epic caramel taste off. Invite your family and friends to join in on the taste testing fun!
Do you have a favorite caramel dessert that you're excited to make from the list above?