Even if you don't live near the water, a little coastal decor will bring those happy memories of the beach to your home. This Coastal Monogram on Canvas With Seashells is the perfect way to add a touch of this.
Add this to your Pinterest boards.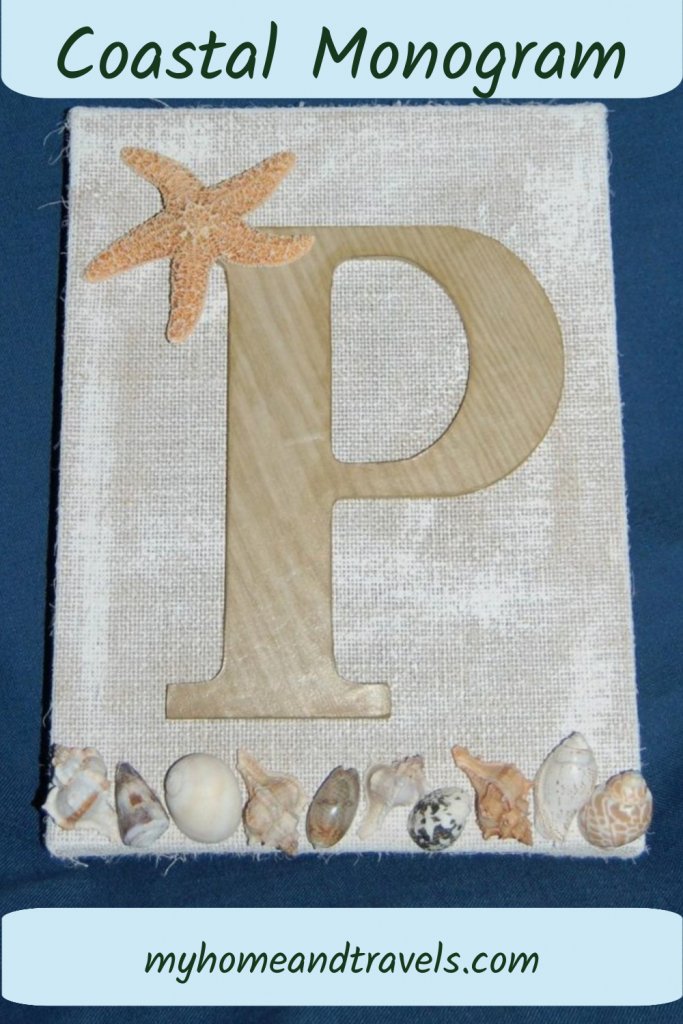 Where do I get seashells?
If you don't have seashells you have collected, you can find these at many stores such as Michaels or on Amazon – see link below for many of these supplies. And if you can't find pretty ones to pick up along the beach, just visit one of the many gift shops and you will find a large variety to choose from.
What I need to make the Coastal Monogram on Canvas With Seashells
Here's what I used, but you may have things on hand or want to go with a little different color.
Burlap canvas – pick a size which fits your space
scrapbook paper
Mod Podge
Sea shells
Sponge brush
Paint brush
Wooden letter
Star fish
Tim Holtz Distress Paint
Ryobi hot glue gun
I knew I didn't want to leave the burlap as is. I used white acrylic paint and did a dry brush method over most of it, plus using the bristle brush to actually scrub the paint into areas to give it a more covered look, but not a solid cover.
While this was drying, I painted the edges of my "P". The good thing about acrylic paint is it will almost dry immediately so not a lot of time to wait.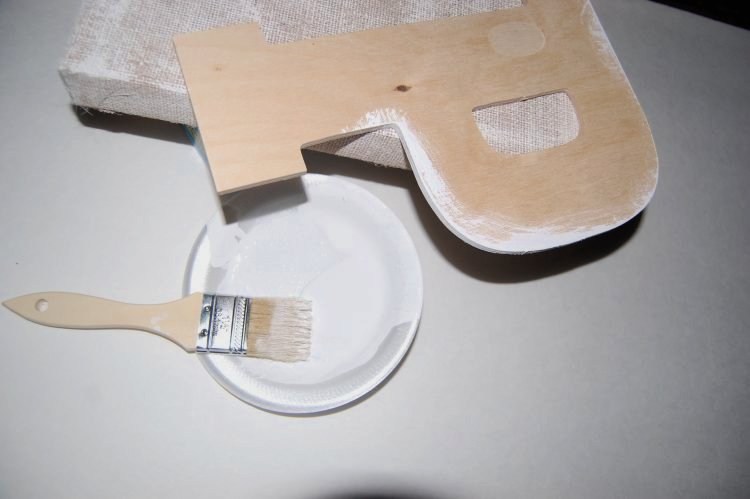 How to trace your monogram
After this dried, I traced my "P" onto the reverse side of the wood look scrapbook paper I had selected. Make sure you turn the letter over so you will get it right side up. Since I knew I was going to sand the edges of the letter for a little distressed I made my lines about ¼" larger than the letter.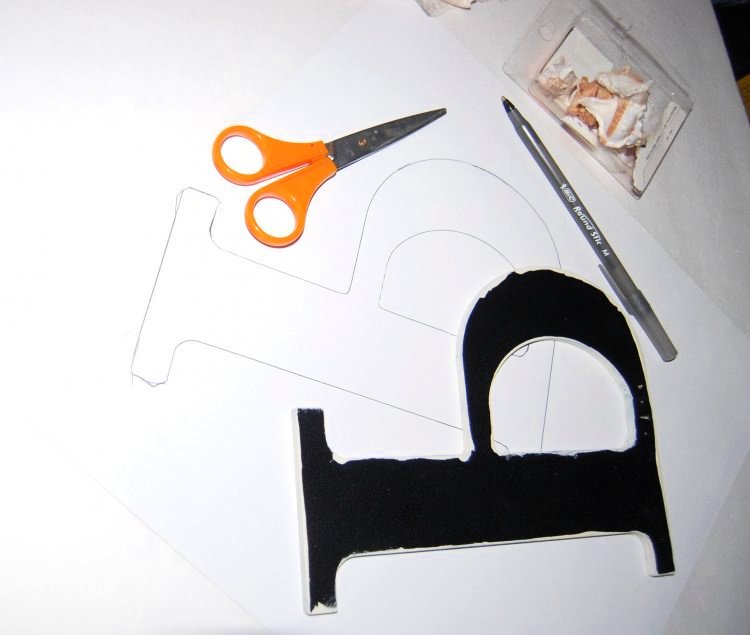 After cutting out my letter, I used Mod Podge to adhere it to my letter. Make sure all of the surfaces are covered. After placing my paper on the letter, I used an old gift card to smooth it out and avoid air bubbles. Drying time on this will have a lot of factors depending on how much product is used plus the humidity and temperature.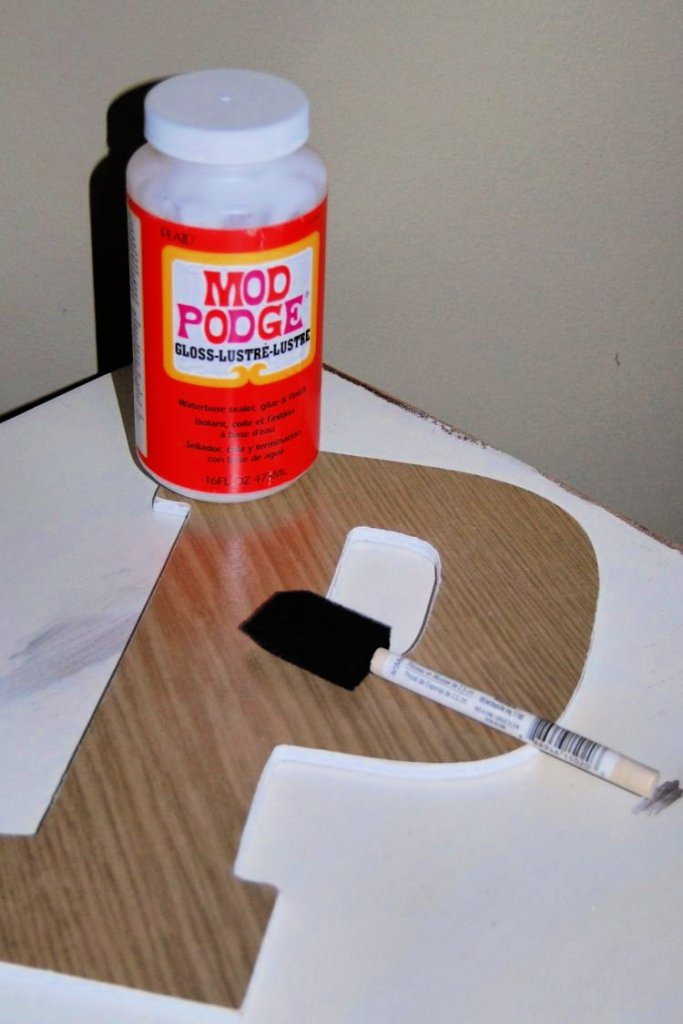 I prefer Matte finish, but gloss was all I had on hand, so that's why I used it. Using what you already have saves so much money and time on projects.
After the Mod Podge dried, I used sand paper in a downward motion on the edges which will trim the paper away from the edges. Using one of my favorite products is the Tim Holtz Distress Paint. This has a sponge applicator (dabber) which makes application easy. If you get a bit too much on the edges, you can immediately wipe any excess off with a dry rag, but remember this will dry pretty quickly.
Now to finish it up – decide your layout, then get out your hot glue gun and attach the sea shells across the bottom, then my "P", and lastly the starfish in the corner.
Think about something like this for the kids to make as a memory for their beach trip.
This is lightweight enough to hang with 3M Command Strips, or lean on an easel in a bookshelf or your mantel.
I even had a thought of adding jute string to it and hanging on my front door. This is a place where you could add a 3M Command Strip to not let it "bang" when the door opens.
Hope you have fond memories of the beach or collecting shells.
Here's an idea for dry brushing which always adds a lighter touch.
HOW TO DO A DRY BRUSH TECHNIQUE
Here's some links for my supplies. I love buying a few things in bulk to have on hand so when the crafting mood strikes.