Now that Spring has arrived that means that Easter is just around the corner and if you are like me, your home could use a few new items.

I'm so happy to be a part of this group of talented bloggers giving you some quick and easy craft and decor items which you still have time to do.
Mine is a dual design – Wood blocks which are reversible. SPRING & EASTER.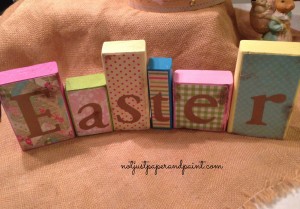 I hope you take a little time and get your craft on. I know some of you may still that "S" word on the ground, but with a few of these ideas, it will at least seem like Spring on the inside.