Dining at Antoine's in New Orleans
Earlier this year, a couple of my bucket list items got checked – attending the NCAA Men's Final Four Tournament and dining at Antoine's in New Orleans. Both rate as great experiences and would do again.
This being the third year to have tickets for the Final Four, anticipation was high for us to finally attend. I knew reservations for restaurants needed to be made early too. Planning a trip for an event like this takes that – planning. Antoine's, one of the oldest and most famous restaurants not only in New Orleans, but in the entire Southeast was booked for Sunday Jazz Brunch.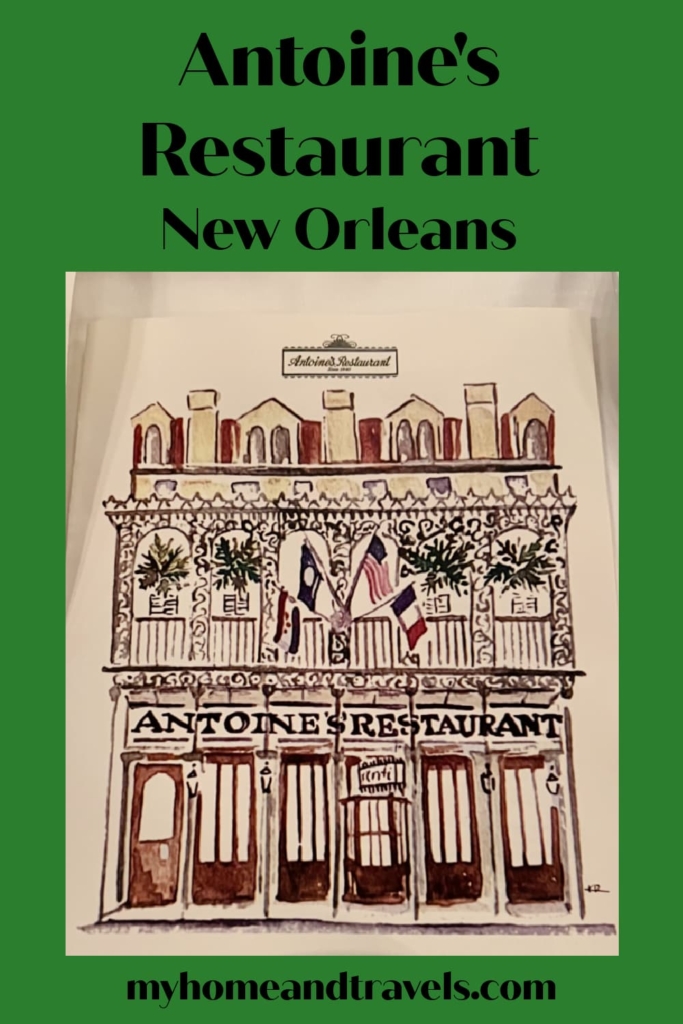 It was everything, and more, I expected. I left there stating "this was the best meal I have ever had" anywhere. It truly was. I'll share our meal later.
Reservations aren't required but highly recommended. There's always something going on in New Orleans so expect a crowd. Find a link here for information such as reservations, policies, and dress code. DINING AT ANTOINE'S
Dining at Antoine's in New Orleans
Part of what I enjoy about travel is not only seeing new sites and trying new restaurants, but also the history of where we visit. Another plus is meeting great people, such as Murphy and Meghan, our servers during our visit. When dining at a restaurant like Antoine's you expect impeccable service and that is what we got. Any question we had or any request, was cheerfully and quickly answered or taken care of.
It wasn't until the end of the meal, we found out that Meghan was Murphy's daughter. Meghan in her second year and Murphy with over thirty years of service, are just two of the reasons you will enjoy your dining experience. And yes, it's an experience, not just a great meal.
There are many employees, who are now considered family, who have worked at Antoine's for decades and like Murphy, see the next generation of their own family become part of the history of Antoine's.
Front Dining Room
As you enter, there's a feel of formality and you know you are dining someplace special.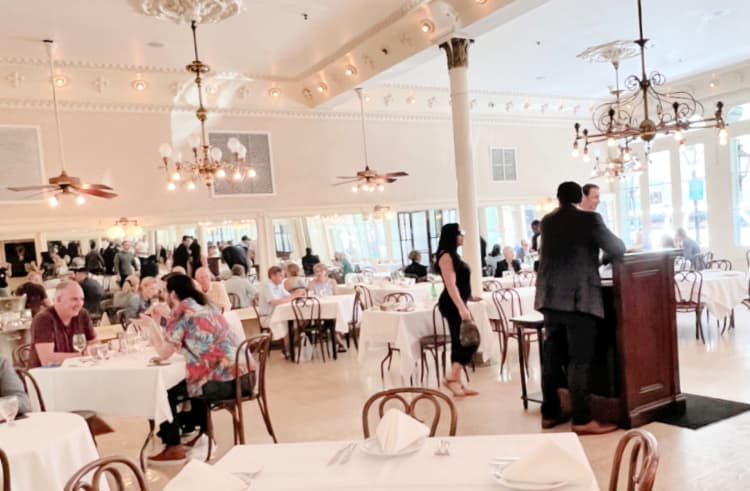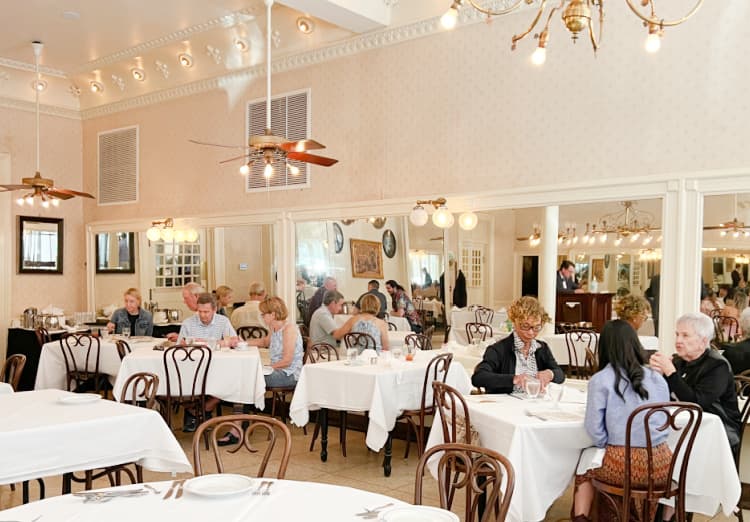 The History of Antoine's in New Orleans
It's still a family run business after all these years. For a full history, read about it on their website HISTORY OF ANTOINE'S.
Around 1840, a young Antoine Alciatore decided to open a restaurant that was destined to become one of the landmarks for quality food in all New Orleans. And not just in New Orleans, but when asked about favorite dining spots around the world, Antoine's is among those thought of.
At the age of 18, Antoine chose a spot on St. Louis Street to begin his business venture, sitting just a block from where the famed Antoine's sits today. The upper crust of society at that time was so impressed with the restaurant, it soon outgrew its original quarters and had to move to it's current location.
Antoine forever remained a Frenchman at heart. In 1874, when he realized his health was declining, he told his wife he wished to return to France to die and be buried there, which is exactly what he did. As he left New Orleans, he dramatically stated to his wife, "we will not meet again on earth." He kept his promise and died within the year.
Antoine had a son, Jules, who had served as apprentice under his mother for about 6 years before being sent to France to pursue his own career and seek fame on his own right. He did return to New Orleans later to become head chef at what became known as the Pickwick Club around 1887. Shortly thereafter, his mother asked him to assume the head duties at Antoine's.
It was also around this time he created his own famed recipe, Oysters Rockefeller, so named for the rich sauce covering the oysters. The original recipe is, of course, a closely guarded secret, although many attempts have been made to duplicate it. I will admit I have never tried this dish, but on my next trip, it's a must.
Since 1951, the main dining room in the restaurant has not changed its appearance. During the winter in the 1950s, it's hard to imagine that the only heat in the dining room was provided by the gas chandeliers. The chefs were still using coal-burning stoves to prepare the meals for their customers.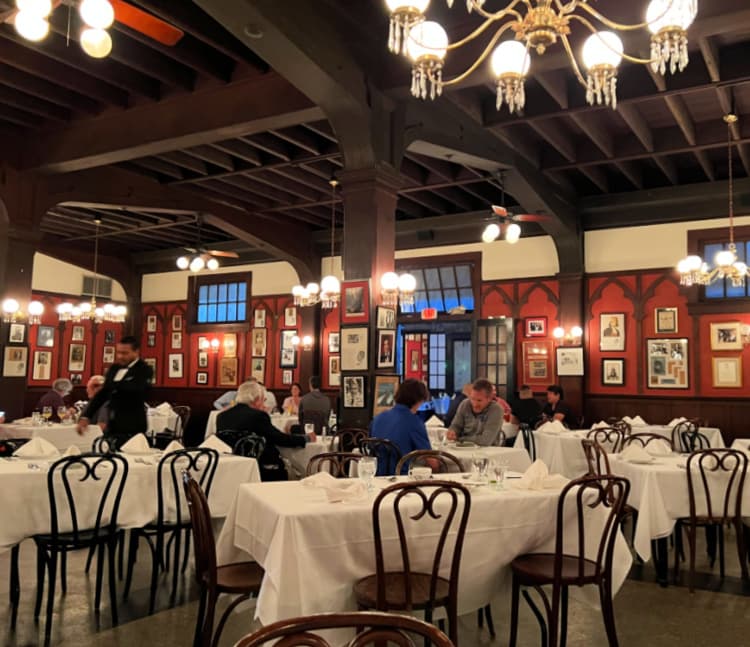 Make sure you look around all the dining rooms. You will see many photos from over the years of the Antoine family then some of the more famous and distinguished guests.
Anything Ty Cobb is interesting as we've been told he's a distant relative on my husband's side of the family but we haven't been able to find any information yet.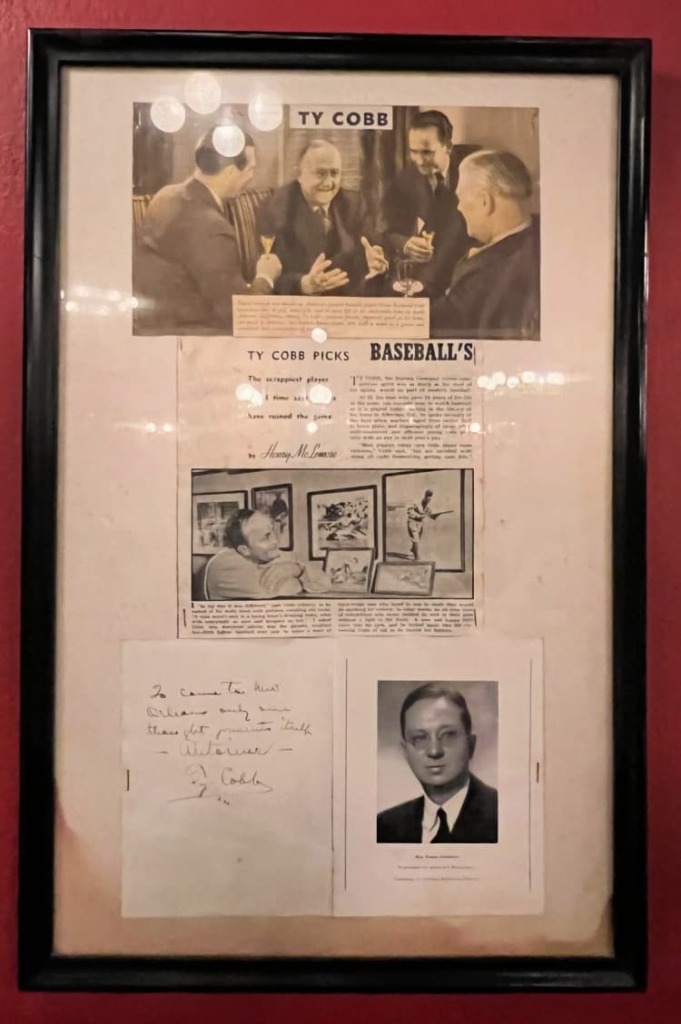 During the Jazz Brunch, enjoy the music which gives you a little of the New Orleans feel while dining.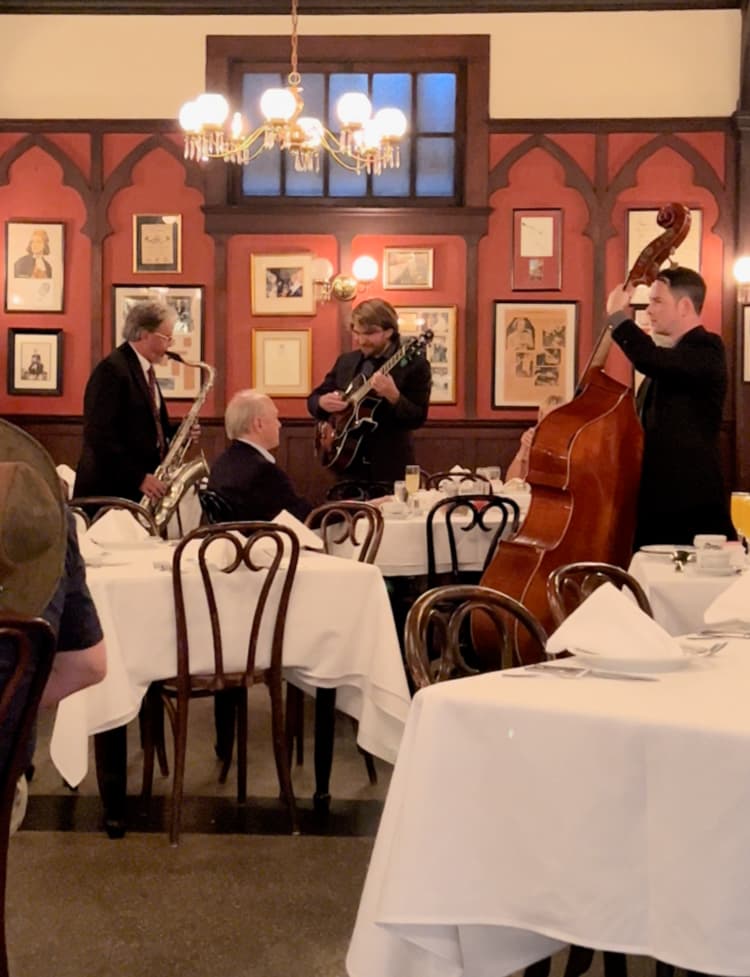 The Staying Power of Antoine's
Stop to consider this restaurant has endured a long line of hardships to continue to serve the patrons of New Orleans. When you think back and remember the Civil War, WW1 and WW2, Prohibition, the Great Depression, and Hurricane Katrina, you realize this family-run restaurant was really determined to keep the doors open no matter what came their way. And most recently having to close due to the Covid pandemic.
Hurricane Katrina
As all remember the horrific times of this storm, it really became personal to Antoine's with loss. Several employees including a long-time chef and maître d, lost their lives. Many lost their homes and moved from the area. But, like all of New Orleans, the owners were determined to reopen – just not knowing how or when.
Although the restaurant wasn't under water like so much of New Orleans, the wind and rain did over $10 million in damages. Being one of the largest restaurants in the city, it was hard to watch the smaller competitors rush to reopen. But Antoine's had to be reopened to what the patrons had become accustomed to. And it did in only four months.
Changes over the years
During the cleanup and renovations from Hurricane Katrina, a bar was added. The first in Antoine's history.
Even the dress code has been relaxed. A coat and tie aren't required at dinner, but the maître d does have the discretion of refusing service. Ripped jeans and flip-flops won't be allowed. But dining here is just one of those times most choose to dress up a bit.
A Sunday Jazz Brunch was also added. This was the time we chose to dine and loved the live music provided. It just added a true New Orleans feel to our experience.
The menu is now in all English – at one time they were all written in all French.
Dining at Antoine's in New Orleans
Although it has 15 dining rooms and can seat over 700 at one time, there's still an intimate feeling. The staff will make sure of that.
Celebrities seek out the restaurant when in town. The likes of Bob Hope, George Bush, Bing Crosby, Tom Cruise, and Brad Pitt have all dined here. Even local families, such as the Manning family, still enjoy dining here. And the list goes on and on.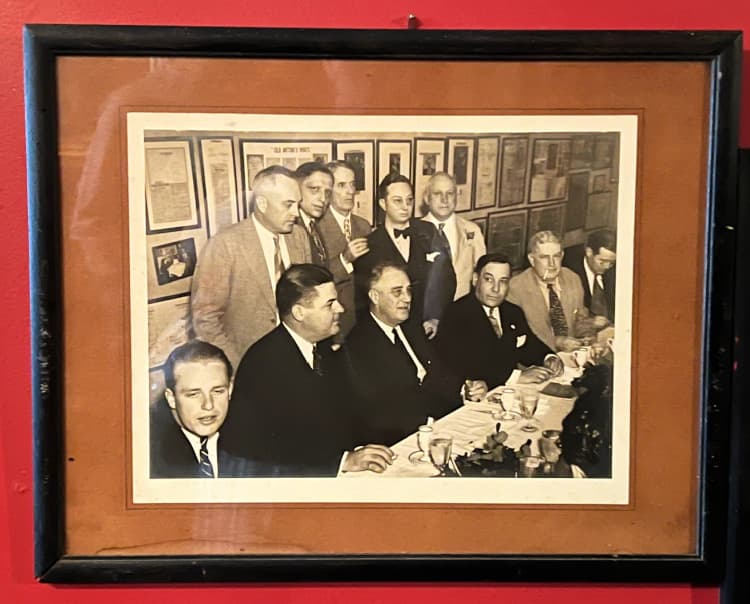 Next time in New Orleans, why not try it for yourself? I know we will be back.
Working at Antoine's
An apprentice waiter will train for a couple of years before becoming a full-fledged waiter.
They learn such things as remembering the guests, memorizing the menu to the last ingredient, taking orders, sometimes complex, without writing anything down, and how to make their guests feel the most special.
You will find many who have been with Antoine's for more than 20 to 30 years, bringing on the next generation of family, just like Murphy and Meaghan.
The Best Meal I've Ever Had
I've had the pleasure of dining at several famous and upscale restaurants in my travels, but this meal and overall experience for my entire family was the best. Want to see their menus? ANTOINE'S MENUS
We started with Soufflé Potatoes, but don't let the name fool you. They are puffed potatoes served with Béarnaise sauce. There seems to be a long story of how the Pommes de Terres Soufflées were first made, then the recipe brought to Antoine's, but let's just say I'm glad they did.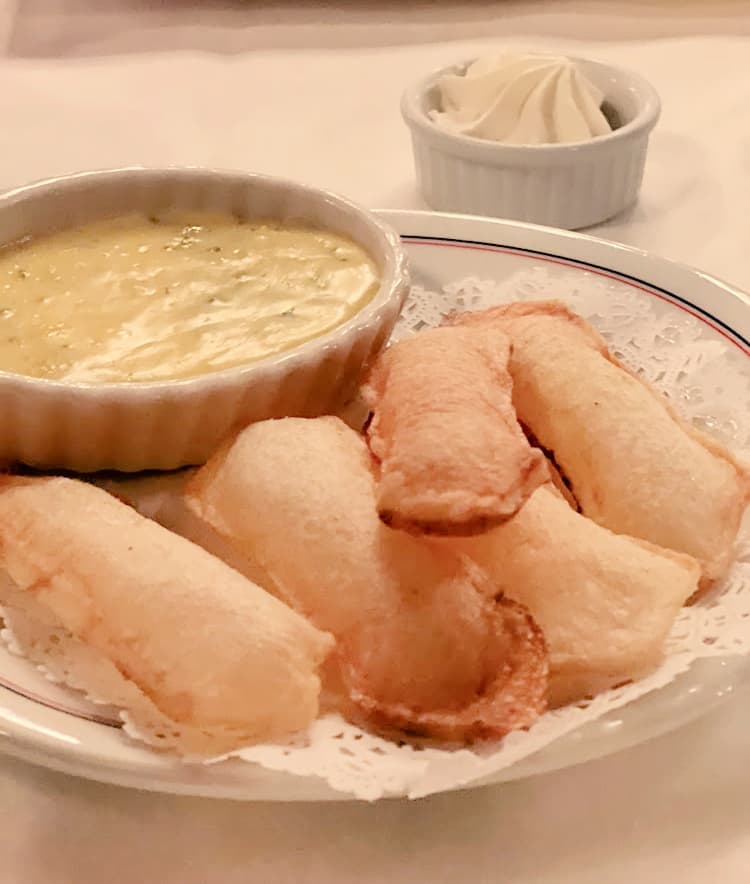 Doug's Choices:
He had to try the Seafood Gumbo as it's one of his favorites. I did try a bite as sometimes it can be a bit spicy for me, but this was just right. I knew though I didn't need a cup on my own with the great meal I had coming. But it's highly recommended.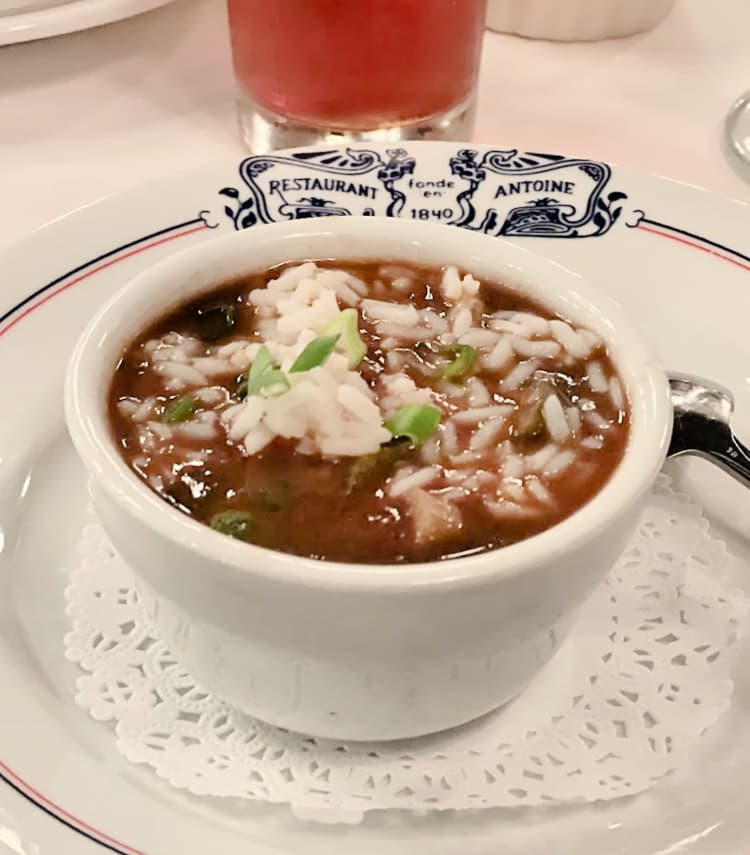 A hard decision for his entrée, but he finally decided on Antoine's Seafood Omelet. Filled with shrimp, crab, and a variety of cheeses, then topped with Antoine's creole tomato sauce, he was thrilled with this choice. He was forced to give up with a few bites left knowing we still had dessert coming.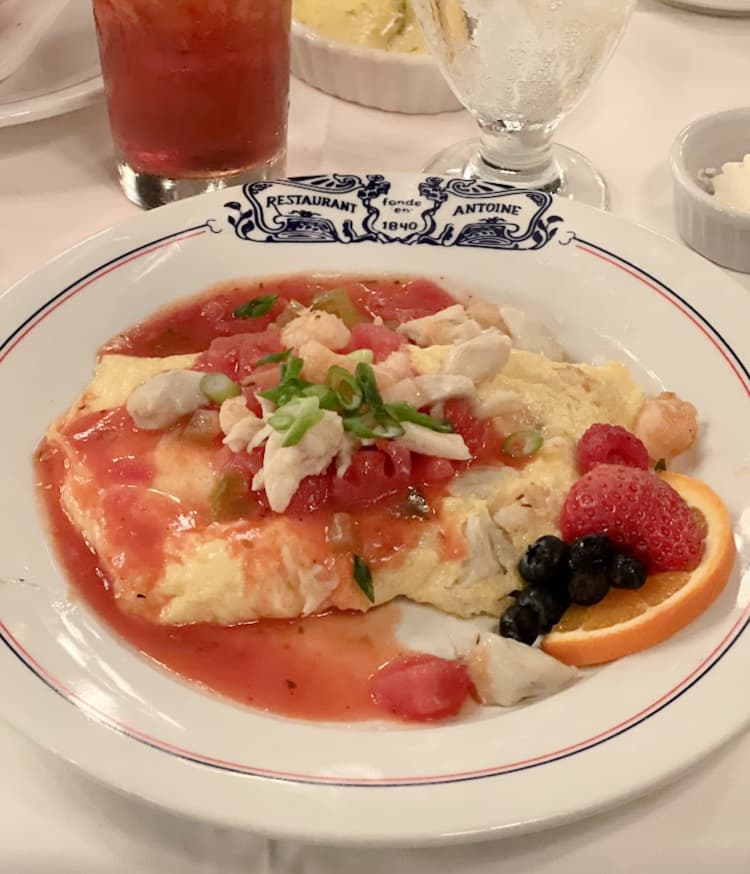 Don's Choice:
With all the great choices, he was just in a mood for a salad. The Roasted Chicken and Bacon Salad was more than enough for lunch. The homemade buttermilk herb dressing was a great topping. Maybe he was just thinking about dessert so he didn't want a heavy meal.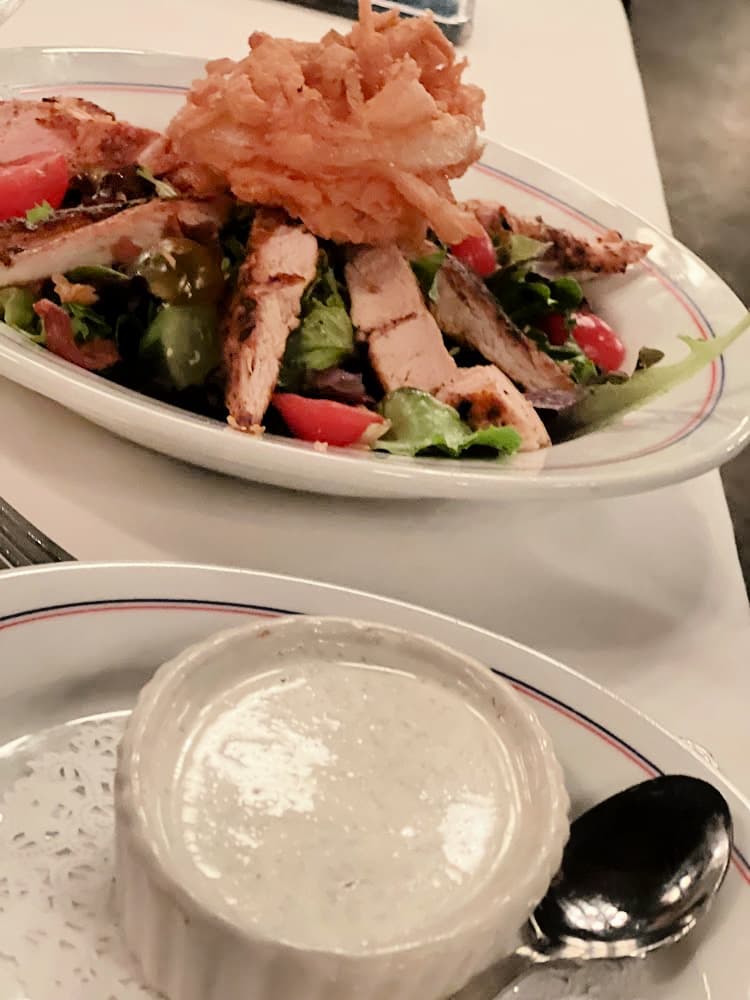 My Choice:
I had a tough choice as almost everything on the menu sounded good. Usually Shrimp and Grits are my go-to but at the suggestion of Murphy, I got the Classic Fish Amandine. Today's catch was locally caught trout. With a light breading, toasted almonds, a brown butter sauce, it's finished with a lemon drizzle. Of course, I added the option of sauteed lump crab on top as well. Might as well go all the way.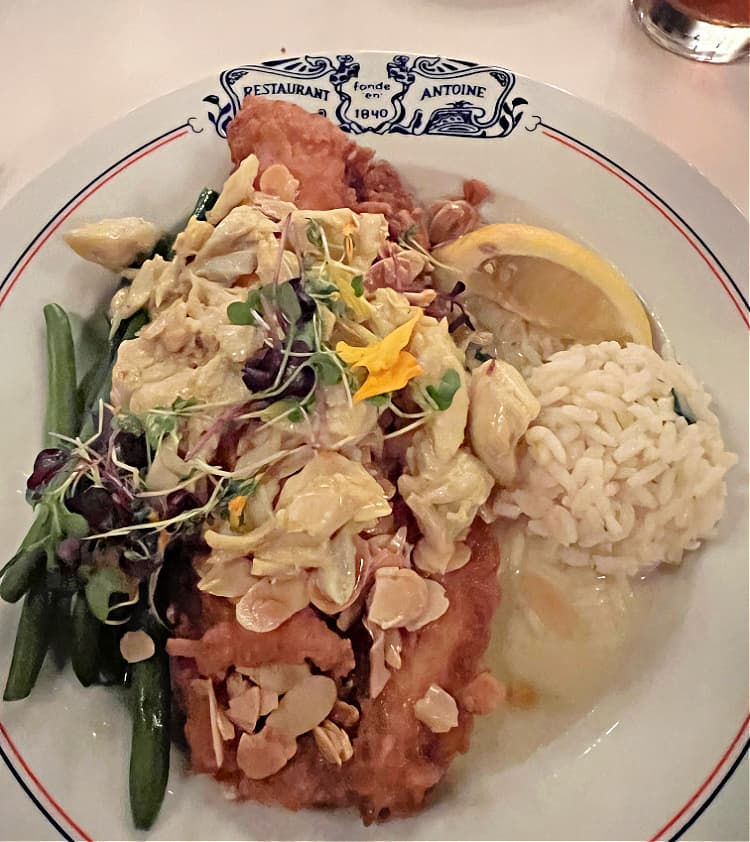 After we all took our time with this delicious meal, and was already stuffed, it was time for the famous Baked Alaska.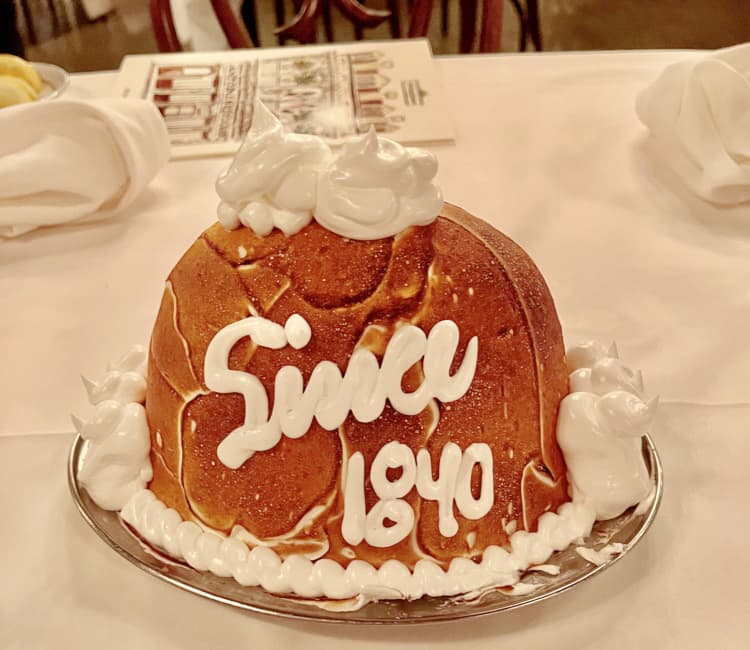 We had seen several go by out table and knew it was one of those desserts we had to experience. You do need to order this early into your meal so there's time for it to be prepared.
After our table was cleared and coffee served, here comes the Baked Alaska. These can be customized for special occasions if requested ahead of time. Don't you love the dishes?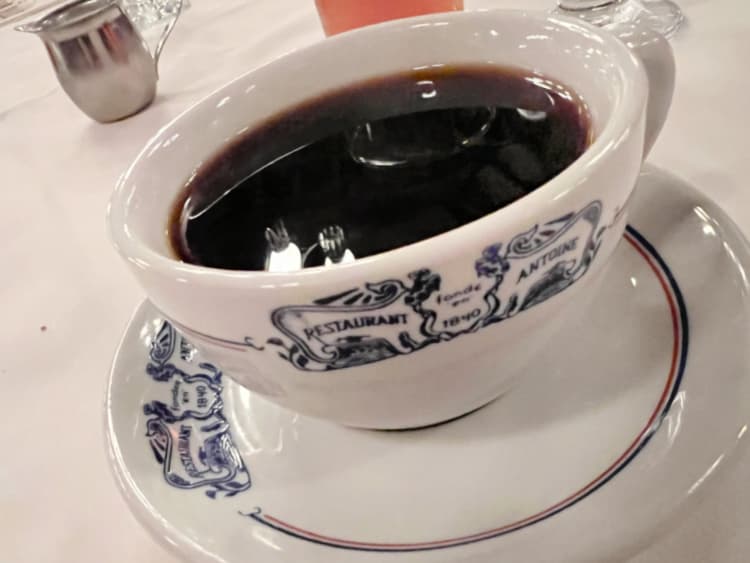 Wow – what a dessert!!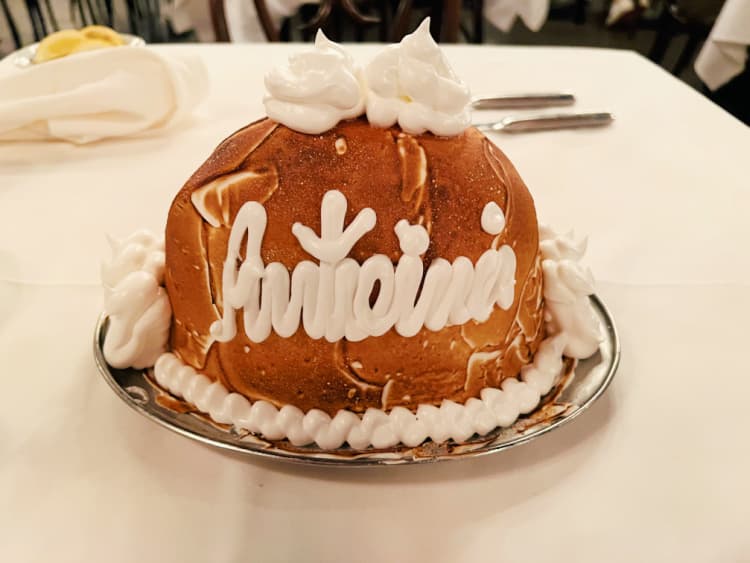 Murphy served this and this was cut into three servings.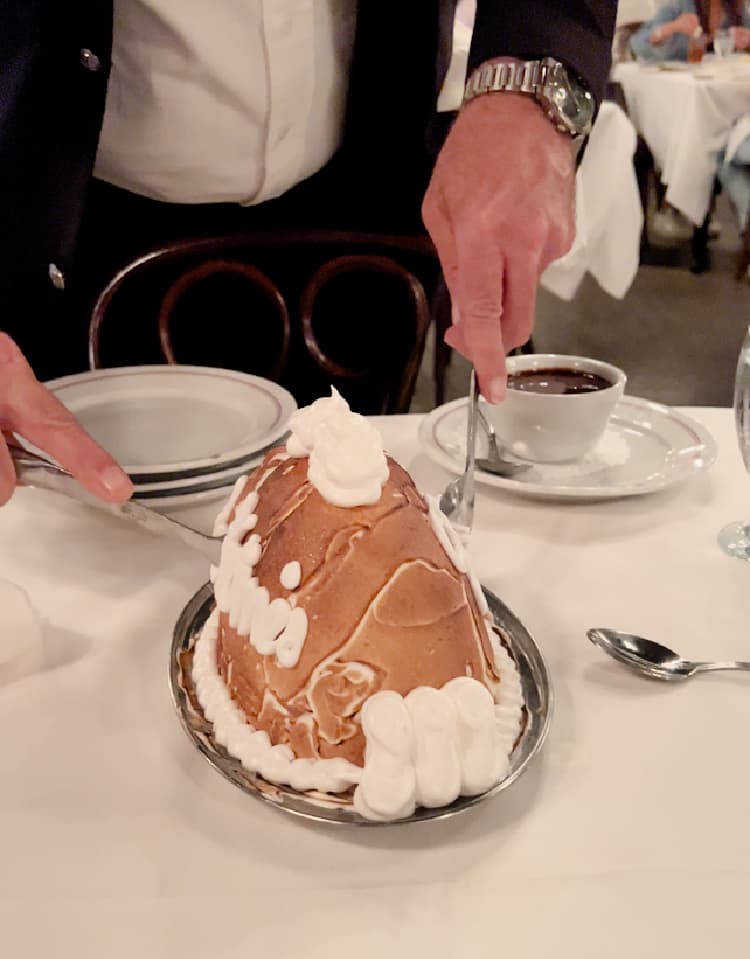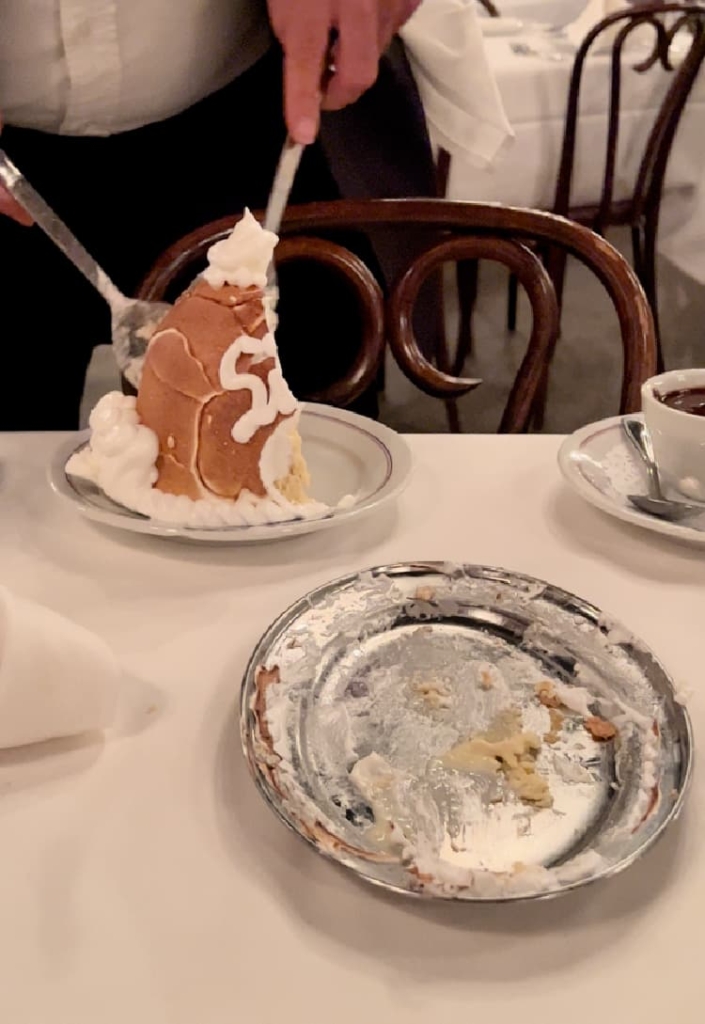 To top off each serving was a warm fudge sauce. This decadent dessert was the perfect way to end a perfect meal.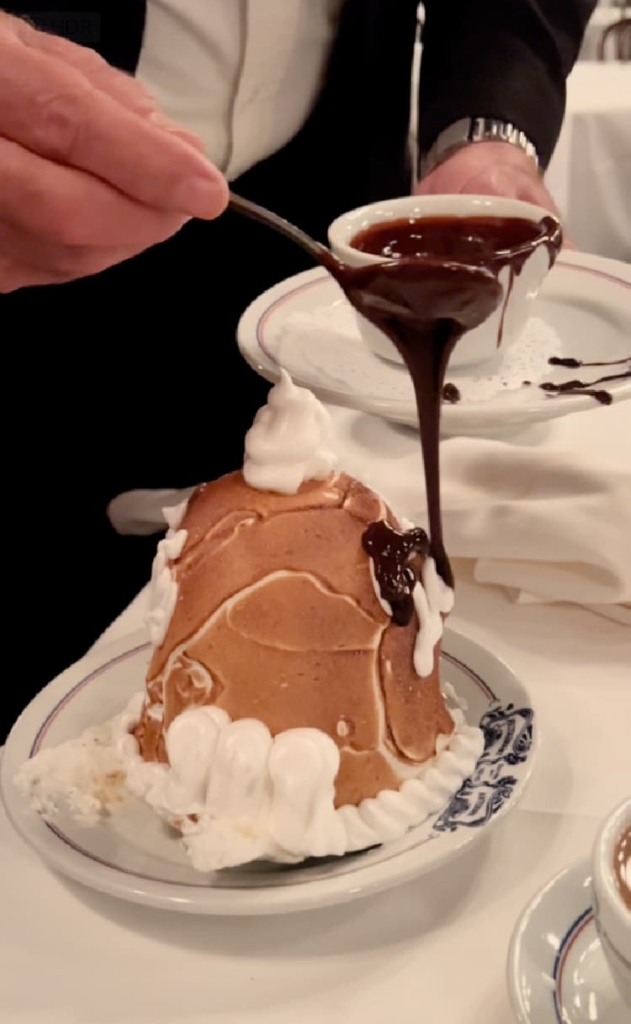 Doesn't this just look delicious and worth a trip to Antoine's?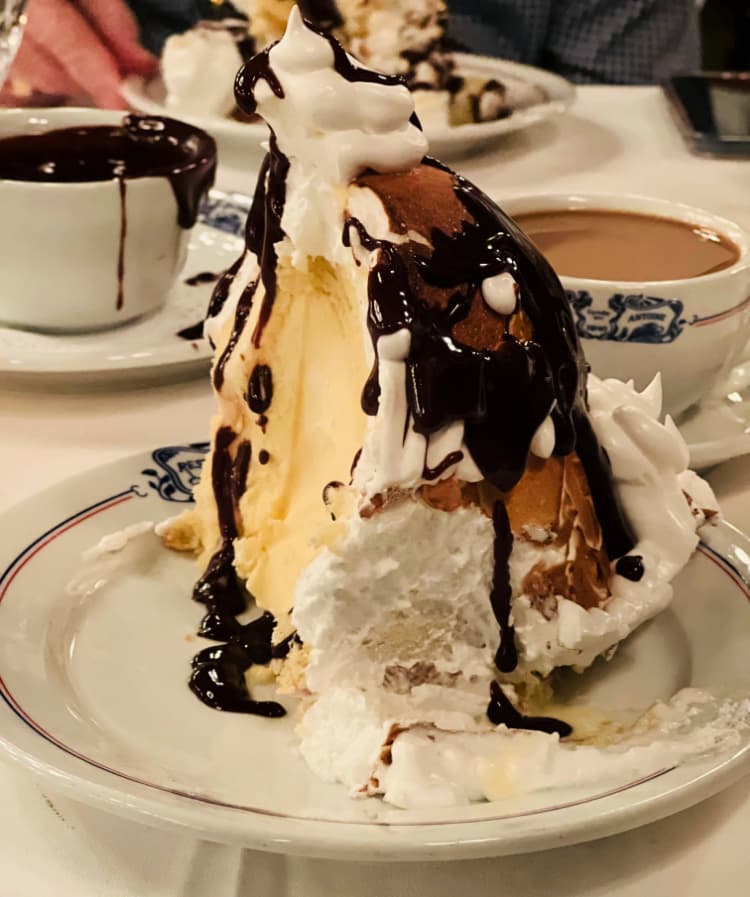 We weren't made to feel rushed at the end of our meal. Murphy gave us a little history of Antoine's and encouraged us to look around.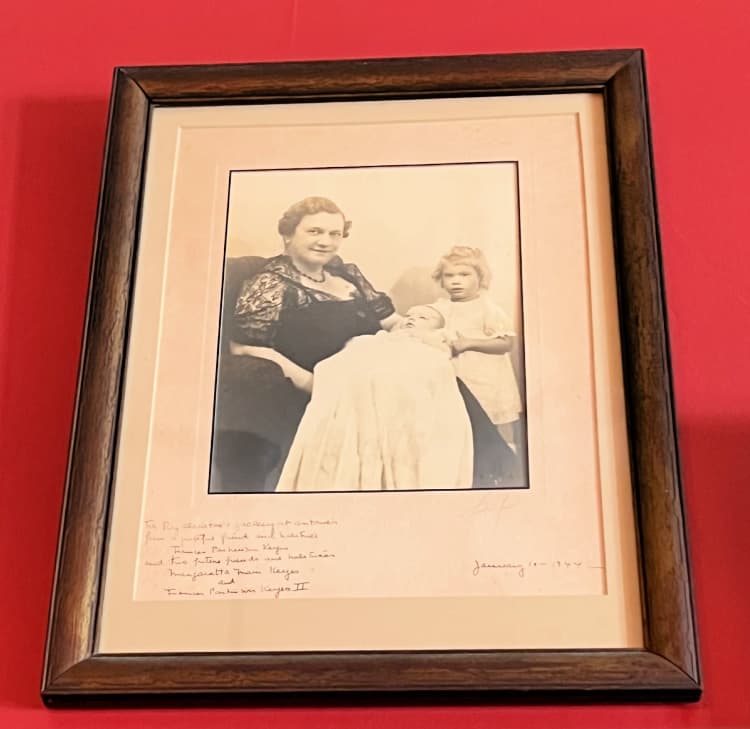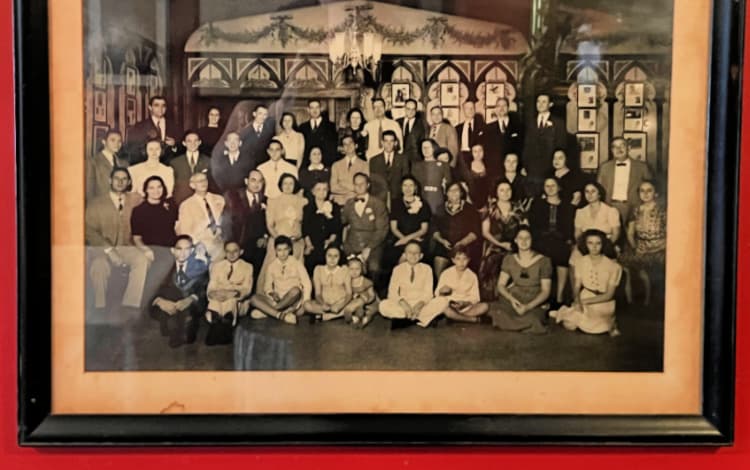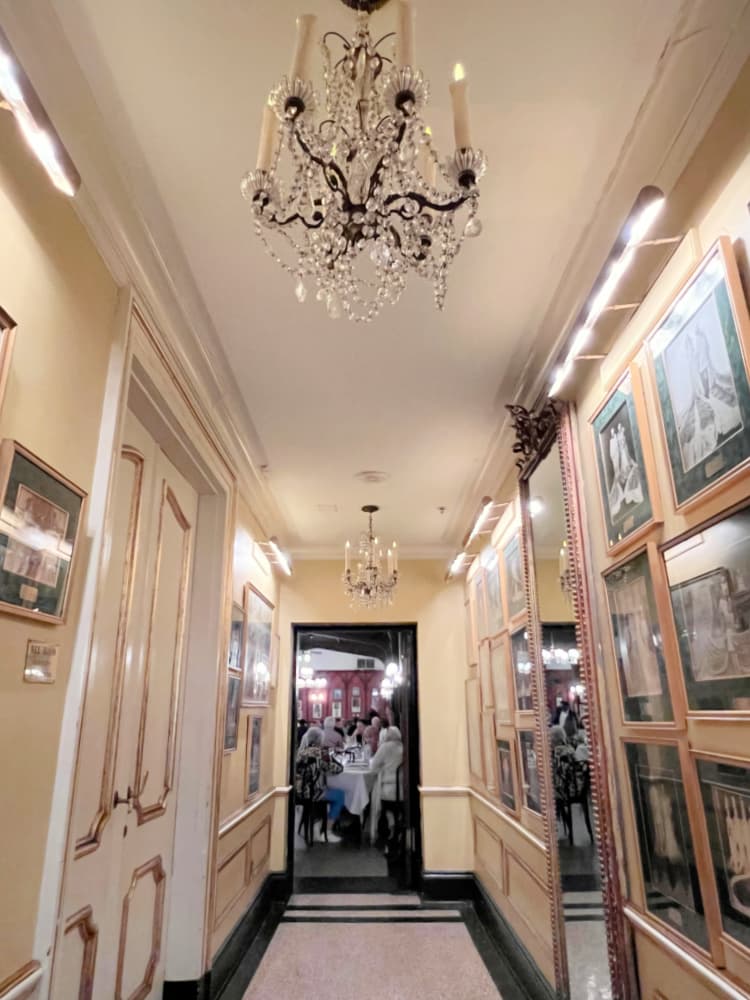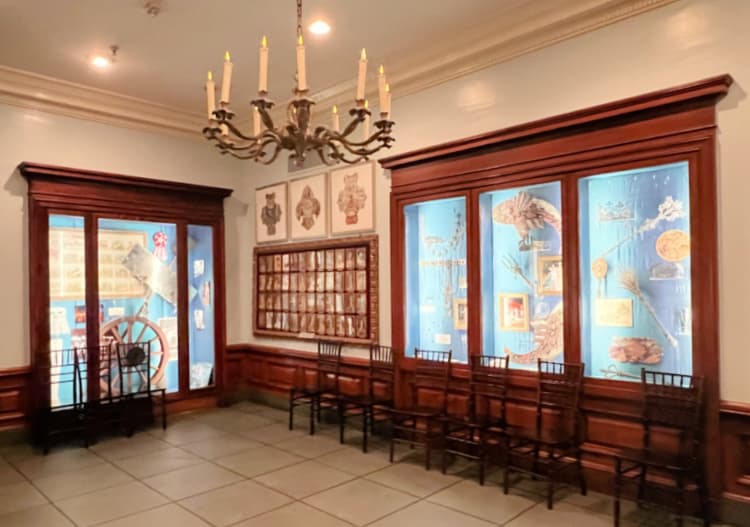 Now, who is ready for a trip to New Orleans? A meal at Antoine's is just one reason.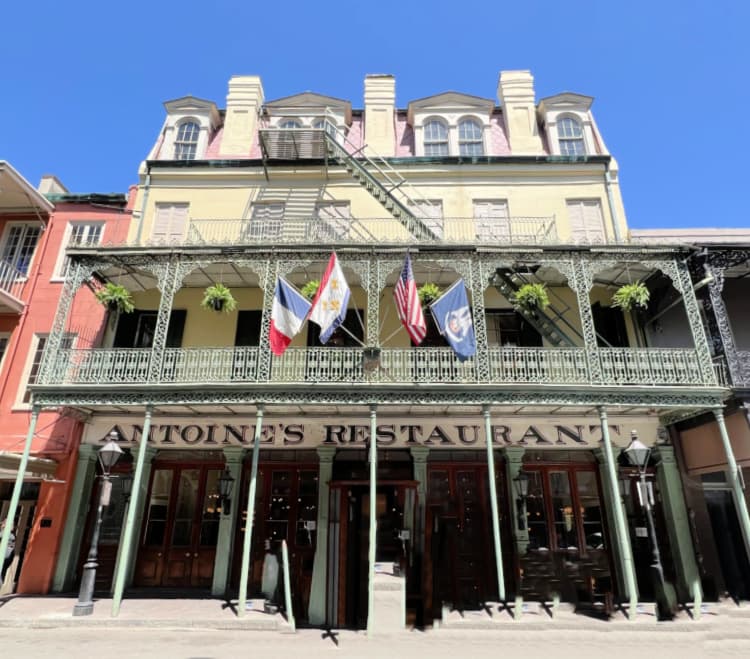 Staying in New Orleans – A couple of places I can recommend:
New Orleans Marriott Warehouse Arts District
I've included affiliate links to Amazon for you to find some products easier. I may receive a small commission, but the price is the same for you. It just helps my blog out.
Happy Travels,
Rosemary