Best Restaurants in Gulf Shores For All To Enjoy
Today, we're talking about the best restaurants in Gulf Shores. If you're taking a trip to the area, you'll find that the dining is as much a part of the experience as the activities and the beach. Gulf Shores is known for its amazing food, and to that end, it's important that you know where to go to find the absolute best eats in the area.
Pin this for later – are you making travel plans?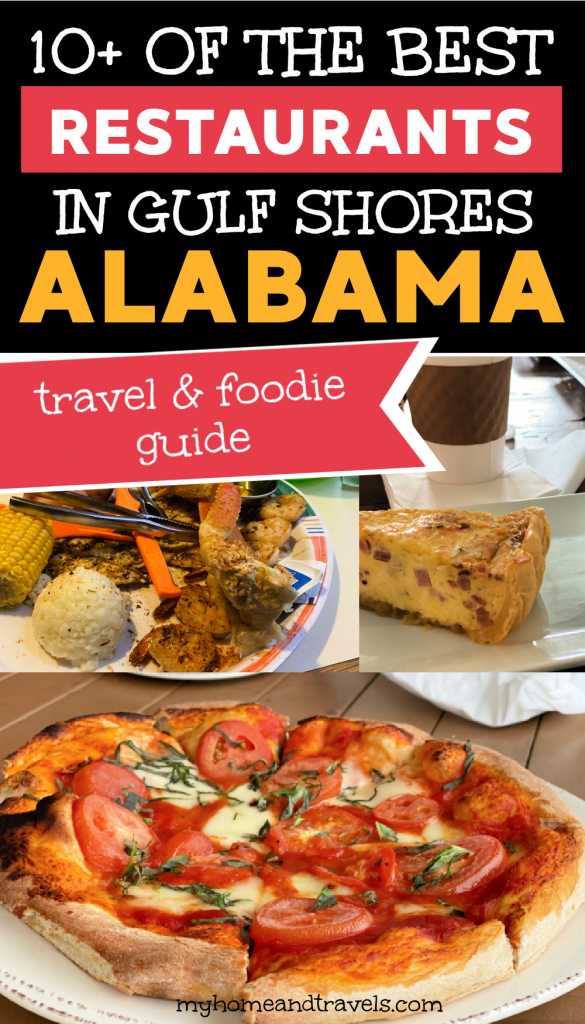 Since I didn't have time to try all the restaurants I wanted to, I'm sharing those I did along with asking a lot of friends what was their go-to place while in the area. Many make a yearly trip to the area and have their favorites. All of these great restaurants, especially having fresh seafood, is just one reason to make the Gulf Shores area your next beach vacation. Thank you to the Gulf Shore & Orange Beach Tourism for compensating my meals, but restaurant choices and reviews are my own.
Best Restaurants in Gulf Shores
From delicious seafood to amazing steaks, fine dining to laid-back joints – you'll find it all in Gulf Shores. No matter what kind of atmosphere or food you're looking for, you'll find exactly what you want in Gulf Shores, and you'll find it done exceptionally well.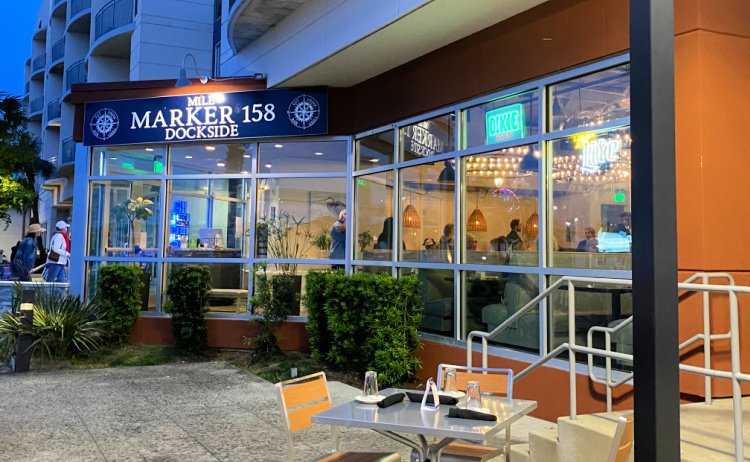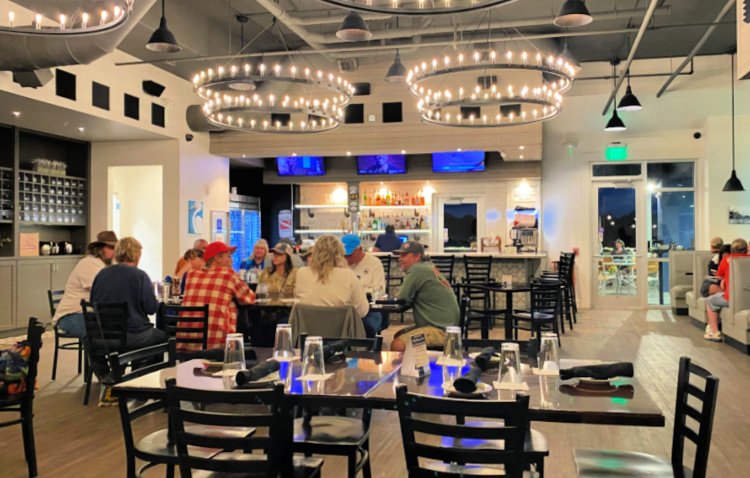 Mile Marker 158 offers casual food, modern decor, and a family-friendly atmosphere that can't be beat. Enjoy delicious seafood, salads, burgers, and sandwiches, along with exceptional spirits while enjoying views of the water and The Wharf district. They also offer a .25 cocktail each day with a choice of Salty Dog, Dockside, or Marker 58. Yes you read that right – one drink per day per person for only twenty-five cents.
Trying the house-made chips with the sour cream and charred onion dip was a great choice to begin the meal.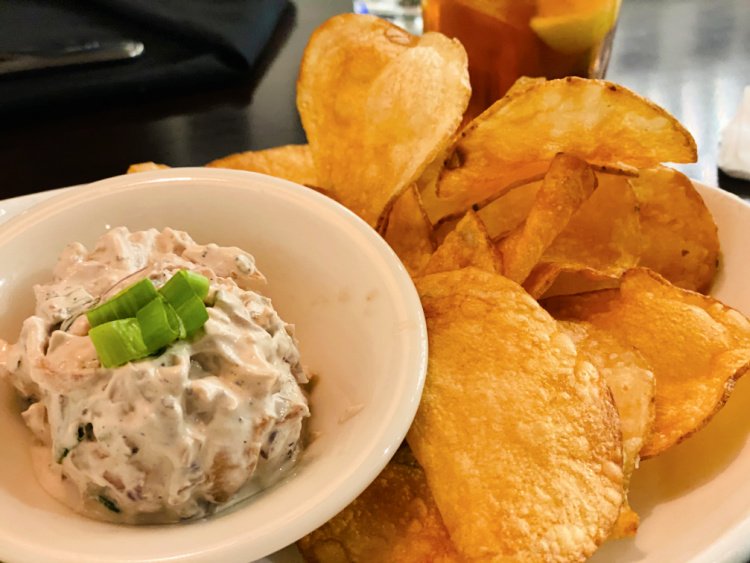 Since we had a late afternoon snack and with the chip appetizer, we split a burger and it was plenty.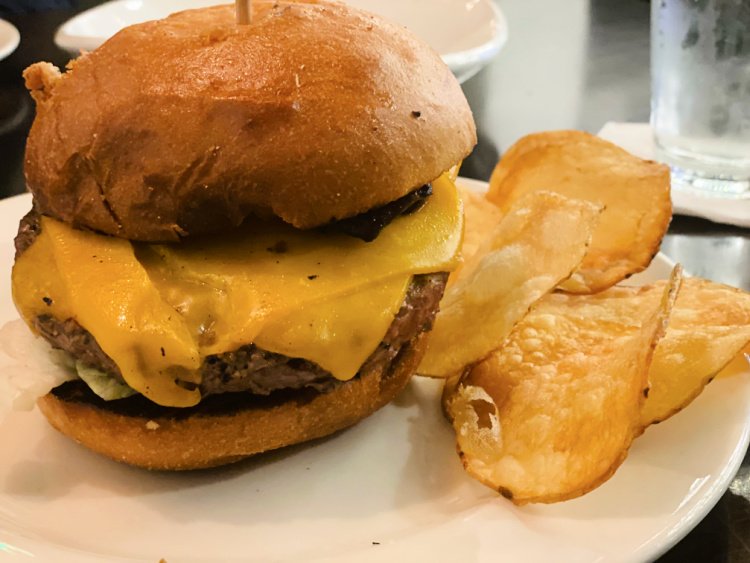 Mile Marker 158 was a great choice. With the live music on the deck made for an even more enjoyable evening.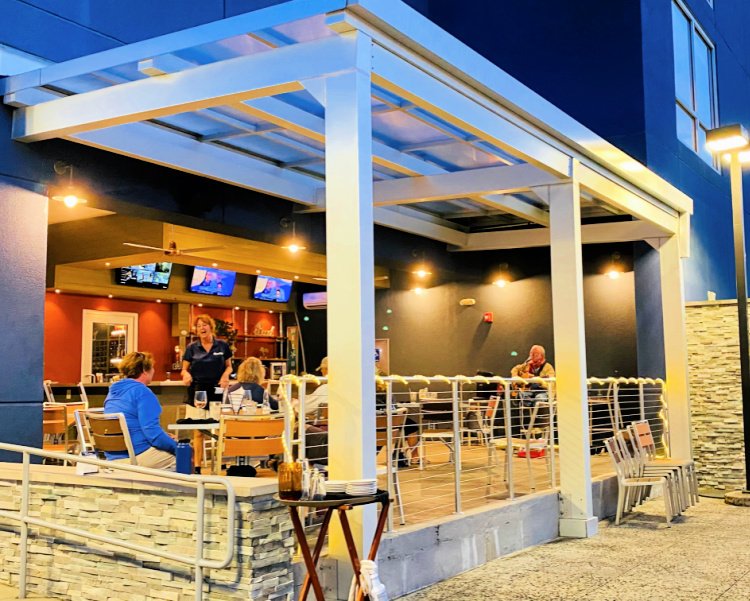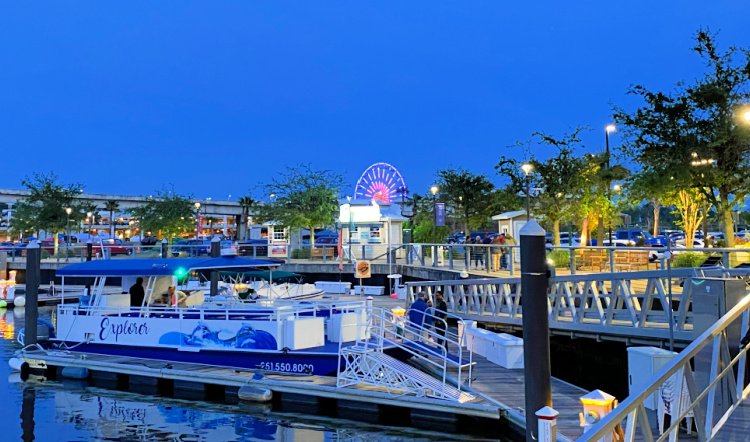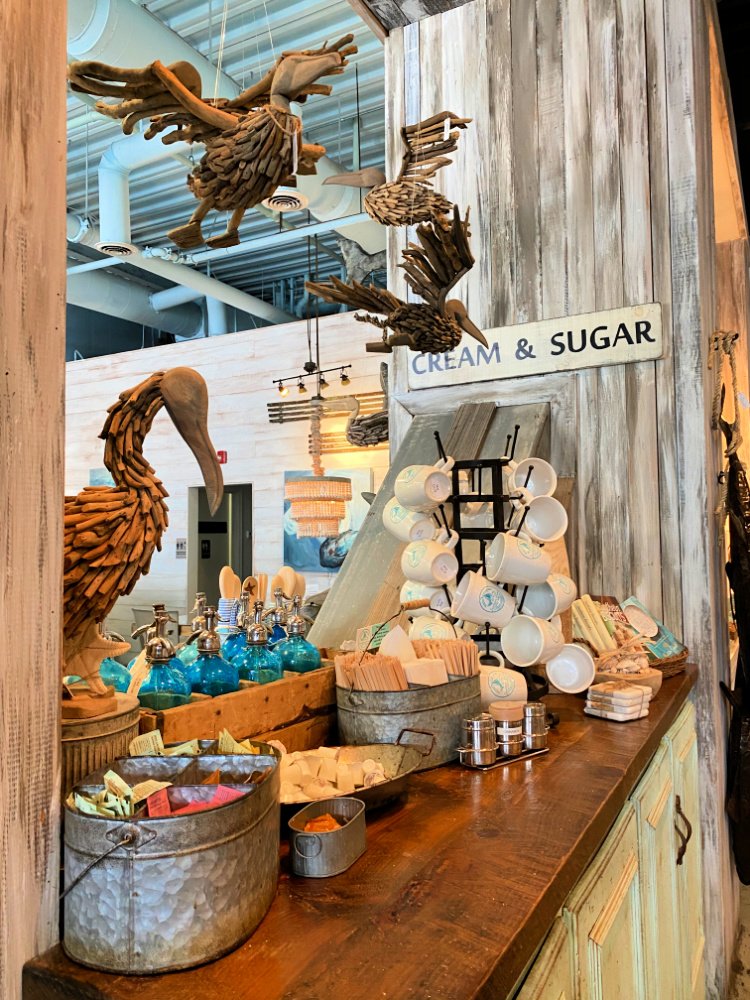 Being highly recommended, and having two locations in the area, this is a popular breakfast/brunch/coffee shop with travelers and locals. Others love coming later in the day for the soups, salads, sandwiches, and Gelato. This was also located at The Wharf, with the other location at The Indigo Hotel.
Along with a variety of breakfast items, they are known for their own coffee blends.
I chose the quiche of the day which was full of ham, bacon, cheese, and peppers along with a serving of fresh fruit. It was delicious and the crispy crust is a great sign of a well prepared quiche.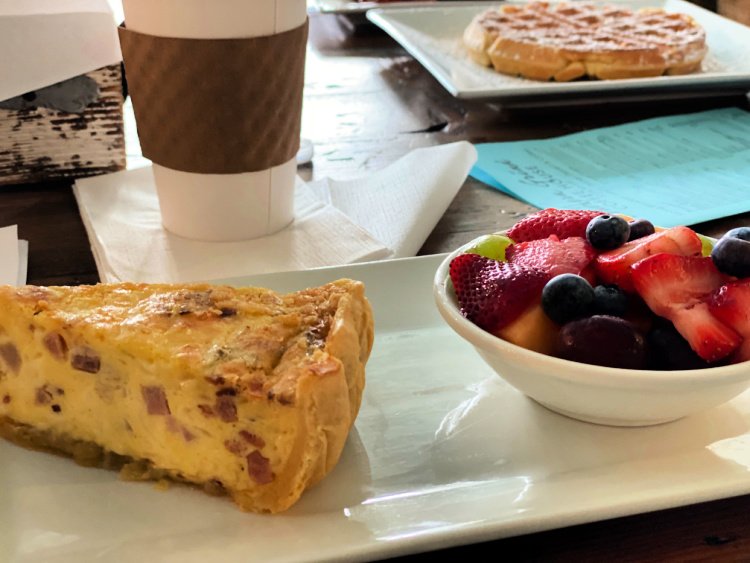 Don went for the Belgian waffle and bacon which seemed to be a popular choice among others as I saw orders carried out.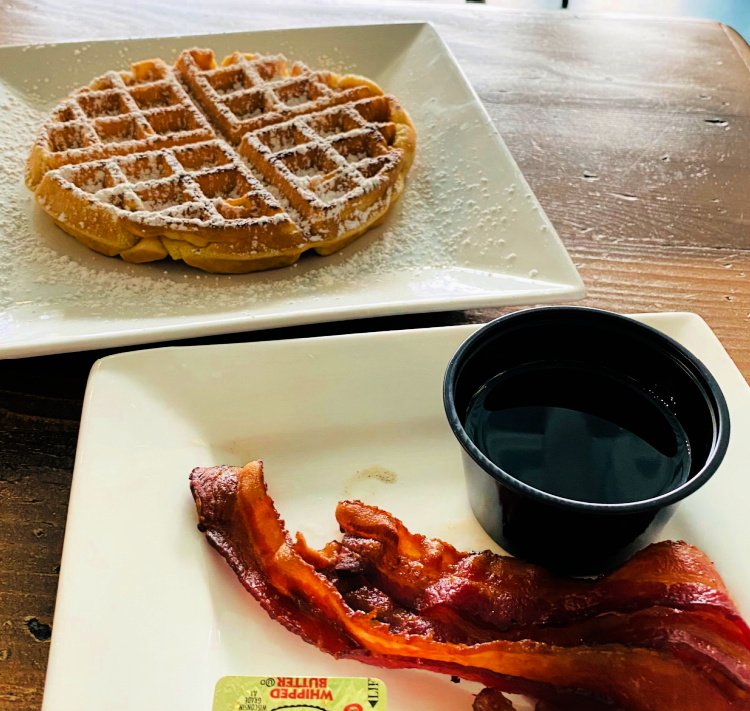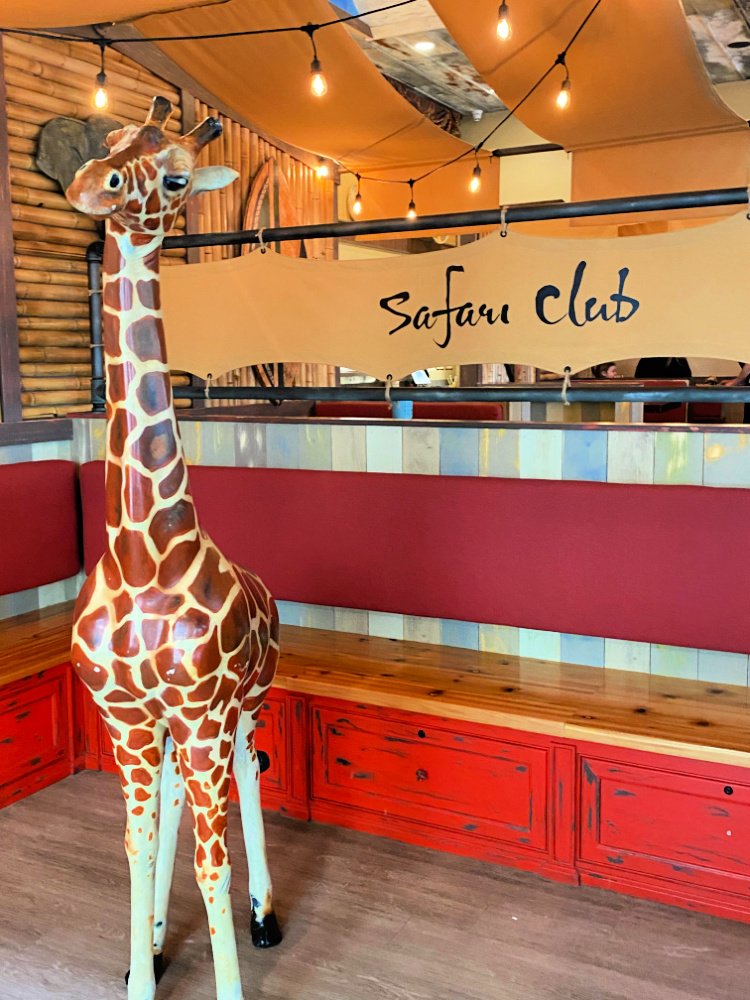 Known as much for its commitment to sustainability as its delicious food, Safari Club is Alabama's first certified Green Restaurant. It's been recognized nationally for its conservation, recycling, and waste reduction efforts and raved about locally for its amazing food. The restaurant sources the freshest ingredients locally, and it even has its own onsite garden providing the freshest produce available.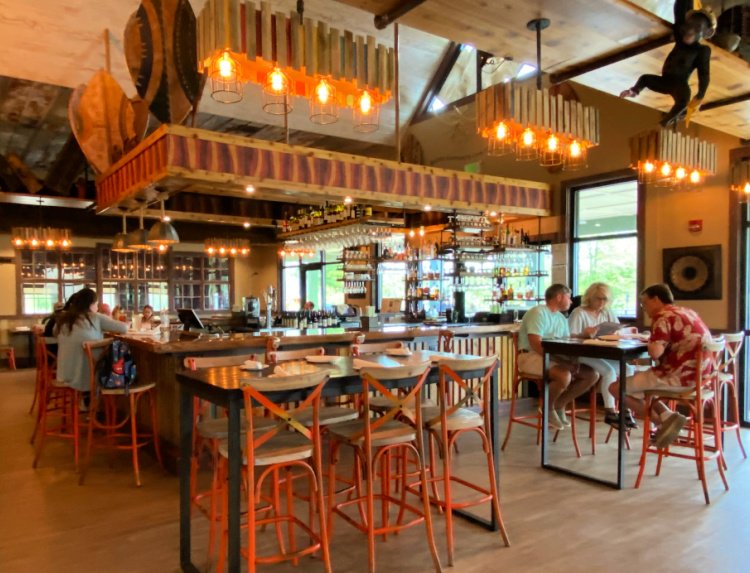 The real kicker to me is – it's located at the Alabama Gulf Coast Zoo. Check the hours here as you don't have to have a ticket to the zoo to enjoy this unique restaurant. There's a wide variety on the menu to choose from from salads, steaks and shrimp and grits, which was hard for me to pass up.
After the breakfast at The Southern Grind, and knowing we were in for a special dinner, we kept it light with a Margherita fire-wood pizza to share. I can almost just eat the crust, but the fresh Mozzarella and Basil, just added to the flavor.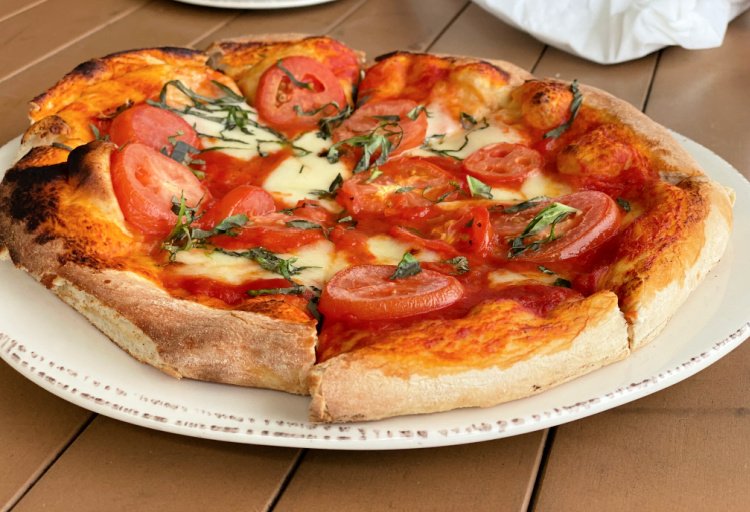 Don had to leave room for what we were told was the best key lime pie in Gulf Shores. A thumbs up of approval was given. And he is picky about his pie.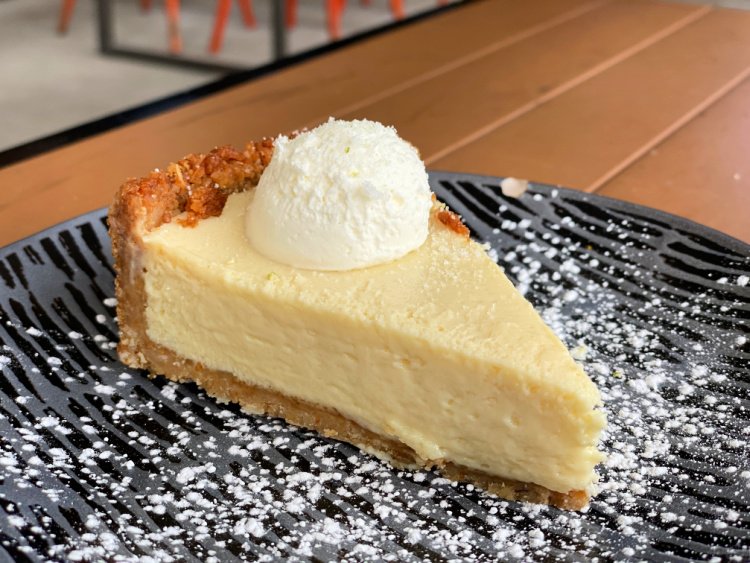 Fisher's Upstairs at Orange Beach Marina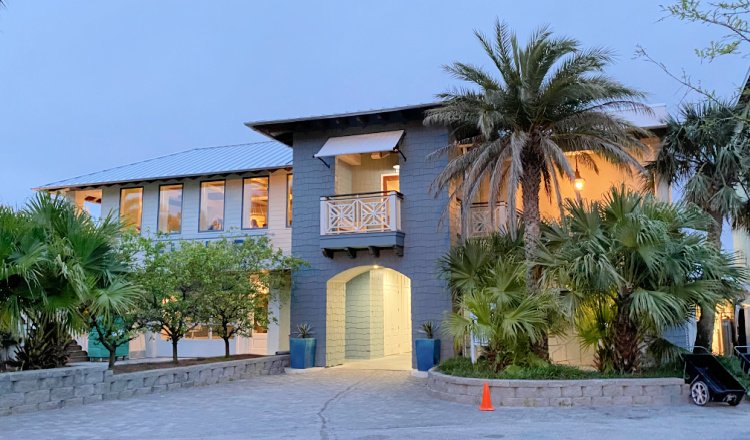 Fisher's Upstairs is all about fine dining and an elegant atmosphere. This white-tablecloth restaurant features linen draperies, antique cypress tables, an onyx bar top, and of course, the finest cuisine to be found in the area.
Enjoy delicious seafood, steak, pork, along with a variety of side and dessert options, and a top-tier wine selection. They do accept reservations.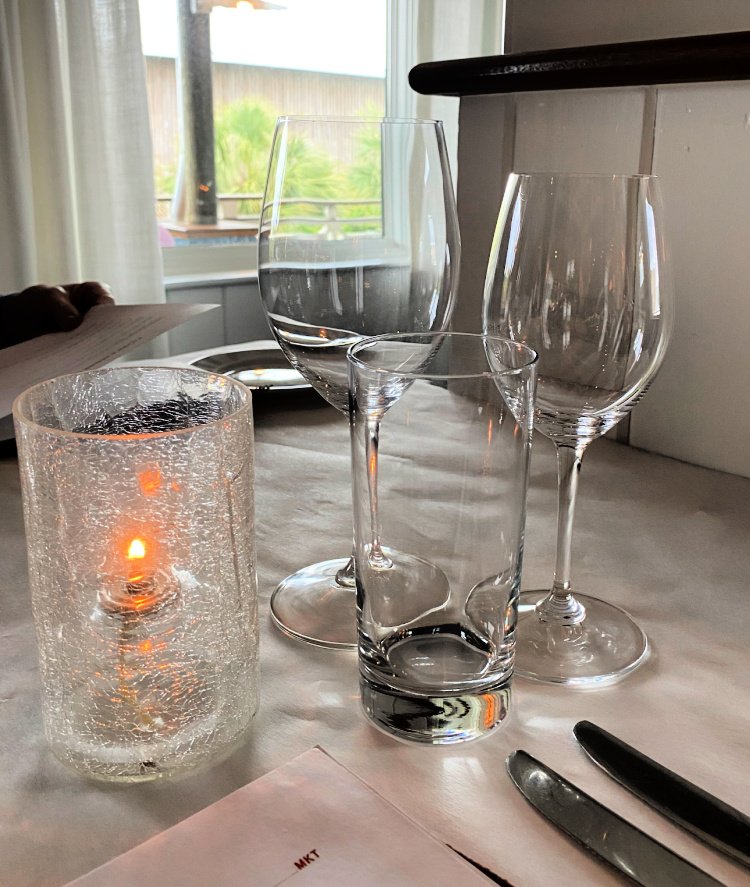 After small talk with our server and ordering drinks, she pointed out since I am from Chattanooga, the Andouille Sausage in the Shrimp and Okra Gumbo was sourced from Main Street Meats here in Chattanooga. Chef Erik Niel of Main Street Meats and Chef Bill at Fisher's have been friends for many years. They are great to promote events with each Chef participating. It's great to see how small, local businesses help each other out.
I normally don't order gumbo as it's usually too spicy for me, but was told it wasn't as spicy or hot as most gumbos so I tried it. It really had a great taste and was happy for a bit milder taste.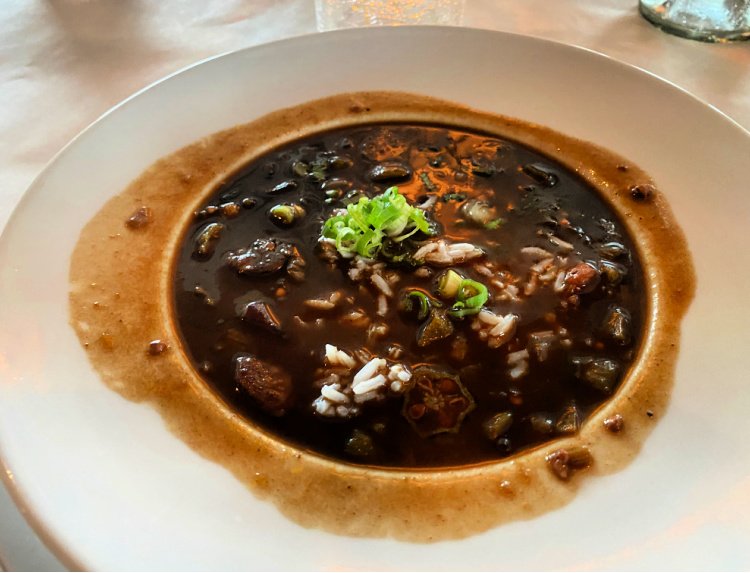 Don had the Braised Beef Short Ribs and we found those so flavorful with the potato cake, it could have almost been a meal in itself.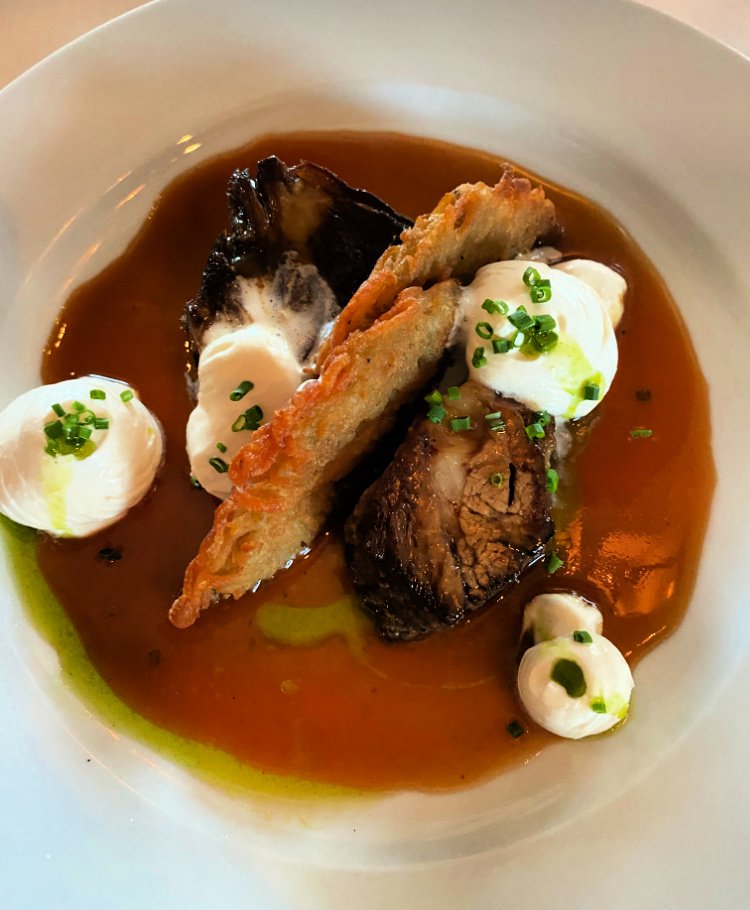 It was hard to choose an entree (sharing again), but settled on the pork chop. It was so tender and juicy. A good pork chop is almost as good as a steak, almost. Being served with grilled brussels sprouts and lemony rice grits, was a meal anyone would leave wanting to make another reservation.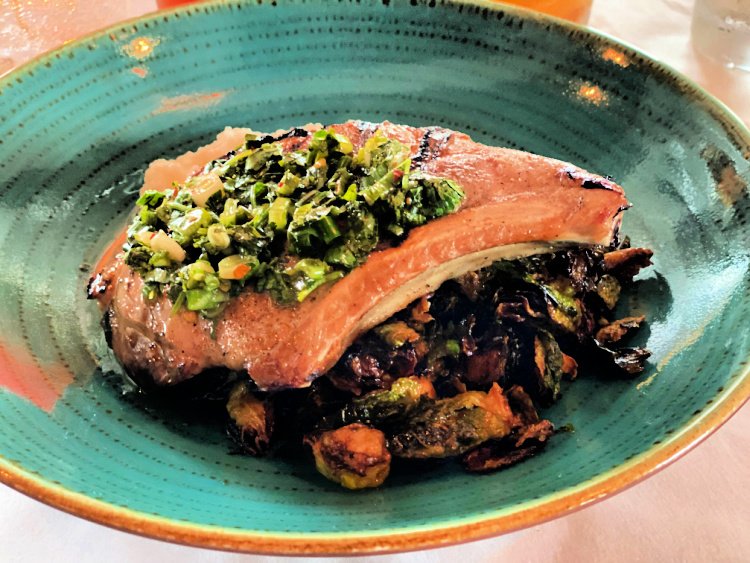 Then onto dessert which we debated, but we just couldn't pass up the Chocolate Dome. The chocolate almond cake had toasted almonds then a hot raspberry sauce was poured over to melt the dome from the cake.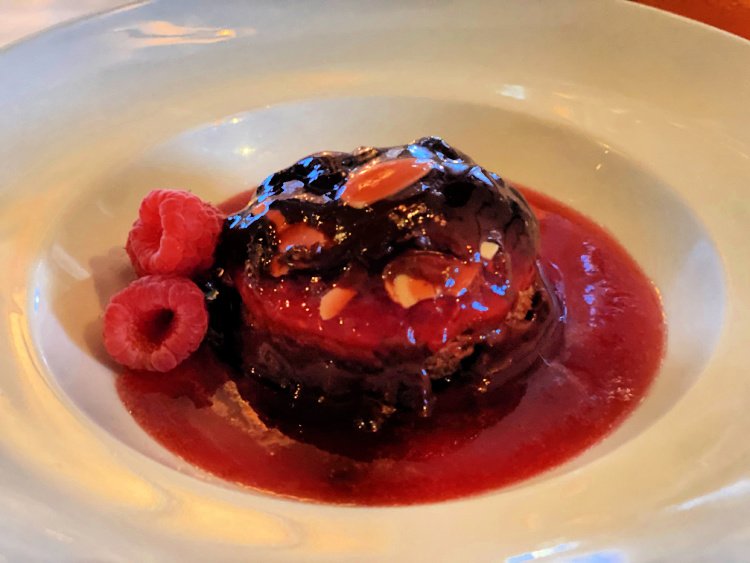 To say we were full and it was a delicious meal would be an understatement. I can't wait to return to Fisher's. There's also a spacious deck to enjoy a sunset by.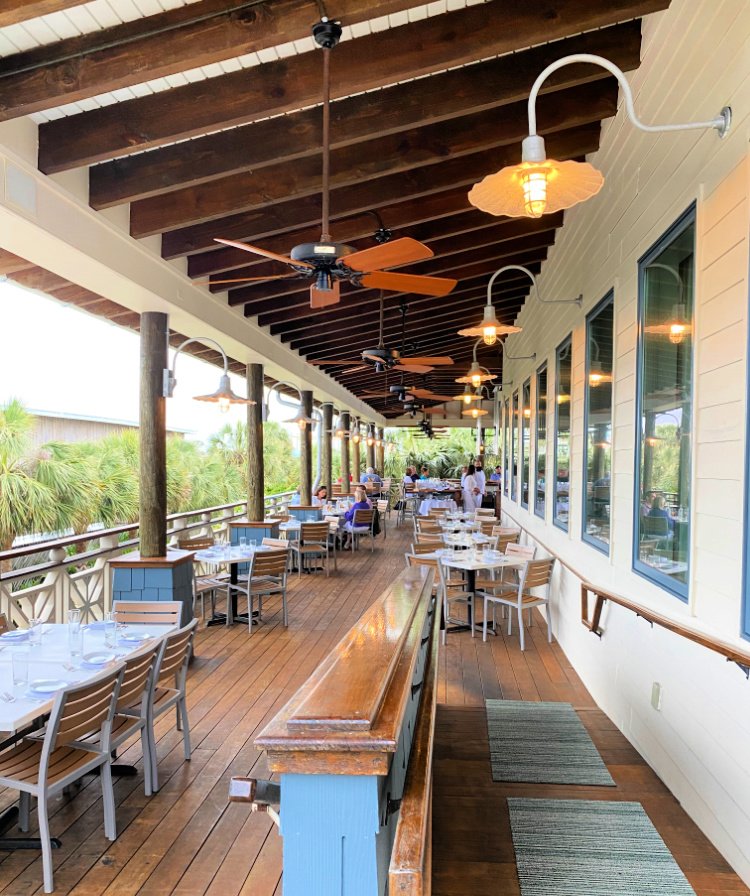 There is a downstairs Dockside still being renovated for a more casual atmosphere.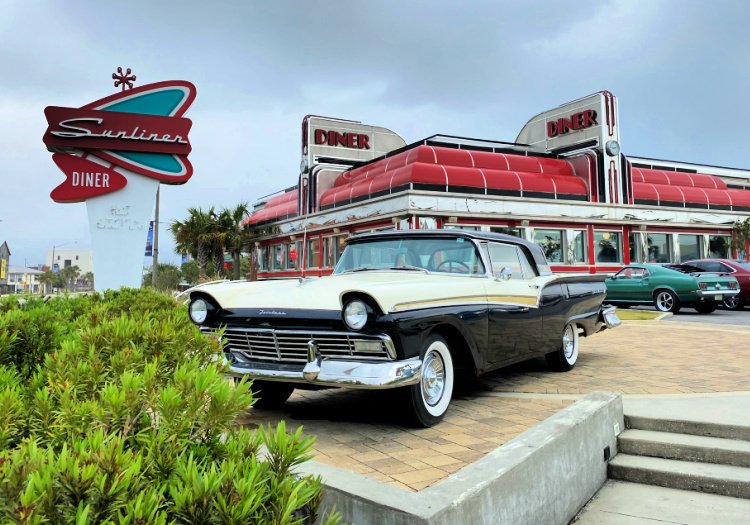 If you're all about nostalgia, then one of the best restaurants in Gulf Shores for you is Sunliner Diner. Offering great eats with a healthy dose of yesteryear, Sunliner is a real blast from the past that welcomes everyone in the family. Waitresses are quick to pose in their diner outfits complete with crinoline skirts for a picture.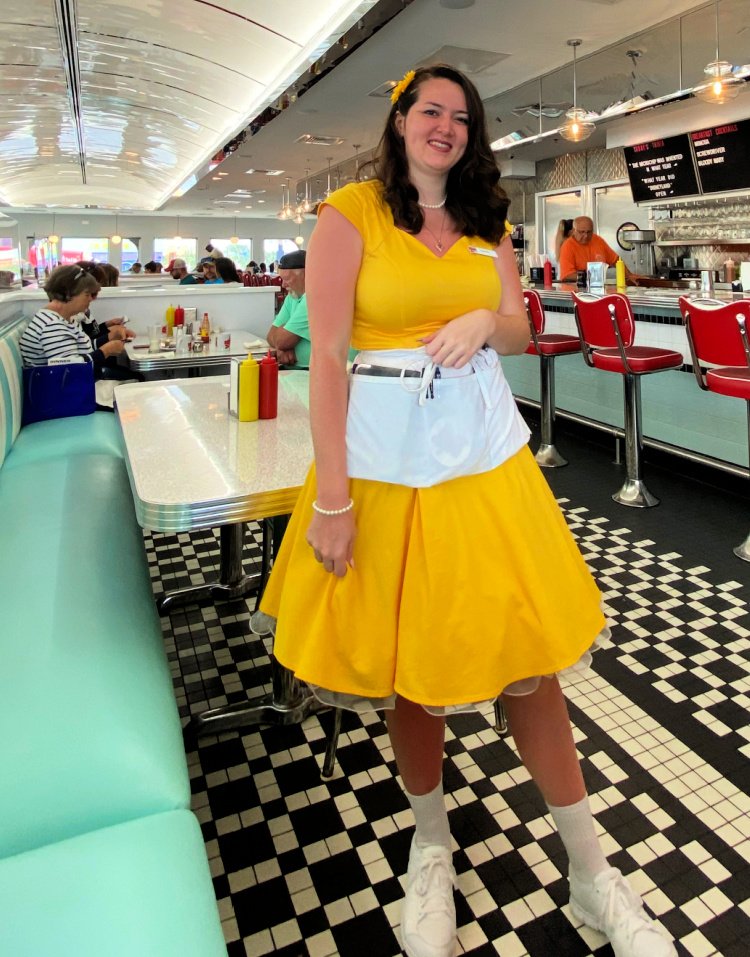 Enjoy all their classic diner eats including milkshakes that are so huge and decadent you practically need a spoon!
There's also a location in Pigeon Forge, TN so when you are in that area which everyone raves about.
Again Don had a more traditional breakfast and I went for the omelette. Fresh fruit including blackberries filled me up getting me ready for a day out exploring.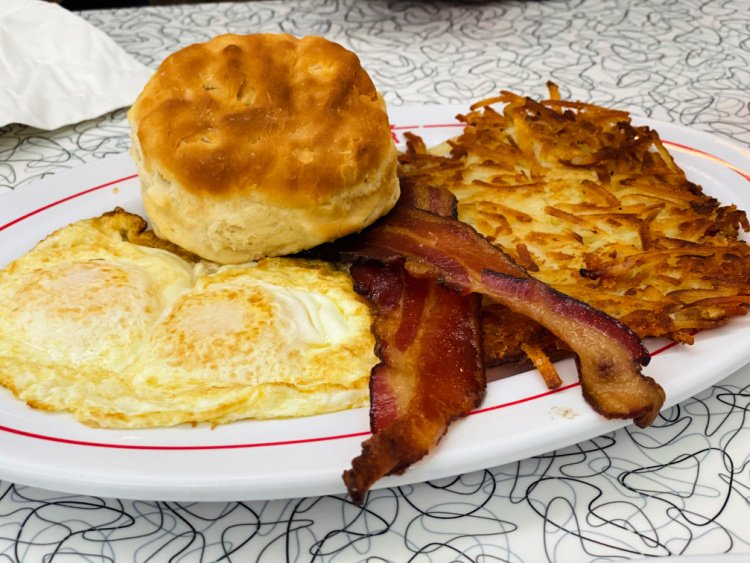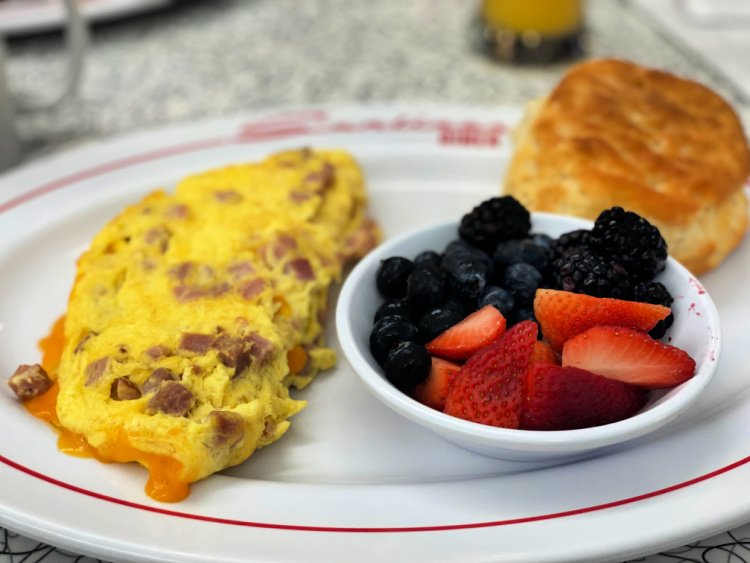 This is a place for any time of day for anyone.
After being out at Fort Morgan and The Pier, we were ready to relax in our condo so we picked up a seafood dinner to go. There's just something about eating seafood, sitting on a balcony, enjoying an ocean view to just make any meal special. Even if the table cloth is a bath towel.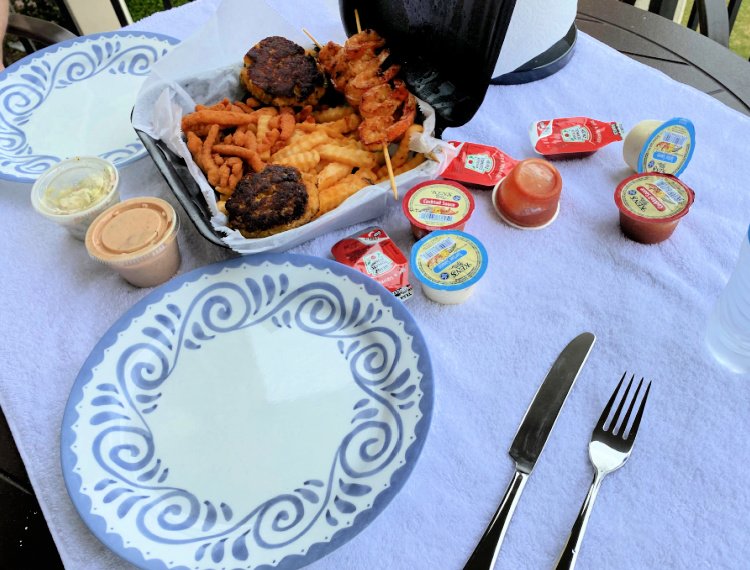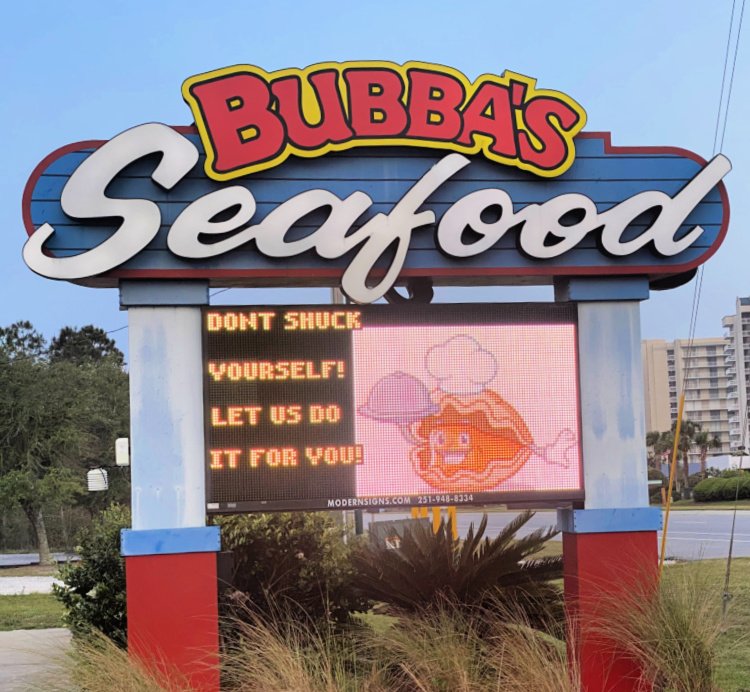 Of course more seafood was in store for dinner. These oversized chairs is great fun for kids of all ages for a photo op.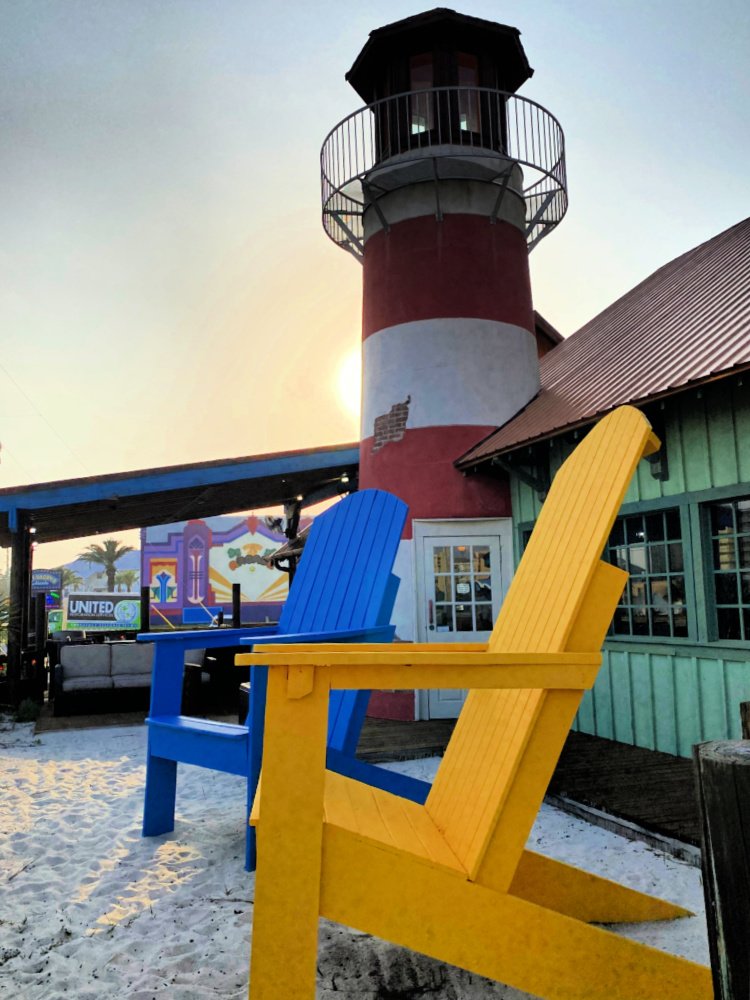 With an order of onion rings, the dipping sauce was really good, but we are ranch dressing people. Bubba's is known for their homemade ranch dressing and even sell it by the bottle.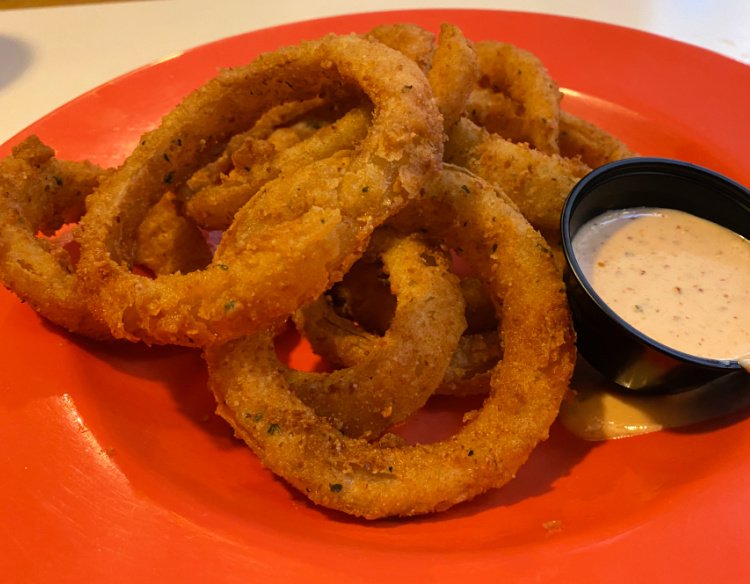 The Captain's Platter gave us a variety with Crab Legs, Grilled Shrimp and Chargrilled Mahi Mahi and sides. What a great way for our last night in Gulf Shores.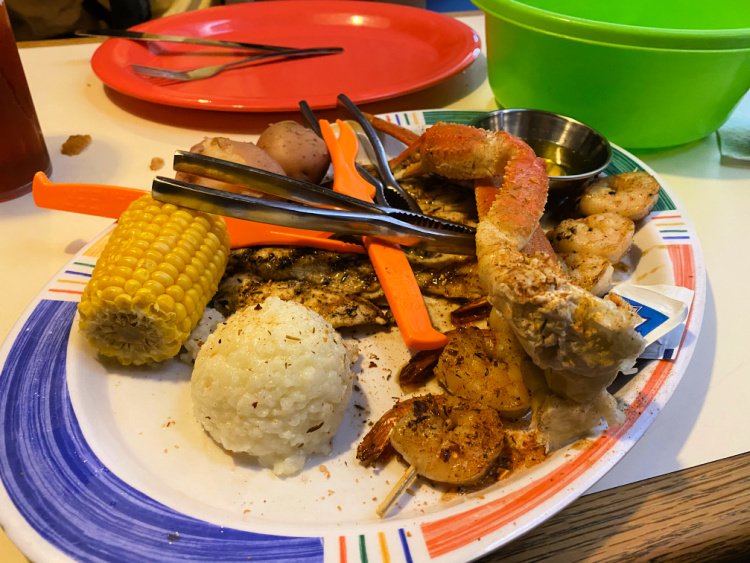 Now for those who my friends swear by and are on my list for the next trip.
Gulf Shores Seafood isn't a restaurant. Rather, it's a market specializing in the freshest seafood, premium steaks, and everything you need for both. In addition to fresh, uncooked seafood and beef, you'll find ready-made meals to go. If you don't want to cook for a crowd, they even offer catering.
Several friends travel with family and stay in a large condo or house and cook many meal themselves. This is a great option for getting your fresh seafood and meat.
Discover the perfect combination of casual and fine dining at Sunset Cork Room. This upscale restaurant specializes in some of the best seafood, steak, lamb, pasta, and wine you'll find anywhere in the state, and it offers it all in an atmosphere that, while high-class, doesn't feel stuffy. Reservations are recommended.
Sassy Bass is as much about a laid-back atmosphere as it is about great food, as you might expect from its slightly silly name. This relaxed, family dining restaurant and market offers delicious seafood, beef, and more, along with an impressive market filled with the freshest meats, produce, and everything you'll need to make a delicious meal out of it all.
Fish River Grill #3 is one of the best restaurants in Gulf Shores if you're looking for classic seafood, burgers, sides, and more in a place that has just about the most relaxed atmosphere you'll find at any restaurant in the area.
Come to Fish River and enjoy the best deep-fried seafood, burgers voted 4th best in the state, amazing milkshakes, fantastic cocktails, and so much more. Come as you are and bring the family. Some describe this as a funky joint.
If you thought on-the-go dining had to be sandwiches or pizza, S&S Seafood Market wants to change your mind. Offering both fresh seafood and ready-to-go cooked options, S&S Seafood Market makes it easy to find the perfect meal. You'll find fresh fish, shellfish, and more along with a variety of delicious cooked options, making the Market so versatile. This is a seasonal restaurant, usually opening in March.
Offering the ultimate in laid-back family dining, Bahama Bob's Beachside Cafe is nothing if not quirky. Awarded the TripAdvisor Certificate of Excellence for three years in a row, Bahama Bob's is all about great food, good times, and family. You'll enjoy a wide variety of seafood options, along with chicken, tasty appetizers, and so much more.
Just Some of the Best Restaurants in Gulf Shores
The above restaurants were just the tip of the iceberg when it comes to great dining in the Gulf Shores area. Use these are your starting point, and then discover all the great dining opportunities the area has to offer for yourself. From mom and pop shops to upscale dining, you'll find it all in this list and in all the places you'll stumble upon when you visit this lovely Alabama locale.
Can I just say I need another week to try new places and visit those which quickly became a favorite? Who's coming with me as I'm planning the next trip.
What's your favorite restaurant in the Gulf Shores – Orange Beach area?
For more restaurant suggestions and things to do, visit GULF SHORES & ORANGE BEACH TOURISM.
I've included affiliate links to Amazon for you to find some products easier. I may receive a small commission, but the price is the same for you. It just helps my blog out.
Happy Travels,
Rosemary