Buying Local Products As Gifts Anytime Of The Year
I'm sharing with you today just a few of my favorite ideas for the upcoming holidays and Christmas season. Buying local products as gifts any time of the year is a great way to support the local economy and in many cases, small businesses. Most of these are available for shipping and you still have time to order them for Christmas. Products were supplied to me for this post but opinions are my own.
CHATTANOOGA BUTTER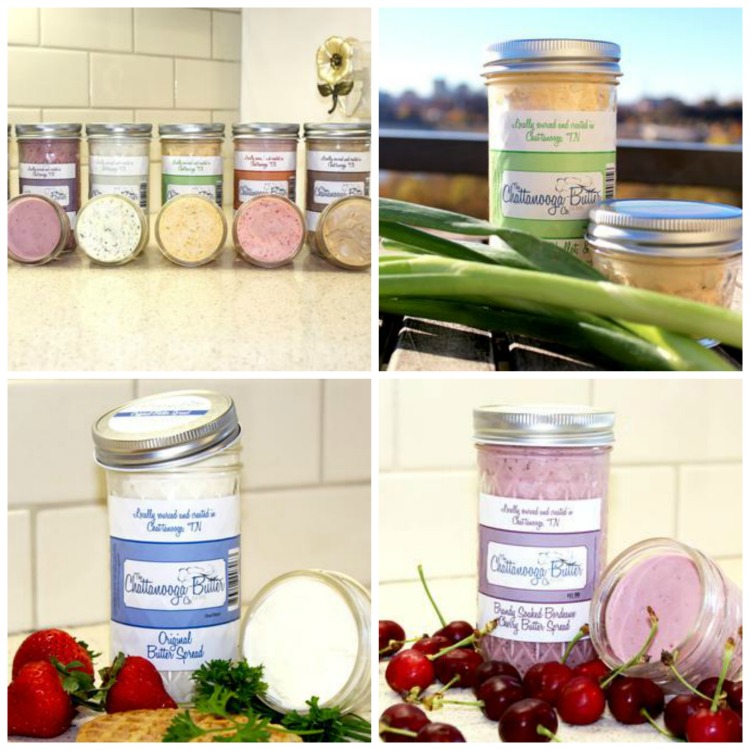 Established in 2015, Chattanooga Butter, a coconut oil based spread, has become one of my favorite gifts for taking out of town. Not only do you have a classic butter flavor, but savory flavors such as Sriracha, Shallot, & Scallion Butter Spread or Garlic Butter and sweet flavors such as strawberry, or my favorite, Brandy Soaked Bordeaux Cherry. There are also seasonal flavors available.
For more information, including storage and suggestions for use, check out the FAQ page.
These can be shipped anywhere within the 48 states. Locally, you can find them in many stores. I'm hoping they come soon to Elders Ace Hardware on Highway 58 for my convenience. Location guide.
Think of these for a great stocking stuffers, hostess gift, or just to enjoy in your home. Another thought is taking these or using these at a brunch or breakfast at work. Have you tried this before?
Follow them along to see new products, specials, and new locations where you can purchase this great butter.
JACKSON BAKERY
Don't have time to bake? Do you need a tray of cookies for a party at school or work? Or any special event such as a baby or wedding shower? Jackson Bakery has you covered. Think how much time you will save by picking up a tray of cookies instead of making them yourself.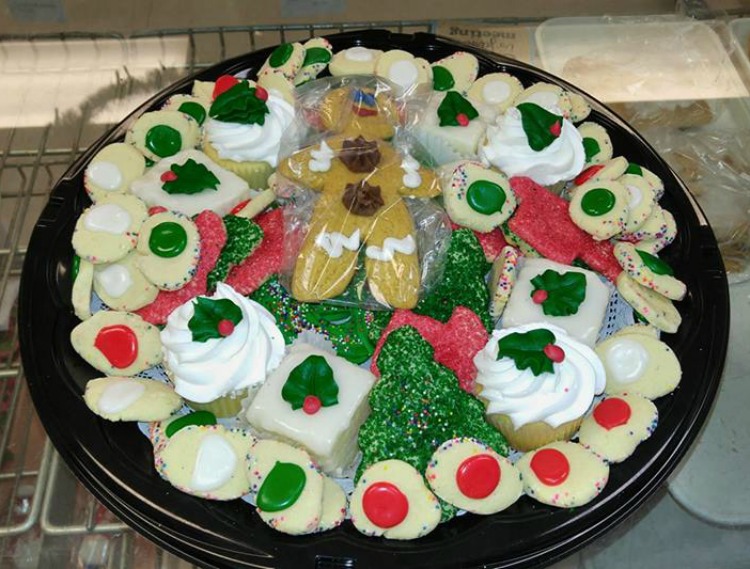 Custom trays can be ordered, or stop by and pick up a your favorite choices to make your own tray.
As a family owned and operated bakery since 1977, I have been a customer since I've lived in Chattanooga. It was also an after school stop many times to pick up thumbprint cookies or a gingerbread boy cookie. Another favorite is petit fours and cheese stars.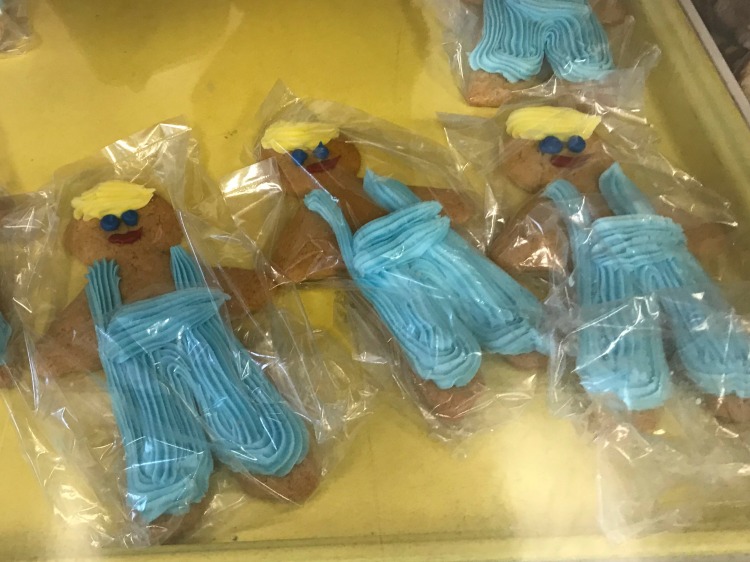 Located in Brainerd Village, custom cupcakes, cookies and cakes, including wedding, is their specialty. A variety of breads and rolls are also available.
Follow along on FaceBook. They do giveaways quite often – maybe you will win a tray of cookies. Remember, the thumbprints are quite addictive.
TENNESSEE MOONSHINE CAKES
Starting in 2012 with a family recipe after loss of jobs is how this company began as the world's first moonshine cake bakery here in Chattanooga. Starting with a few cakes, they have now expanded to include several sauces, jams, and honeys. You can find all of the details on their website. You will also find local locations to purchase these awesome cakes.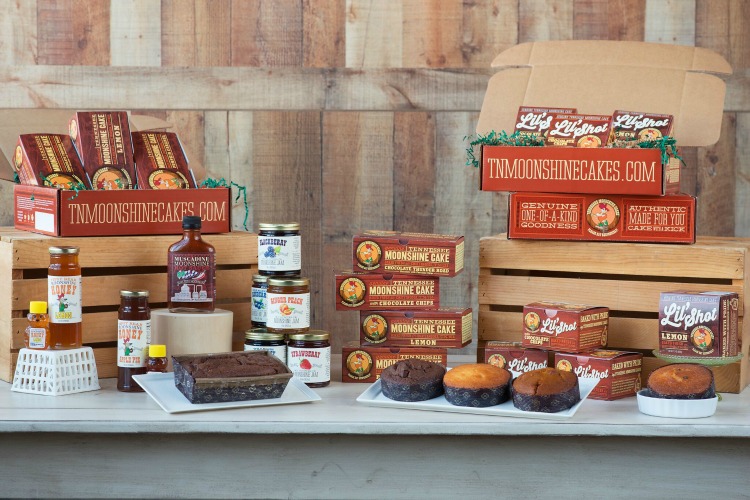 Recently voted by USA Today as the Best Food & Drink Company in the US, I can personally vouch for how tasty these cakes are. These Moonshine Cakes comes in two sizes and three flavors – Lemon, Pumpkin Caramel, and Chocolate Chip.
Individual cakes or gift baskets can still be ordered with time to be delivered before Christmas. Parts of the US has a flat rate of $5 shipping. These also freeze well.
I recently took these to the Black Dog Salvage guys in Roanoke, Virginia on a recent trip.
Follow along on Instagram and FaceBook for keeping up with events and new products.
BARNES & NOBLE BOOKSTORE
Although it's technically not a local store as some others, you will find many books either written by Chattanooga and other local authors, or books on the topic of Chattanooga. Check out their website or drop by the store to purchase any of these books.
Many books, especially by local authors, are available as autographed.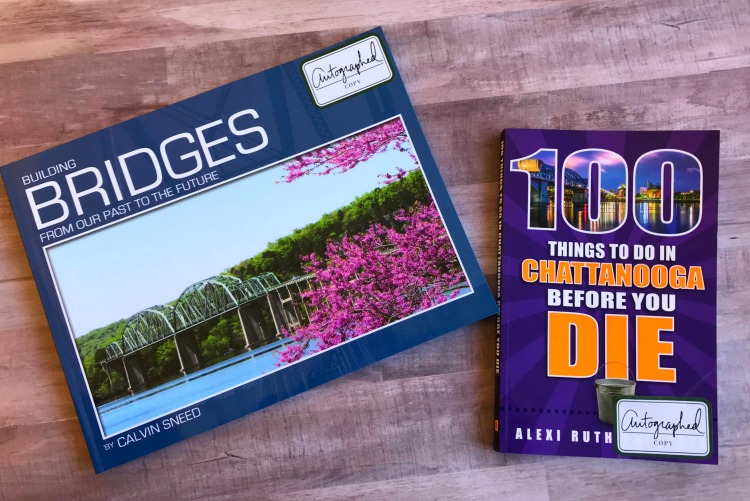 Barnes & Noble is always doing something for the community. Right now they are working with The Ronald McDonald House to stock the house with books. Consider going out and buying a book and donating it back to The Ronald McDonald House before January 1.
Here's just a few I found.
Building Bridges From Our Past To Our Future by Calvin Sneed
Calvin, who recently retired from News Channel 9 claims to be obsessed with bridges. This book is filled with beautiful photographs from several years and he has so many photos, book two is in the works.
I would suggest this for anyone who loves bridges, photography or travel.
100 Things to do in Chattanooga Before You Die by Alexi Engesath
This book is actually a series of books you an find about most major cities. You will find suggestions from a visit to Lake Winnie, buying a Moonpie at the General Store, to riding the Incline.
Wouldn't this be a great gift for someone who just moved to Chattanooga?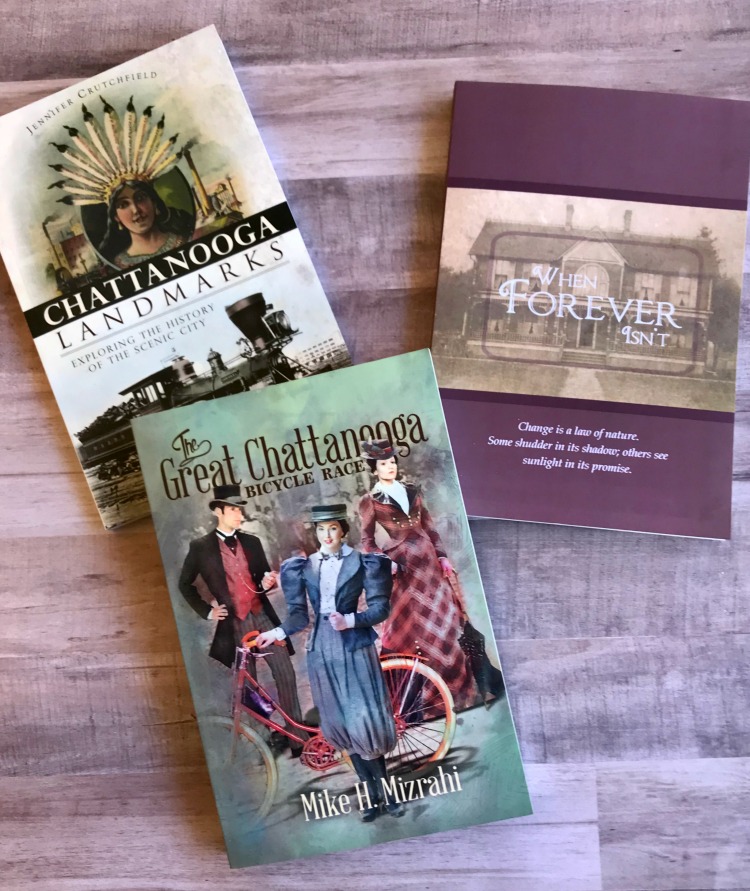 When Forever Isn't by Suzanne Prigohzy
Looking back through the window of time, the reader experiences life in this Southern rural town from two far different perspectives: To nine-year-old Blanche Wasson, the Grand Hotel in east Tennessee in 1903 is magical. Her family owns the lively cultural hub and health resort that draws interesting visitors from all over the South, and there is never a dull moment with its many dances and concerts as well as political speakers. But daily life in Rhea Springs is a far different story for Charlie Reynolds whose similar age is all the two share in common.
Chattanooga Landmarks by Jennifer Crutchfield
Many of the Scenic City's most important landmarks are still preserved. Yet with so many fascinating historic sites and storied destinations, seeing them all is no easy task. Fortunately, Chattanooga Landmarks offers a helpful survey of the most historically significant sites in the city and the surrounding area. Join Chattanooga local Jennifer Crutchfield as she guides you through the city's historic wonders, both natural and man-made.
The Great Chattanooga Bicycle Race by Mike H. Mizrahi
Chattanooga society is turned upside down as a young woman has the audacity to ride a bicycle—in bloomers! It's 1895. Anna Gaines, 19, struggles to conquer her insecurities after a horrible fall years ago from her beloved horse, Longstreet. On a visit with her aunt in Brooklyn, she's drawn to the new pastime of bicycling. But back at home, cycling is a scandalous sport for a proper lady. Southern women did not engage in activities meant for men. Anna has her eye on Peter Sawyer, president of the Cycling Club. As community outrage grows, an unexpected turn of events pits Anna against Peter in a race between the sexes.
Volunteer Bama Dawg by David Carroll
As David's second book, it's based on his life, and on one of his most popular stories. "It represents the three states I've loved all my life," he said. "I grew up in Alabama, I now live in Tennessee, and I drive through Georgia just about every day. It's who I am."
His first book, Chattanooga Radio and Television, is a history of a lot of radio and television personalities. Both can be purchased at Barnes & Noble, or check his website.
SLOBBERBONES BAKERY & MARKET
Let's not forget our pets during the holidays. Whether you are planning a gift for your own pet, or making a basket of goodies as a hostess gift, you can find all varieties at Slobberbones. There are three locations around Chattanooga, located inside The Ark.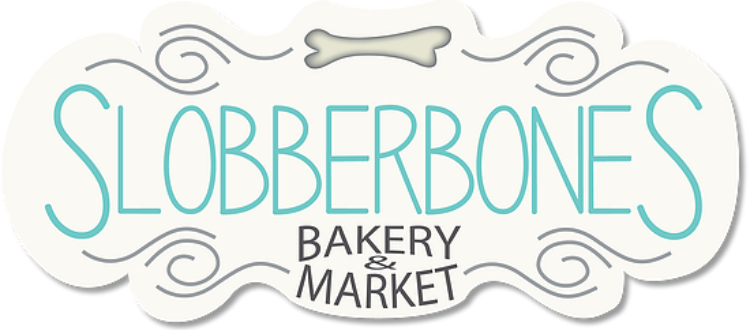 Custom gift baskets are available.
Slobberbones Bakery & Market was created to provide customers and their pets with the best all natural pet food, treats, and supplements as well as unique pet toys and merchandise.
A unique feature is the Bucket Bar. Purchase a bucket then come back and fill with treats.
You can follow along on FaceBook and Instagram.
BLEU FOX CHEESE SHOP
As one of the newest shops we now have the first dedicated artisan cheese shop in Chattanooga, it's quickly becoming one of my favorites for not only my foodie love, but also for gifts.

Did you know there are cheese mongers like a fish monger? I didn't, but you will find two of them in this shop. I find when supporting local businesses, especially these small family businesses, most are found to be supporting other small businesses. Which is certainly the case with Bleu Fox Cheese Fox.
Not only do you find a variety of cheeses, several local to the area, but for making sandwiches, fresh locally made bread is purchased daily along with meats from a store just down Main Street. Other local and regional items such as honey, olive oils, chocolate, meats and gift items which compliment cheese fill the shelves.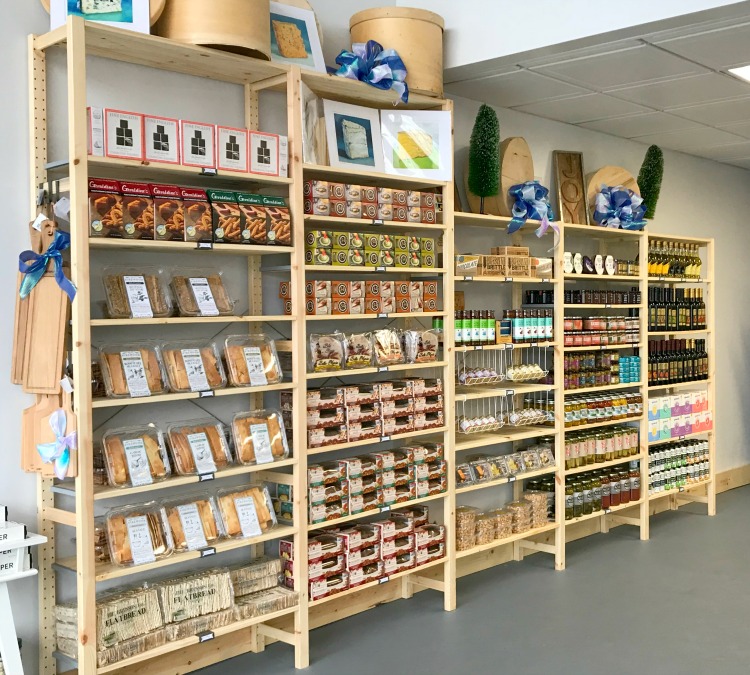 Custom cheese platters are available to serve one to whatever number you need.
With just opening recently, you will find lots of changes in the store and the website so check back often. Special events have already been scheduled. Follow along on FaceBook, Twitter, and Instagram to keep up with them.
I can't wait to go back and try one of those sandwiches I saw being made while I was there.
OLIVE CHATTANOOGA
If you are a foodie or need a gift for a foodie, Olive Chattanooga is a must place to visit.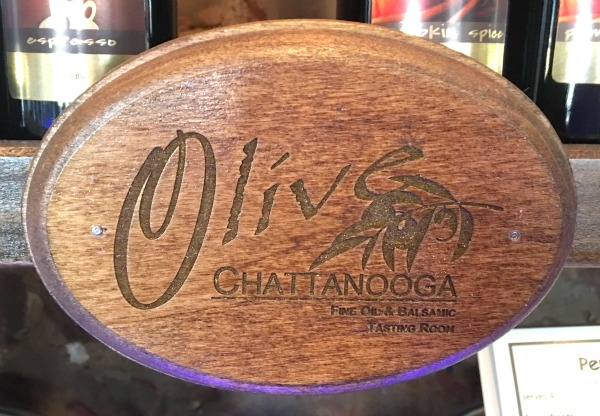 While you can purchase most of the oils and balsamic in two different sizes, they are first and foremost a tasting room. The "Olive Chattanooga Experience" is fun for all ages. Not only can you taste each of the flavors, but they will suggest great and different pairings for your needs. Be adventurous when trying these, and be open to ideas out of your comfort zone. I know I have been so happy with my findings.
Not only do you find the extra virgin olive oil, flavored olive oil, and truffle oil from all over the world but the balsamic comes from Modena, Italy but so many other products which are great to serve or cook with, but also makes great gift ideas. They are also great supports of other small businesses such as Alchemy Spices, also made right here in Chattanooga.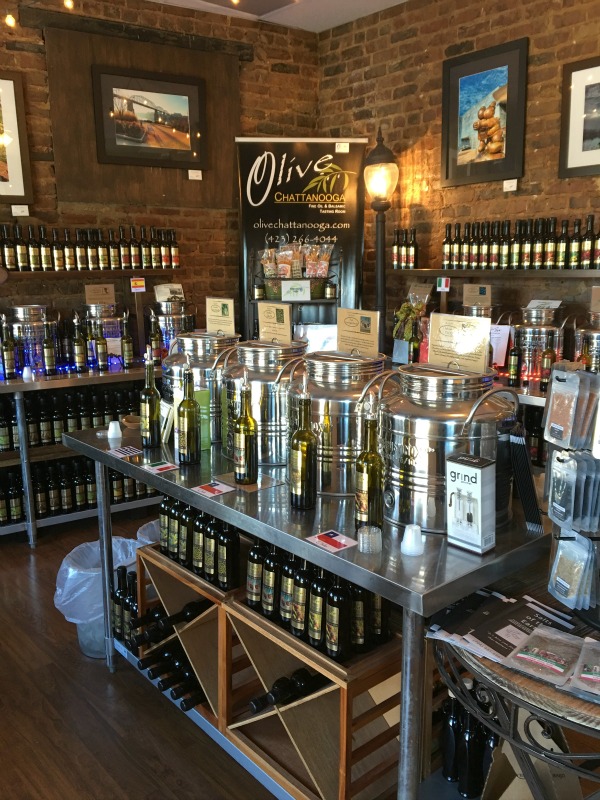 Call ahead and order a custom gift basket, or drop by, and make your own. And don't forget to pick up something for yourself.
You will find them on FaceBook and Twitter also.
These are just a few of the local businesses in the Chattanooga area – so many more I will try to feature in the future. Consider supporting these shops during your upcoming gift buying season, and all year long. If you aren't local to Chattanooga, look around and find them in your own area.
Now get out and find a favorite, or new local business and finish your Christmas shopping. Or getting ready for a special party or event.
I've included affiliate links to Amazon for you to find some products easier. I may receive a small commission, but the price is the same for you. It just helps my blog out.
Happy Travels,
Rosemary