Best Travel and Cruise Products From Amazon
I wanted to share some of my favorite items for all travel, but some are very useful for cruising. This list has the Best Travel and Cruise Products From Amazon. Full disclosure: I am an Amazon Affiliate so if you purchase any of these, I may receive a small percentage, but this doesn't affect your price. Find details here.
For cruising, being organized can make your space work better for you. We usually have interior cabins, which can be smaller, so unpack and organize to enjoy the cruise. Not all of these are useful to everyone, but I find just a few items can make my packing and in cabin experience so much better. And easier.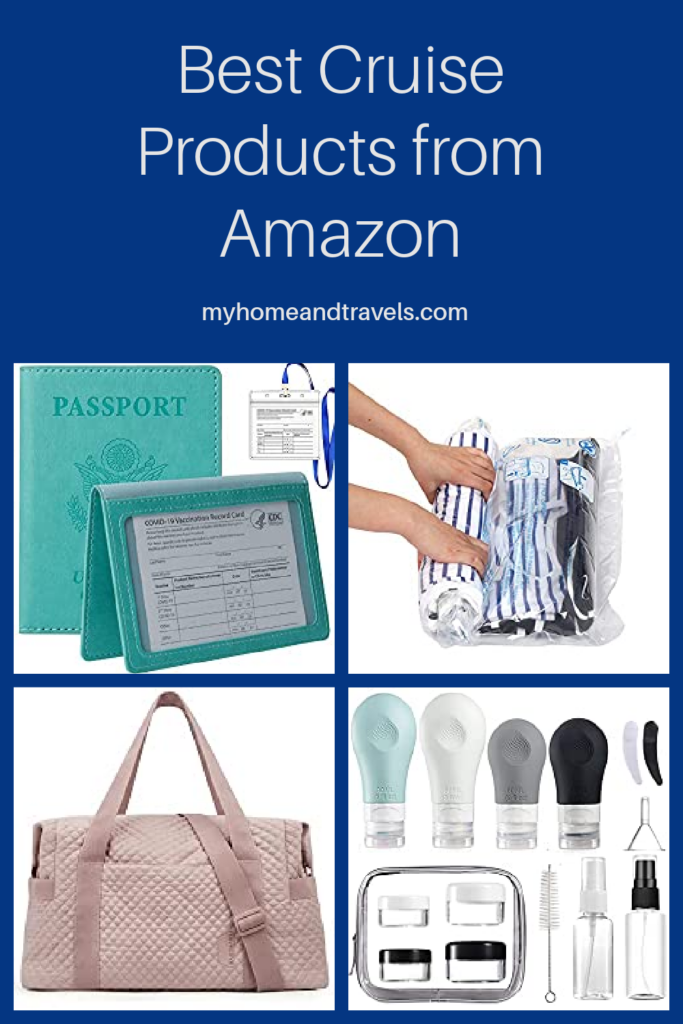 Best Travel and Cruise Products From Amazon
Click on image for Amazon Link. Most are available on Amazon Prime.
Heavy Duty Magnetic Hooks
Most walls are metal so these hooks come in so handy.
Hang your lanyard, caps, or tote bags.
Portable Phone Charger
Don't let your phone run out of power especially if you are taking a lot of videos.
Power Strip, non-surge approved for ships
Most are going to need extra charging ports. Make sure it has a long cord as some plug ins aren't next to the bed.
Battery Tea Lights
These are great for night lights.
Hanging Toiletry Bag
This is a great bag to pack with all of your toiletries then hang from a magnetic hook. Frees up counter space.
Hanging Shoe Bag
Not just for shoes – great for bottles of sunscreen, paperwork, jewelry, and small clothing items.
Sunscreen
A must – this one will pass the guidelines for some required for excursions.
Collapsible Hamper
Place this in the corner of the closet to keep all of your dirty clothes contained.
Fanny Pack Crossbody – available in over 25 colors
This is great for any excursion, or even just walking around the ports.
Jewelry Organizer – multiple colors available
If you enjoy taking a lot of jewelry to wear.
Water Shoes – several colors and designs
A must for some excursions and some beaches can be a bit rocky.
Weekender Carry-On Bag – several colors available
As a carry on or slide it over the handle of your rolling bag. Great for electronics and your first day necessities.
I got this for the last cruise and was amazed at how much it will hold.
Canvas Tote – multiple colors available
Great for those beach excursions
Collapsible Water Bottles – several colors available
Don't worry about buying bottled water when using these.
Natural Bug Repellant – small bottles
Many areas can have mosquitos or other pesky bugs.
Waterproof Zipper Pouches
The list is too long for all of the uses of these – makeup, documents, electronics, just to name a few.
Electric (battery) Toothbrush
Makeup Bag – large enough for all of your makeup and personal items
Compression Bags
I've been using these for several years for all kinds of travel. Just roll up to compress the air, no vacuum needed.
Electronic Organizer
Admit it – who doesn't travel with lots of electronics and cords
Waterproof Phone Case – Set of 2
Travel Size Toiletry Bottles and Jars
Small Jewelry Case
Tide Sink Packets
Perfect for a little laundry during the week.
Passport Holer – variety of colors available
Laptop Backpack – great for camera also.
Portable Selfie Stick – Tripod
Packing Cubes – place in the shelves, no need to unpack them.
Travel Duffle Bag – great for men too.
Are you an avid traveler or cruiser? Let me know what you have found which makes your packing and crusing a bit more organized.
What's on your travel list for this year?
For even more products great for travel, check out my Amazon store.
https://amzn.to/3OSmKlk
As an Amazon Associate, I may earn a small commission from any sale, but this doesn't affect your purchase price
I've included affiliate links to Amazon for you to find some products easier. I may receive a small commission, but the price is the same for you. It just helps my blog out.
Happy Travels,
Rosemary